Tori Franklin already has rewritten the triple jump records at the high school, college and national levels.
The 2011 Downers Grove South graduate also has written her first book, which she hopes to publish in the fall.
"It's kind of a memoir and self-help book to combat depression and negative self-talk," Franklin said. "Mostly it's just about regular life."
Franklin's life has been anything but regular. She has been outspoken about her battles with depression and how she has overcome self-doubt to rise to the highest levels of her sport.
Franklin, 28, will represent the U.S. this month at the Olympic Games in Tokyo. She qualified in the triple jump by finishing second at the U.S. Olympic trials last month in Eugene, Oregon, earning one of three spots on the U.S. team.
"I am proud of myself mostly because of how terrible my season had been going," Franklin said. "It was my season's best, and I know it's not nearly as far as I'm capable of jumping.
"So I'm proud of myself for what I did, but I know there's more to come."
Franklin jumped 47 feet, 1 inch at the trials. She holds the U.S. indoor (49-9 ) and outdoor (48-8) records.
Franklin is no stranger to international competition. She competed at the 2017 and 2019 World Championships, finishing 14th and ninth, respectively, part of the consistent improvement that has marked her career.
Franklin began jumping as a high school freshman at Glenbrook North, where she qualified for state and leapt 36-3. She transferred to Downers Grove South as a sophomore, where she met Tim Pinnick, who would become a mentor.
"He was the jumps coach at the time," Franklin said. "He was definitely influential to me, not only in my triple jump career but also my public speaking career.
"That was the first time I saw somebody speak and move a crowd with their words. That's something I've been doing ever since."
Pinnick was the 1976 state champion in the long jump for Lockport and still holds the long jump school records at Lockport and Illinois State. He qualified for the 1980 Olympic trials but did not compete because of injury.
Like Franklin, Pinnick played basketball before focusing solely on track. He immediately recognized Franklin's potential.
"I knew right away," Pinnick said. "I still remember the head coach, Doug Plunkett, coming to me and he was like salivating.
"He said this girl just transferred in and she's a triple jumper. We were excited."
Pinnick first met Franklin at basketball practice and wanted to see her jumping technique.
"I said, 'Would you mind doing a little test for me?' " Pinnick said. "Oh, my goodness, this girl was outstanding. At that moment I was thinking the sky is the limit for her as far as she could be a high school state champ."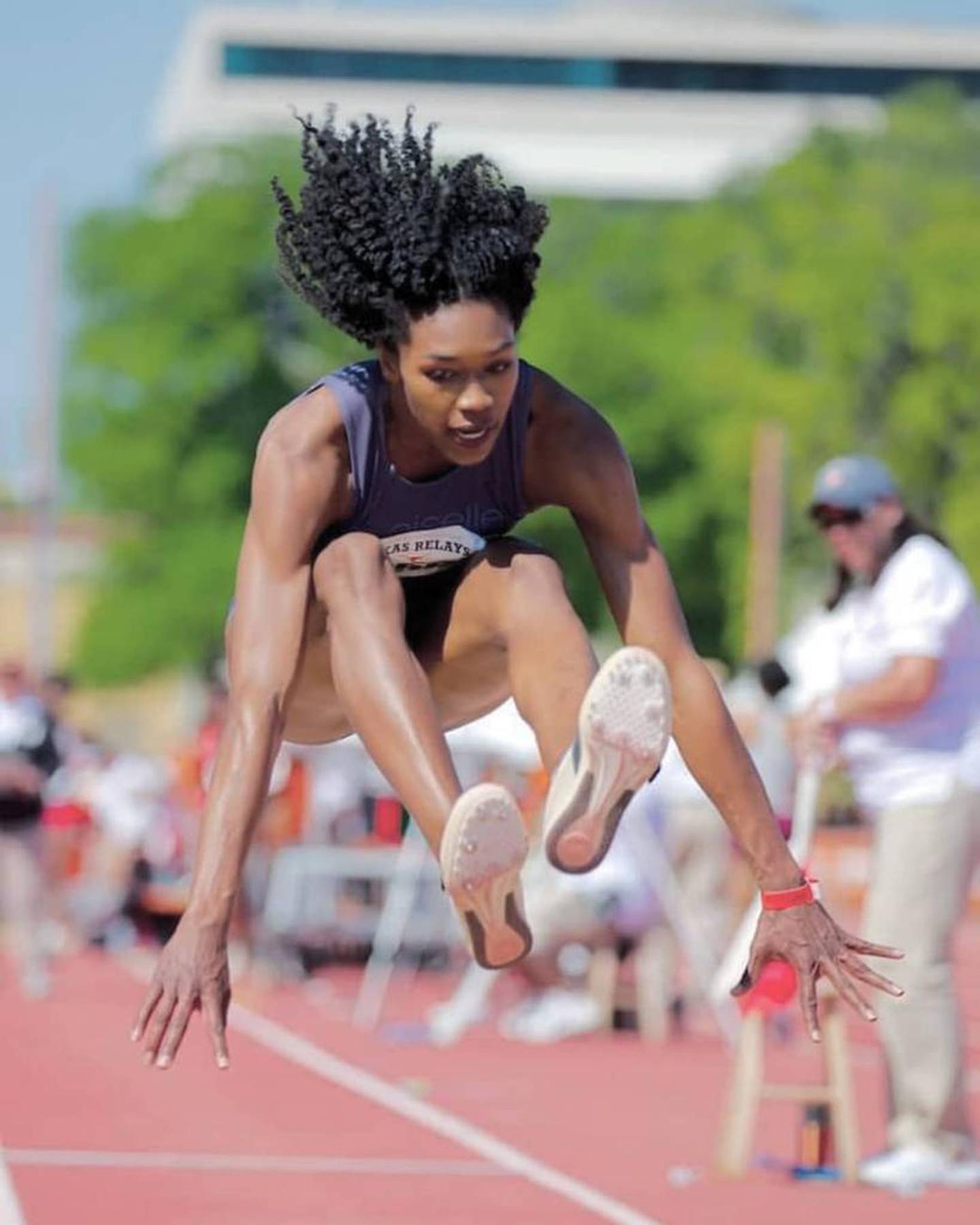 Franklin finished second in the state that year, then won the state championship as a junior with a school-record leap of 40 feet. She was second in the state as a senior.
Franklin went on to star at Michigan State and turned pro after graduating in 2015.
It was at MSU when she began thinking about the Olympics.
"I think it was after my freshman year of college," Franklin said. "Some people had told me that I had the potential before then, but I didn't really see it for myself until going into my sophomore year."
Pinnick retired from coaching in 2016 and now lives in Wilmington, North Carolina. He remains close with Franklin's family, including her mother and grandmother, and was in attendance at the Olympic trials.
"It was absolutely fantastic to have a front-row seat to watch her do her thing," Pinnick said. "She has found her groove."
Pinnick had planned on attending the Olympics, but the Japanese government is not allowing any fans at the games because of COVID-19 protocols. That hasn't prevented Pinnick from bragging about Franklin.
"It's kind of the proud papa with the cigar thing when you have a baby," Pinnick said. "We've had successful athletes at a certain level but then to have the breakthrough athlete is really exciting.
"It was really neat to have someone that I had directly coached on a daily basis have this kind of success. If anybody was going to do it, it was Tori Franklin."
Franklin leaves for Tokyo on July 24 and is scheduled to compete July 30 and Aug. 1. There are 24 women in the triple jump. Twelve will advance from the preliminary round.
Pinnick thinks Franklin, who is ranked 11th in the world, is capable of winning a medal.
Franklin said she is focused on savoring the moment.
"That's really the plan," Franklin said. "I've been writing in my agenda certain things – take time for yourself, relax, have a good time, have some self-care, and just really revel in it.
"I do have goals, but I'm going to keep them to myself and I am just going to let it rip."
Franklin now lives in Ann Arbor, Michigan, but still has family in the Chicago area. She has some advice for younger kids looking to follow in her footsteps.
"As far as people in sports in general, make sure you're really enjoying what you're doing," Franklin said. "Don't do it because you've been doing it for so long or because that's kind of what's become expected of you.
"Always make sure you're really having fun and you're doing it because you love it. That just goes for anything in life."