Abby Swanson is always prepared for what comes next, but she doesn't like to plan too far ahead.
The former Downers Grove North soccer star takes a methodical approach to life, priding herself on never being surprised by anything.
Yet Swanson admits to being shocked by what has happened in the past six months as her soccer career has taken off with a series of unexpected firsts.
Swanson became the first Loyola player to named Second Team All-American by the United Soccer Coaches after leading the Ramblers to their third consecutive Missouri Valley Conference championship and third straight NCAA Tournament berth.
The defensive midfielder and team captain started all 11 games and was named MVC Defensive Player of the Year. She was a key cog in a defense that posted six shutouts and 0.72 goals against average.
Swanson capped off her junior season with another unprecedented feat, becoming the first Rambler to score a goal in an NCAA Tournament game. She headed home a corner kick just 43 seconds into Loyola's opening round game against Denver, which rallied to win the April 27 game 3-1.
"I just didn't see this all coming," Swanson said. "I think the goal was big for the program.
"It took a whole team to get us a corner in the first minute. It showed how much work we put in through the whole off-season."
Swanson, a nursing major, is always putting in hard work, even when she's not at school. She's spending the summer playing for the Chicago Red Stars Reserves of the Women's Premier Soccer League, the largest amateur league in the nation.
The Reserves, whose roster of over 40 players is stacked with top college players from all over the country, practice and play their home games in Oak Brook.
"It's been a really great opportunity for me," Swanson said. "It's nice that it's local.
"It's 10 minutes from home, so for me it was like, 'Why wouldn't you?'"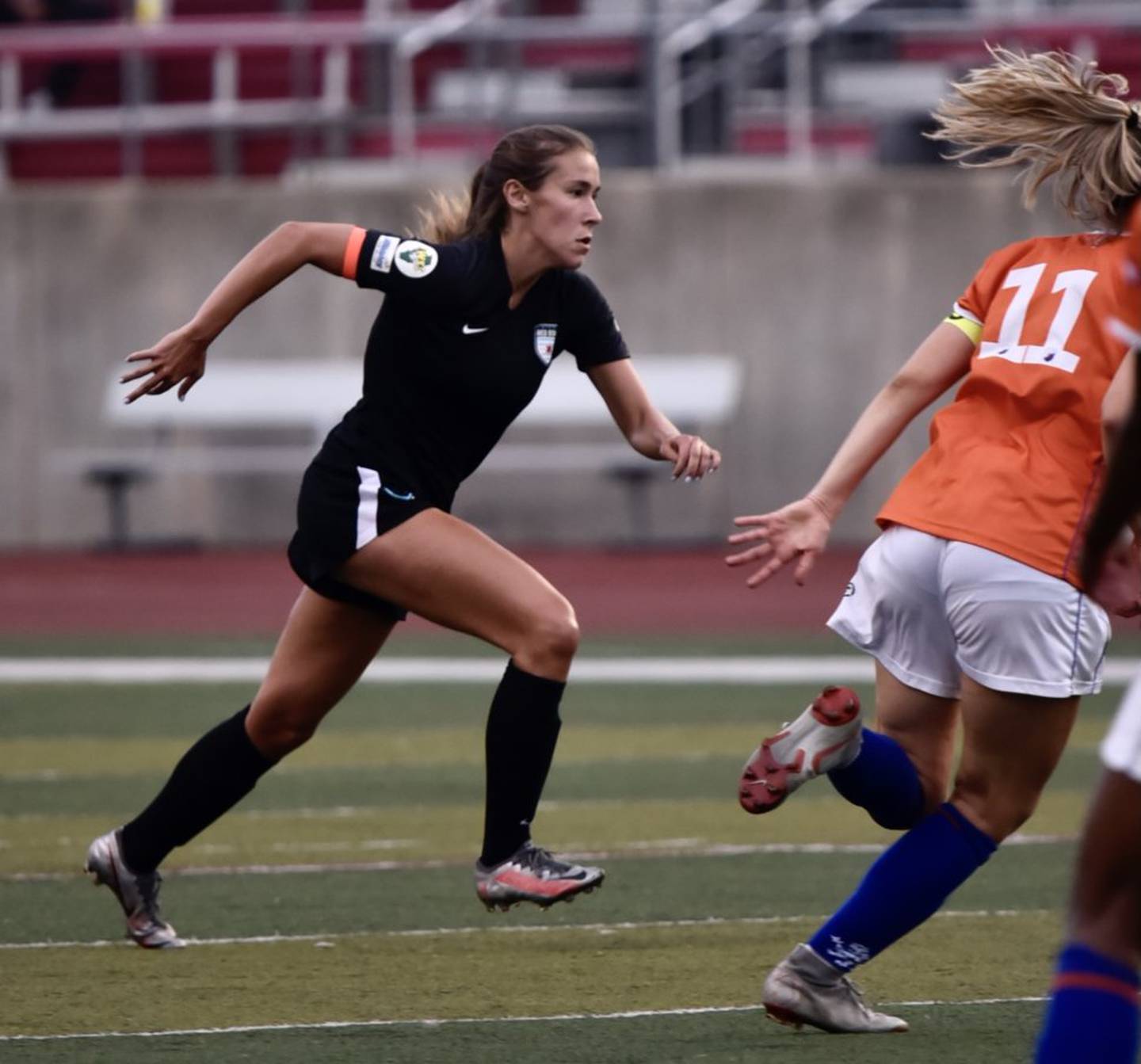 While there is fierce competition in practice to earn one of the 20 roster spots for each of the 10 games, it hasn't bothered Swanson, who has been a mainstay in the starting lineup and helped the team to a 5-1-1 record.
"She's a veteran and she's a leader," Red Stars Reserves coach Julianne Sitch said. "I feel like she does a lot of the dirty work and things that go unrecognized a lot of the time from fans.
"She's a huge staple and anchor in our midfield."
Swanson has relished the competition.
"Being on the Reserves is competitive from Day 1," Swanson said. "From the start of practice to the end of practice, from the start of the game to the end of the game, you're there to fight every second.
"I've really enjoyed being in that atmosphere."
The WPSL season is giving the players crucial playing time after the pandemic delayed, shortened or cancelled the 2020 season for many of them. Swanson said she wasn't as sharp as she wanted to be when the Reserves opened the season on May 30, but that Sitch put her at ease.
"Early on, she told me to just take one thing at a time," Swanson said. "If you start looking at analyzing every little thing, you're going to drive yourself crazy.
"She's like, 'Big picture, if one touch goes wrong, look at the next five. If we're getting a bunch in a row, maybe we'll reevaluate. Just don't be so critical, let yourself play, enjoy the moment, and the sharpness will come with that.'"
Swanson also has benefitted from playing with a diverse group of teammates.
"A lot of the girls from Loyola are local, so it's awesome to play with the Reserves when you have girls from Florida, California, New Jersey, Michigan, all around the country," Swanson said. "Seeing different types of players that come from different areas and players I wouldn't be exposed to otherwise, I think has really helped me see more of the game, different styles of the game that I haven't been exposed to, especially mindsets."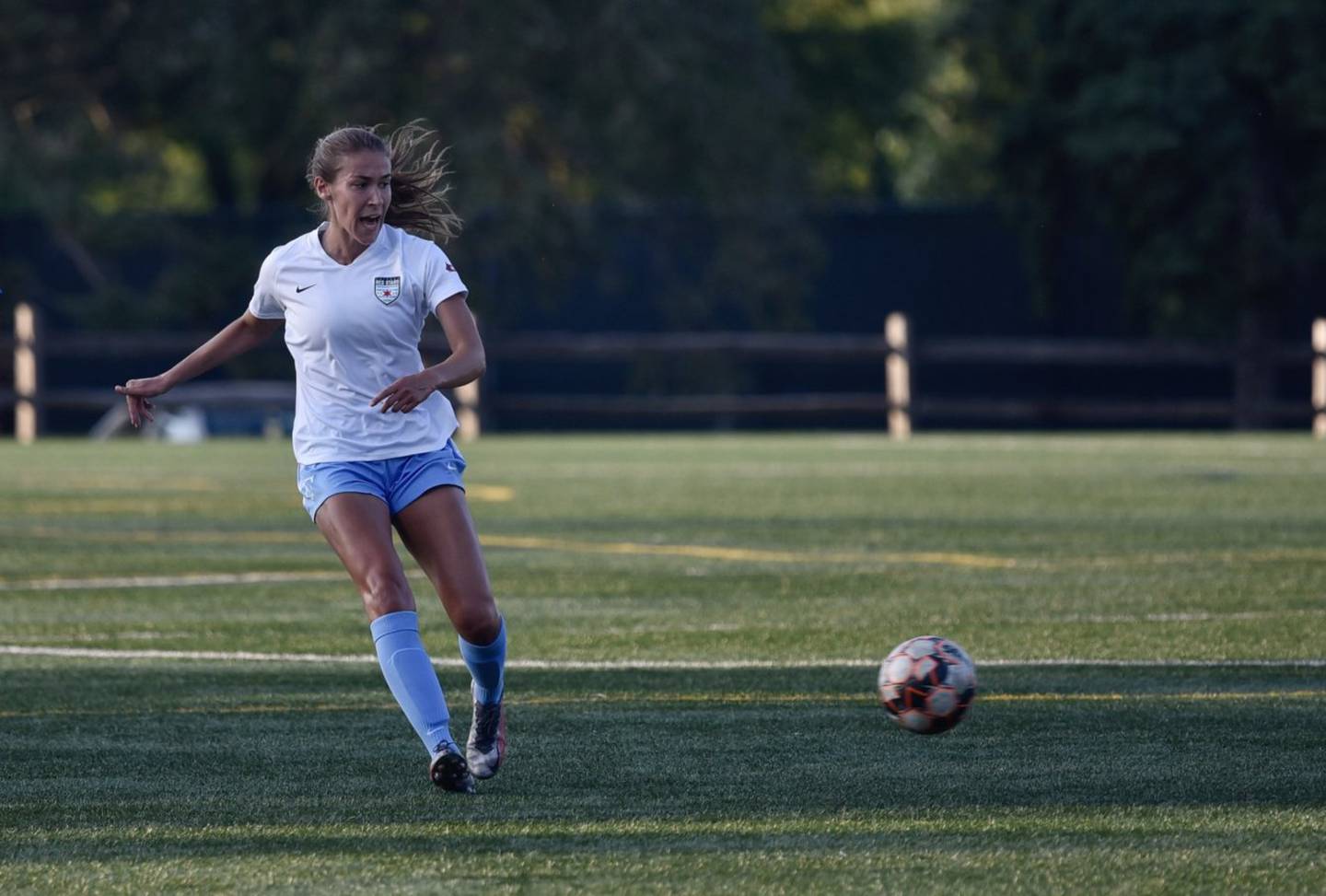 Swanson's mindset is focused on the task at hand. But she's also dreamed of playing pro soccer ever since she was a little girl.
Sitch, a former pro who also serves as the Chicago Red Stars assistant coach, is optimistic about Swanson's chances. Many current pro players saw action for the Reserves on their way up.
"I definitely think it's a realistic goal for her, whether it's here in the NWSL or overseas," Sitch said. "I think playing in this environment helps her so much with the competitiveness and the speed of play.
"All those things are helping her get to that next level."
The Reserves finish their season on July 17. Swanson reports to Loyola on August 2 to prepare for her senior season. She plans to return for a fifth season in 2022 before graduating with a nursing degree in December 2022.
Swanson already has completed practicals in medical surgery, obstetrics and pediatrics and has helped give COVID vaccinations. She will do a mental health practical in the fall.
While Swanson feels that nursing is her calling, that career will have to wait until her playing days are over, which may not be soon.
"I definitely think she has a future and a place somewhere on a team," Sitch said. "I think every team and coach would be lucky to have her as a person and as a player."