LISLE – As Benet's two senior starters, Margaret Temple and Morgan Demos realize the grind that postseason advancement could require starting next week.
So this was good preparation.
In a final playoff tune-up with fellow state power Montini, Benet shook off some early offensive struggles and a seven-point deficit. The Redwings never could quite shake the Lady Broncos, but were able to come away with a 57-48 win on Wednesday in Lisle.
Temple scored a team-high 14 points with three three-pointers, one during a key 13-0 run in the second quarter that turned the game, and hit 5-of-6 free throws in the fourth quarter to finish things off.
"We're going to see some ugly games throughout the playoffs, so this is good preparation for when we don't start off as strong as we normally do," Temple said. "We were still able to pull out the win, which is huge. It's a good preparation for when the playoffs start."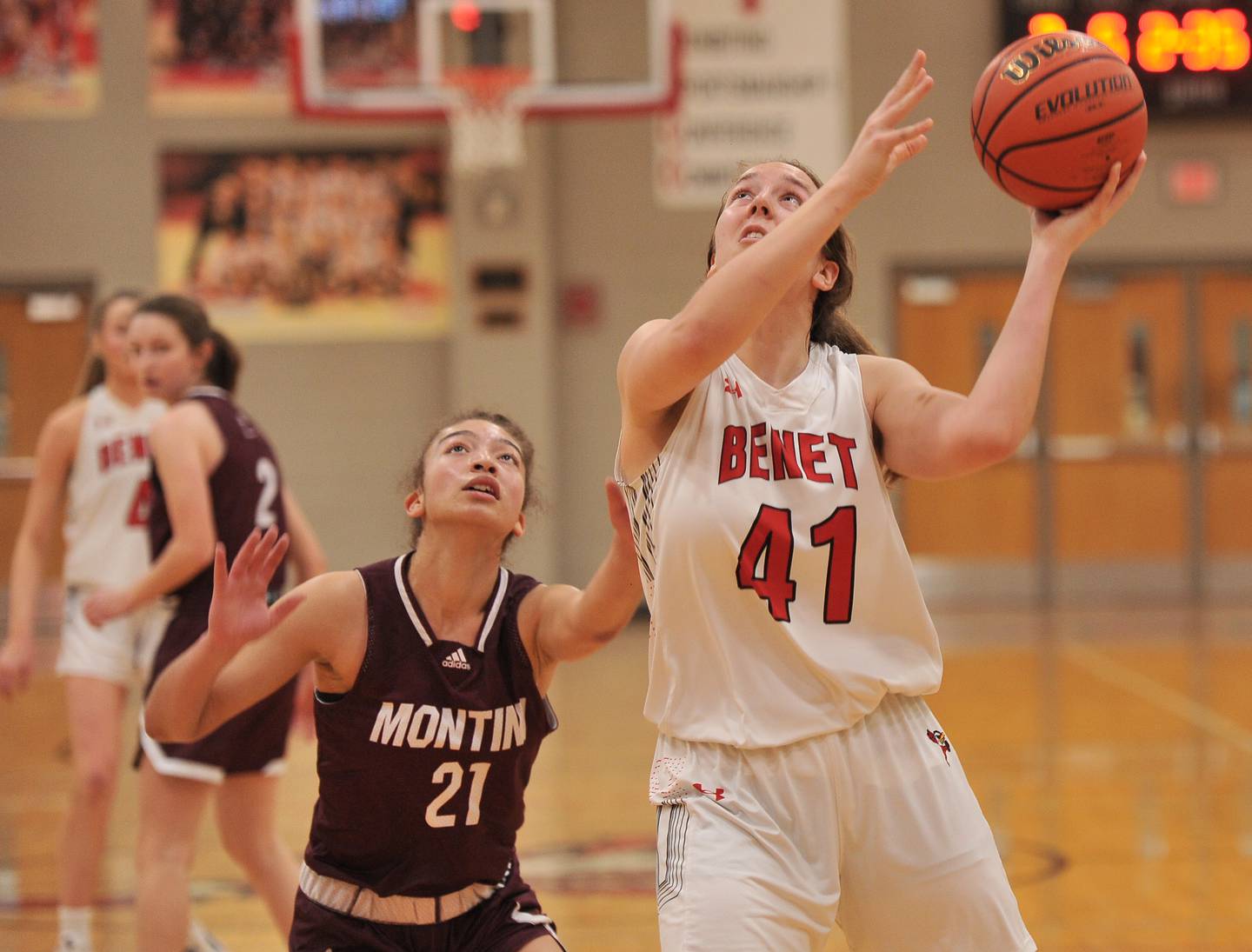 Lenee Beaumont added 13 points, nine coming in the second half, and Morgan Demos 10 points and five rebounds for Benet (25-3), which reached 25 wins for the seventh straight season not counting last spring's condensed season.
Demos, who enjoyed a significant height advantage on Montini, missed a number of short shots in close, as did her Benet teammates. But the Redwings' defense, as has become customary, made up for it. Benet held Montini scoreless during a nearly seven-minute stretch in the second quarter for a 26-20 halftime lead.
"The difference was our defense," Demos said. "It was a little rusty, hard to get back from the hole we dug ourselves in, but we kept fighting. Tough games like this help prepare you."
Benet has not allowed an opponent to reach 50 points over its last 12 games.
"Our defense is good enough that we can play with anybody," Benet coach Joe Kilbride said. "Since the Geneva game (Dec. 29) our defense has gone to a whole another level."
It needed to be to turn away a feisty effort from Montini.
Shannon Blacher's 3-pointer seconds into the second quarter gave the Lady Broncos (22-8) their biggest lead, 17-10. Blacher went on to score 15 of her game-high 18 points in the second half to keep Montini in the thick of things and went 7-for-7 from the free throw line as part of the Lady Broncos' 12-for-14 effort.
Two Blacher free throws closed Montini within 48-44 with 3:23 left, but Benet's Maggie Sularski answered with a big 3-pointer at the other end.
"Shannon is such a force, hard to defend," Montini coach Shannon Spanos said. "She can get to the basket so quickly and she did a really nice job, hit some big free throws as well. It's great to see her in situations like that take over the way she did."
Victoria Matulevicius added nine points and Sawyer White eight for Montini, White's three-point play drawing the Lady Broncos within 40-36 going into the fourth quarter.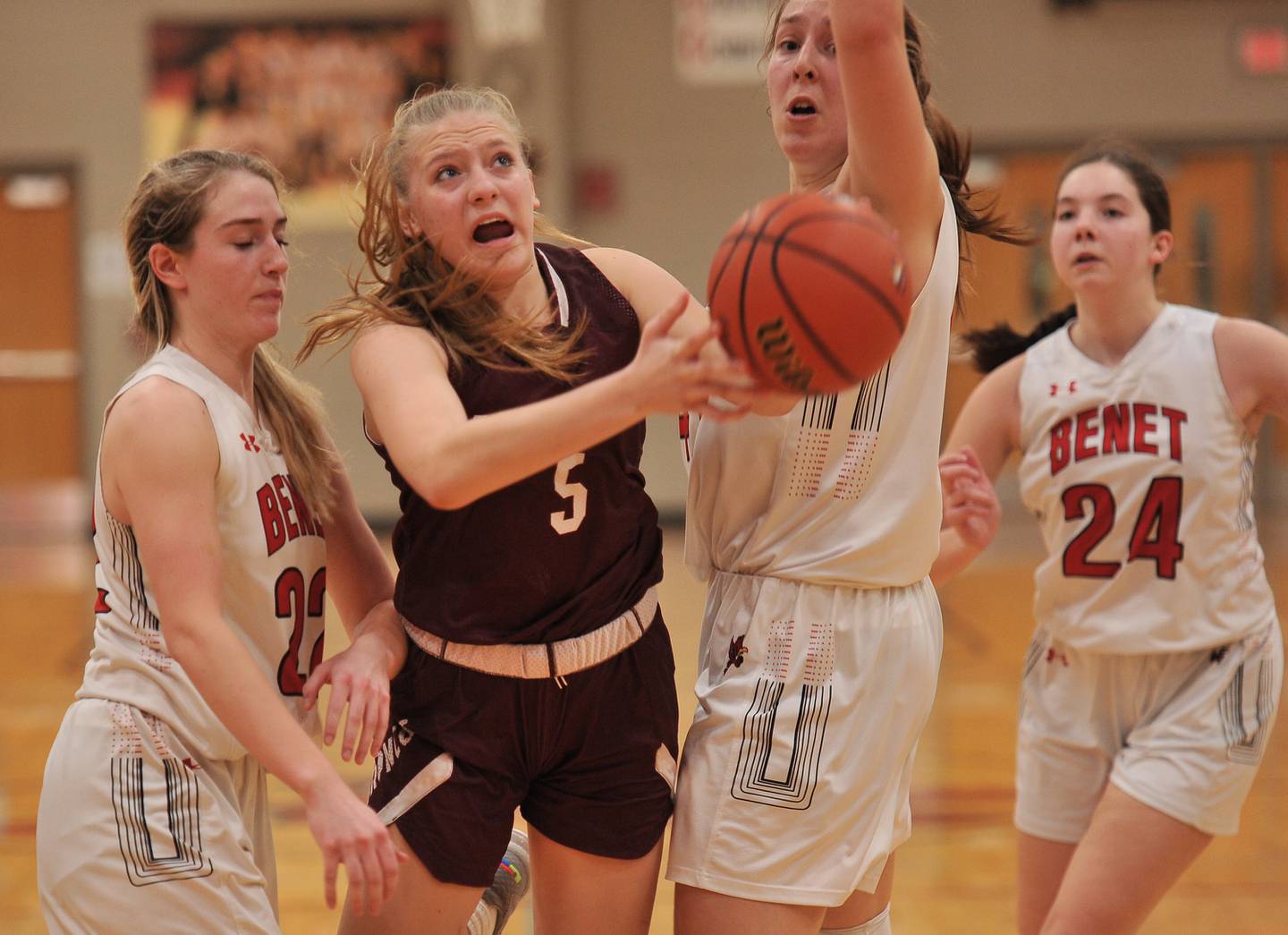 But Montini was fighting an uphill battle throughout the second half after a 6 minute, 40 second scoreless drought in the second quarter.
"We talk about having those lapses; that hurt us," Spanos said. "We would get within two, then they would come down and hit a three. It was hard to get over that hump. Absolutely this was a battle, we fought the whole game, all 32 minutes, that's all you can ask of our kids."
Temple and Olympia Kokkines each hit 3-pointers, Kokkines giving Benet the lead for good, during the 13-0 second quarter run for a 23-17 lead.
Benet missed six free throws in the fourth quarter as the Redwings were nursing their lead, but Temple and Beaumont both hit free throws in the final minute to finish things.
"They [Montini] are a tough matchup because of their size and they can all shoot," Kilbride said. "We had some problems finishing – we missed our share of layups, particularly in the first half. You don't have to be pretty, you just have to win."