ELMHURST – With a pair of heartbreaking losses to St. Francis, IC Catholic Prep's chances of winning a conference title this winter are slim.
But with the way the Knights have been playing of late, a deep playoff run in Class 2A is definitely on the table.
Emerging victorious for the 11th time in its last 14 games, ICCP defeated Rosary 41-35 in a Metro Suburban Conference affair Thursday on Senior Night in Elmhurst. It was the fourth time the two teams had met this season, with the Knights winning three, including a 40-28 decision on Dec. 30 in the championship game of the Lisle Christmas tournament.
[ Photos: IC Catholic Prep vs. Rosary girls basketball ]
"This was very special," said ICCP senior Claire Wagner, who led her team with 12 points to go along with 11 rebounds, "not only for the seniors but for our team. We lost to St. Francis by one (on Tuesday) so this was a good comeback. We all had confidence, we were all focused and we all had a lot of energy. It was very important for us to come out with a win.
"This season has absolutely been a gift. I'm having so much fun. Just being able to play and have a full season and the playoffs, I don't want it to end. But we have to finish on a high note and I think we can."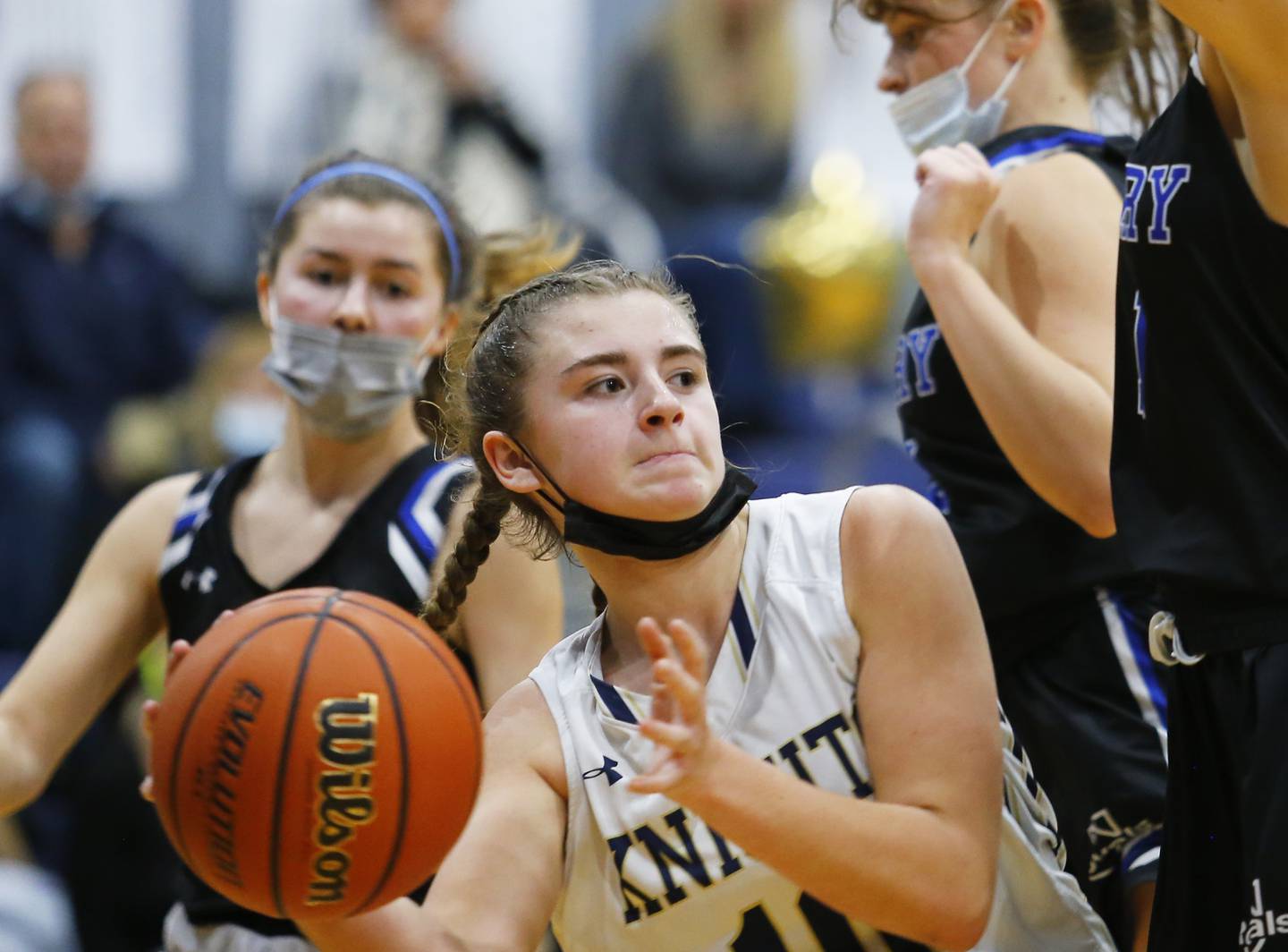 Wagner scored five of her points down the stretch as the home team staved off a comeback attempt by the Royals. Trailing 22-14 at halftime, Rosary (16-9, 7-3) got to within two in the fourth quarter but could not get over the hump mostly due to the clutch free throw shooting of ICCP, which connected on nine attempts in the latter stages.
Emily Hurst did all she could for the Royals, topping all scorers with 20 points. The Rosary senior, who added seven rebounds and three blocked shots, scored all eight of her team's points in the third quarter as the Royals pulled to within 26-22.
Lauren Hawkins and Brooke Stumm had five points apiece.
"That's just a typical day for her (Emily)," said Rosary coach Emily Duckhorn, whose team had won three straight coming in. "In that third quarter, we were able to get up the floor and get out in transition. That's when we play our best basketball, when we are getting up the court. That was the only quarter where we were ourselves. The rest of the game, we were too stagnant."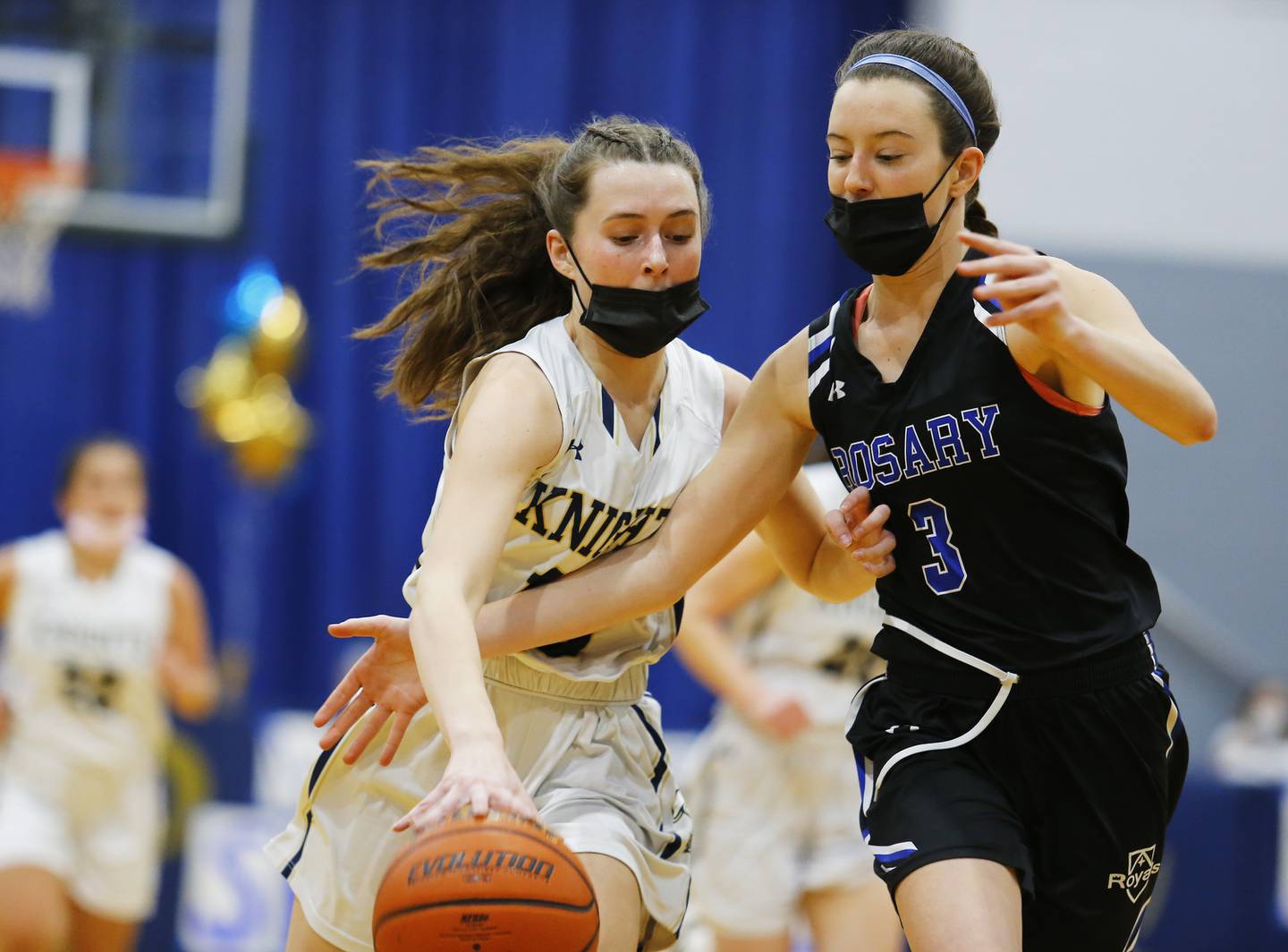 Analisa Raffaelli scored nine points for the Knights (18-8, 7-3), Kelsey McDonough made a pair of three-pointers and finished with eight and Fran Cook had seven. Allie Geiger also totaled four points and 13 rebounds for ICCP, which forced 19 turnovers.
"Defensively, we've been staying disciplined," said Cook, one of five senior starters on the night and six total on the roster. "Our bigs have been really playing well down low and we are working together as a team. And our communication has gotten better throughout the year.
"We were coming off a tough game. I feel like most of our losses shouldn't have been losses, we've been so close. We are capable of going so far, we just have to keep our heads in the game and we will get there."
The Knights, who hit four 3-pointers in the first half while only turning the ball over twice, never trailed.
"With it being Senior Night, first off, we are all very proud of the seniors," ICCP coach Todd Fischer said. "But one thing we talked to them about coming in was we are far from done. Two words we've been using recently are focus and discipline and I thought we were very disciplined on defense tonight. Our last two games against them, I'll say this, we've been really proud of our defense. It might seem like we are putting up a lot of points (recently) but we are most proud of our defense.
"The last three years, our games against them have been competitive, tight games. We've now played them four times this year; we were talking before the game about how we can't believe we've played each other four times. Thank goodness we won't see them again in the postseason, at least in the regional or sectional."