WHEATON – Claire Hyde and her Wheaton North teammates are elated about returning to familiar territory this holiday season.
The Falcons again reached the semifinals of their Bill Neibch Falcon Classic by defeating Hinsdale Central 55-32 Thursday.
For Hyde, a four-year starter and two-time all-tournament selection, its her third semifinal trip. The 2020 Classic was canceled by the abbreviated COVID-affected schedule.
"Oh my goodness, this tournament is one of the greatest in the state I think," Hyde said. "We don't have to travel as much so we get to see a bunch of awesome teams that we normally wouldn't."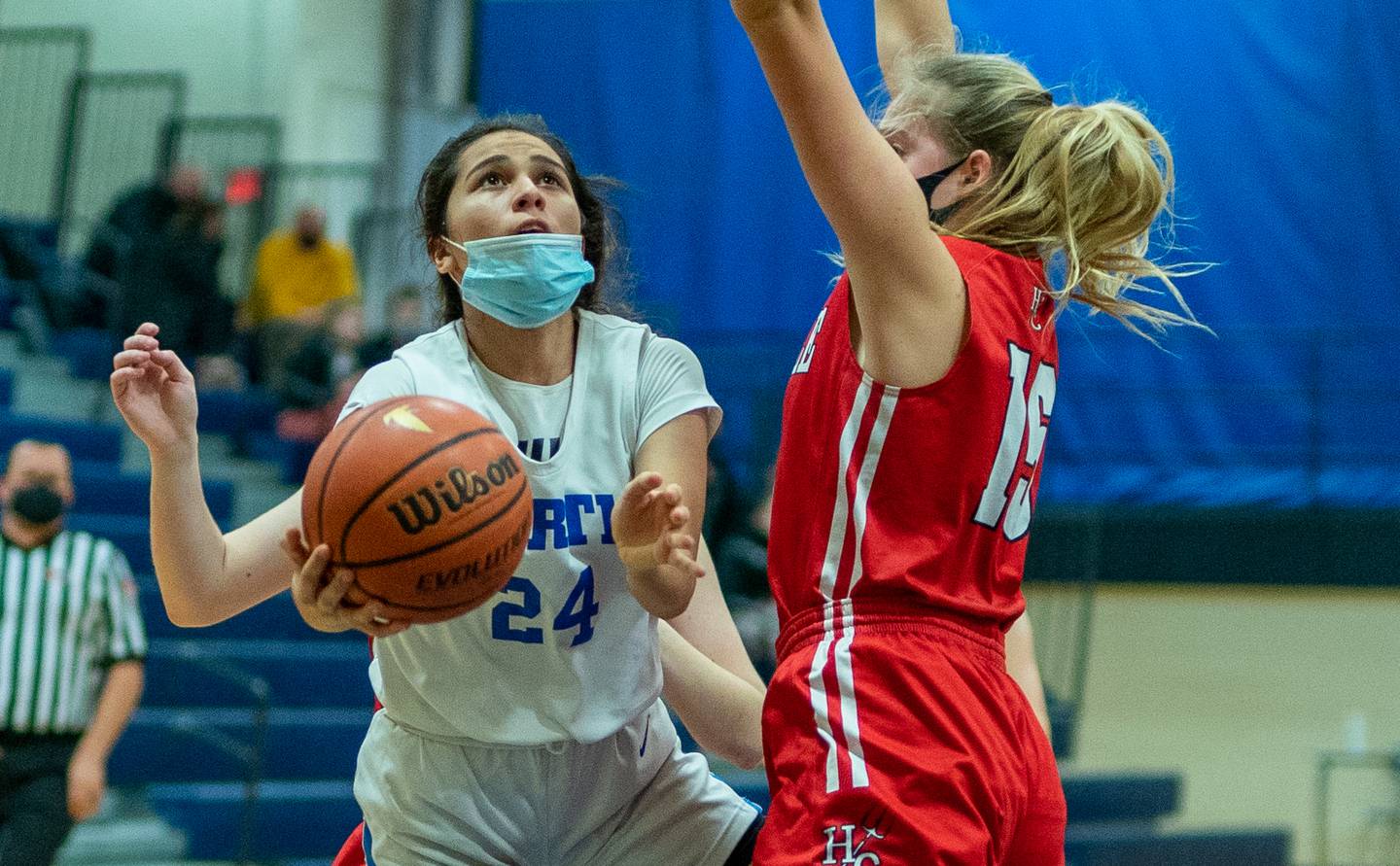 The fourth-seeded Falcons (11-2) now face a tall semifinal order against top-seeded and undefeated Willowbrook (12-0) at 6 p.m. Monday in the revised time schedule. The past two Classics, the Falcons finished third after losing in the semifinals to eventual champion Glenbard South in 2019 and to Bartlett in overtime in 2018.
"Any tournament you get, you'd like to get to the final. But we're going to prepare for Willowbrook like we would prepare for any other team," said Hyde, who had a game-high 19 points and two threes in three quarters of action. "They're a very good team. I love their team. It's going to be a good one so get your popcorn ready."
With two Classic teams dropping out, Willowbrook advanced with a bye Thursday.
"We've seen them a couple of times and in the fall," Wheaton North coach Dave Eaton said. "They're an unbelievable team. We're just excited to get the chance."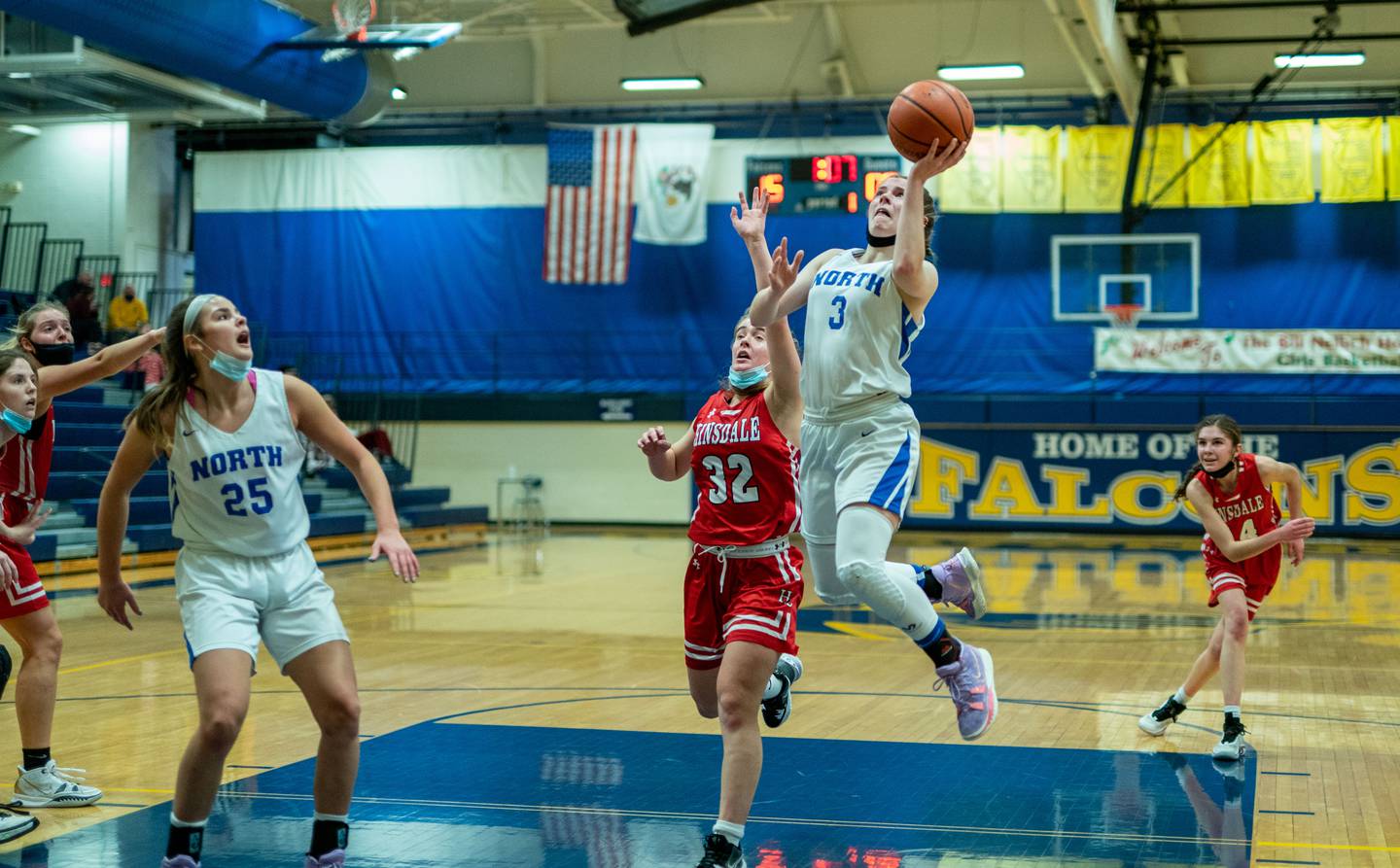 For other Falcons, this is a whole new experience, such as senior Lindsey Shanahan, who scored 13 points Thursday, and freshman Sara Abdul, who scored 11 points. Shanahan sat on the bench for the 2019 Classic and was a worker her freshman year.
"It's so much fun. I love it and it's great being able to play again," Shanahan said.
Shanahan was in familiar territory on the court Thursday and made a significant impact against Hinsdale Central (5-8). Shanahan was at the top of the Falcons' pressure defense, which fueled a 21-0 run to open a 23-5 lead in the second quarter.
The Red Devils committed 32 turnovers, including 19 on their first 29 first-half possessions. The Falcons had 19 steals, five by Eden Pearson, four by Allie Whitmer and three by Hyde and Shanahan.
"We did not do a very good job of taking care of the basketball and that's a credit to their pressure," Hinsdale Central coach Karen Persinger said.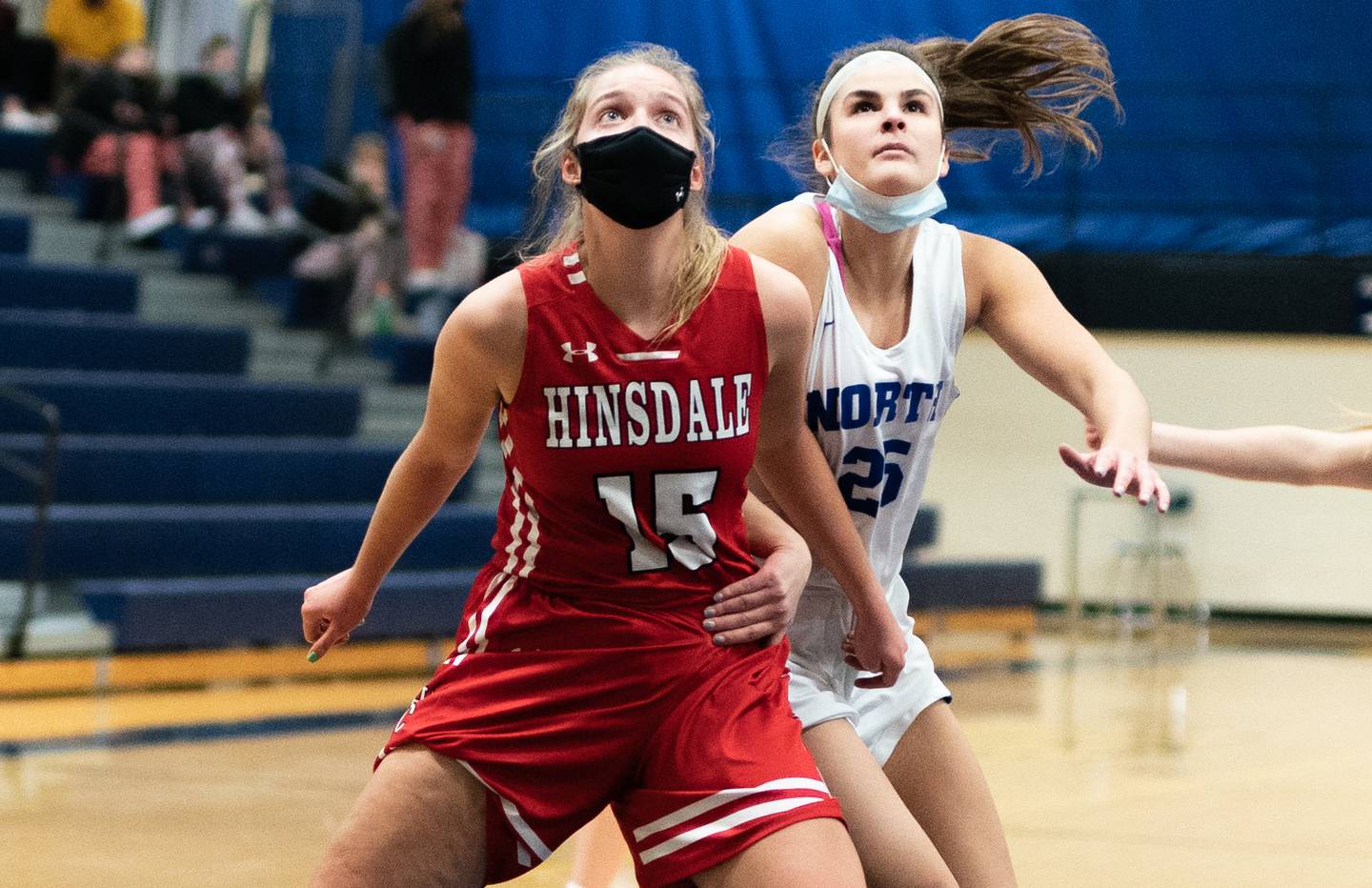 Shanahan has varsity defensive experience from last season and summer ball but had since moved to the outside. Shanahan returned up top as the Falcons await Sophia Fadel's return next week.
"It's great because I know I can get up and go really hard. I know my teammates have my back, even if I get beat, and they're ready to get the steals," Shanahan said.
"That's our identity,' Hyde said. "Lindsey definitely set the tone with her ball press. She instantly just swarms and then everybody else behind her just full force goes and follows her lead basically. That pressure is key to us winning games."
The unseeded Red Devils had their most satisfying win Wednesday by beating fifth-seeded Schaumburg 48-45. Senior Eleanor Monyek scored the game's final five points with a three-point play and two free throws. Monyek, who had seven points and six rebounds Thursday, fellow returning senior starters Nina Sarros (eight points, eight rebounds) and Tessa Howe (seven points) and sophomore Ryann Knapp (eight points) led Hinsdale Central Thursday. Their other returning starters, senior Lanie Randle and junior Angie Conley, have season-ending injuries.
"It's been us kind of trying to figure things out on the fly and the kids have done a nice job," Persinger said. "(Against Schaumburg) the kids played really well, showed a lot of mental toughness. Every time they came after us, I felt like we stepped up. We just couldn't seem to find that today."