LOMBARD – If there's one thing that Morgan Eufrasio gets at the end of a game, it's reassurance.
The Glenbard South girls basketball coach knows that the ball will be in senior point guard Lauren Cohen's hands with a sense of composure.
As rival Glenbard East tried to claw back on its home court Thursday night, Cohen calmly stepped to the free-throw line to sink her 1,000th career point to seal a low-scoring 34-23 victory over the Rams.
Cohen sank five of her six free-throw attempts in the fourth quarter en route to a team-high 12 points in the Upstate Eight Conference victory.
"Lauren can handle pressure like it's nobody's business," Eufrasio said. "She's a four-year [varsity] player, [she's] been down state twice… big games are just different for her. I have so much confidence late in the game for her not just to make the shots, but to make the right decision with the ball. The girls know to get her the ball at the end of a game."
Although Cohen scored just six points through the first three quarters, she knew through the physical battle that Thursday's game brought about, she was going to have to step up and make some plays down the stretch for her team.
The Illinois State commit had an idea she was approaching the scoring milestone, but was the furthest thing from taking the credit herself.
"I knew I was getting close but I wasn't exactly sure," Cohen said. "I can't take credit for something like that on my own. I have to thank my coaches and my teammates for sure. It's always been a goal of mine, but to do it in a shortened season with this group is just really special."
Cohen got help from junior Gianna Clouzzi, who not only reached double figures herself with 10 points but also had the task of guarding Glenbard East standout Lauren Huber.
While Eufrasio joked that the only way to truly contain Huber was to "not let her catch the ball", the Raiders (7-3, 7-1 Upstate Eight Conference) held Huber to just 2-of-9 shooting in the first half to build a 14-8 lead at the break.
As a team, Glenbard East shot just 17% (3-of-18) from the field in the first half.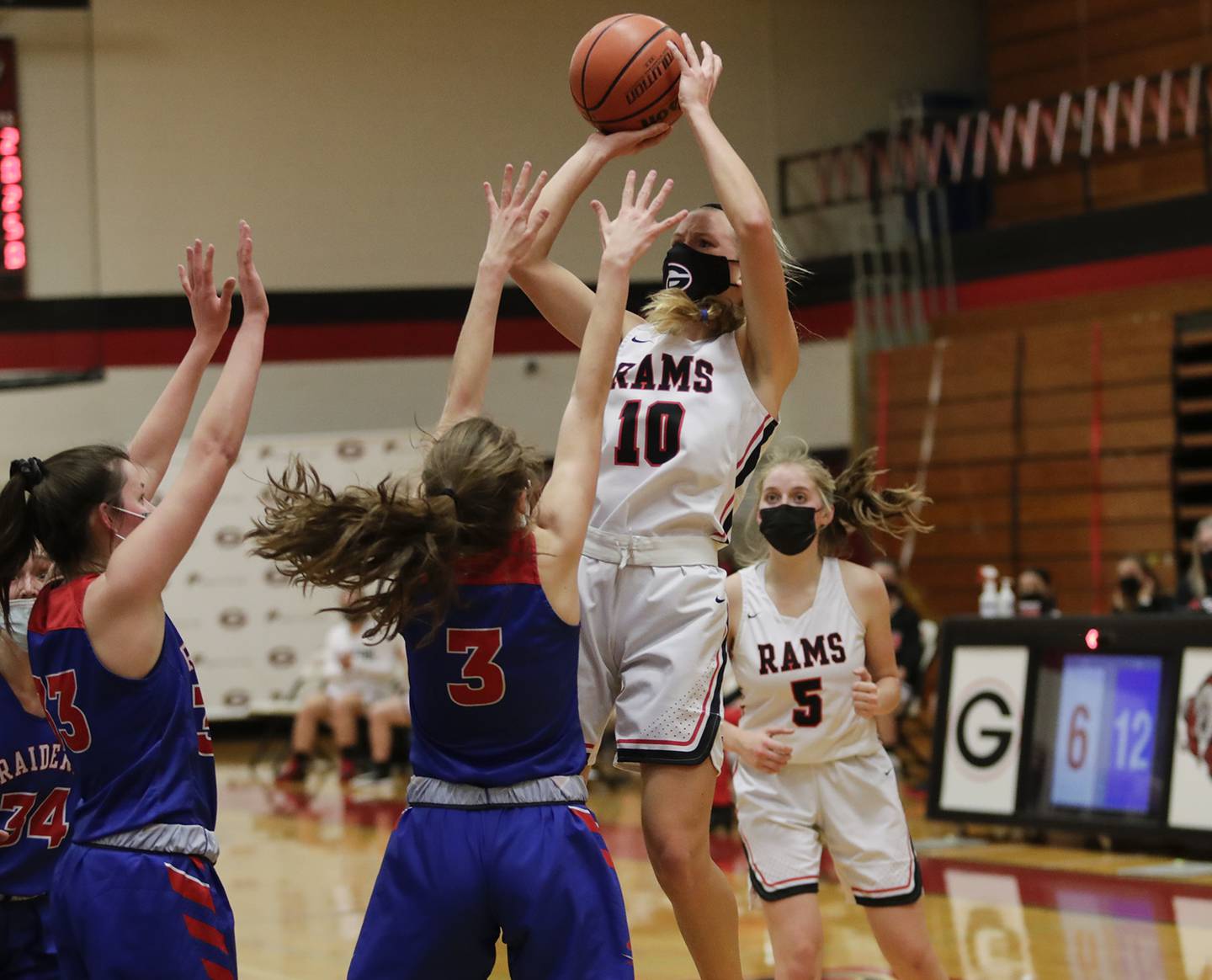 "I think our ability to help and recover and play as a unit was so key tonight," Clouzzi said. "[Glenbard East] is a really good team. Everyone played together, communicated well and it really made a difference."
"I think they had a great defensive game plan," Rams coach Nicole Miller said. "I think it was a bit out of control on both sides tonight, but they had a nice defensive effort against us and made things difficult."
Huber did manage to find some space for 11 of her game-high 16 points in the second half, but Cohen's two steals for breakaway layups in the third quarter were the first of many answers to every comeback attempt from Glenbard East (8-4, 7-2).
The Rams got it as close as six, at 28-22 at the 5:20 mark of the fourth quarter, but scored just one point in the remainder of the game. Outside of Huber, the Rams shot just 3-of-17 as a team Thursday night.
"Lauren Huber is a great basketball player and we really challenged our girls tonight," Eufrasio said. "I think we can say that, defensively, we stepped up to the challenge tonight. We're pretty similar teams and I think the difference was on the defensive end tonight."
Iman Sellars chipped in nine points for the Raiders in the victory.