LISLE – Benet senior center Kyle Thomas was among the headline players in Saturday's When Sides Collide Shootout.
The 6-foot-9 Thomas, who committed to Eastern Illinois on Jan. 14, was in the the center of the attention due to his long-range potential and name recognition.
But Thomas had to battle for every ounce of space Saturday against St. Ignatius' strong, athletic and powerful 6-5 duo of junior Richard Barron and Kolby Gilles.
"I've always been challenged, even coming into high school as a freshman, just always playing against kids that were bigger than me physically," Thomas said. "I've always enjoyed it. I love it, the physicality and fight. It was just another game playing bigger kids on the court."
Thomas displayed a strong appetite for the ball against St. Ignatius, finishing with 12 points and nine rebounds in a thrilling 43-42 win in the final game of the shootout at Benet. Brady Kunka scored a team-high 13 points and Brennan White added 10 for the Redwings (17-5).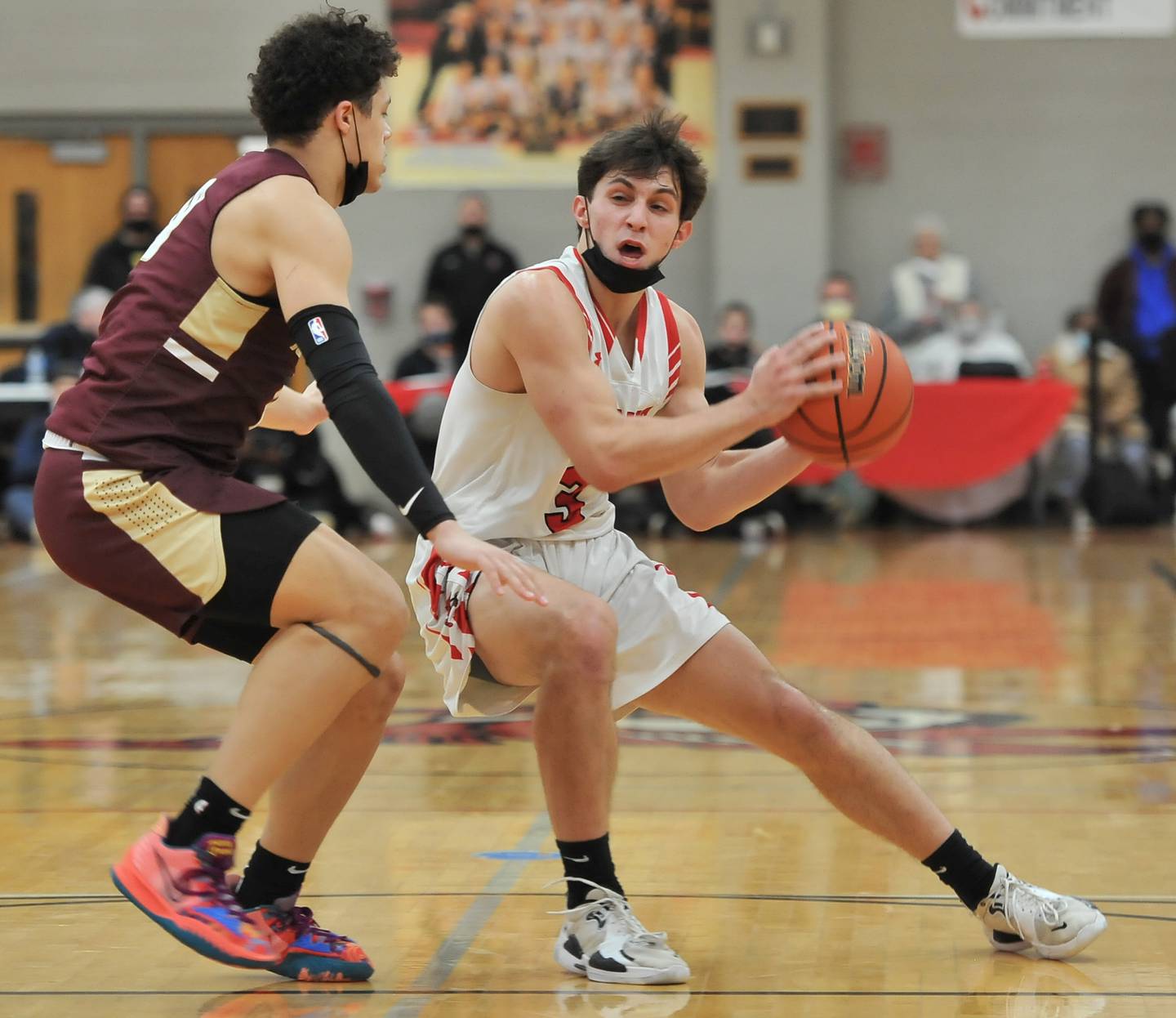 A day after a solid win over St. Patrick, the Redwings avoided a letdown by relying on a strong defensive effort in the fourth quarter. The fourth game of the highly anticipated shootout lacked the pizzaz and big-time players of the previous games, but that didn't lead to a big dropoff in attendance. After the previous two games played before a standing room-only crowd, the Redwings and Wolfpack battled in front of a nearly 70-percent full crowd, which included a large Benet student body section.
Thomas credited the big and loud student body for lifting the Redwings late in the game. He scored the first points of the game, riding the energy from the Glenbard West and Young game. Thomas tallied 10 points in the first 12 minutes to carry the Redwings.
"This is a great feeling, especially after Friday's win," Thomas said. "We came in with a lot of momentum, but we all wanted this win. The Benet crowd was amazing and were cheering loud. It's a great win."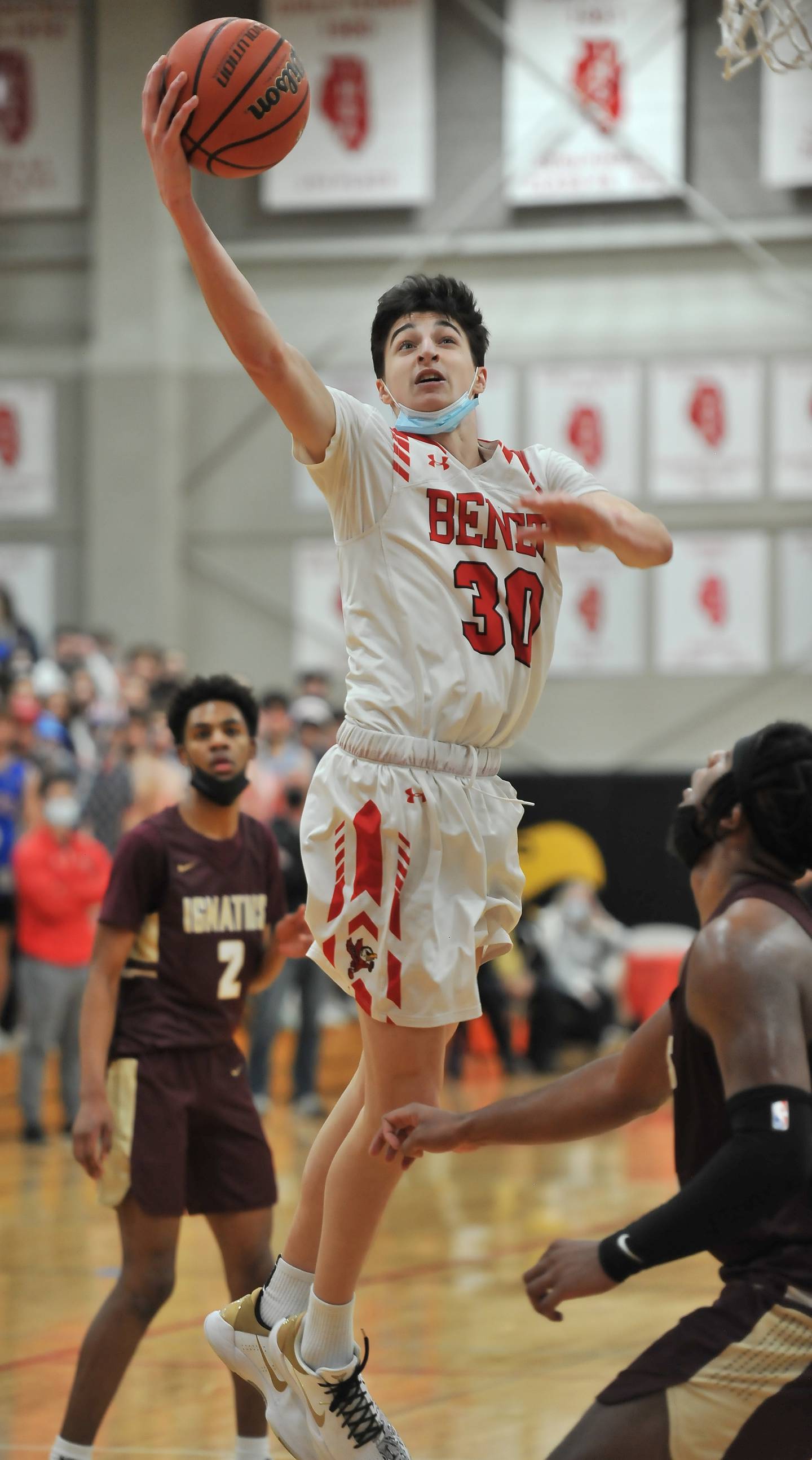 St. Ignatius rode a big game from Barron, who had 16 points and was a dominating presence on the court. AJ Redd tallied 10 points, as the Wolfpack (12-8) had a chance to tie the game with 0.9 seconds left in regulation but missed one of two free throw attempts. The Redwings held the Wolfpack to two baskets in 14 fourth-quarter possessions, highlighted by a 10-possession span where the visitors tallied just four free throws.
"It was a hard fought game and nothing came easy for either team," Benet coach Gene Heidkamp said. "It was a grind, and it was a quality win. St. Ignatius is very talented and versatile and they have size and athleticism. It was big for Kyle to stay out of foul trouble and he played well. Our defense down the stretch was really good. Nothing was easy for us. We had to earn everything."
White made a key free throw with 14.3 seconds left to pad the Redwings' lead to 43-41. He said the Redwings wanted to make a statement in Saturday's game.
"It means a lot, we are 0-5 against ranked teams, so it meant a lot to get that win against a ranked team," White said. "I tried to stick to my strengths and avoid the weaknesses and tried to do all I could to make plays. It was an exciting day, all the other games and all the guys going to play Division I basketball and then our game. We stayed focused and we were ready and fresh."