LA GRANGE PARK – Brady Kunka's primal scream fell on deaf ears late in the third quarter of Friday's emotional game against Nazareth.
The Benet junior forward was at the forefront of the action, scoring 23 points to lead the Redwings to a 59-41 victory over the Roadrunners before a capacity crowd in East Suburban Catholic Conference play in La Grange Park.
Brennan White pumped in 12 points and Niko Abusara added nine points for the Redwings (10-3, 4-0).
Kunka displayed a big appetite for scoring in tough terrain against the Roadrunners, highlighted by his baseline drive, hanging in the air for a brief second, while absorbing contact to score on a lay-in. He capped the basket with a big scream, putting both of his hands to the side of his body.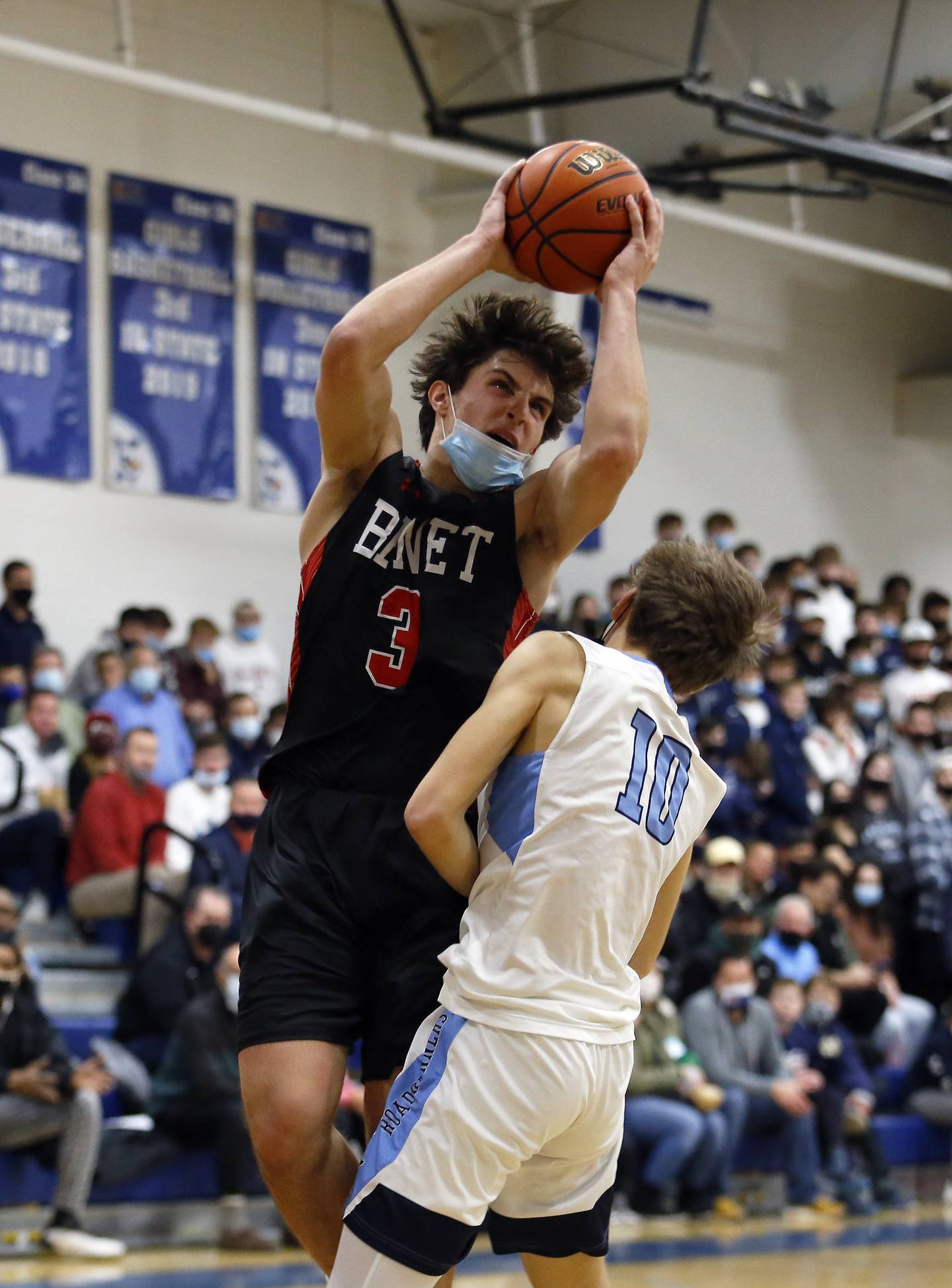 The big-boy play led to a loud applause from the big Benet student body standing just a few feet away, while Nazareth fans let out some frustration due to watching an upset bid slip way because of a massive effort by Kunka.
Kunka's lay-in off the glass with 5.2 seconds left sent a message to the Roadrunners, padding the Redwings' lead to 45-31. Kunka admitted he enjoying showing some emotions following the key basket.
"It felt great to let it out, just all the emotions from the crowd and when you get a basket like that, it's kind of a dagger," Kunka said. "It's good to kind of let it all out. it was fun."
"The environment was good tonight. I probably haven't ever played in a game like that, with our student section here and their student section. It was a loud gym. I just tried to stay composed in the heat of the moment. Some guys got me going early, and it get evolving. I was able to score and the guys trusted me and coach kept me in the game."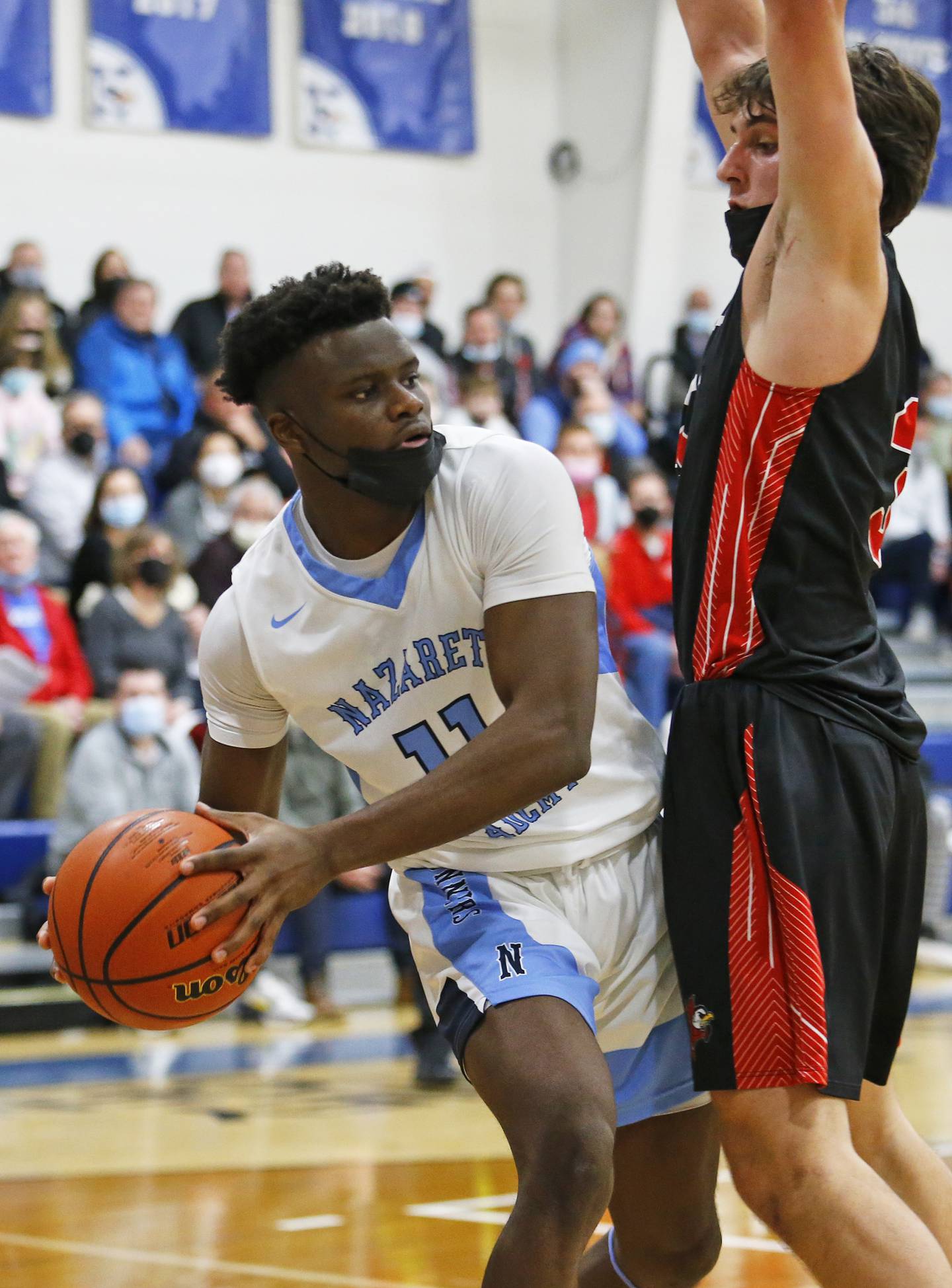 Kunka drilled both of his 3-pointers in the first quarter to give the Redwings a 14-10 lead. The Roadrunners never regained the lead, stung by foul trouble to senior forward Dominic Trelenberg and sophomore guard Talen Pearson.
Trelenberg finished with three points, all in the first quarter, and Pearson scored all five of his points in the first half. Trell Harris, a Kent State football recruit, paced the Roadrunners (7-6, 1-4) with 14 points.
Trelenberg said the Roadrunners had no answer for the hard-driving and aggressive Kunka.
"It's good to learn how to play in tense conditions like today, and one of the best teams in the state," Trelenberg said. "We learned a lot today. Brady Kunka hurt us. I remember that name. That kid is a player. He's very good, very aggressive, can finish and can shoot. He's probably one of my favorite players in the conference."
Kunka helped the Redwings pull ahead in the second half, avoiding a potential trap game before Saturday's highly anticipated showdown against undefeated and top-ranked Glenbard West at the Pappas Shootout at DePaul Prep. The Redwings built a massive cushion behind Kunka's seven-point fourth-quarter effort, helping offset a sluggish night from senior center Kyle Thomas (four points, six rebounds).
"Brady is having a great season," Benet coach Gene Heidkamp said. "It's not just one game. He's been very consistent. The thing that I've been most pleased with is that he continues to develop his game. He's not just scoring points, but shoots the ball at a high percentage and is defending well and big on the glass for his size. He's doing a lot of things to help us win."
Kunka showed no post-holiday blues following his strong showing in the Pontiac Holiday Tournament, where he was named second-team all-tourney.
"That tournament gave me a lot of confidence because we played a lot of good teams down there," he said. "The team played well and the guys showed trust in me to make shots. My confidence keeps building and building, and a game like today helps."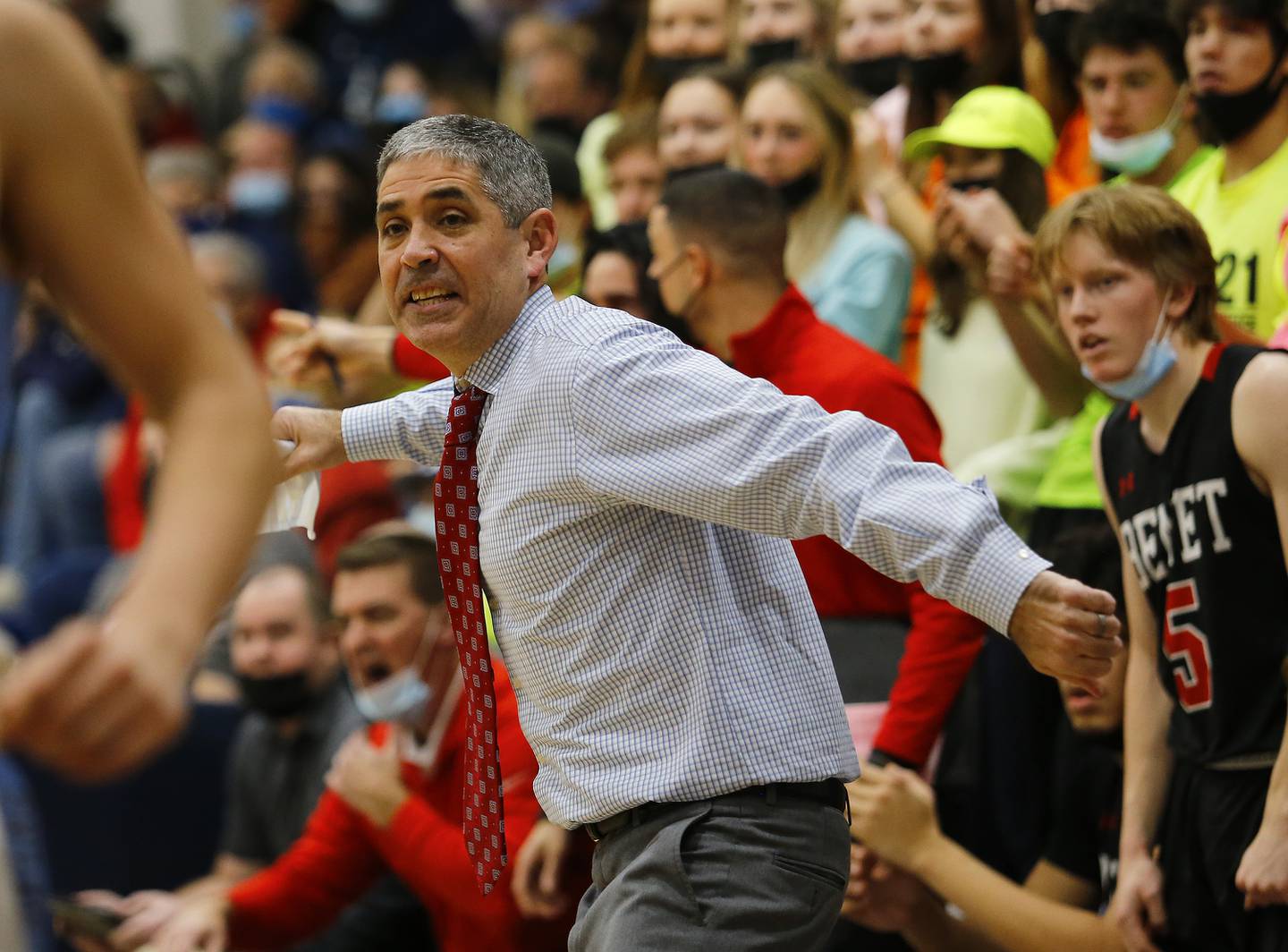 Kunka credited his strong season to gaining probably "20 to 25 pounds" since last season to bump his weight to 185 pounds. His strength and confidence was evident on several drives to the basket and his willingness to fight for rebounds.
"I did a lot of lifting in the offseason, the first summer I lifted consistently and it helped me adjust to the varsity," Kunka said. "The varsity is a more physical game. It kind of gives me a leg up on some other players. It's good to have some strength and bang down low."
Heidkamp said Friday's game was a good experience for his players to play in an intense gym, especially to prepare to battle against Braden Huff, a Gonzaga recruit, and the No. 1-ranked Hiltoppers on Saturday.
"(Glenbard West) is very good," Heidkamp said. "This was a game we had to find a way to win. Of course, we know we're playing one of the best teams in the country on Saturday. They're so talented and well-coached. We have to do a lot of things well to hang with them and stay in the game. We'll find out a lot about ourselves."