Three years ago, Ben VanderWal was a talented up-and-coming player aiming to build a memorable legacy at Timothy Christian.
He helped guide the Trojans to the Class 2A state tournament in 2020, averaging 10.3 points per game and hitting 36 3-pointers. After the Trojans were denied an opportunity to win a state title when the IHSA canceled the tournament due to the growing concerns over COVID-19, VanderWal joined forces with Josh Harris to form a solid duo last season.
Now, after Harris graduated, VanderWal is the unquestioned go-to player and leader on the Trojans.
And he's not missing a beat. The 6-foot-7 guard is doing it all for the Trojans through seven games, averaging 22.4 points, 9.4 rebounds, 3.3 steals, 2.0 blocks and 1.4 assists. He scored 30 points in Saturday's win over Wheaton Academy and dropped 32 against Westmont on Tuesday. He made 14-of-17 free throws against Wheaton Academy.
"I'm just letting the shots come to me within the flow of the offense," VanderWal said. "My teammates have been setting me up with some great passes as well."
VanderWal, a Furman recruit, admitted he's still enduring an adjustment period without his close friend Harris, a freshman forward at Illinois College.
"It definitely has taken an adjustment period for sure," VanderWal said. "Josh and I really helped each other off the court, maybe even more than on the court. We were close friends and really pushed each other in our faith and to get better in non-basketball activities. On the court, we pushed each other to get better and always were challenging each other in practice. The team is really learning quickly how to play and come together, and we now just have to continue to take big strides to get better every day."
Led by VanderWal, the Trojans (4-3) would love to a return trip to state after missing an opportunity to play there. The Trojans' record is deceiving due to playing a tough early season schedule against Fremd, Wheaton Warrenville South and Bishop McNamara.
"We like to challenge ourselves at the start of the season with some tough games, so this year is no different," VanderWal said. "Playing tough games at the start shows the level of play we need to get to in order for us to start playing consistent winning basketball. These games will help us get ready, especially for the games toward the end of the year when we need to be at our best."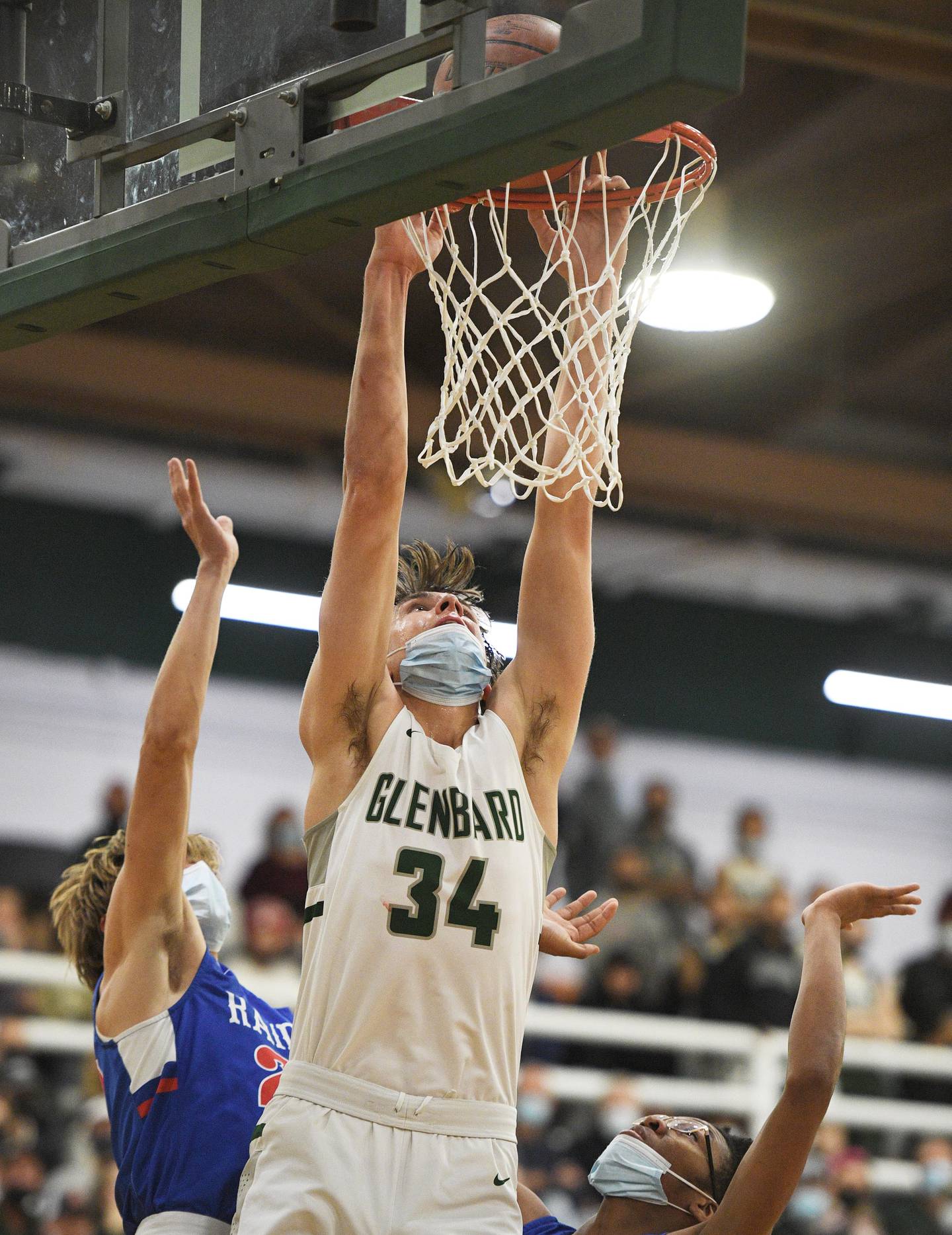 Glenbard West update
Glenbard West senior center Braden Huff admitted it was a different atmosphere playing in Sunday's Hoops Classic against Glenbrook South. The Hilltoppers were limited to playing just West Suburban Silver conference teams in the shortened COVID-19 season, even not allowed to play in the end of the season Chipotle Clash of Champions tournament, which featured the top teams in Chicagoland.
The Hilltoppers (7-0) won 13 of their 14 games last season, but played with just a smattering of fans in attendance. That wasn't the case at the sold-out game against Glenbrook South, even showing in the final seconds when Huff missed a free throw with the crowd chanting and screaming.
But Huff said the Hilltoppers welcome playing a diverse and challenging schedule to prepare them to make a run the Class 4A state title. The Hilltoppers have a challenging two-day schedule this weekend, playing at Yorkville Christian on Friday and battling Hillcrest at the Team Rose Shootout at Mt. Carmel. Yorkville Christian senior guard Jaden Schutt, a Duke recruit, is one of the top players in the country, while Hillcrest (5-0) is loaded with talented players.
"We're all excited to play these really good teams," Huff said. "We welcome playing different teams and testing ourselves in close games. It should be a fun weekend."
Glenbard West coach Jason Opoka said the Hilltoppers demonstrated in Sunday's win the importance of everybody stepping up to contribute to a win against a talented team.
"Everybody on our team understands their roles and understands to win is through unselfish play and making winning plays," he said. "Our (bench) players understand they have to give us something, from hustling or diving on the floor. Everybody's bought in. We're in a good place, but the best thing is everybody enjoys being around each other."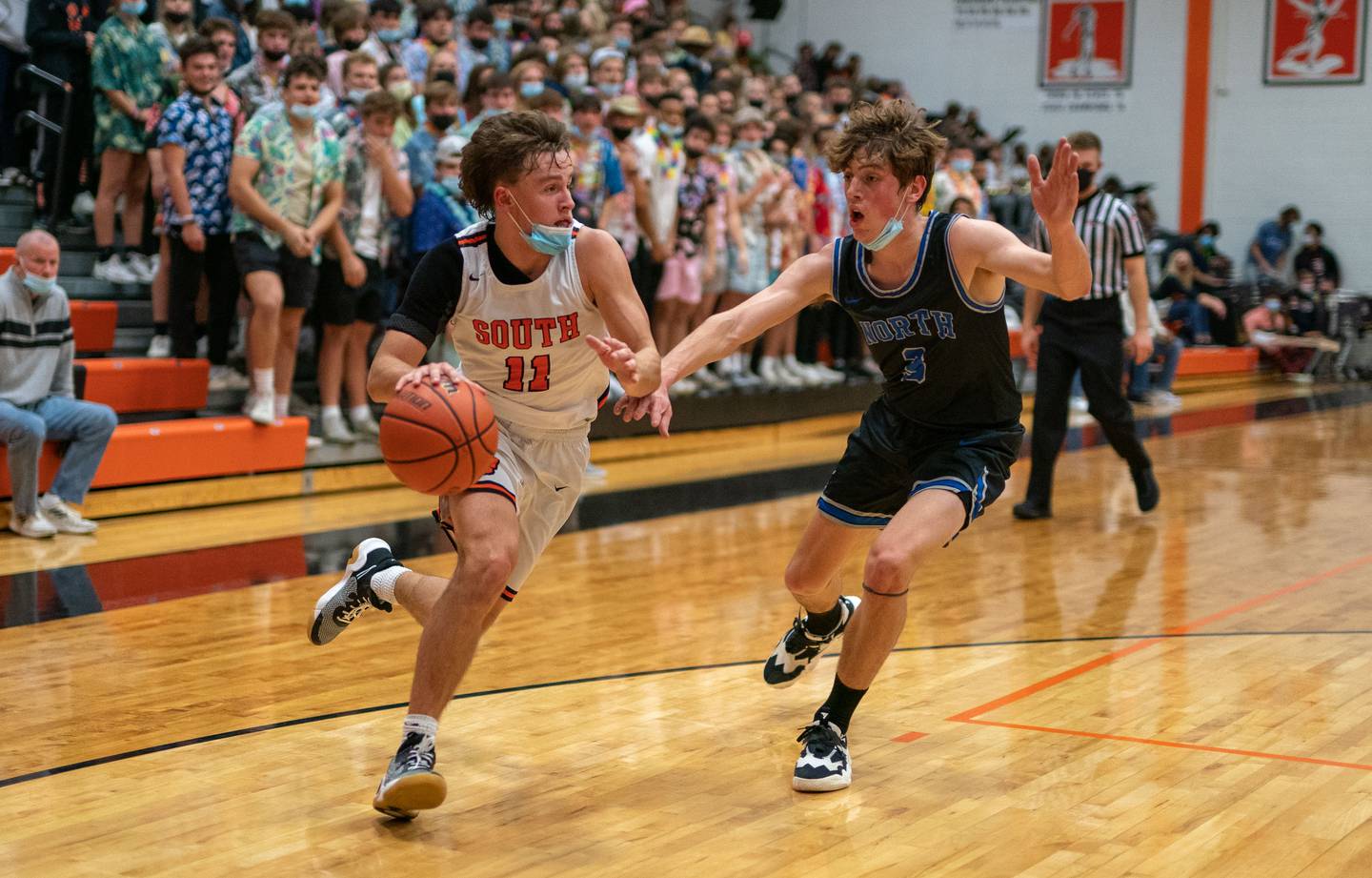 Wheaton Warrenville South update
Nearly every season, Wheaton Warrenville South coach Mike Healy manages to take an overlooked — and often undersized — team and mold them around his image. The Tigers have become annual winners based on team play, good shot selection, smart players and solid defensive.
So far, the 2021-22 season is no different. The Tigers defeated Naperville Central on Saturday to remain undefeated through six games, and followed that up with a win over Geneva Tuesday. The Tigers also own quality victories over Rolling Meadows, Timothy Christian and Fremd. After finishing with a 16-2 record last season, the Tigers are relying on the senior guard duo of Danny Healy and Rourke Robinson to go with lading scorer Tyler Fawcett (15.2 points per game) and Braylen Meredith to form a solid team with numerous double-digit scorers.