ELMHURST – IC Catholic Prep senior outside hitter Ava Falduto is back.
And that's bad news for the Knights' opponents.
Tuesday's opponent, Nazareth, was the first team to feel the effects of playing a Falduto-led team.
[ Photos: IC Catholic Prep vs. Nazareth volleyball ]
Falduto, a Penn State recruit, spent considerable time this summer playing in Croatia and Mexico for the USA U19 team and USA U21 squad. She played libero for both USA teams.
She arrived back in the U.S. on Sunday night.
"It feels really good to be back with the girls and we have a really good connection," Falduto said. "I really missed playing with them, so it was fun to get back out there with them. I just got back and am really fatigued. I haven't hit a ball over my head since July 15. It's going to be an adjustment, but I'm excited to get back at it.
"Making both of the [USA] rosters was a dream and incredible. I've always strived for it. Just an incredible experience."
With Falduto back, the Knights easily won the battle of second-place state finishers, rolling to a 25-17, 25-14 victory over the Roadrunners before a big crowd in Elmhurst.
Falduto, who finished with 477 kills, 311 digs, 31 aces, 36 assists and 29 blocks to help lead the Knights to Class 2A second-place state trophy last season, showed some rust but gained strength throughout the match.
"Coming off a loss at the end of last season really motivated the team," Falduto said. "As soon as we stepped into the new year, we want to get back to state and end the season on a win. We have a lot of work to do. I think we can do it."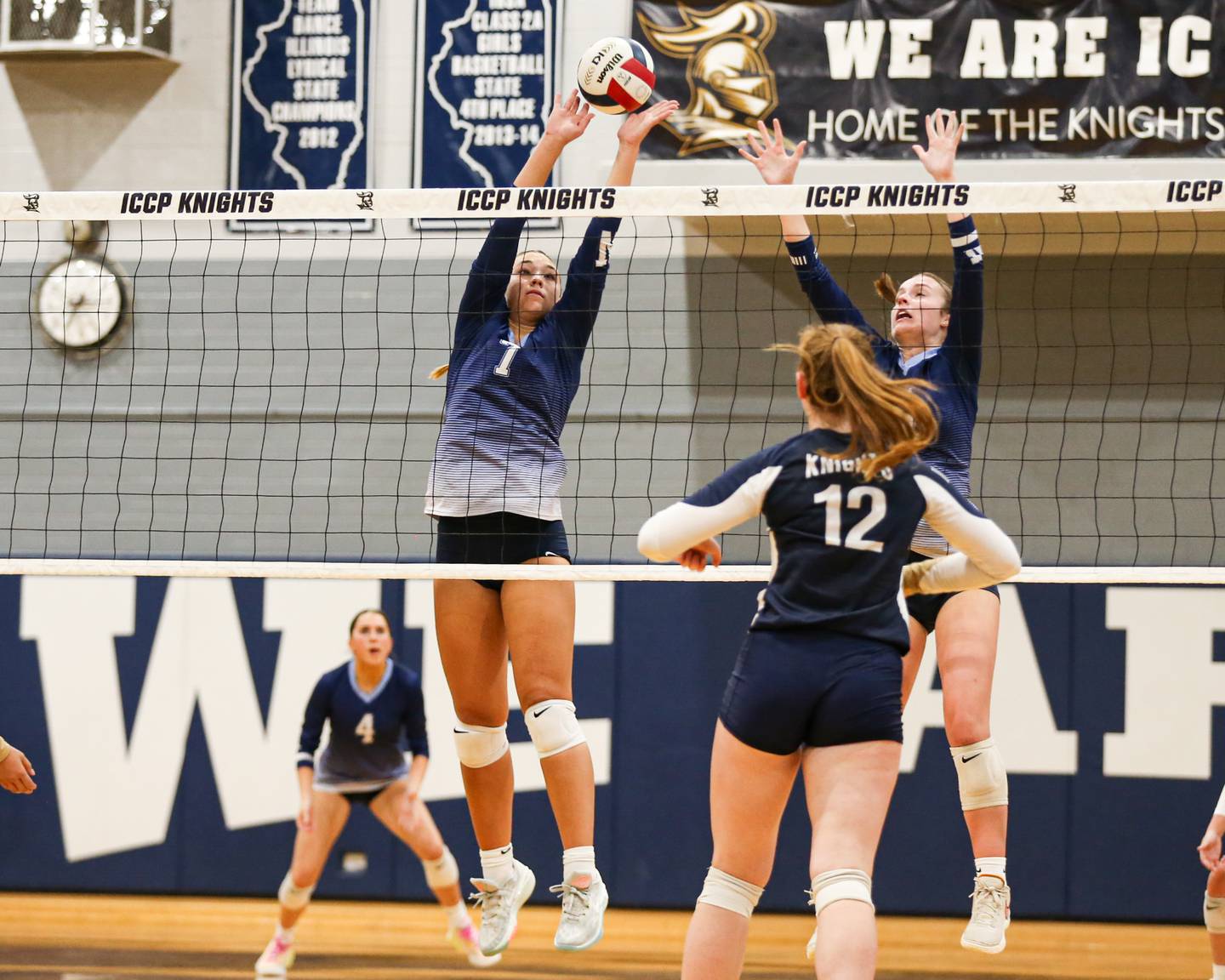 The Knights set the tone by scoring the first three points in the opening set to take command and built sizable leads thanks to the serving of senior Lucy Ross and solid defensive play.
Plus the return of Falduto, who provided five kills, two aces and 11 digs, certainly provided a big jolt.
"Having Ava back is great, just with her presence and her experience," IC Catholic coach Nancy Kerrigan said. "You could tell it helps us with our ball control. It's going to take her a bit because she hasn't swung or served a ball in almost two and a half months. We told her to do her thing. She shifted back into playing offense. That will take time. We told her to keep swinging. The great thing is we have many other weapons and don't depend on her. That's the greatest thing happening right now."
The Knights (2-1) took a big step by defeating the Roadrunners, who lost to St. Francis in the Class 3A state championship match in November. On this night, the Roadrunners (2-6) never could get in sync, committing mental and physical errors. Senior Olivia Austin, a three-sport star athlete, led the Roadrunners with four kills and four blocks.
"We knew they were awesome on defense and don't make errors and control the ball very well," Nazareth coach Melissa Masterson said. "We had a lot of unforced errors. You can't do that against a team like them that doesn't make errors."
IC Catholic junior Emily Carling, who had eight kills and six digs, said the team was focused from the start of the first set. Even after winning the first set, the Knights slowly walked to the bench and didn't celebrate the strong start. Delilah Hyland added six kills and three blocks, Alysa Lawton had 11 digs and Russ tallied 17 assists, three aces and seven digs.
"We did a lot of team building this weekend and it really brought us together," Carling said. "We played so well. Our defense was so good and we did a really good job moving around the ball. Our fans were loud today. So was our bench."