It was a year like no other for high school sports in Illinois.
It started with no sports at all. Then a full school year's worth of sports was jammed into a less than five-month period.
Football was played in the spring. And then returned in the fall. Players had to grow accustomed to competing with masks, and for a time period without fans. Sports returned to semi-normalcy this school year, but we have been reminded in recent weeks that COVID-19 is not done affecting sports as we know them.
Through it all, kids, coaches and parents persevered. And great things were accomplished, even through unprecedented adversity. Here are the top on-the-field sports stories of 2021 in the Suburban Life coverage area.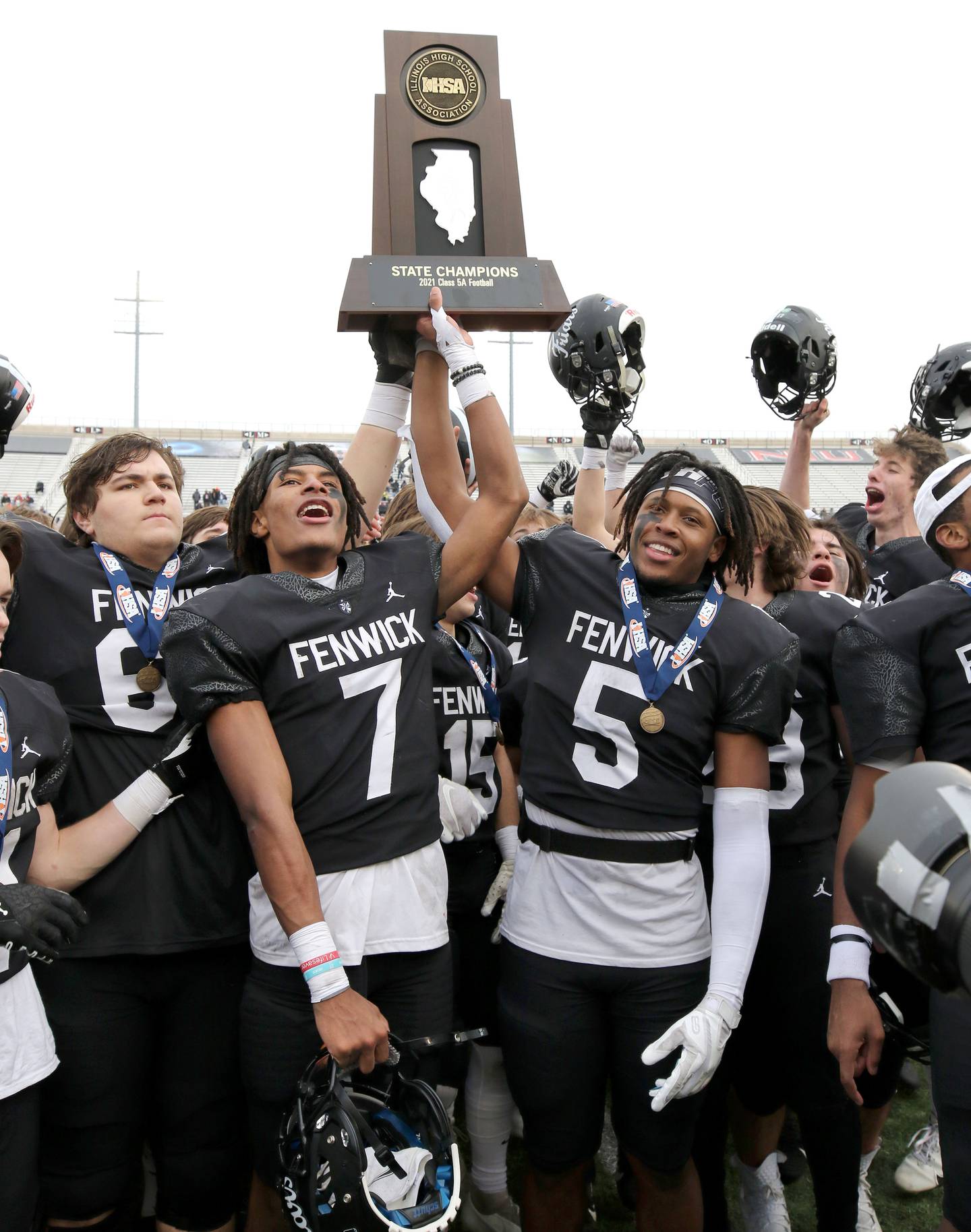 Fenwick, Wheaton North state football titles
After a shortened six-game spring season, football returned full blast this fall, playoffs and all. State champions were crowned once again at NIU's Huskie Stadium Thanksgiving weekend.
In Class 5A, Fenwick, led by senior quarterback Kaden Cobb, a Ball State commit and Suburban Life Player of the Year, beat Kankakee 34-15 to win the school's first-ever state championship.
"It's hard to grasp, but it just makes me and the rest of the team so happy that all of our hard work paid off," Fenwick senior defensive lineman Suleiman Abuaqel said.
Later that day, Wheaton North dominated St. Rita 35-6 in the Class 7A state final to win the fourth state championship in program history, first since 1986. Third-year starting QB Mark Forcucci threw for 302 yards and two TDs in the game.
"We've talked about trying to do something like this," Wheaton North coach Joe Wardynski said. "We've had the same three state titles on our press box for all these years. ... Now we can add 2021 to it."
York, Wheaton Academy soccer win state titles
With 80 minutes of masterful soccer, York beat Fremd 4-0 in November in Hoffman Estates to win the Class 3A state championship for the school's first state championship in soccer.
Jose Herrera scored two goals and third-year varsity player Sam Musial also found the back of the net for York.
"We played about as well as we could tonight – all of us – and that great start that Jose gave us in the first minute helped settle us down and play with a lot of confidence after that," Musial said afterward.
The Dukes were one of two area state champs crowned in soccer.
In Class 1A, twins Josh and Caleb Mariotti each scored goals in the game's first 11 minutes leading Wheaton Academy past Belleville Althoff 2-1. Wheaton Academy's title joined the championship the program won in 2014.
"Overwhelmed," third-year Wheaton Academy coach Cody Snouffer said. "I'm just thrilled for my guys. They've talked about this [a state title] and to make it come true is a fantastic feeling."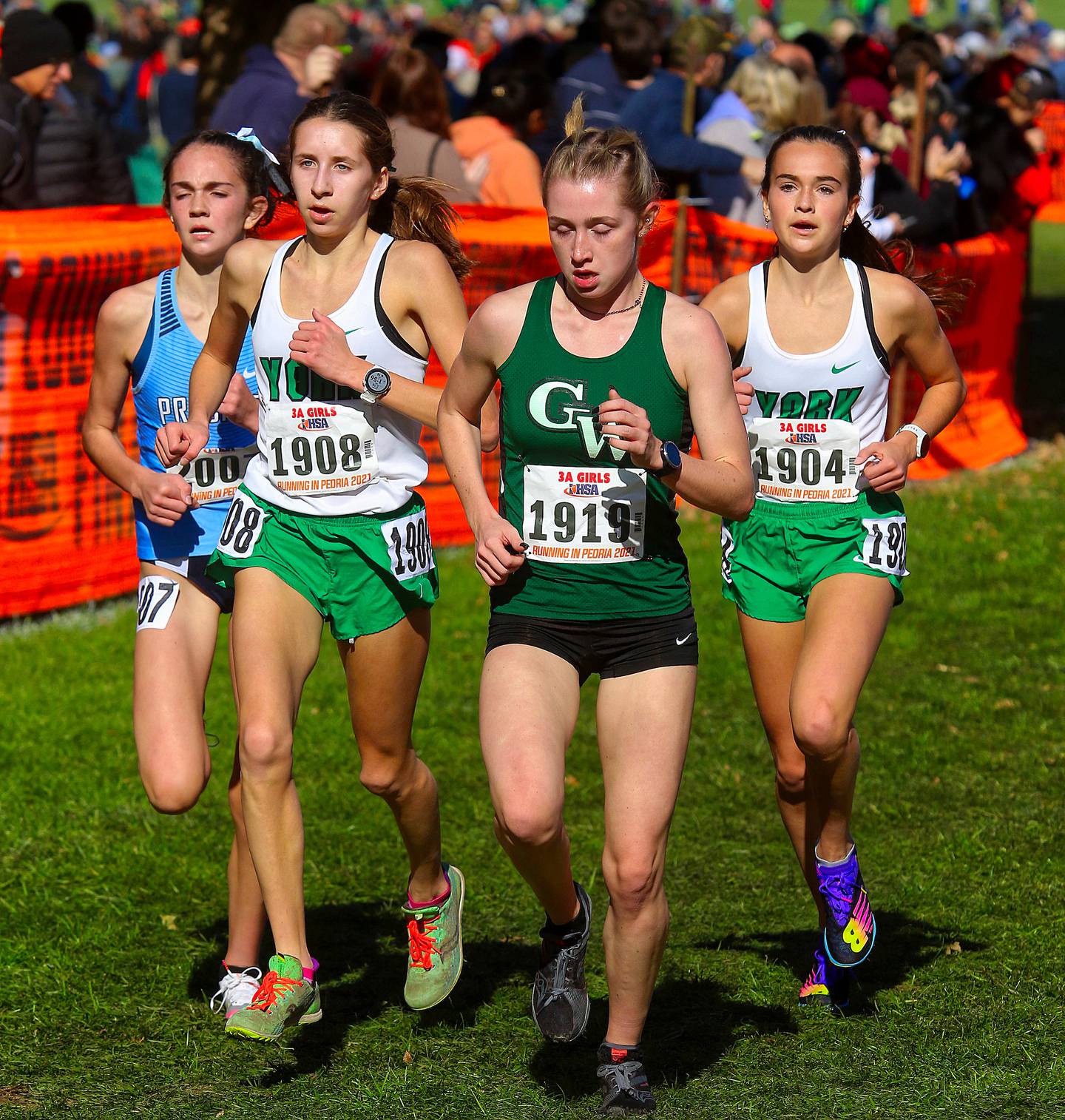 York girls cross country dominant at Detweiller
Ranked No. 1 all season, the York girls cross country team capped it off in November at Peoria's Detweiller Park with the program's first state title since 2000.
York won the Class 3A state meet with four first-time top-25 all-staters – sophomore Katherine Klimek (seventh, 16:51.17 for 3.0 miles), juniors Bria Bennis (19th, 17:04.11) and Brooke Berger (21st, 17:07.59) and Winton (23rd, 17:15.47). Sophomore Michaela Quinn was 27th (17:27.12). It was the second-best 3A winning total since the three-class format began in 2007. Geneva won in 2008 with 51 points and four all-staters.
The Dukes in 2020 had won the invite-only ShaZam Championships created after the COVID-19-affected 2020 season resulted in no IHSA state meet.
"Last year, people were always like it was the 'fake' state," Berger said. "We really wanted to prove it. Now we've actually won the state title – officially."
Lyons' soccer's near-perfect season
Lyons' girls soccer team, appearing in the state title game for just the second time and first since 1997, came within inches of becoming only the second large-school team to complete a perfect season.
O'Fallon ended the 20-1 Lions' bid for their first state championship with a 1-0 victory, but Elli Kosanovich and her teammates were determined to celebrate.
Senior forward Ava Dallavo hit the crossbar with a dipping 30-yard shot with 4:20 left in the first half.
"It for sure was a tough loss," Kosanovich said. "Obviously anyone in this position wants to get first, and O'Fallon is a really talented team.
"You have to celebrate all that we've accomplished this season because at the beginning of the year, we didn't even know we were going to have a season. And the fact that we went 20-1 and let up four goals this entire season really says a lot."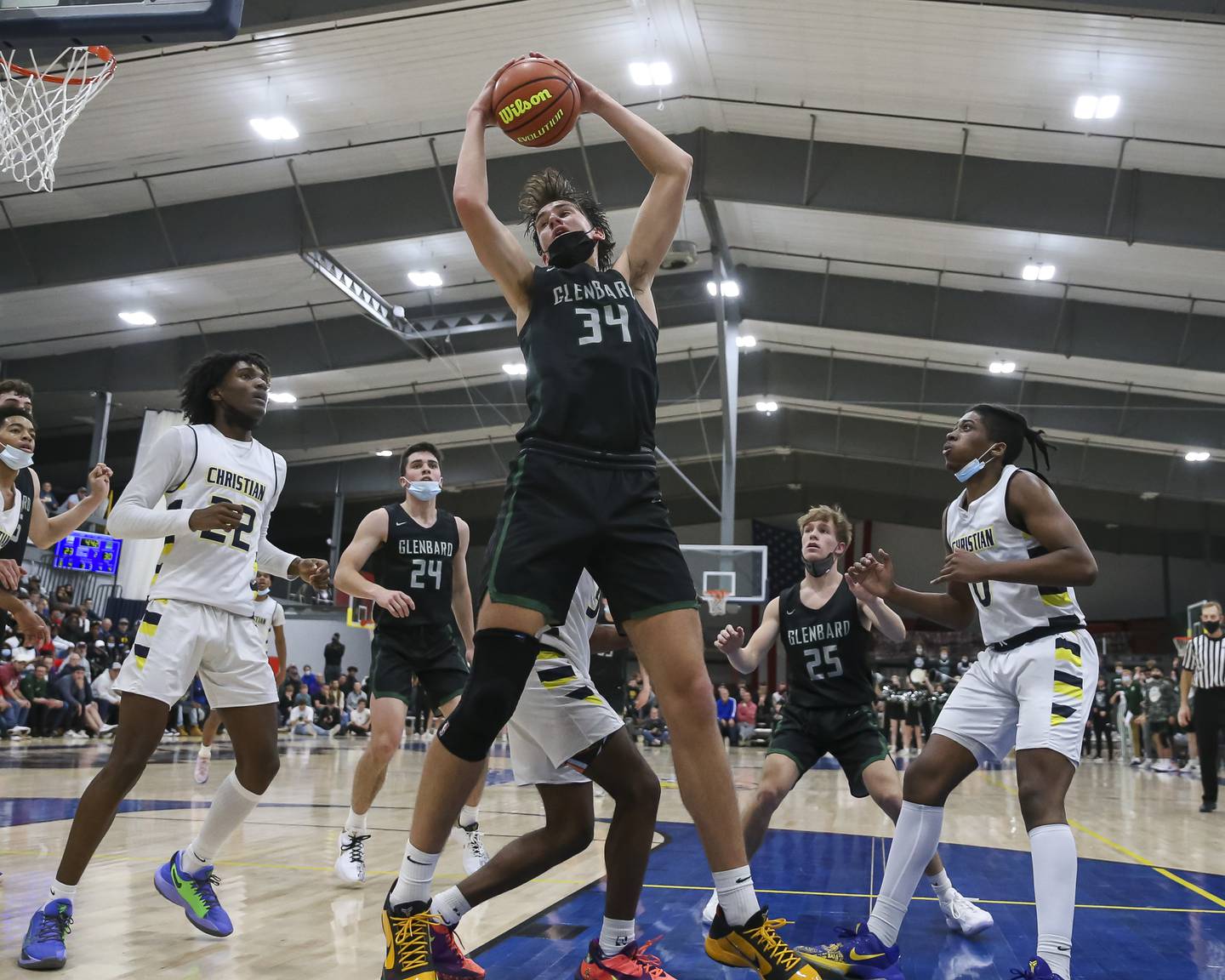 Glenbard West boys basketball No. 1
This is a story whose final chapter will not be written until 2022.
Glenbard West's boys basketball team, with an ultra-talented roster led by Gonzaga recruit Braden Huff, is the No. 1-ranked team in Class 4A. The Hilltoppers, who lost just one game in the shortened 2021 spring season, dominated all comers during the summer and have kept it rolling during a 10-0 start to this winter's season.
Because of COVID-19, the basketball state finals have not been held the last two seasons. In March 2022, the boys state finals will return to Champaign for the first time since 1995 after being held in Peoria for over two decades.
Don't be surprised if the Hilltoppers are there trying to make their own history, the school's first state basketball title.