Baseball is Brady Chambers' primary sport, but his status in basketball is set to take a big leap this season.
The Lyons senior right-handed pitcher committed to Michigan State to play baseball in late October. He backed up his commitment by earning West Suburban Silver All-Conference honors this spring.
At 6-foot-6 and 205 pounds, Chambers displayed potential to be a go-to player in basketball despite coming off the bench on a senior-laden team last winter.
Now, just a few weeks before the new high school year starts, Chambers is adjusting to becoming an integral player in two sports for the Lions.
"I've been playing multiple sports since I was a kid, so I'm pretty used to it at this point, but getting in the work in the offseason will definitely help me be prepared for basketball and baseball," Chambers said. "During the basketball season after practice, I was going to baseball practice three times a week, which helped me prepare for baseball season while still in basketball season."
Lyons basketball coach Tom Sloan said Chambers is slated to become a key starter for the Lions, who lost all five senior starters from last season's team that won a regional championship.
"Of the returnees, Brady is the only one who got significant playing time last year," Sloan said. "Brady was a very important player in our rotation this past year. He has good size, can play around the basket, is very skilled in the paint, has the ability to step out and hit the shot and can handle the ball. He also has very good vision, looks down the floor when he rebounds and can get our offense going very quickly. Brady will get a lot of attention from the other team's scouting report due to his size and ability this year. He will be a very important player for us."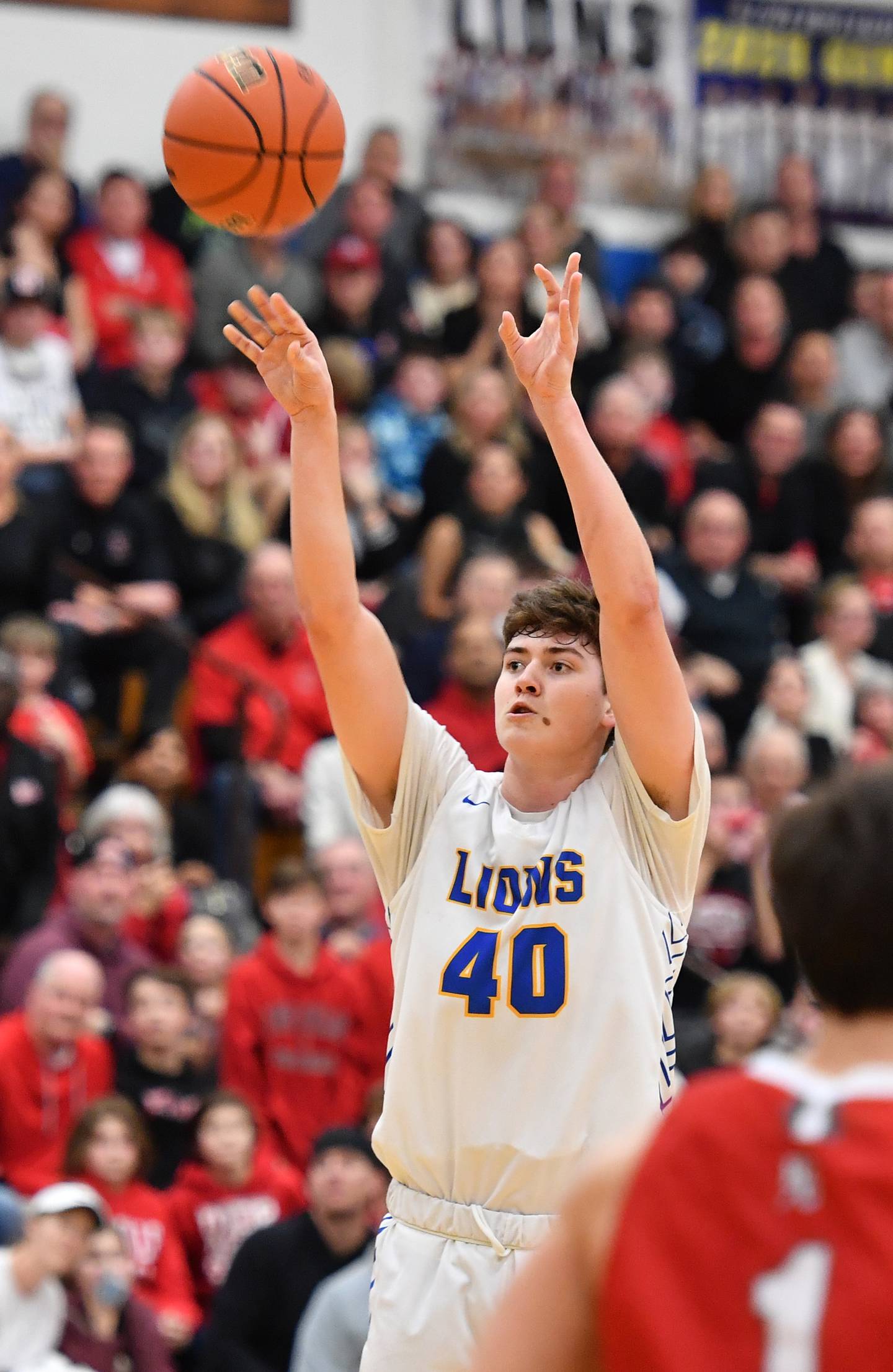 Chambers will have to pick up a bigger load after the graduation of Nik Polonowski and Jackson Niego. The Lions lost significant scoring and leadership, including a combined 26 points, 6.5 rebounds and 5.0 assists from Polonowski and Niego.
Chambers said he gained some confidence playing the lead role for the Lions in June.
"I think the summer league practices every day were very helpful, which kept me in shape and sharp on the court," Chambers said.
Sloan said his varsity program experienced a mixed bag of results due to the loss of all five starters.
"In general, this summer for us was very much a learning opportunity for everybody involved, from the players to the coaches, because the last two years we had a pretty experienced group of guys," Sloan said. "This year, we have a couple of guys who have varsity experience in games, but everybody else this summer was their first real opportunity to play against varsity level competition. Although the games were the summer and that's not the same, it was their first chance to play against the best players from other schools."
Sloan said he altered his coaching approach, gearing part of the summer toward watching his players handle playing varsity against top competition instead of incorporating X's and O's.
"I looked at it as a developmental opportunity," he said. "The last couple of years we had so many experienced kids. We were able to do some strategy this summer, but it was more watching the kids playing in a competitive environment to get an idea which guys would be able to compete at the varsity level."
Sloan said senior point guard Caleb Greer and senior forwards Liam Taylor and Michael Reilly were among the standouts this summer.
"Caleb played on and off a bit last year," he said. "Caleb is very quick and a very good ballhandler, extremely unselfish, very good defensively, almost like a one-man full-court press. Liam is a very good athlete and was in the mix in the rotation last year until he got an injury late. Michael played sparingly in varsity games. In a different season with not as talented a group of players ahead of him, he would definitely have gotten a lot of varsity minutes."