Stefan Cicic hit a new standard this summer.
The Riverside-Brookfield senior center broke ground by reaching the 7-foot mark in a recent measurement.
In basketball, the 7-foot barrier is a coveted signature that separates players. Last year, Cicic said he was 6-10 and 250 pounds. He now weighs 240 pounds.
"It feels good to be [7 feet tall]," he said. "A lot of people would love to be that tall. Hopefully [college] coaches will see that I'm 7 feet."
Besides growing an inch and reshaping his body, Cicic is benefiting from continuity in his basketball career. After attending two different schools in his first two seasons, Cicic said he's enjoying putting his roots down for R-B coach Mike Reingruber's program.
Aside from his height, Cicic said he's also thinking big in terms of individual and team goals for his senior season.
"I'm really excited," Cicic said. "I can't wait for the season to start. I want to show my game even more. I want to do better than I did last year, try and get to 1,000 points, get All-State, the conference MVP and all-conference. I really want to be the best but also for my team to achieve all of our goals."
Reingruber said Cicic, who averaged 17.3 points, 10.1 rebounds, 2.0 assists and 1.2 blocks and recorded 16 double-doubles en route to being named Associated Press Class 4A All-State honorable mention last season, is on his way to a big season. Last summer, Cicic was sidelined with an ankle injury, which slowed his progress at his new school.
"Stefan continues to develop and is a kid who definitely is more comfortable in our system and will continue to get better," Reingruber said. "He knows what to expect and what we do offensively and defensively.
"Last year was kind of an oddity because he didn't play all summer. The first time I got to coach him was in November. It was an adjustment for everybody, even for him and the coaching staff and figuring out the best ways to put him in a best position to be successful and to use him."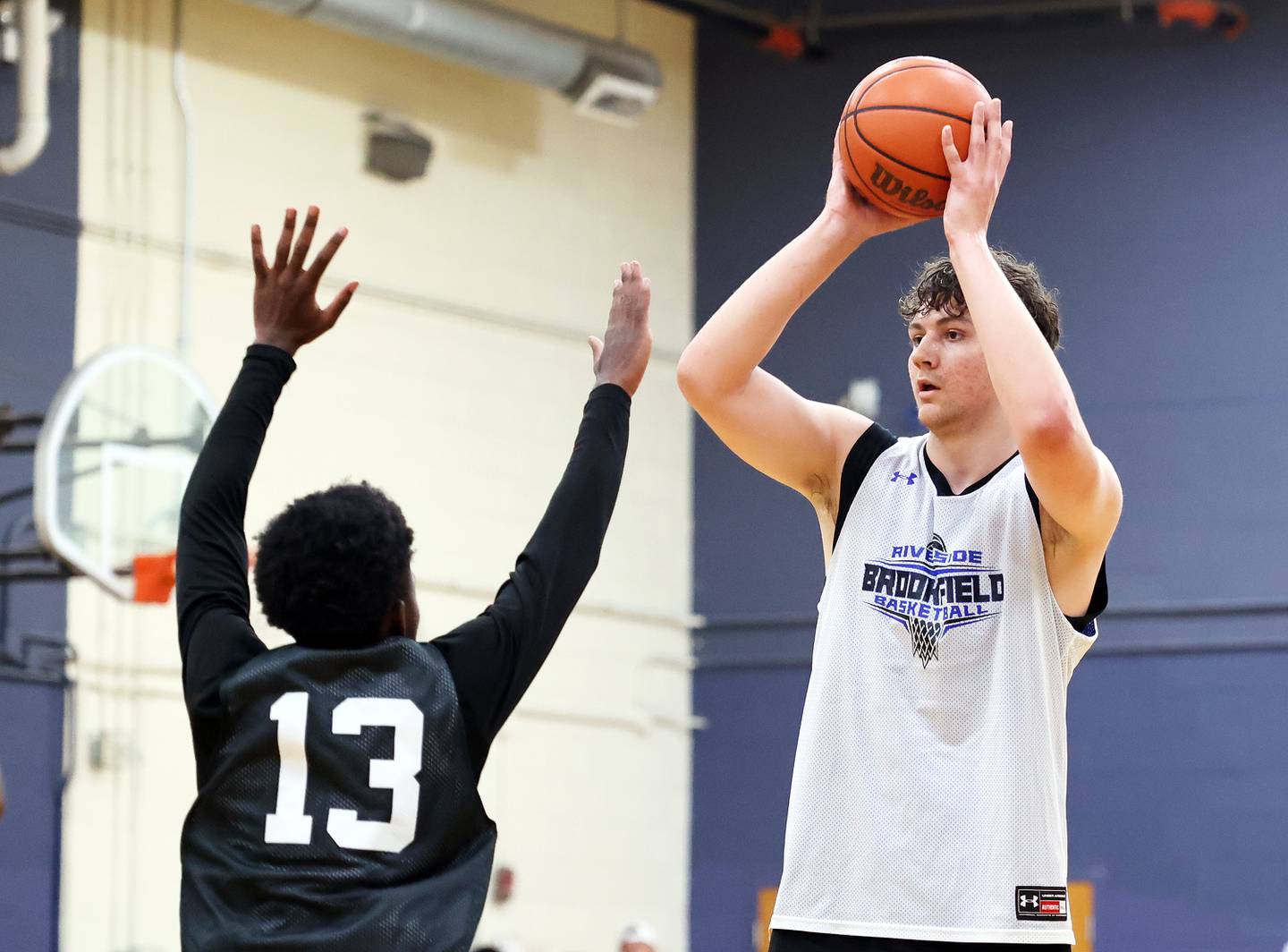 Reingruber said he expects to fully use Cicic's immense talent on offense this season to give opponents a different look. Cicic is a player to watch in July after racking up five offers – Georgia Tech, San Diego, Portland, SIU-Edwardsville and Western Illinois.
"We're going to revamp our offense a bit to make him better and more of a focal point," Reingruber said. "We're going to find ways to help him out. He had a huge year last year, but we're looking to put him in position to be more successful and we're trying to focus on him using more movement offensively. ... I'm fine with him shooting 3-pointers. We want to make him hard to guard. Last year, he was more of a stationary target.
"The best part of Stefan is he's coachable and wants to get better. He's very talented now, but he's not close to a finished product."
Cicic said he's more comfortable in the R-B program this summer. That's allowing him to showcase an inside-outside game and develop chemistry with his teammates.
"It feels different being a senior," Cicic said. "I have to take control and get better and expand my game more, taking more shots and I have to shoot the ball better. I'm looking for guys who are cutting and also am setting a lot of screens to get guys open and the ball is in my hands more."
The Bulldogs will need more production from Cicic after losing standout senior guard Will Gonzalez, who announced his transfer to Curie in early June.
The Bulldogs rode several strong performances to a 4-0 record in the 20th annual Riverside-Brookfield Summer Shootout in mid-June. Cameron Mercer, a 6-foot-2 sophomore and the son of former college All-American and NBA player Ron Mercer, has emerged as a player to watch for R-B.
"I really thought the team played well," Reingruber said. "Our chemistry was great. We pass the ball very well and shared it. I saw some really good cohesiveness. I thought Steven Brown led us on both sides of the ball and guarded very well. He's a strong and physical guard and did a great job scoring the basketball and getting to the rim and finishing. Cameron Mercer shot the ball really well and showed a lot of promise. He has an ability to make plays off the dribble and plays good defense. Senior Sam Shelven had a really good weekend and solidified himself as one of our team leaders. He made a lot of winning plays."