HOFFMAN ESTATES – Parker Moorhead and Liam O'Neill are going out as two-time boys volleyball state champions.
Moorhead, an outside hitter, and O'Neill, a middle, were the only two seniors on the Glenbard West roster this year.
They won the state title last season as juniors. On June 3, the pair and their teammates made it two in a row.
The Hilltoppers defeated Lyons Township 25-18, 25-20 to win their second consecutive crown.
"This [winning the championship] is really hard to do with just two seniors," Glenbard West coach Christine Giunta-Mayer said. "But like I've been preaching to everyone this year, it's not about quantity, it's quality.
"We had the right two guys. They were leading the team and they both played so well today."
"We came in prepared. We had the underdog mindset going in and that let us not be complacent."

—  Parker Moorhead, Glenbard West senior
The Hilltoppers finished the season 40-2. One of the two defeats was to Lyons, their West Suburban Conference rival, in league play.
Moorhead said that might have given his team the extra motivation it needed.
"We came in prepared," Moorhead said. "We had the underdog mindset going in and that let us not be complacent. We had film of that game [the loss to Lyons] and that was a tool we utilized to make sure that we were going to win this one."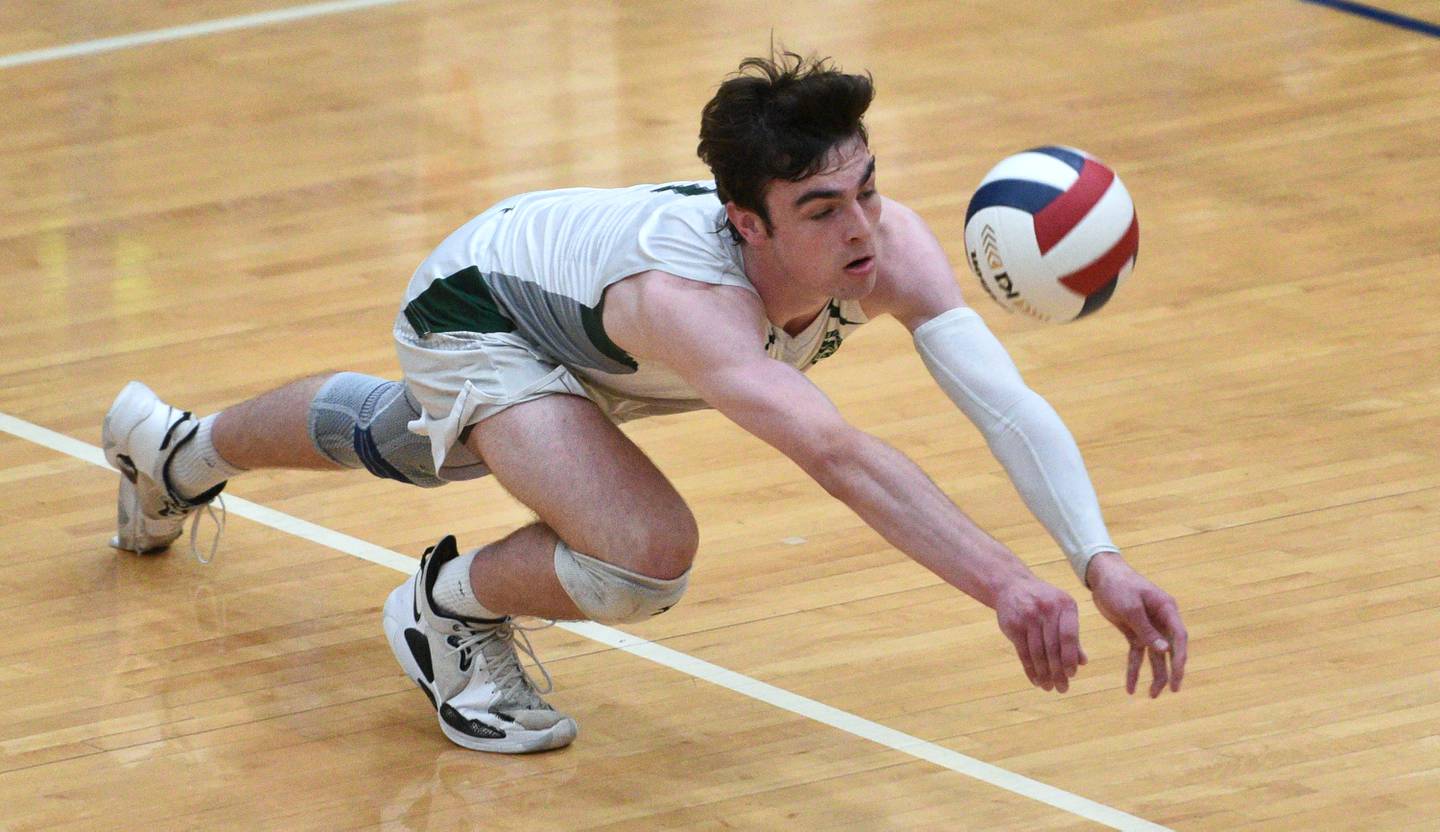 Lions coach Brad Skendzel said his squad was confident, but a few mistakes in key situations hurt their chances.
"We were back and forth with them, neck and neck, but we had a few errors on our side and they were able to capitalize."
Despite the loss, the coach said he couldn't be prouder of the record-setting effort the Lions put forth all year.
"They're amazing," he said. "A great group. They made LT history by coming in second and they set a precedent for our program going forward.
"I love the fact that they never gave up and fought to the end. We've improved so much all the way from the beginning of the season until now and I can't say enough about everyone on this team. They came to practice everyday to work hard, they had fun and they were loose the entire playoffs. That's all you can ask for."
Glenbard West took control midway through both sets.
A kill from senior outside hitter Sam Levinson gave the Lions a 12-11 lead in the first set, but Glenbard West scored the next five points and didn't look back.
Lyons took the lead again in the second set. A shared block kill by Levinson and Leo Wiemelt put the Lions up 10-8.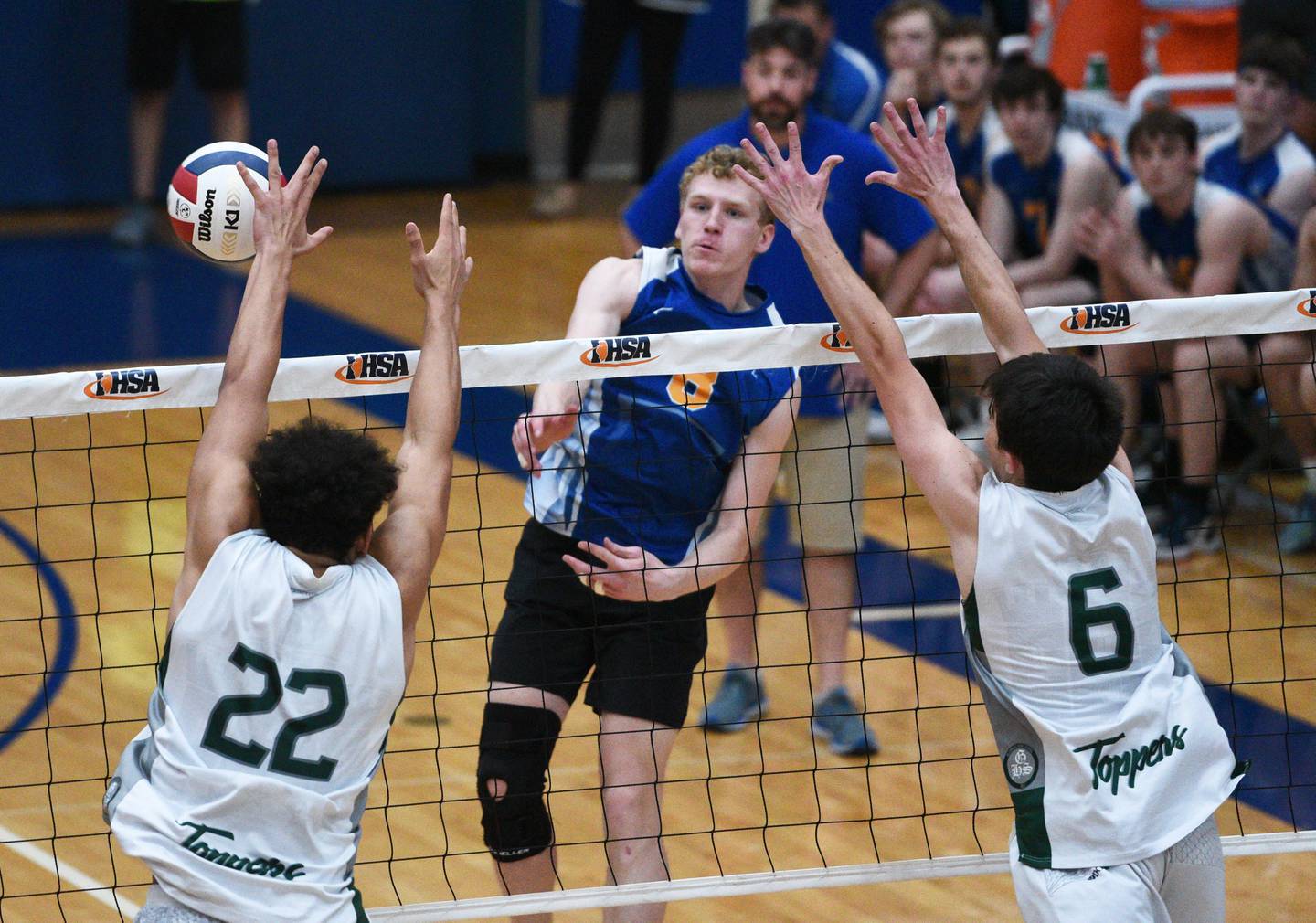 Glenbard West rallied again, and when O'Neill got a block kill, the Hilltoppers led 21-15.
O'Neill closed out the match with the game-winning point.
"Amazing," O'Neill said of the win. "Such a good feeling that I can't even describe it. It's a perfect way to end and I couldn't ask for anything more."
Moorhead, who will move on to play volleyball next year at the New Jersey Institute of Technology and major in chemical engineering, agreed.
"Just pure happiness," he said. "Pure bliss."
Levinson led the way for Lyons with nine kills. Luka Kostic had six. Setter Carson Turner had 15 assists.
Moorhead had a match-high 11 kills for Glenbard West. Jack Anderson dished out 23 assists. Andrew Ellis played an outstanding defensive match, recording 13 digs.
"I just love this group," Giunta-Mayer said. "I had a lot of kids this year who worked really hard. We had a lot of learning to do in the beginning of the season. We had to learn about culture and ball control and class and 'this is how we do it.' They just soaked it in, followed the lead and here we are."