LISLE – Taylor Utrata knew she got good wood on it, or aluminum as it were.
When Montini's senior third baseman made contact with two outs in the seventh inning Monday, she hit a rocket up the middle. It was as hard as any ball hit on either side all game. Right swing, wrong location. It found the waiting glove of Beecher shortstop Ava Olson.
"I thought it was going through," Utrata said. "It was a hard-hit ball. She made a great play."
Olson vacuumed up Utrata's hot shot. It concluded a masterful one-hitter from Beecher freshman phenom Ava Lorenzatti, who struck out 14 to lead her team past Montini 4-0 in the Class 2A Benedictine Supersectional.
Montini (16-12) managed seven baserunners off Lorenzatti, Utrata accounting for two of that total.
The UW-Parkside recruit took a pitch from Lorenzatti off the elbow leading off the game. In the third inning, Utrata fought her to a full count before taking a one-out walk. In the sixth, Utrata lifted a fly ball to left, one of just two Montini balls to clear the infield.
"I was just honestly trying to make contact against her and do the best I could," Utrata said. "I didn't know much about her. I just thought quick hands, a lot of movement, throw your hands at it."
Montini's best opportunity to score came in the third inning, when Utrata walked and Payton Atkins reached on a bunt that was dropped at first base. It put runners at the corners with one out and the heart of the order coming up with Montini trailing 3-0, but Lorenzatti came back to get a strikeout and pop up on the infield.
"We left a few runners on," Utrata said. "Nothing you can do."
Montini had the misfortune of once again running into a tough customer not yet old enough to drive. A year ago, Pontiac freshman Elena Krause struck out 19 in a 3-0 supersectional shutout of Montini.
Lorenzatti is no stranger to success.
She pitched her team to two junior high school state championships in sixth and eighth grade. In a sectional semifinal last week, Lorenzatti (20-3) twirled a two-hit shutout in outdueling Krause 1-0.
Now she has four-time state champ Beecher (35-4), ranked second in the final Illinois Softball Coaches Association Class 2A poll, headed to state for the ninth time and first since winning the 2019 state title.
"It's harder as a freshman than an eighth grader. I'm facing girls three and four years older than me, but I don't stress," Lorenzatti said. "I try to stay as focused as I can. I try not to show any emotion. I'm not sure what to expect.
"I definitely think we're capable of winning state, but the teams like this are from so far away, I don't know what to expect."
Montini knew what to expect against Lorenzatti, although it's one thing to know and another to execute.
"She is going to throw up in the zone, so get up in the box," Montini coach Erin Bradarich said. "Lay off of it and hit the ball on the ground."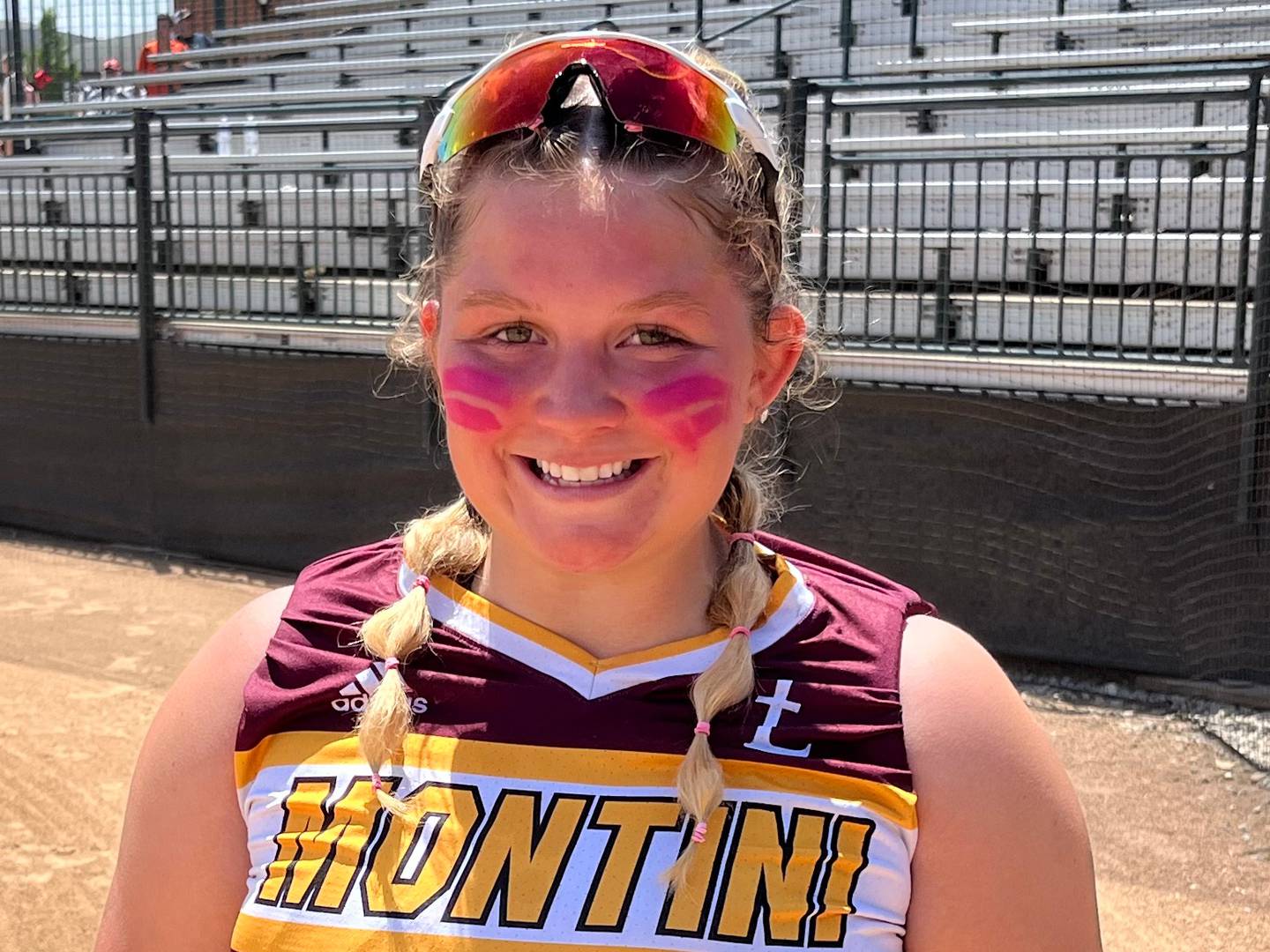 Montini senior catcher Miranda BonDurant got the memo. The Maryville commit stubbornly worked the count full, fouling off numerous pitches before taking a called-third strike in her first at-bat. Next time, BonDurant got to a full count again and drew a walk. Erin Grimsley followed with Montini's first and only hit, but Lorenzatti avoided trouble with a strikeout.
"I was trying to get up in the count and at least get it past the infield so that I could get a run for the team so they could push me in," BonDurant said.
Beecher broke ahead 3-0 with three runs in the third with the assistance of Montini miscues. After two singles to start things, Olson lined an RBI single to center and a second run scored on an error in the outfield. Olson later scored Beecher's third run on an error. Beecher tacked on a fourth run in the third, which was more than enough for Lorenzatti.
"I've been around these girls playing since I was really little," Lorenzatti said. "I trust them in the field, know they have my back."
No trip to state, but it's been a stellar three-year run for this Montini group. The Lady Broncos reached a sectional final in 2021 and followed it up with back-to-back sectional titles.
"That was exactly what we talked about in the postgame," Bradarich said. "Not the outcome we desired, but it's something to seriously be proud of. Only eight teams get to play in this game. And they've done that two out of the last three years, almost three for three.
"It stinks to not finish out, but definitely not for a lack of effort or a lack of talent."