DOWNERS GROVE – Downers Grove North pitcher Ava Gusel is pretty clear about her emotions when it comes to playing her crosstown rival.
Many of the Downers South players are her friends from growing up, but inside the lines, it's an altogether different dynamic for Gusel, a senior.
"To me, it's like any other game," the DePaul recruit said. "I'm going to go out there and attack every pitch, do my job, throw my game and I'm not going to go lightly on them and try to strike them out every at-bat.
"We can hug after the game, but during the game, they're not my friends."
Gusel picked up the win May 11 in the 2023 edition of the Crosstown Classic under the lights at McCollum Park, striking out three and walking one in two stints in the circle in a 12-8 Downers North victory.
Her Downers South pitching counterpart, senior Ella Cushing, an Illinois commit, recalled games like this of years past.
"I think both teams can agree that this is the biggest game of the year," Cushing said. "I remember going to this game when I was a little girl and it's just so much fun, just playing in it and watching it, it's awesome."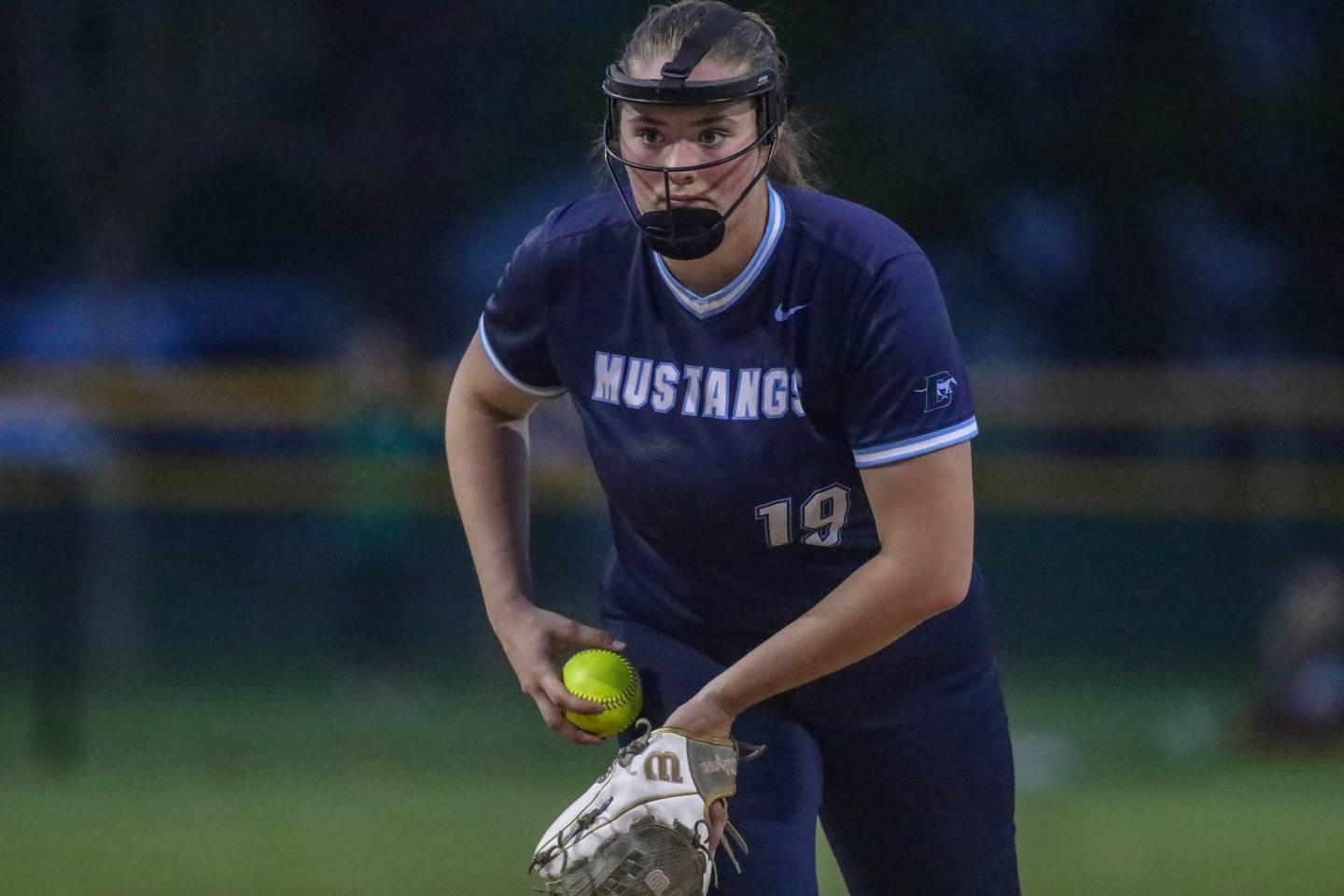 Cushing threw a complete game, striking out eight. At the plate, she had a single, double and drove in a run.
Teammate Grace Taylor scored twice and drove in two runs. Taylor has a long memory as well.
"We've played with them when we were little and it's just so good to see them again and play with them," she said.
Downers North (14-6-1) staked itself to an 8-1 lead heading into the bottom of the sixth. But hold everything. Downers South (14-7) exploded for five runs to substantially cut the deficit. Cushing doubled to drive in a run. Gabby Ruchniewicz singled to drive in Taylor and later scored herself.
The Trojans proved their mettle in the top of the seventh, tallying four times thanks to three consecutive singles by Samantha Lehnherr, Maya Rodriguez and Ashylynn Durkin, who threw 1 2/3 innings before giving the reins back to Gusel in the sixth.
What really mattered this night is that a couple of hundred fans turned out, including many youth players from the Downers Grove Dolls and Rebels programs. It's something Downers North first base coach Olivia Wojciak, a 2018 graduate, remembers well.
"The atmosphere is still the same and the crowd is still roaring, which is really fun and really cool to see," Wojciak said. "Now I'm coaching the younger siblings of the girls I played with in high school, so that's nice to see them develop.
"I was part of the travel team Rebels. I was in Dolls my whole life. My older sister is five years older than me and she played varsity all four years as well. So it's cool how time passes."
Gusel played for the Rebels as well, and her older sister pitched at Downers North, so she's been coming to the Crosstown Classic for years.
"So to be on the field and having the little girls watch me, it's like full circle," she said.