DOWNERS GROVE – Hayden Sujack wore her glove over her cap during the postgame April 12, but neither is the softball accessory the St. Charles East freshman is using to open eyes.
That would be her powerful bat.
Saints coach Jarod Gutesha recalled that when Sujack showed up in summer camp last year, she took batting practice on the field. Of the 12 balls Sujack hit, 10 went out.
"She's every bit of that real deal as far as a hitter," Gutesha said.
Opposing pitchers are quickly finding out. Sujack on April 12 blasted her seventh home run of the young season, a solo shot in the first inning. Addison Wolf later added a pinch-hit three-run shot, and visiting St. Charles East needed every bit of that offense to hold off Downers Grove South 8-6 on a breezy afternoon.
"She's every bit of that real deal as far as a hitter."

—  St. Charles East softball coach Jarod Gutesha, on freshman Hayden Sujack
Sujack, who bats second in the Saints' lineup, jumped on the first pitch she saw April 12 and drilled her seventh homer over the fence in straight center. She later knocked in the Saints' second run on an RBI groundout in the third and singled in a run in a five-run St. Charles East fifth.
"I had a really bad game [April 11], so I talked to my parents last night and they told me to stay on my back foot," Sujack said. "Also, my teammates, they helped me. Two days ago, I was really upset with myself. They helped me get back to my right mindset."
Sujack, giggling at the mention of her seventh home run being hit so early in the spring, said she had a really bad fall season. She worked with her hitting coach to adopt a more relaxed mindset, and it clearly has taken off.
For perspective, St. Charles East's single-season home run record is 20, set by Rylee Stout in 2017.
"She competes and wants nothing but the best for her team," Gutesha said of Sujack. "Her competitive level is at the highest point."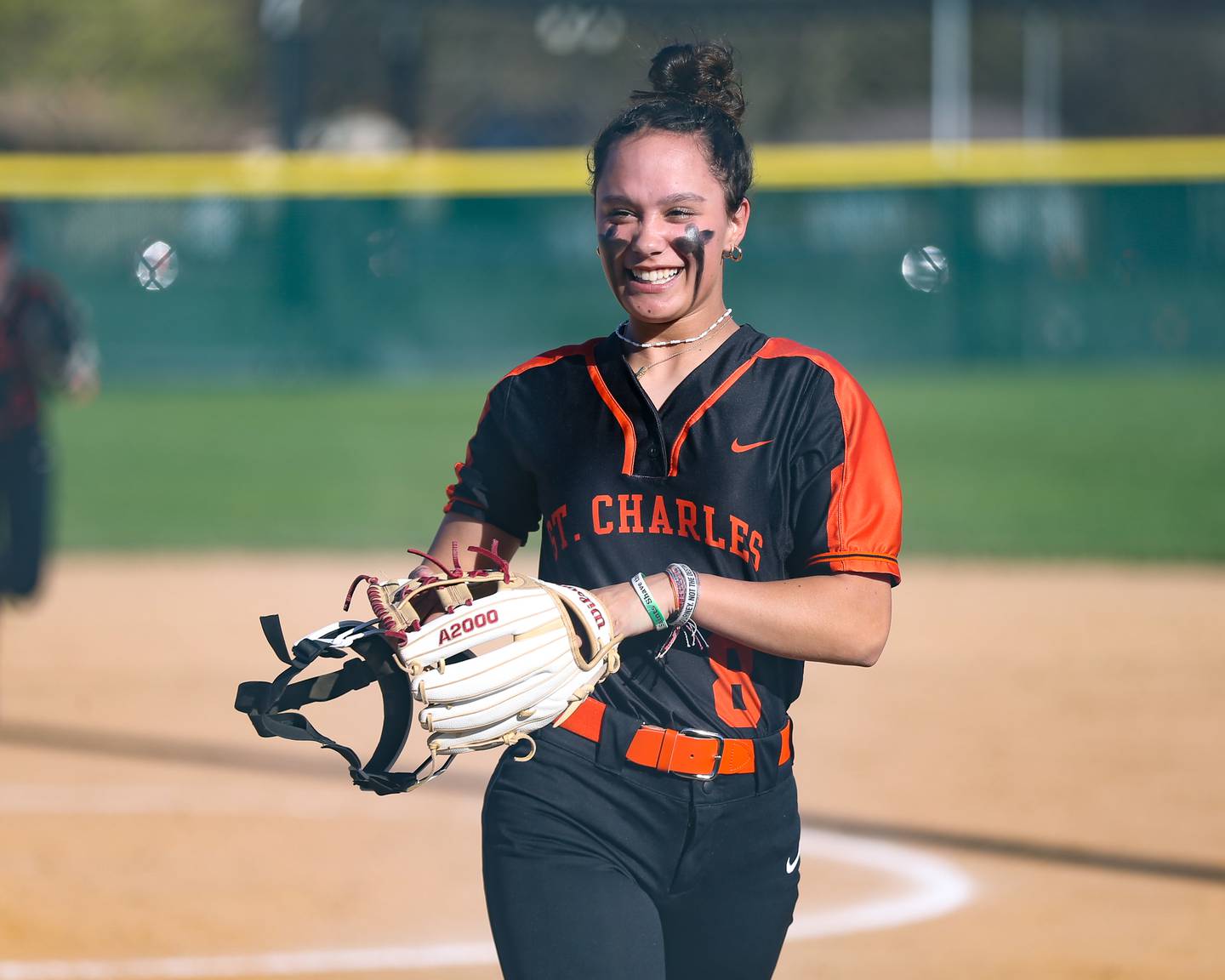 Wolf's home run, a laser shot to right in the fifth, gave St. Charles East (6-4-1) a cozy 8-1 lead.
Things then tightened up quickly.
Downers Grove South (3-2) scored four runs in its half of the fifth, nicked St. Charles East pitcher Grace Hautzinger for another run in the seventh, and had the tying run on second with two out.
Hautzinger bore down to coax a game-ending fly ball to center.
"I was just telling myself to calm down, not pitch with my emotions," Hautzinger said. "Just take it one pitch at a time, trust my team."
Hautzinger finished with 10 strikeouts.
"Grace did a nice job of dialing it in," Gutesha said.
The conditions, a balmy day with the wind blowing straight out, provided the backdrop for a wild affair, but Hautzinger breezed through the lineup the first time with six strikeouts.
"Definitely was thinking about the wind, but I couldn't put it anywhere close where they can hit it," Hautzinger said. "My rise was working at the beginning and more toward the end."
Downers Grove South managed just one hit off Hautzinger the first time through the order, but seemed to find its stride later in the game.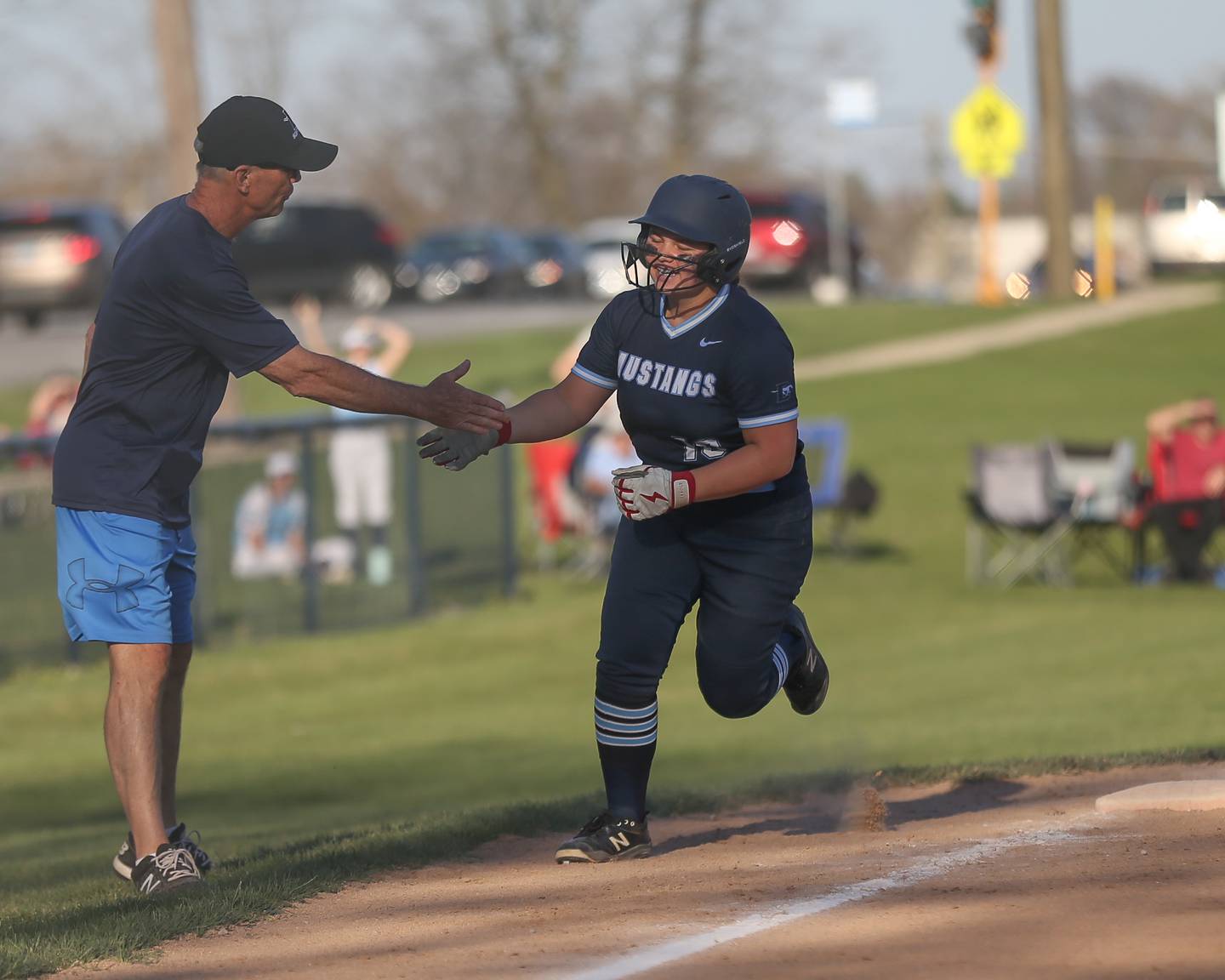 Gabby Ruchniewicz, pinch-hitting for Ella Dvoracek in the third inning, had two doubles and scored two runs. Freshman catcher Miah Wanserski slugged her first high school home run to start Downers Grove South's four-run fifth.
"This is typical of our team. We struggle in the first inning a lot and then after we get through the order one time, we start hitting," Downers Grove South coach Jim Cushing said. "It's a little frustrating, but we'll come around."
Grace Taylor was 3-for-4 with an RBI, doubling in the sixth run in the seventh.
"The girls fought back," Cushing said. "You have to take that positive early in the season and build off of it."
The Mustangs could have had an even bigger fifth inning if not for a perfect relay started by St. Charles East center fielder Nikki Johnston that cut down a runner at the plate.
Sam Gaca went 3-for-4 with an RBI for St. Charles East.