HINSDALE – Senior Jacob Bozeman tried to help an inspired start by Downers Grove North Friday at Hinsdale Central with a fast-break dunk in the first quarter of the Class 4A Hinsdale Central Sectional final.
Upon takeoff, he suffered an ankle injury that essentially ended his night.
"The energy, I just knew it was going to erupt when he got that. When he went down, I definitely got scared, but next man up," junior forward Jake Reimer said. "Our rotation is so deep. I think that's what makes us so special. We had guys step in. It's what we do."
Rather, it was Reimer's dunk in the third quarter that sparked the Trojans in a third-quarter comeback that led to a 53-43 victory for the program's first sectional title since 1999.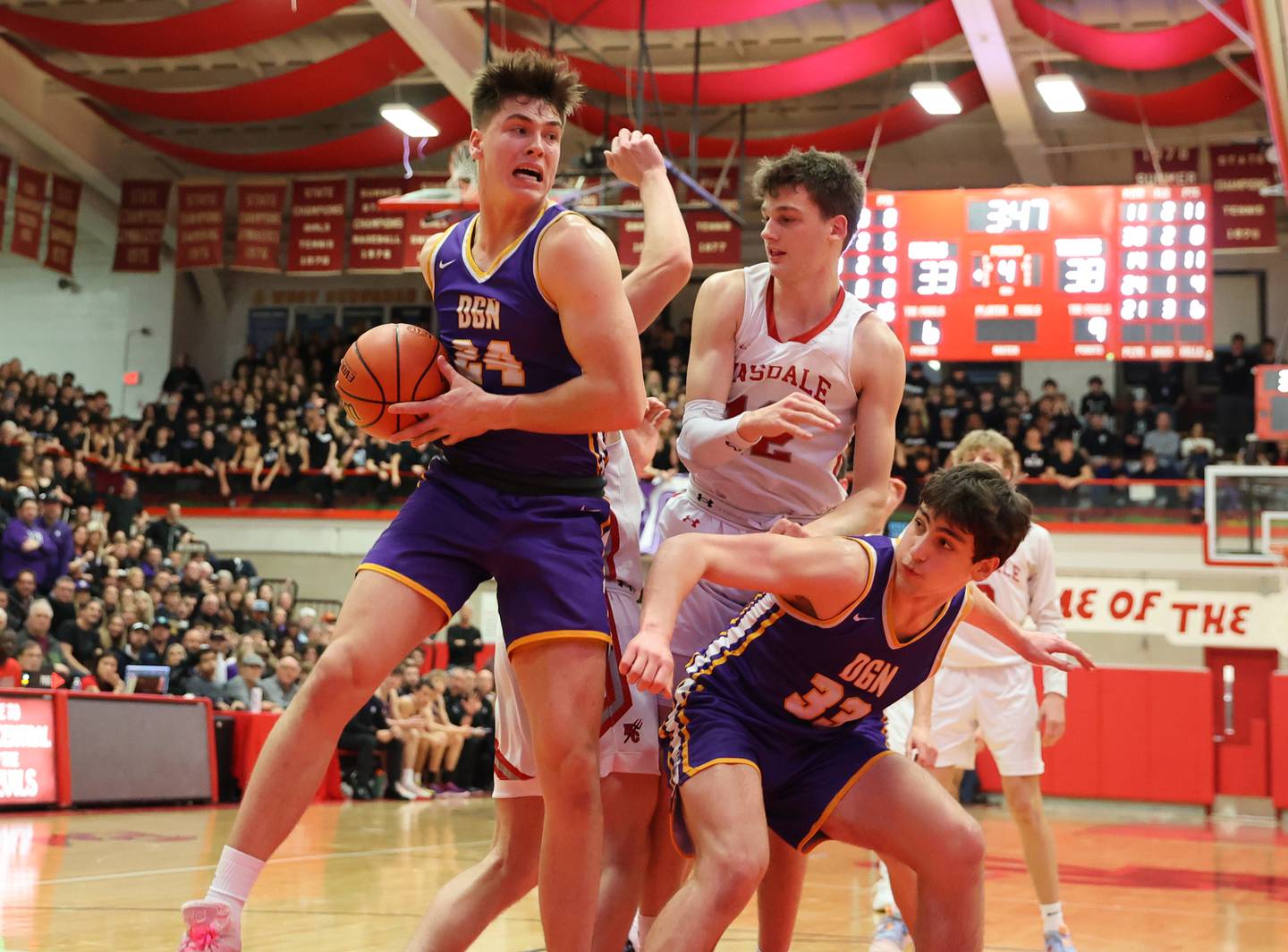 Downers North (31-3), which has won 18 straight since its last loss – to Hinsdale Central in double overtime in January – advances to play Kenwood in the UIC Supersectional at 7:30 p.m. Monday.
Bozeman is optimistic he can return. He sat out the final 3:54 of the first quarter after his injury and only returned briefly at the start of the second quarter.
"I'm just super happy my team pulled through, got the win," Bozeman said. "They kept me up so I tried to keep them up. They knew that I wanted it but I couldn't help them. And they just stepped up."
Senior Maxwell Haack (14 points, two 3s), juniors Owen Thulin (13 points, eight rebounds), Jack Stanton (10 points) and George Wolkow (nine points), and Reimer (six points, 10 rebounds) led Downers North.
The Red Devils (31-4) had won 23 straight. All-time leading scorer and Michigan baseball recruit Ben Oosterbaan had 21 points, three threes and nine rebounds, followed by seniors Billy Cernugel (11 points), Emerson Eck (six points) and Patrick Graham (six rebounds).
The Trojans trailed by five at halftime and the Red Devils scored the first basket for a 38-31 advantage.
Then Reimer dunked off a Thulin pass. On the next three possessions, Haack, Thulin and Stanton nailed 3s and the Trojans moved ahead 32-29.
The run extended to 15 unanswered points and a 36-31 lead entering the fourth quarter.
"We knew how we had to come out at halftime," Reimer said. "That dunk was a huge energy starter. It started a big run and we capitalized on that and it helped us."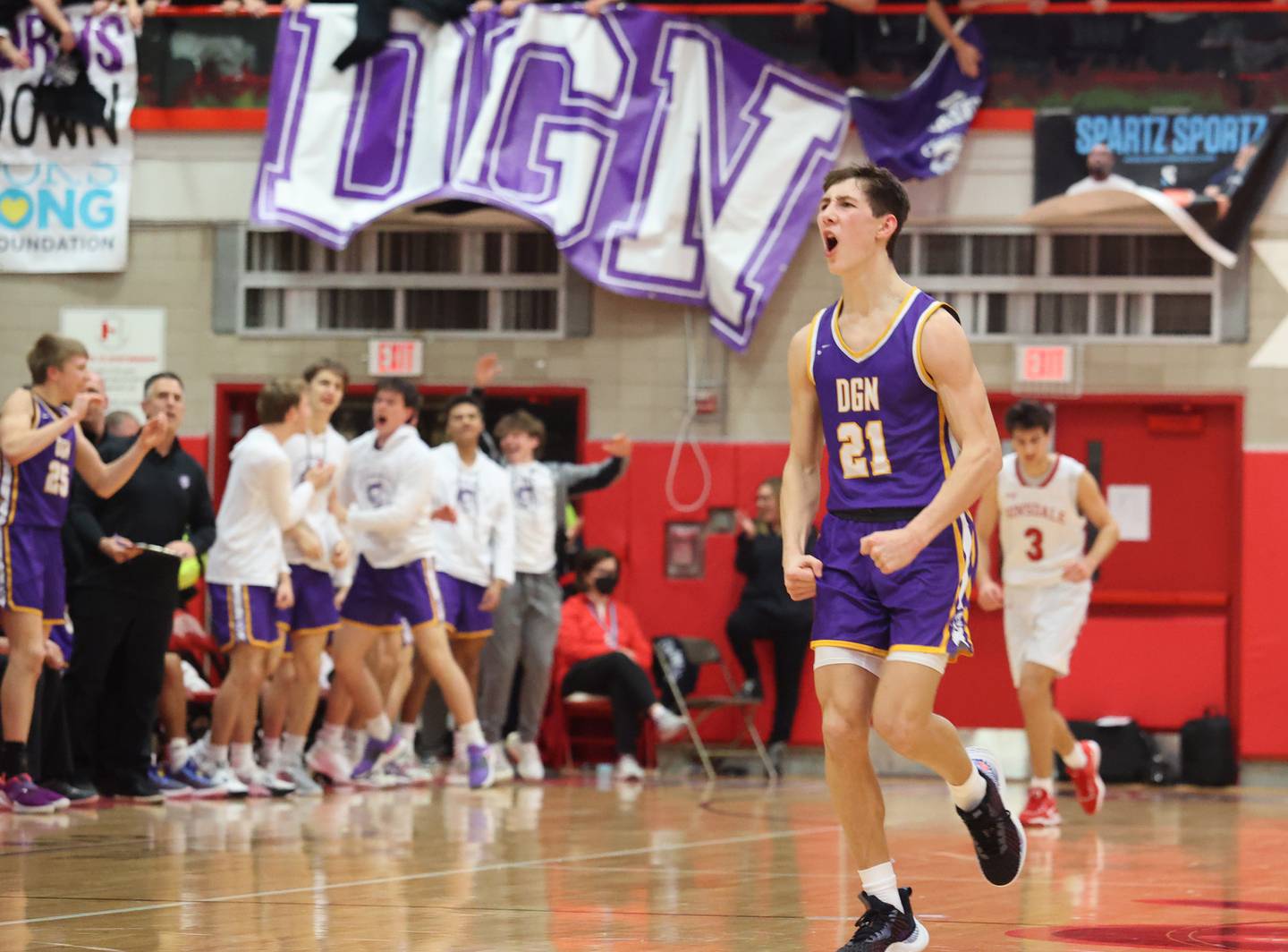 The Trojans maintained at least a two-possession lead in the fourth quarter by hitting 13 of 18 free throws, including 5 of 6 by Wolkow.
"I kind of thought it was going to go that way, a lot of ebbs and flows, physical, ton of emotion," Downers North coach James Thomas said. "One of our biggest things is just keep going at people and I felt like we did that. They was so much going on. Got enough stops at the end there to make it work."
While Reimer held his own inside without Bozeman, senior sixth man Finn Kramper filled his top defensive role guarding Oosterbaan.
The Trojans, who led 11-2 when Bozeman was injured, soon fell behind as Oosterman scored 11 of the Red Devils' 15 second-quarter points, including two threes and a conventional three-point play.
Oosterman was held to six points in the second-half and one field goal in the final minute.
"(Kramper has) been an unsung hero for us the entire year. Never says a word about playing time, anything," Thomas said. "Tonight he did an unbelievable job on Oosterbaan, I thought."
Both teams handed each other their only losses on their home court this season. Silver champion Hinsdale Central won the second meeting 48-46 Jan. 7 in triple overtime. Second-place Downers North, which also split with Lyons Township, won 58-44 Dec. 8.
"It was a great group. They got better throughout the year. Couldn't be prouder of this group. They were phenomenal from start to finish," Hinsdale Central coach Nick Latorre said. "They hit a couple of really tough shots and they're a team when you fall behind, their guard play is pretty solid. We missed a lot of shots. Just give them credit. They were tough all night."