HINSDALE – Ben Oosterbaan has not lost a game at Hinsdale Central since the week before Christmas.
Baseball, his sport of choice in college, started practice this week.
Oosterbaan, a Michigan baseball recruit, and the Red Devils own the largest winning streak in the Chicagoland area, 22 games heading into Wednesday. That all seemed in danger of ending for a half Wednesday, with Hinsdale Central down nine points to Lyons Township.
What was said?
"A big emphasis was that we thought they played a little bit tougher than us in the first half. And we said we're not going to let that happen," Oosterbaan said. "No matter what happens, they weren't going to play tougher than us. That was probably the worst half of basketball we played all year. It was all up from there."
Indeed it was.
Oosterbaan followed his own miss on a third try for the first basket of the second half. It set the tone. He went on to score 13 of his 19 points in the second half.
Hinsdale Central reversed a rebounding disparity in the second half, held Lyons to just three third-quarter points and went on to a 46-40 win in the Class 4A Hinsdale Central Sectional semifinal.
"We knew that first half wasn't our best basketball; we knew we were so much better than that," said Hinsdale's Chase Collignon, who had a team-high 11 rebounds to lead his team's 30-24 edge on the glass. "Start of that second half we focused on our rebounding and our defense, and it really made a difference."
The third meeting of the year between Hinsdale and Lyons was sold out, some 4,100 strong, days before the game. Lines formed to get in before doors opened at 5:45 p.m. for a 7 p.m. tip-off. Dueling student sections, Hinsdale in all white and Lyons in black, led a crowd that that buzzing throughout.
Oosterbaan was the object of much of the Lyons' side razzing, particularly after missing his first four shots. But it didn't faze him. His two free throws with 2:04 left in the third quarter gave Hinsdale a 29-28 lead, its first since the game's first basket, and the advantage for good. His 3-pointer from well beyond the line, with 2:27 left, gave Hinsdale its biggest lead, 40-32.
"We're lucky that our fans have come here before, we've played in a couple environments like this," Oosterbaan said. "I was actually surprised at how calm I was. I'm just of the mindset that we're just blessed and lucky to play in an environment like this.
"It's a blessing, it's not pressure."
Emerson Eck added 10 points and Billy Cernugel eight for Hinsdale (31-3), which will play Downers Grove North in an all-West Suburban Silver sectional final Friday. Hinsdale last won a sectional title in 1997, Brian Wardle's senior year.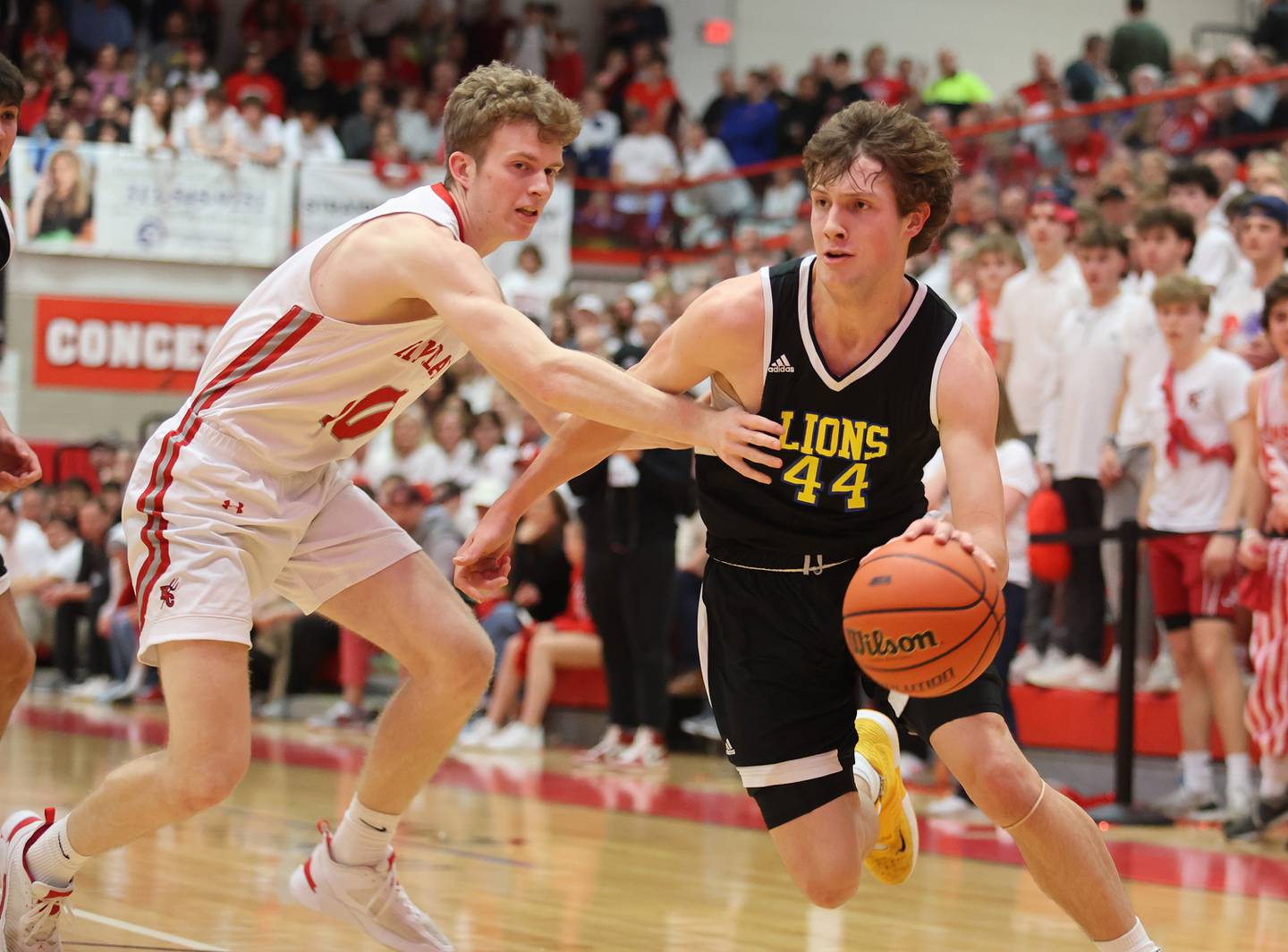 Penn recruit Nik Polonowski scored 20 points for Lyons (26-6), with Polonowski and Graham Smith each scoring nine points in the first half to stake the Lions to a 27-18 halftime lead.
But Hinsdale switched to a 1-3-1 out of the break, to great effect.
Lyons went nearly seven minutes without a field goal and had more turnovers (five) than points (three) in the third quarter.
"That was a great call by our assistant coach [Jeff] Powers. He told Coach to try the 1-3-1," Oosterbaan said. "I just think it got them out of their rhythm. Even when we went back to man, I think they were out of synch."
It was not a look Lyons was unfamiliar with facing Hinsdale for a third time, but it did turn the Lions' offense off. Lyons had just one made field goal for nearly the first 12 minutes of the second half.
"We were completely prepared, we missed a couple open shots against their 1-3-1, we had one or two turnovers that we just didn't ball fake when we needed to ball fake," Lyons coach Tom Sloan said. "We weren't caught off guard. We knew they were going to their 1-3-1, and we just didn't execute quite the way that we hoped to. We got a couple looks that we just didn't knock down."
Oosterbaan twice had putback baskets in the second half, the first on his third-chance try out of halftime. The effort was contagious with 13 offensive rebounds and many loose balls Hinsdale tracked down.
"I think Billy and Chase did an unreal job on the boards," Oosterbaan said. "I've never seen Chase jump so high and Billy crash for extra rebounds like that. We talk about getting the 50/50 balls, but also the 60/40 balls and the 70/30 balls. I think we definitely got a couple of those."
Polonowski, in defeat, delivered an inspired effort. He shadowed Oosterbaan to 3 for 8 shooting in the first half while scoring nine himself, and scored all 10 of Lyons' points in the fourth quarter.
"Nik's a warrior, just like every body else in the locker room. We have some really tough, hard-nosed kids," Sloan said. "Nik was not going to go down without giving it his best shot."
It sets up a rubber match between Hinsdale and Downers North, teams with a combined 40 straight wins. Hinsdale handed Downers North its last loss, in double-overtime on Jan. 7.
"We've played DGN twice, we know how they roll," Collignon said. "We have to bring that energy and can't have a slow start again."