ELMHURST – Timothy Christian star Grace Roland doesn't usually spend a lot of time hanging out around the 3-point line.
The 6-foot-2 senior center is busy dominating the paint, especially against smaller teams, so she doesn't attempt a lot of 3-pointers.
That changed Friday night.
"Normally, I'd say I shoot one or two a game," Roland said. "I was just feeling it tonight, and they weren't guarding me, so I said, 'All right, I'll shoot it.'"
Indeed, Roland attempted four 3-pointers and made three of them in the Class 2A Timothy Christian Regional final. It was just another demonstration of power by the versatile Rose-Hulman recruit.
Roland led all players with 19 points, 16 rebounds and three blocked shots as the second-seeded Trojans knocked off crosstown rival IC Catholic Prep 52-36.
Timothy Christian (20-8) will host top-seeded Noble Butler at 6 p.m. Tuesday in the Timothy Christian Sectional semifinals. It will be a rematch of last year's sectional semifinal on the same floor, which Noble Butler won 48-45.
IC Catholic coach Todd Fisher, whose team had lost three previous games this season to the Trojans by an average of 27 points, came up with a new strategy to try to stop Roland, who averages 16 points and eight rebounds and went off for 32 points and 20 rebounds in the last meeting between the two teams.
"They've got height and Grace is a load to handle inside," said Fisher, whose starting lineup includes only one player taller than 5-7. "So we tried some junk defense on them, and she knocked down threes.
"In some ways, you'd rather have Grace knocking down those threes instead of getting 30 inside."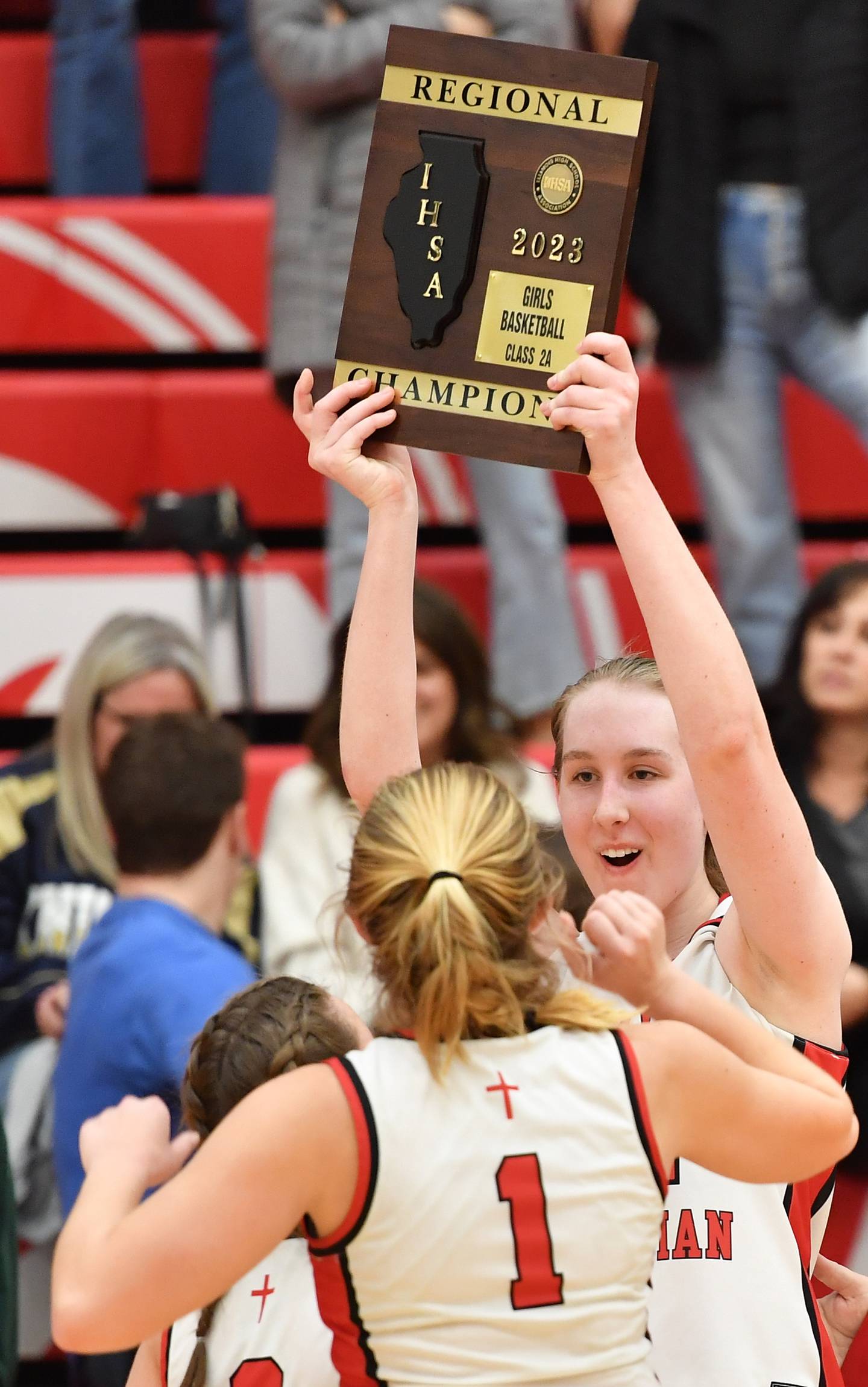 True, but the result was the same. Roland scored 10 points during an opening 12-0 run, beginning it and capping it with wide-open 3-pointers off passes from senior guard Mili Martens.
"They came out in a triangle-and-two and we had just put in a play to work on something like that," Timothy Christian coach Jill Groenewald said. "And it worked really well with Grace coming out on the perimeter and hitting from the outside.
"She's capable of that night in and night out. It's something we've explored as we've gone along."
Martens dished a game-high six assists, double her season average. Most of them went to Roland, who hit 8-of-12 shots.
"Most of the time she's always open in the middle, so I'll try to get it to her because she is so strong down long and can make shots," Martens said. "She was on fire. That was amazing."
So was Timothy's start. The Trojans took nothing for granted despite their dominance of the Knights this season, and led 20-5 after one quarter and by as many as 18 in the second quarter.
"I wasn't too surprised (at the strong start) because the coaches were like, 'We have to go into this game like we're going to lose because that team could beat us if they wanted to,'" Martens said. "They're out for blood, so let's try to get a big lead on them."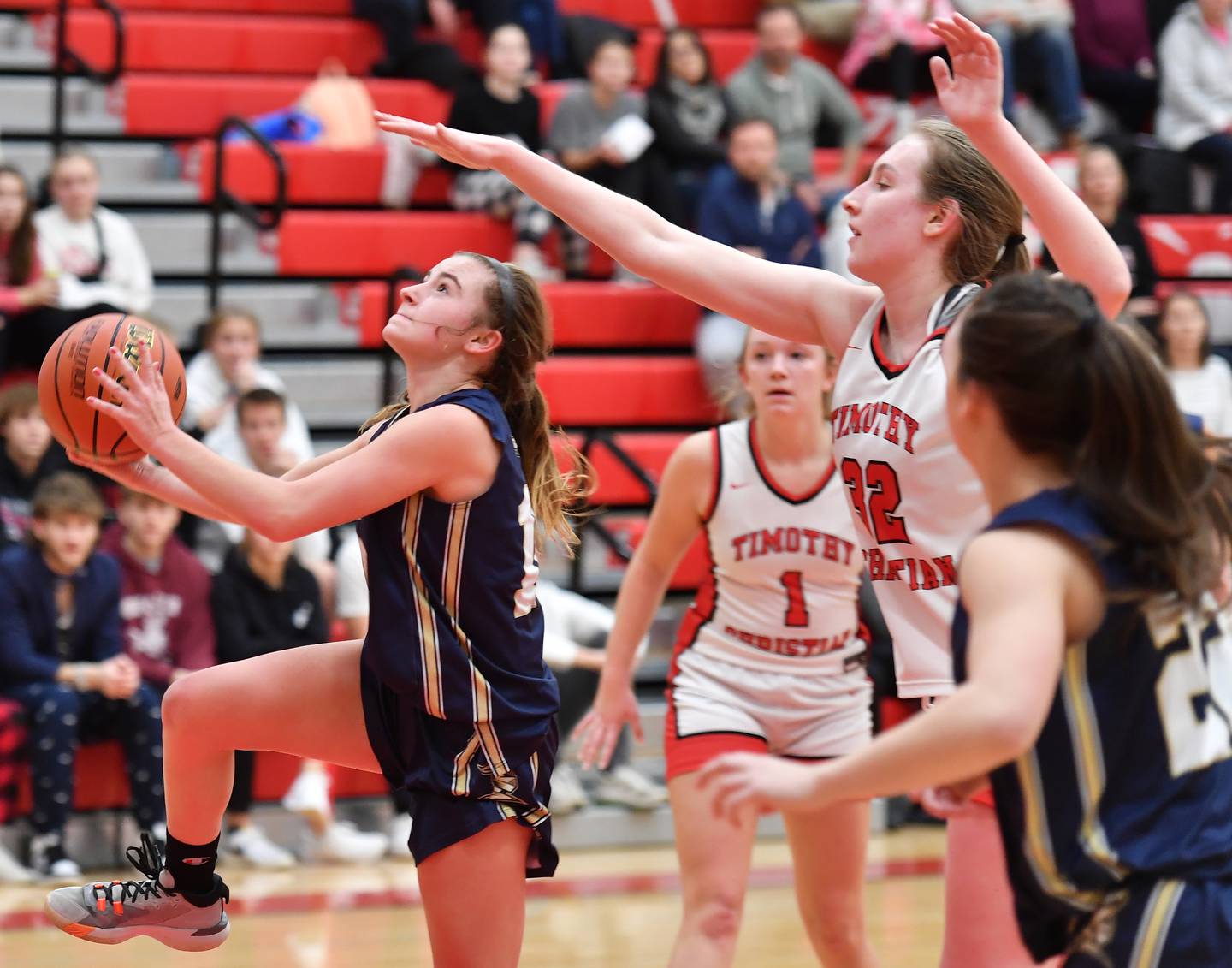 It was a wise mindset to have, because the Knights (14-17) didn't go quietly. Despite missing their first 12 shots and shooting 7-for-30 in the first half, they stormed back behind 5-4 junior guard Kelsey McDonough, who sank a trio of 3-pointers in the first half and finished with 16 points and five steals.
The Knights cut the deficit to 44-32 on a basket by Grazielle Narcisi with 2:41 left in the fourth quarter. But senior Maddie Drye, who had 12 points, eight rebounds and three assists for the Trojans, sank four consecutive free throws.
"That's who we are," Fisher said. "We are a scrappy team.
"We had a few injuries this year, but we knew these kids were going to chip away and leave it all on the court. This group of kids never quit."
The Trojans didn't expect them to.
"They don't give up," Roland said. "They keep going. It was definitely a great game and it is definitely nice to win a regional with my team."
Groenewold was pleased with her team's drive.
"That team had nothing to lose and everything to build upon," Groenewald said. "(Beating a team) four times is very difficult.
"Those kids play hard and they were not going to back off an inch. So kudos to my team that they were so focused, and defensively we did a great job and controlled the game."