ROSELLE – Braylen Meredith saved his "A" game for a victory.
The Wheaton Warrenville South senior forward has opened a few eyes with his stellar two-way play on the hardwood. But the 6-foot-6 Meredith struggled with foul trouble and consistency in a DuKane Conference defeat Feb. 8 at Batavia.
The trend continued in the first half against Lake Park on Feb. 10.
In a showdown between the top two teams in the conference – with a share of the title at stake – Meredith was missing in action on the offensive end and glass for the first two quarters. He made just one field goal for four points.
"In the first half, I had only four points and felt like I wasn't being very aggressive," Meredith said. "In the second half, I felt like I had to do something in order to get this win and close it out."
Meredith scored the Tigers' first second-half basket, igniting a game-turning fourth-quarter surge to finish with a game-high 17 points in a 47-33 victory at Lake Park.
Meredith scored six consecutive points early in the fourth to flip a four-point lead into a 38-28 edge that broke open the game. A few minutes later, Meredith buried a corner 3-pointer and added another basket to finish with 11 fourth-quarter points.
"We came off two losses, so this was a real test and we wanted to show what we could do. We came out and proved it," Meredith said.
The Tigers (23-5, 11-2) displayed grit and resolve in bouncing back from the frustrating Feb. 8 loss to win a key conference road game before a sellout crowd on Senior Night. The win clinched at least a share of WW South's third straight DuKane title.
"We wanted to really make sure [Lake Park star] Camden Cerese didn't get going and closed out," Wheaton Warrenville South coach Mike Healy said. "Our kids were focused, even in the first half. I think our kids were locked in and bought into it and believed it. They executed."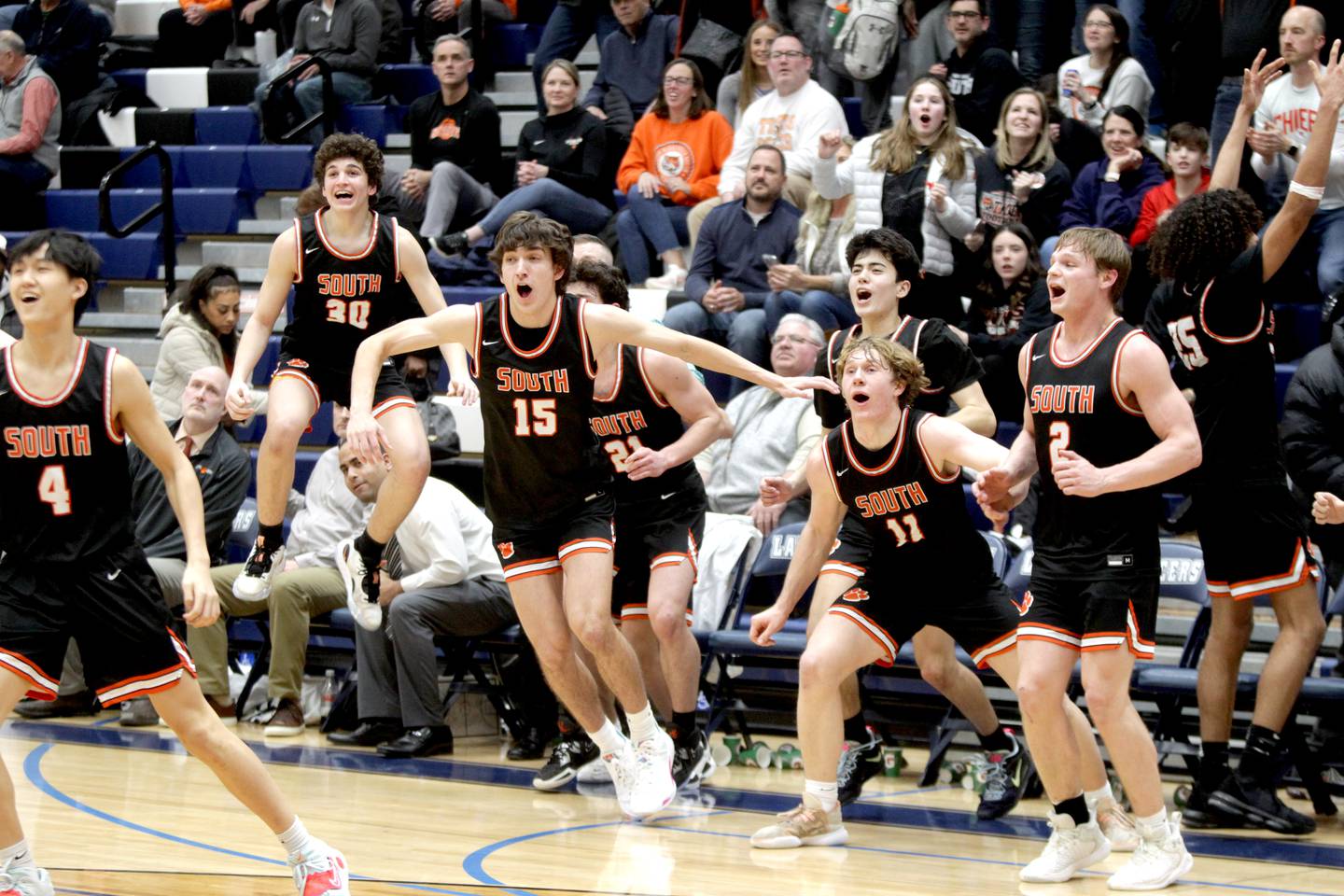 The Lancers (19-9, 10-3) lacked the firepower to mount a late comeback.
"We weren't aggressive enough in the second half and our mistakes were passive and preventable," Lake Park coach Billy Pitcher said. "Give them credit. They out-executed and out-toughed us. We just couldn't execute. They played excellent tonight. We had too many turnovers."
Colin Moore scored 13 points, Jake Vozza had eight points and Brody Canfield hit a pair of timely 3-pointers for six points in the grind-it-out victory. Cerese, a junior guard who became Lake Park's all-time single season program leader in points, scored 15 points, but the Tigers' aggressive defense limited him to five points over the final three quarters.
"It was a super tough game," Vozza said. "We had a two-game lead in the conference, so we had our backs against the wall. We were super focused and got it done."
Canfield sparked the offensive revival with a 3-pointer to open the fourth, while Moore was his usual steady self, helping push the ball, directing the offense, tallying a few key steals and crashing the boards. Moore said the Tigers were motivated after the Feb. 8 loss.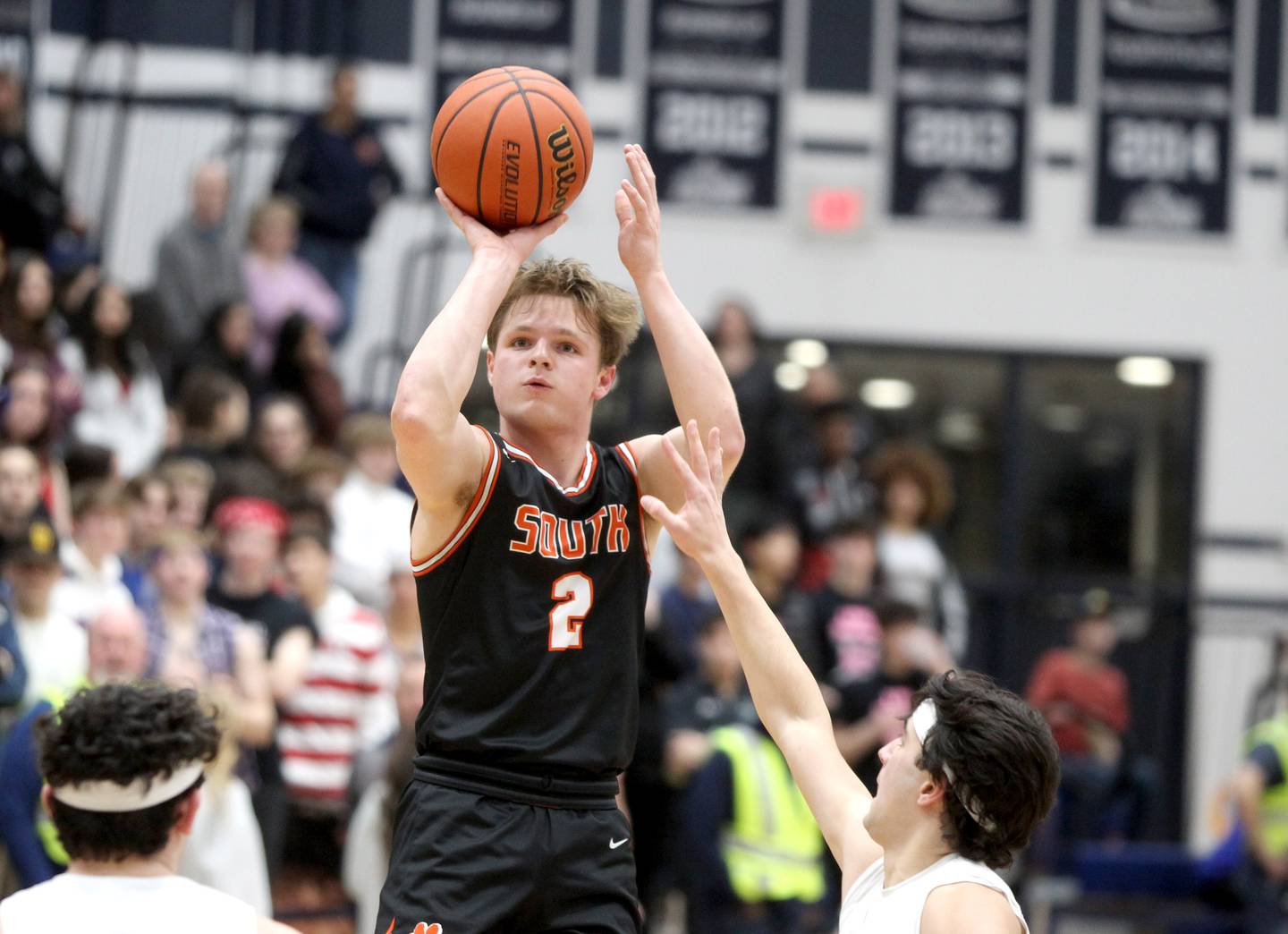 "Our starting five all play fall sports," Moore said. "Coming off losses to St. Charles East and Batavia, we knew we had to bounce back. The first half we were just OK, but that second-half response was incredible. My teammates are so tough.
"Our main defensive strategy was to get the ball out of Camden's hands. We had all eyes on him. We tried to make the other player win the game. In the second half, we buckled down and stuck to our defense."
Vozza was an unsung hero, overcoming injuries to his ankles to hit two first-quarter 3s while showing no fear attacking the boards.
"Sometimes I don't always get my offensive game going, so I try and help the team as much as I can with rebounds and defense and luckily I hit some early shots to get going," Vozza said.