The 2023 high school girls soccer season starts this week. Here are previews of teams in the Kane County Chronicle coverage area.
Coach: Mark Gianfrancesco (13th season)
Last season's record: 13-7-1
Top returning players: Brooke Carlson, jr., M; Riley Dibiase, sr., M; Lily Figueras, sr., F; Kailey Hansen, sr., M
Top new players: Hannah Hickman, so., D; Reese Recker, so., M; Alexa Schorr, so., D
Worth noting: The most notable graduation has to be reigning DuKane Conference Goalie of the Year Aubrey Hahn, who was all-conference, all-sectional, all-state (IHSSCA) and all-American (USC). Hahn had 12 shutouts and a 0.65 goals allowed average. Seniors Addie Cooper and Natalie Dean, who will split time in the box, will be counted on at goalie this season. Former Bulldogs defender Mia Anzalone is another high-profile loss on the back end. Offensively, Figueras should figure to be a top scoring threat with her speed on the outside. "We are looking to build relationships on the pitch throughout the season. We have some nice talent that we will work to bring out as the season progresses," Gianfrancesco said.
Coach: Jess Arneson (ninth season)
Last season's record: 6-14 overall, 4-5 FVC
Top returning players: Ava Elders, sr., M; Eva Boer, sr., M; Eva Samuelian, jr., M; Hayley Lindquist, sr., M
Top new players: McKenzie Lorkowski, fr., GK; Kendal Grigg, fr., M
Worth noting: The Rockets will be young this season with 12 freshmen on the roster. Arneson is excited for the new group to bring change to the program. "I'm looking forward to talent and creating a new team atmosphere," Arenson said. "I'm really excited about that." Elders returns after earning IHSSCA All-Sectional honors last season. Boer will play in college for Southern Indiana, and Haley Lindquist will compete for Austin Peay. Arenson wants her younger players to feel confident and communicate on the field, even when talking with older players. "It's giving those kids permission that they need to do this, you have to, your teammates want you to do it," Arneson said.
– Michal Dwojak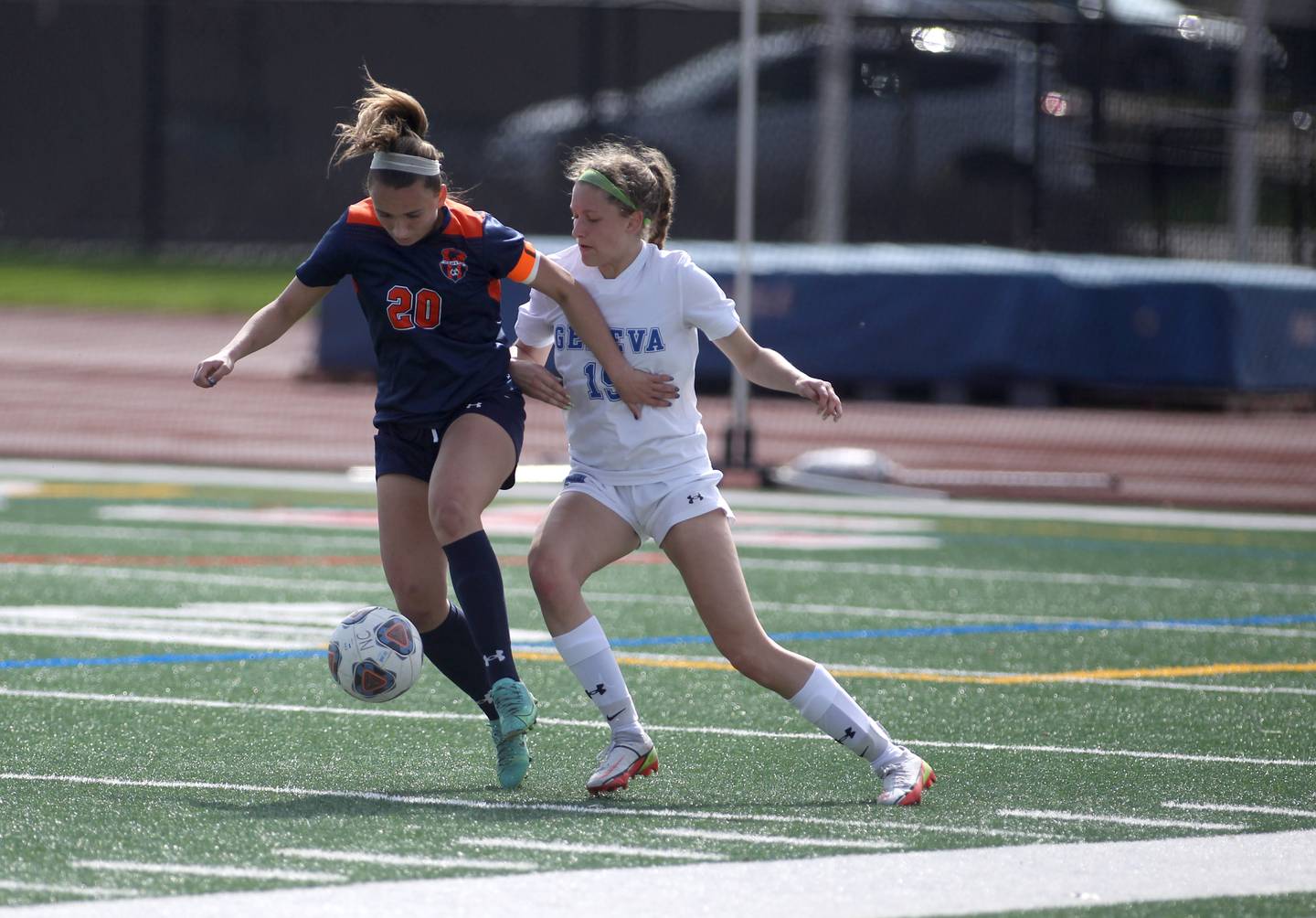 Coach: Megan Owens (13th season)
Last season's record: 12-8-2
Top returning players: Rilee Hasegawa, sr., M; Caroline Madden, jr., M; Isabella Walls, sr., D
Top new players: Alyssa Houk, so., M; Olivia Hagen, fr., F
Worth noting: The Vikings have five seniors back for another run after reaching a regional final last season. Walls, an All-Area selection last season, highlights the returners, along with Madden and Hasegawa holding down the center of the attack. Olivia Rawls figures to be a top scorer for a team that returns 13 upperclassmen.
Coach: Scott Parillo (15th season)
Last season's record: 15-5-1
Top returning players: Brigid Gannon, sr., F/M; Emily Kunzer, jr., D/M; Jade Schrader, jr., F/M
Top new players: Erin Doucette, so., M; Hannah Boyer, so., F; Kyra Lilly, fr., M/F; Zoe Gannon, so., D/M
Worth noting: Kaneland returns the majority of a nucleus that powered the Knights to 15 wins a season ago. It starts with Gannon, who led the team in scoring with 25 goals, had eight assists and was an all-conference selection last season. Kunzer holds down the back end. She had eight goals and five assists for the Knights and was co-MVP of the Interstate 8 Conference last season. Add in Schrader, an athletic wing, and the Knights should be ready to go for a potential longer postseason run. "We are looking to improve from last year and go further in the state series," Parillo said. "This is a fun group who is working extremely hard. As long as we stay healthy, it will be an exciting team and season."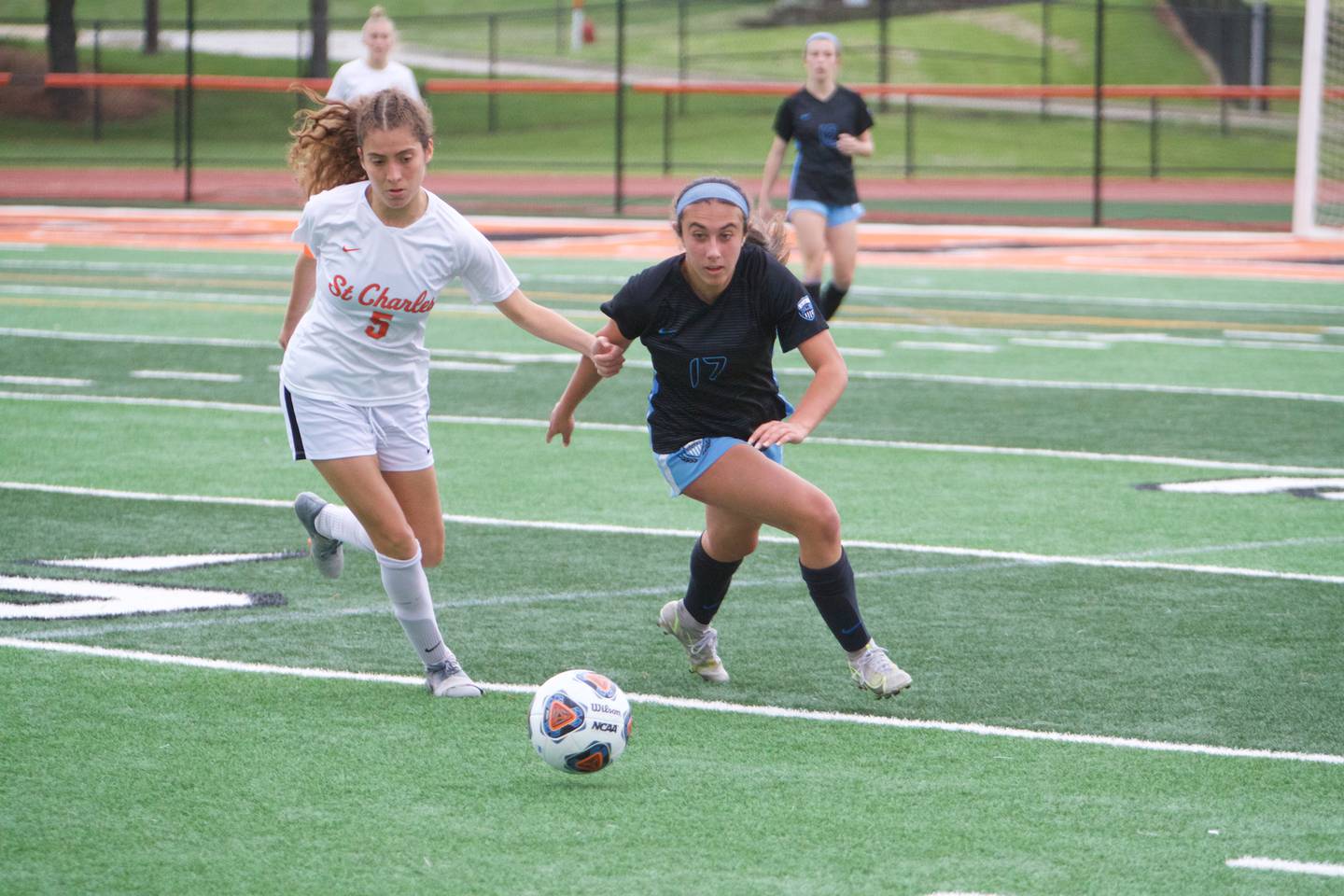 Coach: Vince DiNuzzo (6th season)
Last season's record: 20-5-2
Top returning players: Mackenzie Loomis, jr., D; Kara Machala, sr., M; Grace Williams, sr., F
Top new players: Georgia Desario, fr., M; Abbey Petrick, jr., D; Tatum Smith, fr., F
Worth noting: The Saints have a ton of promise after a season in which they made a supersectional appearance. St. Charles East returns reigning Kane County Chronicle Player of the Year Williams, who scored 25 goals and had 11 assists in leading the Saints to a sectional title. Add in Mia Raschke, Grace Stehman and Sidney Lazenby splitting time in goal and there's little reason not to project the Saints for a deep postseason run once again. "We return a lot of playmakers and goal scorers while adding some new players to the same group," DiNuzzo said. "We graduated some key leaders on the backline, so we will be looking to find a combination of players to defend at a high level."
Coach: Brian Harks (eighth season)
Last season's record: 19-3
Top returning players: Kara Claussner, sr. G; Sophie Kirsten, sr., M; Bella Najera, sr., M; Abby Vichich, sr., D
Top new player: Laney Stark, jr., F
Worth noting: The North Stars again project to field one of the best teams in the DuKane Conference. St. Charles North will look for reigning Conference Player of the Year Najera to add to her 19-goal output from last season. Vichich (a UW-Milwaukee commit and three-year starter), Kirsten (an Akron commit and three-year starter), Claussner (a three-year varsity starter who had 12 shutouts last year) and Lauren Balster (a two-year starter) all have experience and are top-notch talents. "We have a strong returning group that is filled with strong upperclassmen and eager underclassmen," Harks said. "Additionally, we added some very talented newcomers to the roster. A great combination of experience, talent and competitive spirit, it should make this group exciting to watch this season."
Coach: Jim Winslow (12th season)
Last season's record: 7-8
Top returning players: Liv Basel, jr.; M/F; Hanna Blaha, sr., G; Paige Chrustowski, jr., F; Sophia Roszkowski, jr.; M/F
Worth noting: The Spartans battled injuries to top contributors for most of last season, so keeping healthy figures to be a key to their success this season. Basel, Blaha, Chrustowski and Roszkowski all missed significant time last year, Winslow said, so it'll take time for the team to jell. Chrustowski was their second-leading scorer last season. "We are still on the younger side and play a tough schedule, but if we get through that healthy, we will be OK," Winslow said. "Our backline seniors Ada Suriano and Ella Schroeder really need to step up this year and provide consistency and leadership, along with Hannah Blaha to get us moving forward."