ST. CHARLES – What began as an apparent gesture of goodwill this week has turned into a back-and-forth tiff between Kane County defense attorneys and Sheriff Ron Hain.
Defense attorney Liam Dixon presented a check for $5,000 to Kane County Sheriff's Detective Luke Weston on Tuesday night as a donation to the Dallas, Texas-based Warrior Dog Foundation in honor of K-9 Hudson, who was killed May 24 in a shootout between sheriff's deputies and an alleged carjacking suspect.
About 30 defense attorneys packed The Wine Exchange in St. Charles for their monthly meeting, which led off with the check presentation.
Weston, who was Hudson's handler, accepted the check and he and Sgt. Nick Wolf, the K-9 unit supervisor, thanked the attorneys for the donation. Dixon said the defense lawyers also were making a donation of a $1,200 vest to the K-9 unit.
Hain later dismissed the apparent act of charity as "a promotional scam" for the defense attorneys and said it was useless to the county's K-9 unit.
"This group donated the other portion of funds to a random organization out of Texas that has nothing to do with the greater good here," Hain wrote in a text message.
In a follow-up interview, Hain said, "It's just a sound bite for them, a promotional event for them and nothing benefited the office or the K-9 unit."
Dixon disagreed.
"We have a diverse group who were making a magnanimous gesture to donate to a group that helps K-9s avoid euthanasia in Hudson's name and not a 'promotion' except for K-9 charities," Dixon's email said.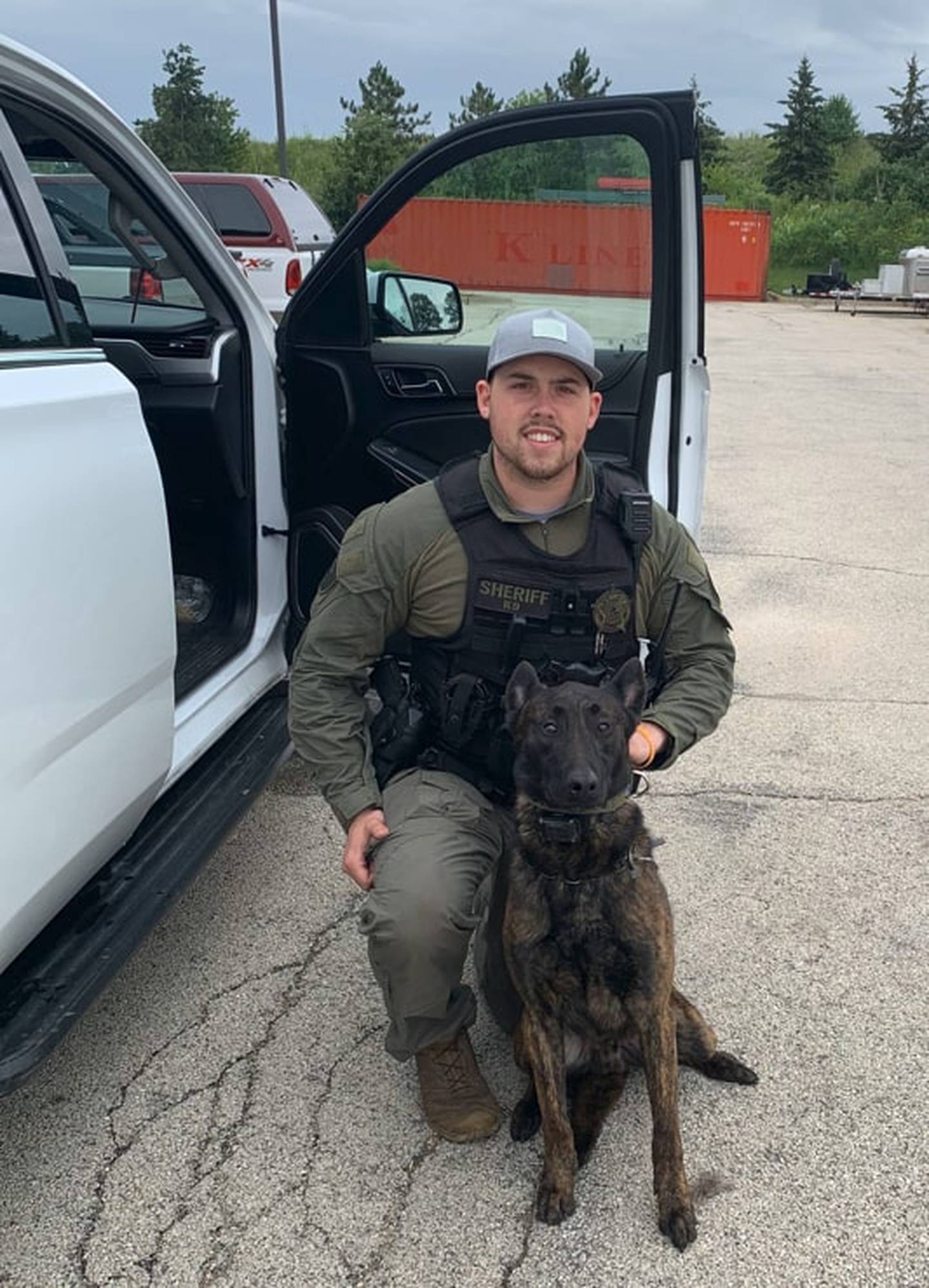 Dixon and Hain spoke last week. They have different recollections of what was said.
"He said he wanted to present a check and he wanted Luke [Weston] there," Hain said.
Weston had family plans and Wolf was working, but Hain said he told both to go to the defense lawyers' meeting to receive the check.
[ Photos: Funeral for Kane County Sheriff K-9 Hudson in Sugar Grove ]
Hain said his wife was out of town and he was babysitting, so he did not attend.
"I feel awful that I pulled them off task to be part of a promotional ad," Hain said.
Then there's the issue of the vest.
Hain said people may mean well, but dog vests are so cumbersome that they inhibit the dogs' ability to do their jobs.
"And even if the dog was wearing it, the science shows that trauma from a bullet impact through a vest on a dog is fatal or mostly incapacitating, at best," Hain wrote in a text.
"I already told Liam we did not need vests," Hain said. "I was very clear about our needs on vests and based on science. There's social media posts asking why wasn't the dog [Hudson] wearing a vest. They [dogs] don't perform well while wearing a vest and the trauma from being shot is still going to kill them. These are inexperienced people opining about something they know nothing about."
In an email, Dixon wrote, "At no time was I informed K-9 vests were not welcome."
"He [Hain] gave me the name of the vest guy so I assumed vests were welcome as I had never heard of him before," Dixon's email said. "The vests were going for his unit."
Dixon said he told Hain the defense lawyers were making a donation in Hudson's honor.
While Hain suggested the donation be made to his office, "our group decided to donate both vests to him and money to a K-9 organization that provided treatment," Dixon's email said.
"We were only trying to honor the name of Hudson. I am disappointed it was not taken that way. I told him the vests are still available unless he thinks different equipment would be more appropriate. I am proud that our group of attorneys suggested and funded these donations so quickly," Dixon said in his email.
"This was the first 10 minutes of our monthly meeting as a gesture to honor Hudson's sacrifice," Dixon's email said. "I hope the benevolence of the group is accepted in the same spirit in which it was offered and we again offer our condolences for his loss and hope to gain the information to prevent such a tragedy from happening again."
The Warrior Dog Foundation provides rehabilitation options rather than euthanasia for retired law enforcement and military K-9s.
The shootout that killed Hudson ended in the intersection of Randall Road and Fabyan Parkway in Batavia. The suspect, identified as James Moriarty, 38, of Aurora, also was killed.
The Kane County Major Crimes Task Force is investigating the police use of deadly force in the shooting. Anyone who witnessed or recorded video of the incident is asked to call the investigation tip line at 331-385-6314.