SUGAR GROVE – Hundreds of mourners attended the memorial service for Kane County Sheriff's K-9 Hudson, who was killed last week in a shootout between a carjacking suspect and officers on Randall Road in Batavia.
Hudson was given a full honor funeral at 11 a.m. June 1 at Kaneland Harter Middle School in Sugar Grove.
Before the service, citizens, law enforcement agents and K-9s paraded through the middle school gymnasium to pay respect.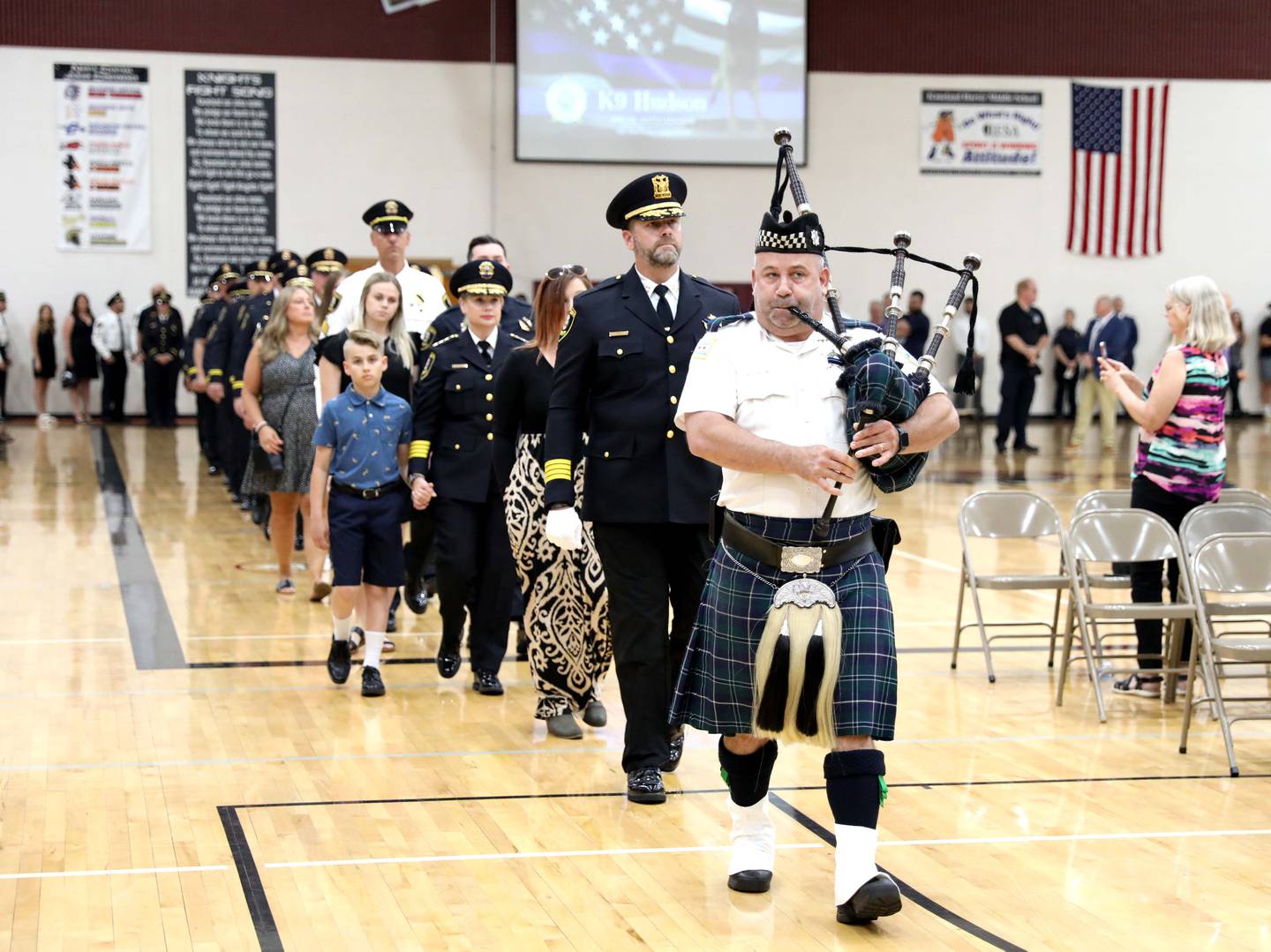 More than 500 law enforcement officers, including 126 K-9s from more than 30 agencies, as well as more than 300 citizens, attended the service. Hudson's handler of more than two years, Detective Luke Weston and his wife, Rachel, were among those mourning.
Christ Community Church Pastor Steve Gallagher and Kane County Sheriff Ron Hain spoke at the service.
Gallagher said Hudson was designed by God and trained to protect and serve. He asked those in attendance to join him in prayer for Weston, who Gallagher said, "lost his loyal and dedicated partner."
Gallagher said Hudson's dedication and bravery were on full display when he gave the ultimate sacrifice while protecting his partner and fellow officers.
"[Hudson's] unwavering bravery isolated the suspect so that no other civilians or officers were hurt," Hain said.
Hudson was sworn into police duty in October 2020 and had assisted in tracking more than 100 criminals and missing people. Hudson was responsible for the apprehension of several violent criminals and assisted with the seizures of more than 100 kilograms of narcotics and more than $5 million in illegally obtained currency, Hain said.
In his short career in law enforcement, Hudson worked with the Kane County Sheriff's Office, the Department of Homeland Security, the Drug Enforcement Agency and the Federal Bureau of Investigation.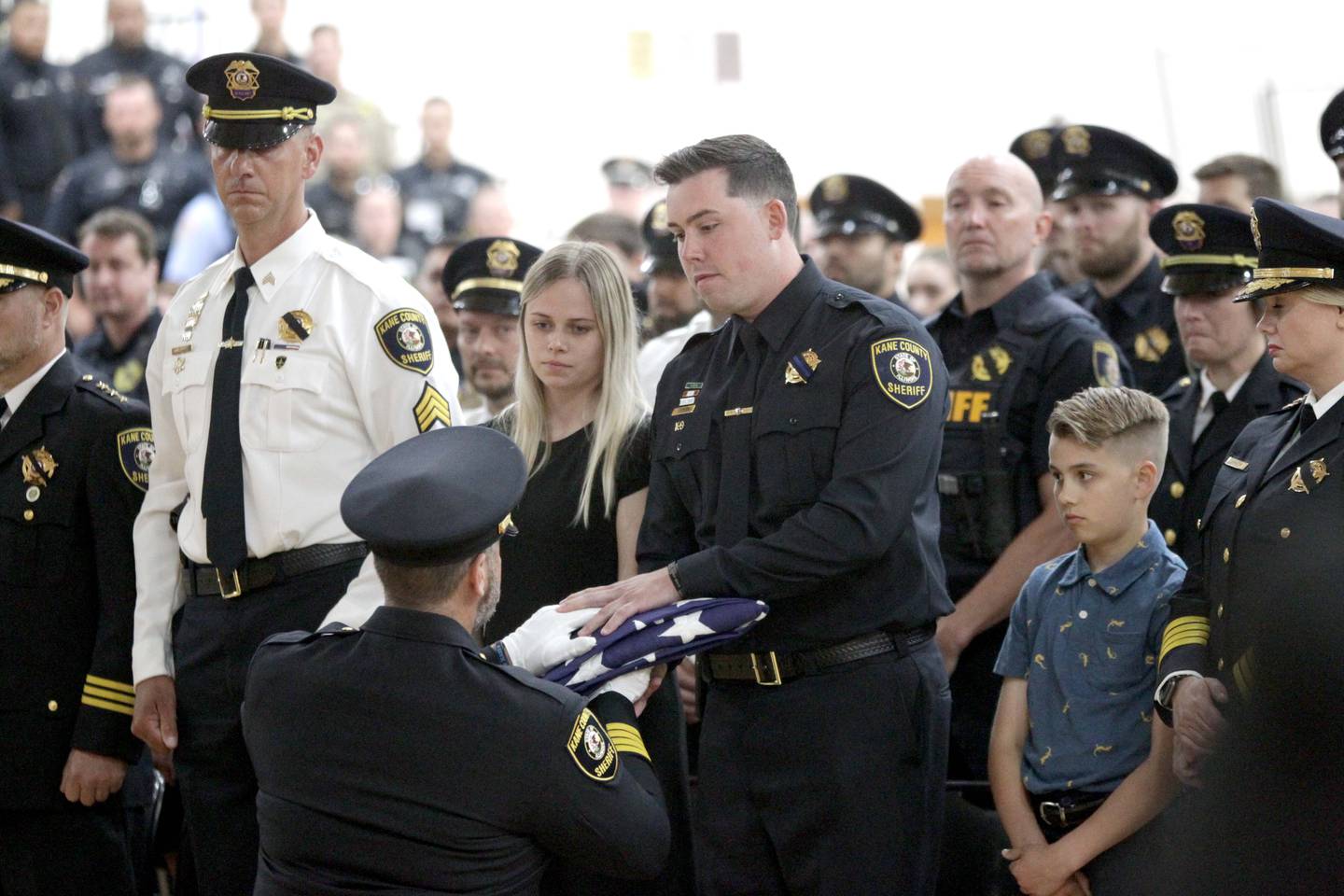 At the end of the service, a final radio call was made for Hudson over the loudspeaker.
"This is the final call for K-9 Hudson, who made the ultimate sacrifice while apprehending a dangerous offender and protecting not only the life of his beloved handler, but the lives of his fellow deputies and innocent civilians on May 24, 2023," the dispatcher said.
The final words of the final call were, "Rest easy, Hudson. We will take it from here."
KaneComm dispatcher Emily Perez of Aurora said she attended the funeral to support the Kane County Sheriff's Office, which she often works closely with.
After the service, Perez said the Kane County Sheriff's Office feels like part of her family.
"I feel so proud in my role dispatching for a tremendous group of deputies," Perez said. "Having this support system is a special thing."
Upon leaving, attendees placed bouquets of flowers on the vehicle that would lead the procession from the service. Several agencies participated in the police procession escorting Hudson's ashes to the sheriff's office in St. Charles after the service.