VIRGIL – Kane County Sheriff's deputies and family members are searching for a man reported missing in western Kane County since March 1.
James Norris, 30, of Virgil, was last reported as being on the Great Western Trail, according to family and a sheriff's news release.
Anyone with information on Norris's whereabouts is asked to call the Kane County Sheriff's Office Investigations Division at 630-444-1103.
Greg Norris of Batavia, the father of the missing man, described his son as 5-foot-10 inches tall, 150 pounds, with black glasses, short light brown hair and wearing a pair of Redwing work boots.
"I was on my way to meet him at his house [in Virgil] and I called," Greg said.
It was about 2:20 p.m. that day.
"He said he was just stepping out for a walk on the trail. I said I would be there in 40 minutes and he said he would definitely be back. When I got there, he was not there," Greg said. "The house was unlocked, his car was in the driveway, his coat was in the back of the car."
Greg said he called his son's cell phone and when James answered, he seemed very disoriented and also seemed not to know that it was his father on the phone.
"I jumped in the car and drove up and down Route 64," Greg said. "He's not a big walker, but on a nice day in early spring, there's a lot of people out there."
Greg began talking to people going by and catching others on their bikes, looking to see if anyone had seen his son.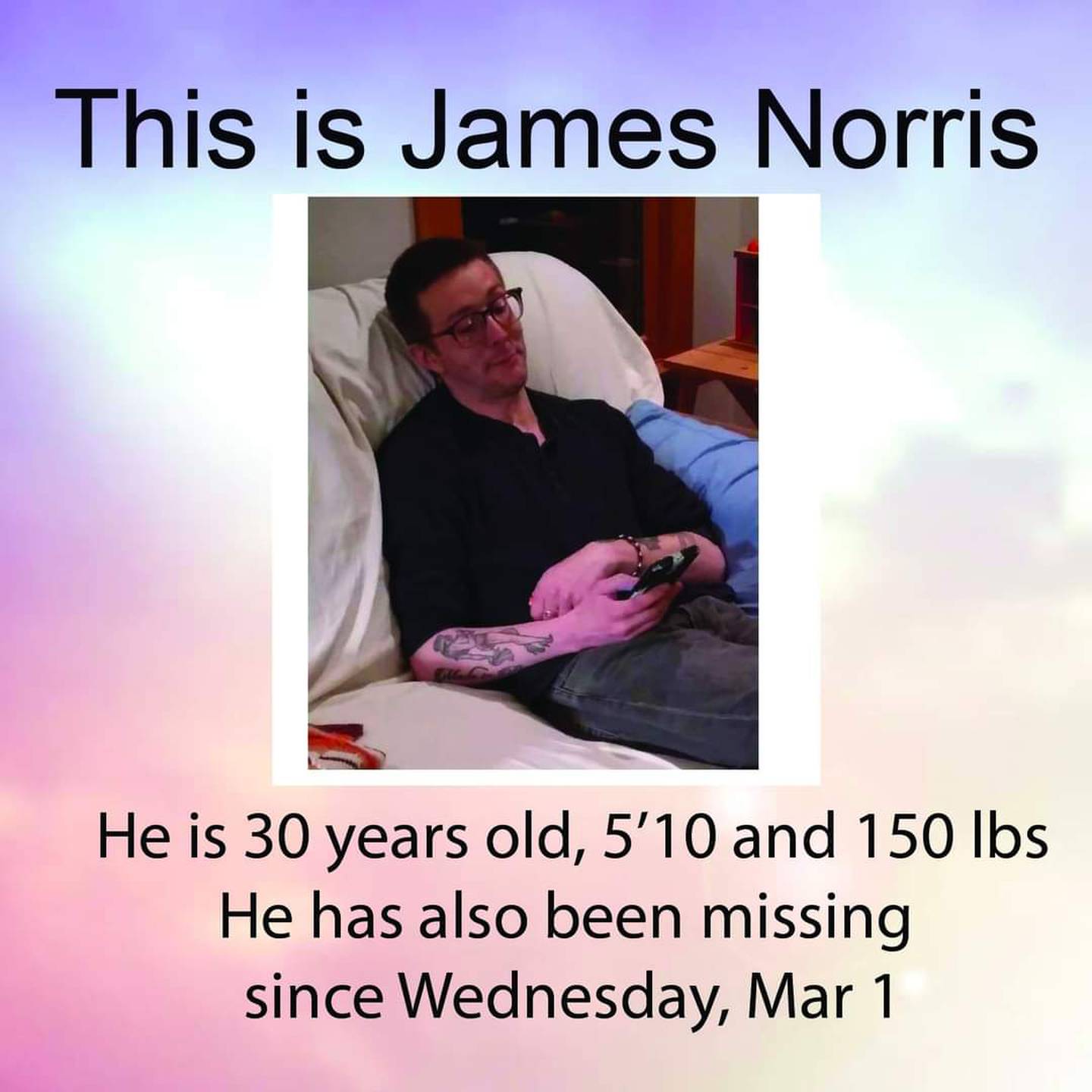 By 8 p.m., Greg filed a missing person report with the Kane County Sheriff's Office. A bloodhound and drone began a search of the area, but James was not found, the release stated.
About an hour later, someone turned in James' cell phone to the Elburn Fire Station 3 in Lily Lake, Greg said. It was found on the Great Western Trail between Route 47 and Hanson Road, Greg said.
"The next day on the 8 mile marker on the Great Western Trail, someone found his wallet, saw his address, and driver's license and we found it on the front step of his house," Greg said. "The sheriff's office has the phone."
Though a lot of people have been out on the trail every day, no one recognized James from the flyers he handed out, Greg said.
James's ex-wife, Nia Springer-Norris, of DeKalb, said they have been divorced for a little over a year and have three children, ages 4, 5 and 6. While her former father-in-law has been passing out flyers, she said she has been promoting the search for him on social media.
"We don't know where he would have gone or been," Springer-Norris said.