CHARLESTON — Rosary's Ann Molenhouse had trouble completing one simple task late Friday afternoon.
After competing in four events at the Class 2A state girls track and field meet, Molenhouse found a plot of grass, just away from the finish line, to stretch her legs. The Oklahoma State recruit asked relay teammate, Maia Italia, for one favor: Untie my shoes.
Considering Molenhouse played a major factor in helping the Royals notch their second state team trophy in program history, Italia obliged her senior teammate following the conclusion of the steamy one-day state meet.
The Royals, led by a second-place finish in the 1,600-meter relay that ended the state meet, compiled 46 points to earn a third-place team trophy. Latin (69) and Geneseo (60) claimed the top two spots, while Burlington Central placed sixth with 32 points.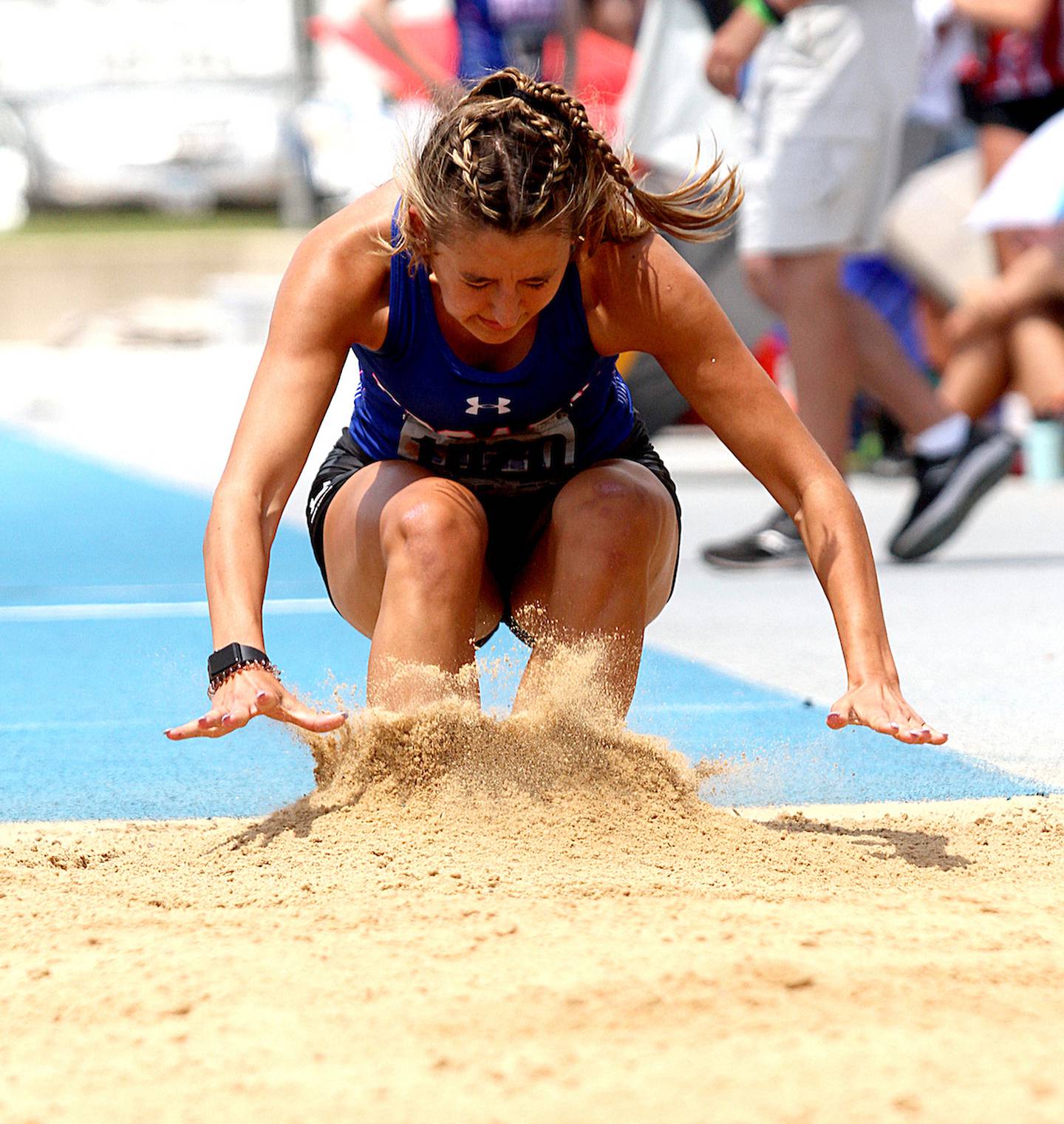 Molenhouse scored points in the triple jump, 100 and 300 hurdles and 1,600 relay.
"I'm pretty beat, but the adrenaline kept me going throughout the day," Molenhouse said. "It was super exciting. Everyone came in motivated and excited to compete. We're blessed to be here. It was heart-breaking to lose our season last year. Just because of that, we came in more motivated to have this opportunity at Eastern Illinois and wanted to take (a trophy) home."
Rosary coach Jeff Fearday said the Royals placed second in the 1985 state meet. The Royals' 1,600-meter team of Lianna Surtz, Katie Ubertino, Italia and Molenhouse capped off an historic day with a second-place time of 4 minutes, 03.71 seconds.
"We have 13 seniors on the team, so we knew it was now or never for us," Fearday said. "We're pretty happy."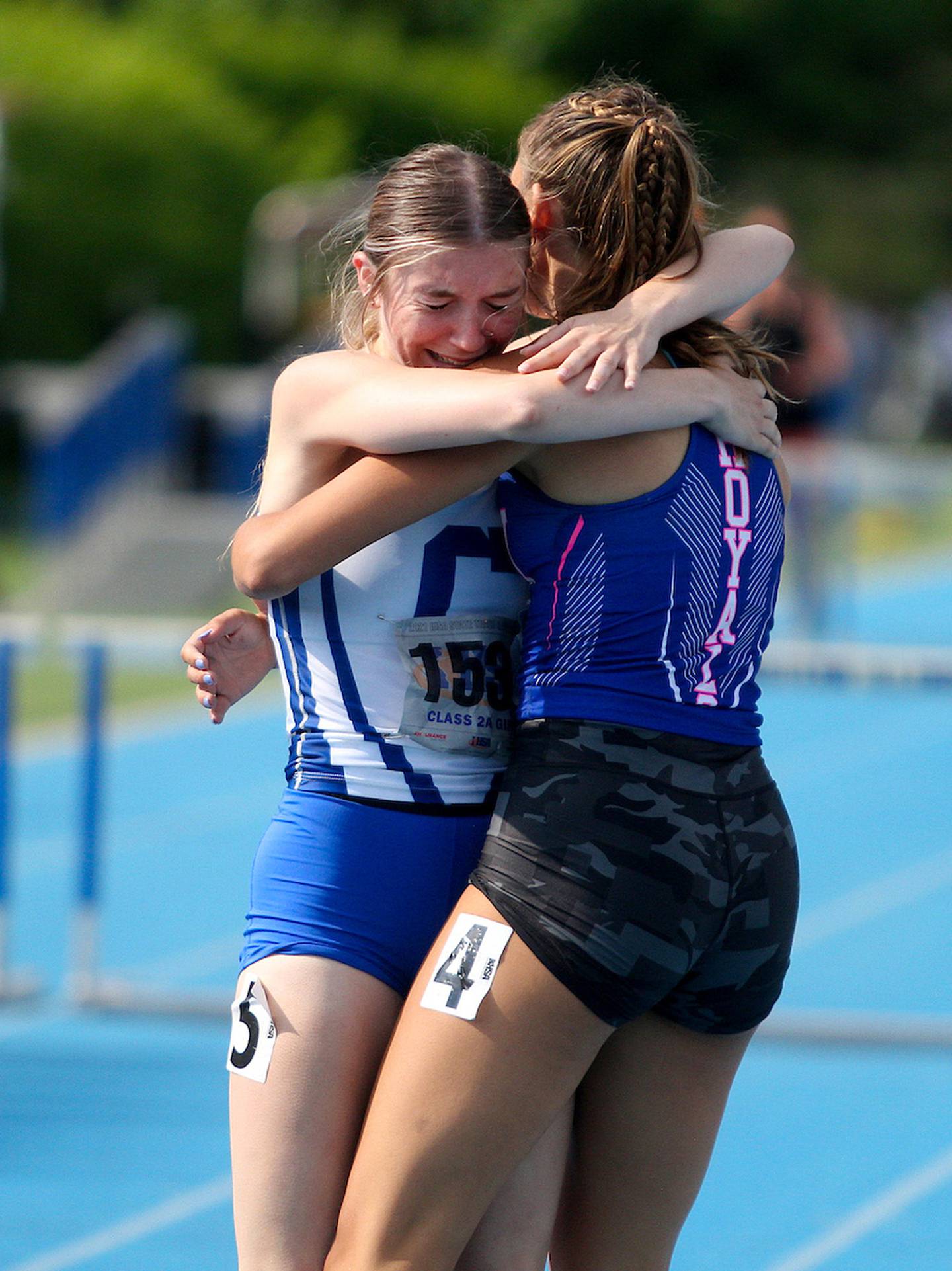 Molenhouse and Surtz both led the charge for the Royals in the new state format. Despite temperatures soaring in the low 90s and a condensed schedule, Molenhouse and Surtz overcame the conditions to score valuable points. Sophomore Libby Saloga started the day off by earning a second-place finish in the pole vault (3.60 meters) for Rosary.
Molenhouse finished second in the 300 hurdles (45.92), sixth in the triple jump (10.81 meters) and eighth in the 100 hurdles (15.47). Molenhouse said she just tried to stay loose for her final race of her career.
"Getting the baton in fourth or fifth place, I've been in that position before and knew where to run and pass," Molenhouse said of the 1,600 relay. "I felt so good coming down that first straight. I was expecting to be more dead, but I felt good."
Surtz, a junior, established a personal best time in the 3,200 (11:13.86) to snare a fourth-place medal. She added a sixth-place medal in the 1,600 (5:14.90).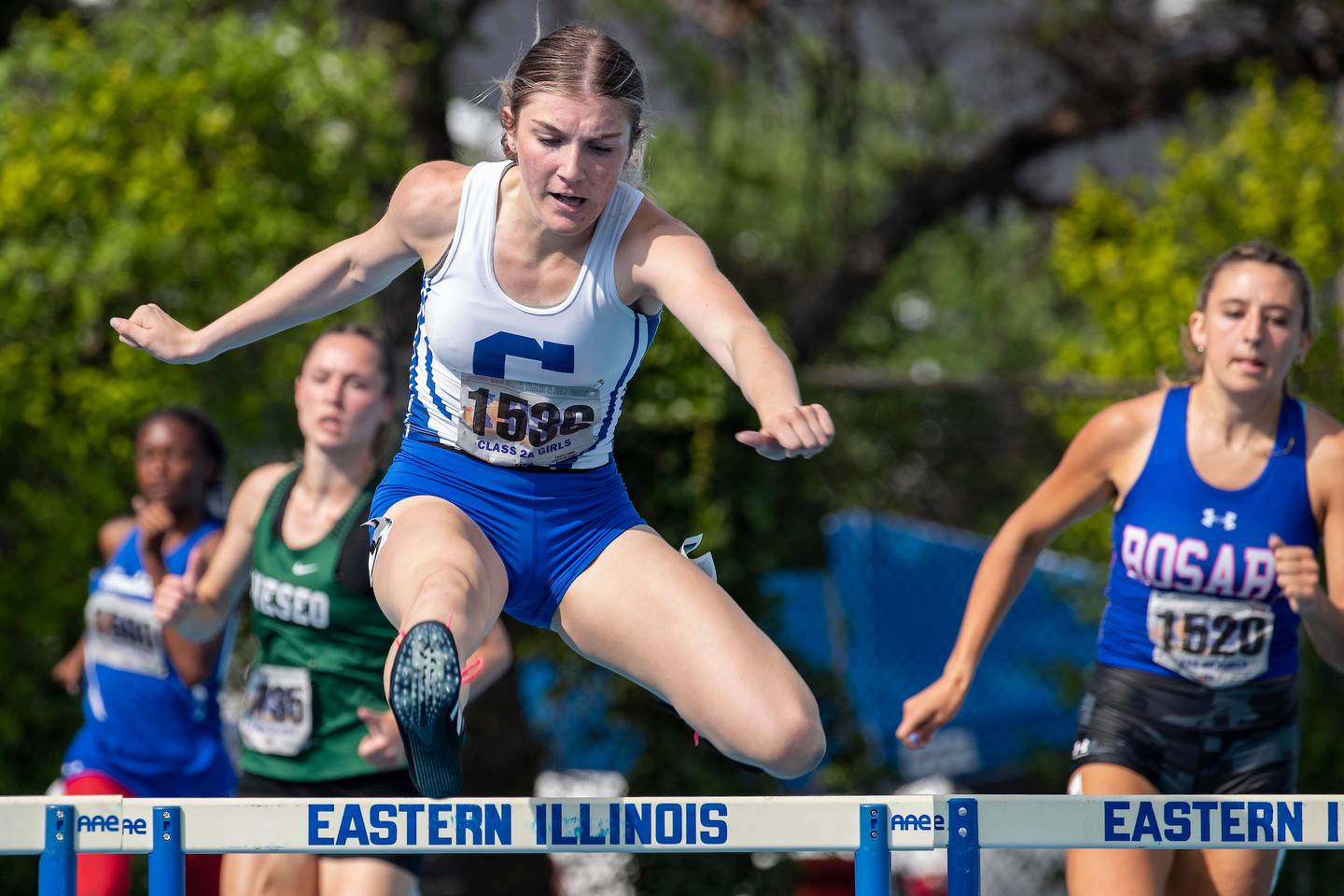 Burlington Central's Brooke Barkocy competed in four events to lift the Rockets to a solid team effort. In a talented field with several familiar competitors, Barkocy bested Molenhouse to win first place in the 300 hurdles in a time of 44.69.
It's Burlington Central's first individual state champion since Carissa Wallace won the 300 in 1996.
She took home a third-place medal in the 100 hurdles (14.93) and ran the final leg of the Rockets' fourth-place 1,600 relay (4:07.87). Burlington Central senior Carolina Hintz notched a second-place medal in the discus (43.26).
"I feel like the happiest I've felt this season," Barkocy said. "I had a personal record, school record and state champ: I couldn't ask for anything more. The team also did outstanding."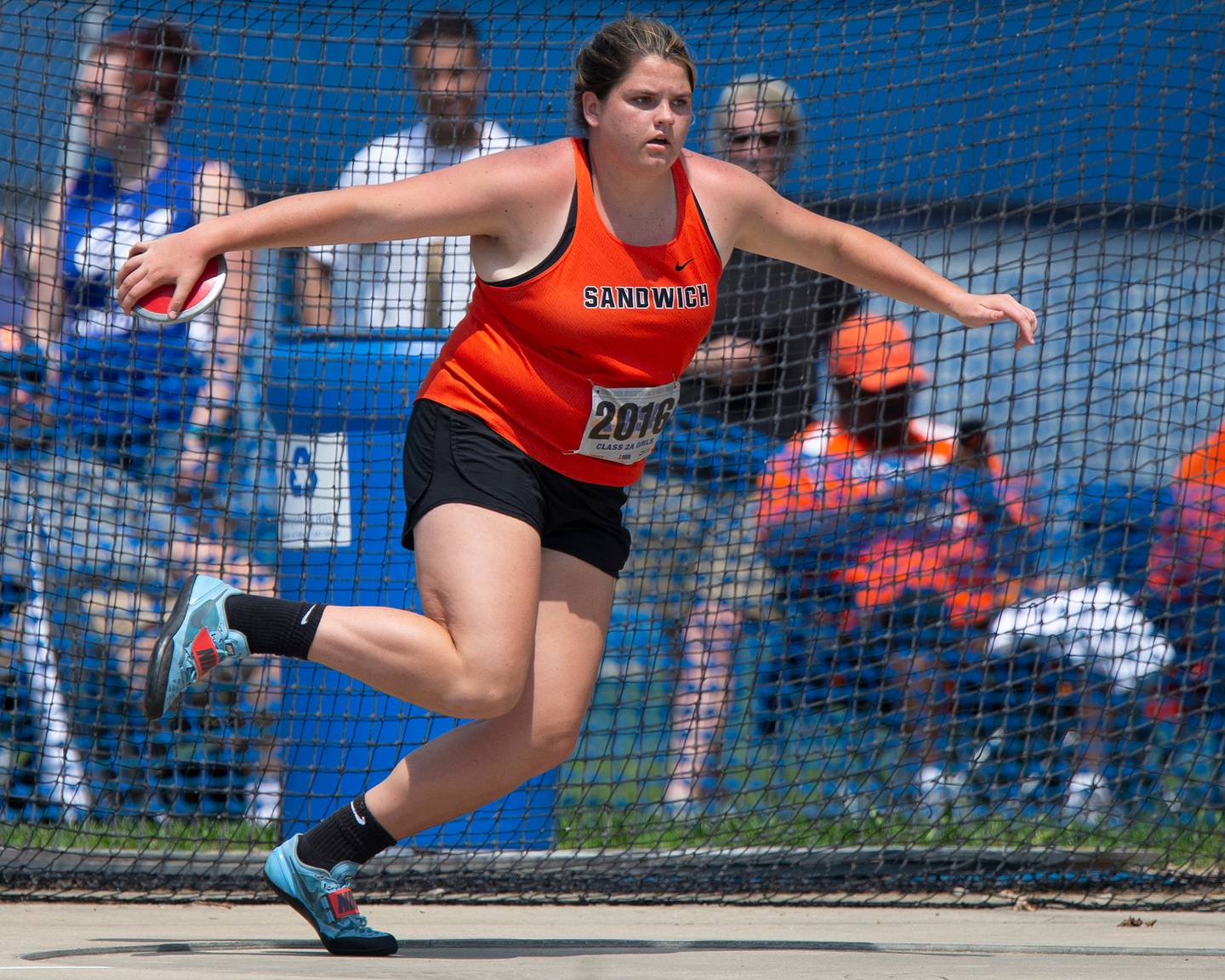 Sandwich junior Claire Allen set a new personal record to snag a second-place medal in the shot put (12.47).
It's the second-highest finish by a Sandwich girl at state. Mandy Gacek was the 1998 Class 1A state triple jump champion.
Allen also took fourth in the the discus.
"I was really happy because I was competing against all seniors, and I thought that everyone has had more experience with state, so they would be throwing further," Allen said. "But I surprised myself. It motivates me a lot knowing that I beat a bunch of seniors as a sophomore. It showed me that I might be able to come out on top in the following years."