When St. Charles Public library officials asked patrons what they would like to see in the library, one of the things they wanted were more places to sit and read and study.
Those attending the grand reopening of the newly renovated and expanded library on July 17 will find plenty of places to sit and ready and study – along with a host of other improvements – as part of a $18.6 million renovation and expansion project.
The library's main library floor was rearranged to create a "grand reading room."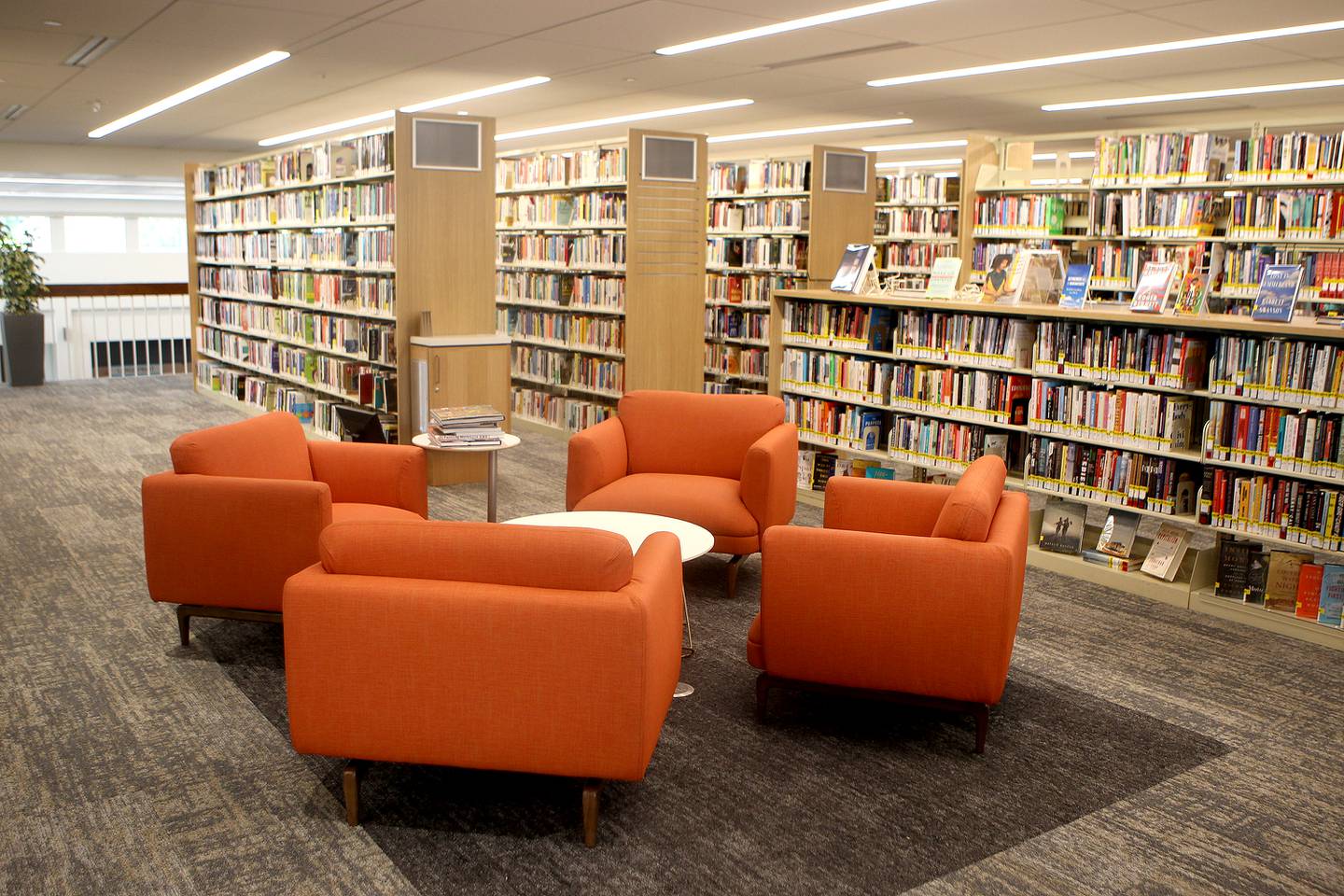 "We wanted to make sure that the heart of the library was for patrons," St. Charles Public Library Director Edith Craig said while giving a tour of the newly renovated library. "All staff are around the perimeter, kind of behind the scenes, with the center of everything being open for patrons. When we did our strategic plan, the community comments were that they wanted more places to sit and stream and read and just kind of study. So we created this area here in front of a brand new fireplace where the stairs used to be so people can sit and read."
Above the fireplace is a bronze relief art piece created by Geneva sculptor Larry K. Johnson and donated by the St. Charles Public Library Foundation.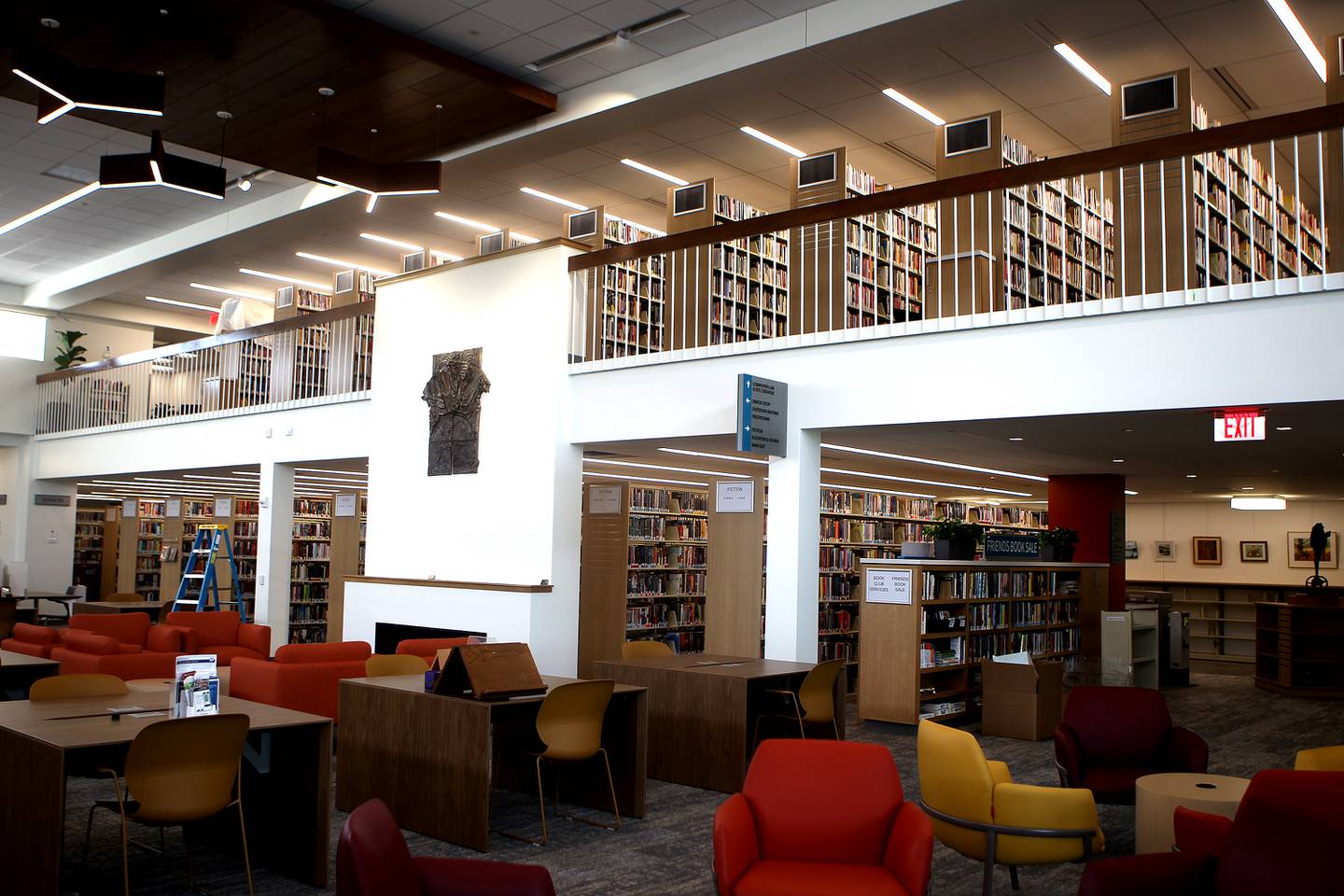 The grand reopening celebration will start at 2 p.m. July 17 with a ribbon cutting ceremony, guest speakers and dedications. Tours of the library will also be given that day.
A full list of activities planned for that day and the following week can be found at the library's website, scpld.org. Because of the pandemic, the library had to do a virtual groundbreaking instead of an in-person groundbreaking in March 2020.
"We broke ground the week COVID was declared a global pandemic," Craig said. "But we're on schedule and on budget."
And the pandemic did not hold up the project in any way.
"Construction was declared an essential business, so construction never stopped, which allowed us to keep going with our project," Craig said.
Of the $18.6 million, more than half of it went to strengthening the building's infrastructure, she said. That included installing a new roof, installing all new mechanical systems and improving the air quality in the building.
The library now features a variety of seating, including chairs along the side of the grand reading room that are designed to shut out any outside noise.
"It's almost like putting on a set of noise cancelling headphones right when you sit in there," said Donald McKay, principal with Sheehan Nagle Hartray Architects. "One of the trends in public libraries is just to provide people with a wide variety of places that they can sit, together or by themselves and to try to accommodate what different people are comfortable with in a public library."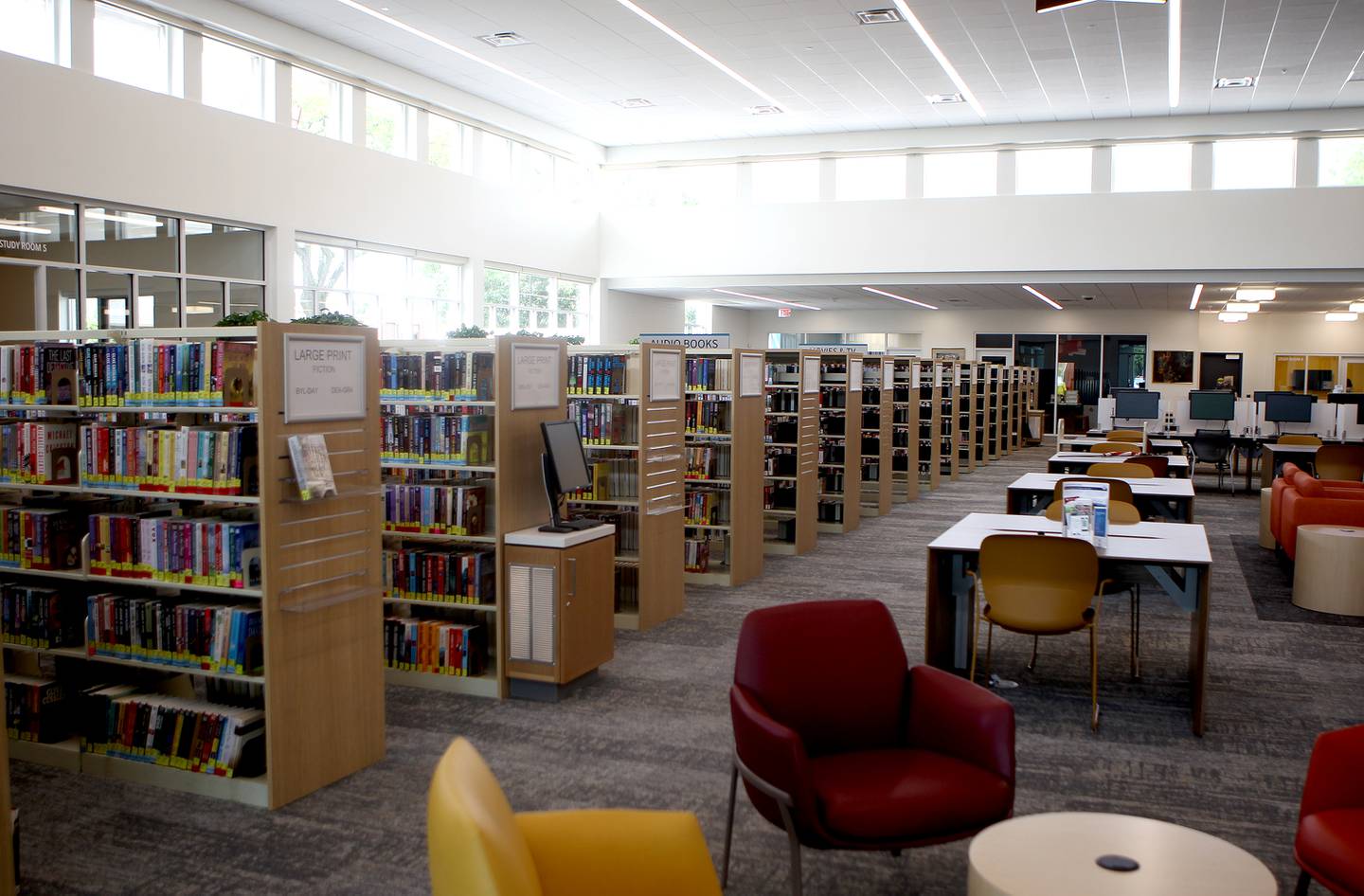 The renovated library also features a relocated and slightly larger Huntley Community Room, which had previously been located in the library's lower level. The room literally has been put in a new light in its relocated space.
"One of the focuses was letting in as much natural light as possible," Craig said. "And so we've got these beautiful glass windows that allow all of that beautiful sunlight in. This community room is slightly bigger than our old one. Our capacity is about 100. And this room is divisible, so we can convert it into two meeting rooms."
The library also has more study rooms than it previously did.
"We have five and we had three before," Craig said. "One of the study rooms is a group study room, so it fits like 10 people."
Throughout the library, there also are various study tables where patrons can work at. And as Pam Salomone, the library's communications and marketing manager noted, the library has laptop computers and iPads that patrons can use.
The project also incorporates the historic original Carnegie Building space into the everyday life of the library through the addition of study rooms and a quiet reading and research area.
Last year, aldermen approved a historic landmark designation for the library. The original Carnegie Library building at the corner of Main Street and Fifth Avenue was built in 1908.
"We restored the doors because they were originally glass, and then at some point, got paneled with wood," Craig said. "And so we were able to restore them back to glass."
McKay said it was important to make the Carnegie Building an integral part of the library.
"It was absolutely critical," McKay said. "When the additions have been put on in the past and the corner entry was put on, every time they put an addition on, the Carnegie Library got more and more kind of remote and less important in the library. It became just kind of an artifact."
Improving access was also important.
"Right next to the entrance is an elevator now that goes to all three floors," Craig said. "Before when you walked in, you had one elevator that went just down and then you had to traverse the whole library just to get to the elevator that went up."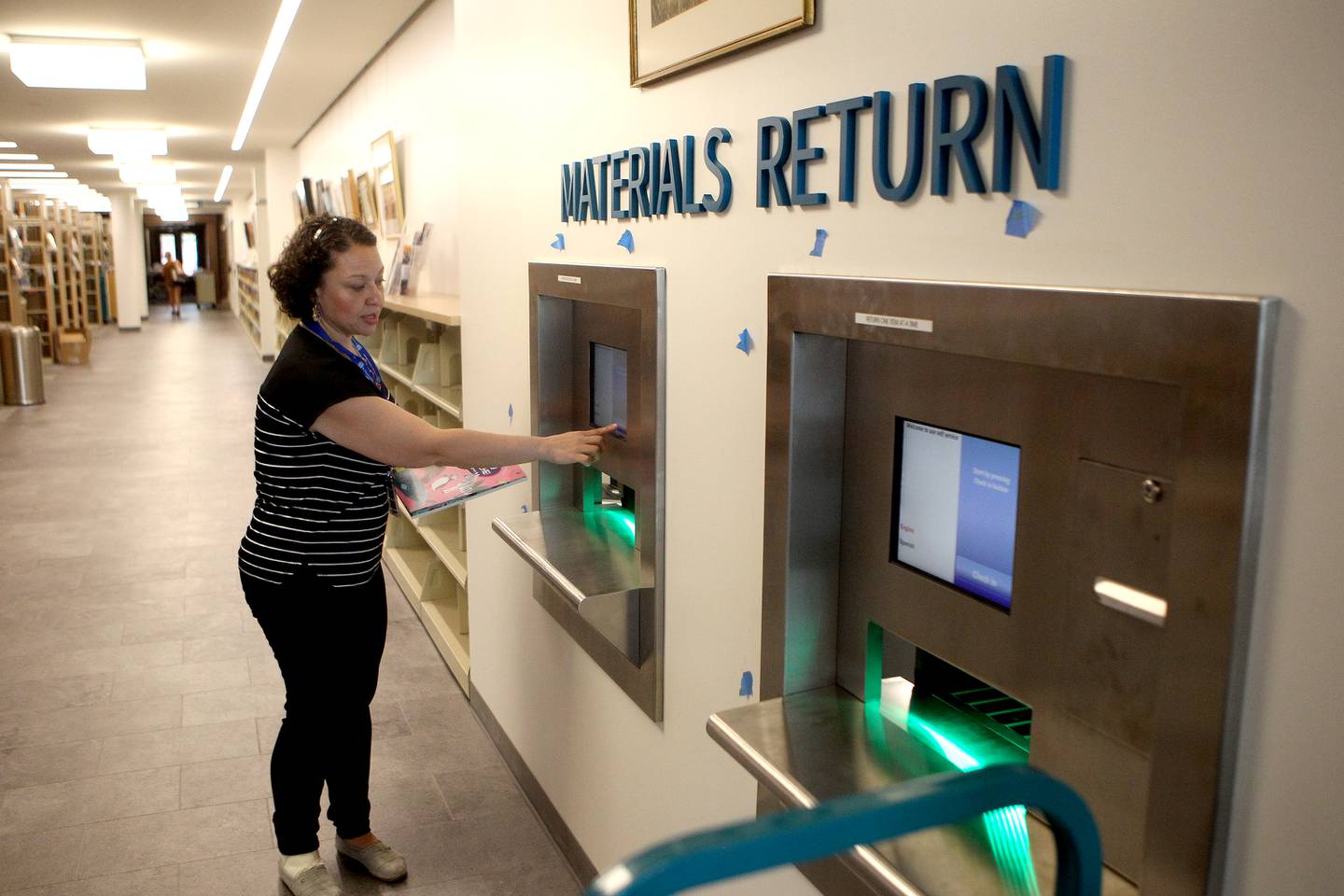 The newly renovated library is also chock full of the latest in technology, including an automated material handling system for patrons to use when they are returning what they checked out. McKay said more libraries are using such systems.
"One of the things that it's done is it has allowed libraries to redirect staff to provide public service, so they're not in the back room sorting books," he said.
Patrons walking around the library will also find it easier to get help.
"Every service desk can do basic library functions," Craig said. "So if you go to the new research and reading desk, you can check out items there or register for a card. All of our desks have that same basic level of service. Even booking one of our study rooms or registering for a program, all staff are trained to do that."
Another new addition is the library's makerspace, STC Creative.
"This again was the direct result of our strategic plan and community feedback," Craig said. "They wanted to see innovation. They have that 'try before you buy' mentality. They want a 3D printer, but they want to try it out first."
Patrons will be able to do everything from use a 3D printer to make their own podcast in a sound studio.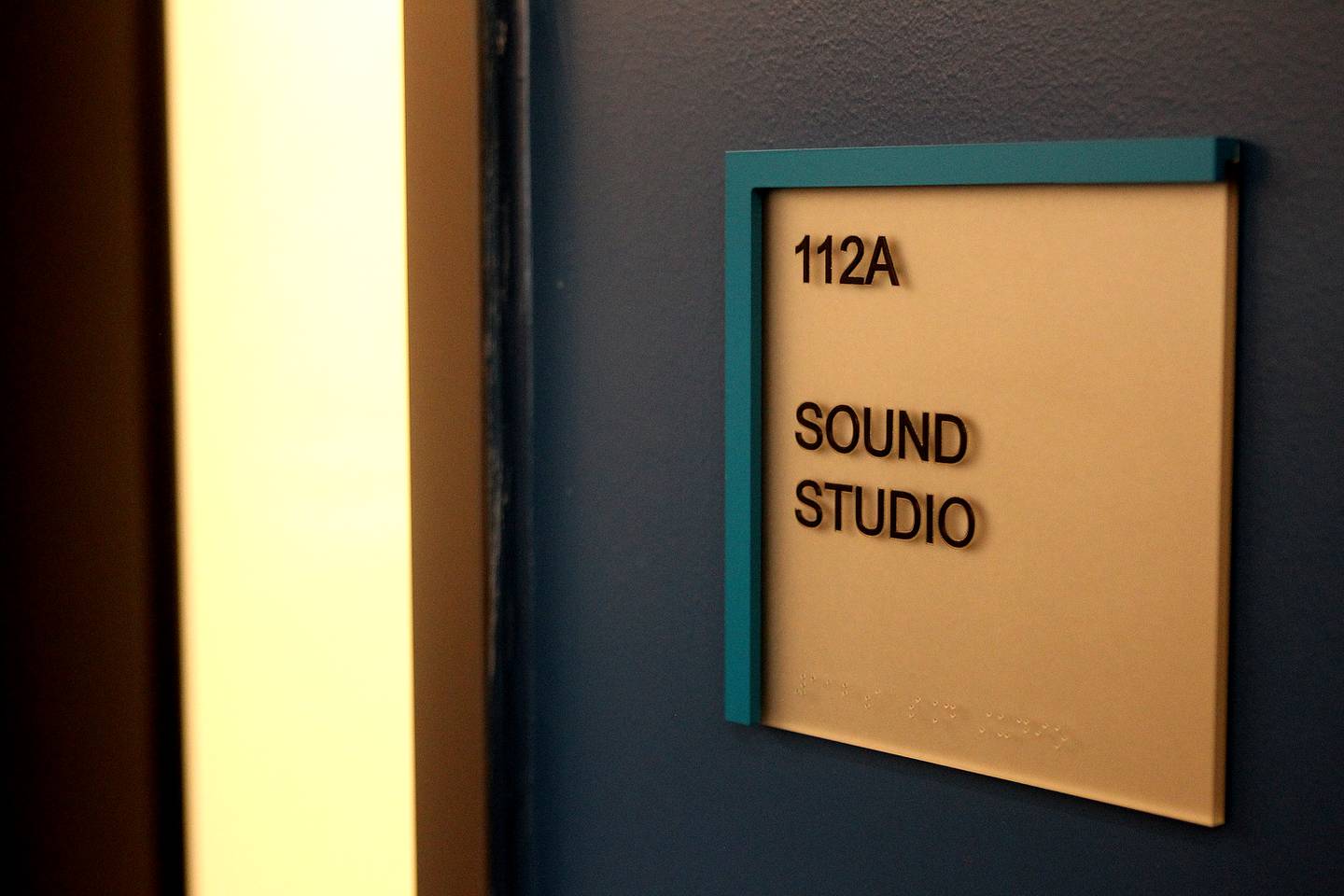 "Our staff is currently working on the power point presentation for the grand opening and they are going to do the audio recording in the sound studio," Salomone said.
The youth services department on the library's lower level is also sporting a completely new look these days. Along with featuring more spaces to read, study and play, it also features The Neighborhood, which is a dedicated toddler play space.
"It was a reimagining of this place, what can we do within our same footprint and how do we make that happen," Craig said. "And this is the result."
A terrace garden with space for outdoor seating and programming sits outside the department. Teens also have their own space in the library – The Loft, which fittingly enough, is on the library's second floor.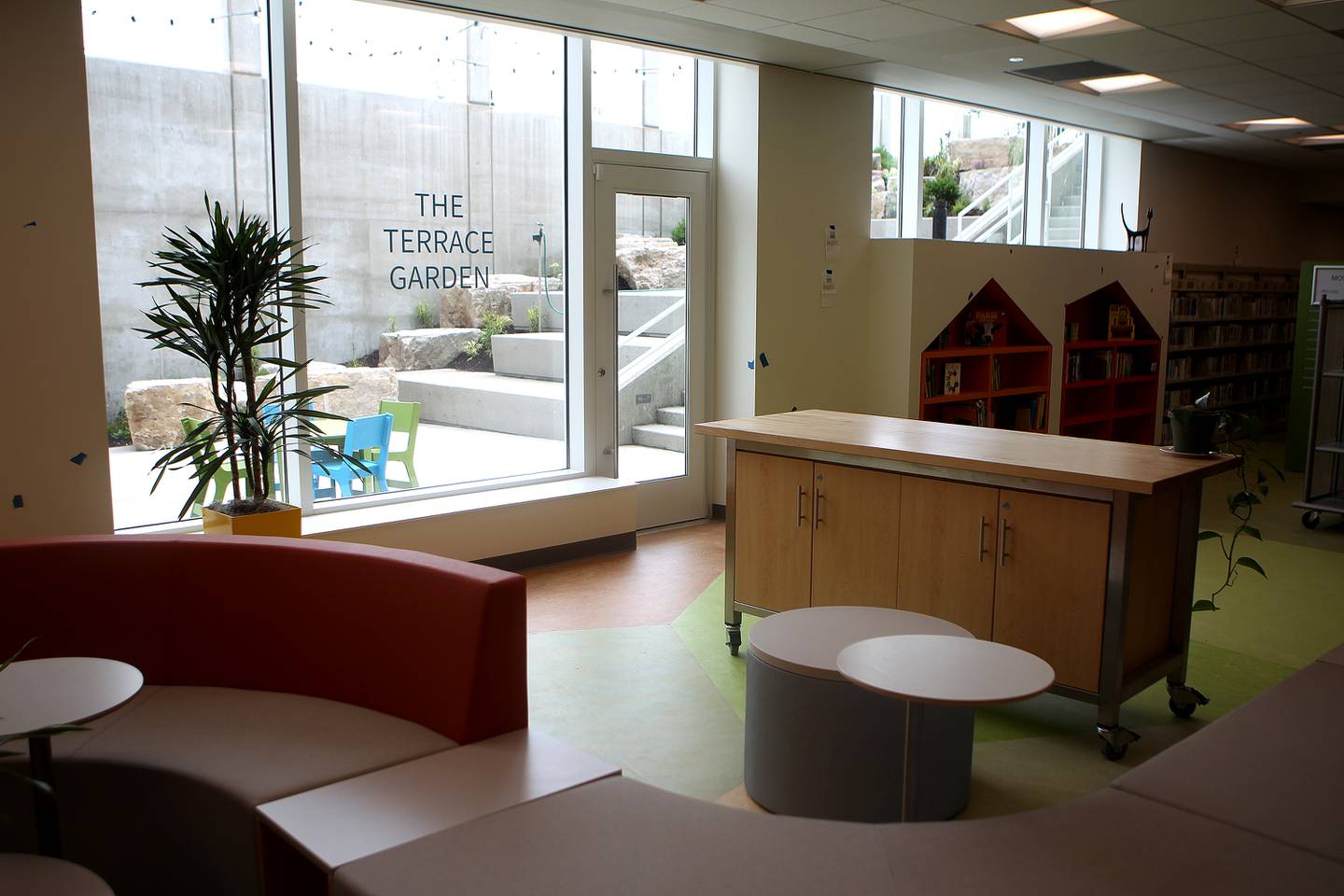 The Loft is now a totally enclosed space.
"We had The Loft previously, but it was just an open space," Craig said. "This is closable, dedicated teen space, a safe place for teens. This is their space."
McKay said spaces like The Loft are even more important in libraries today.
"As kids, we used to go into libraries with our parents and then we get to a certain age and we don't hang out with our parents anymore," he said. "And the kids stopped going to libraries because there was nothing there for them. This has become a way to keep them engaged and become lifelong library users."
Other highlights include additional parking and a new drive-up window. At 68,800 square feet, the newly expanded library is about 15% larger than it was previously.
"The addition was 8,800 square feet, so it's about a 15% increase over the size it was before," McKay said. "It's pretty modest, given the changes. It really feels like a new library I think inside."
He hopes patrons like what they see.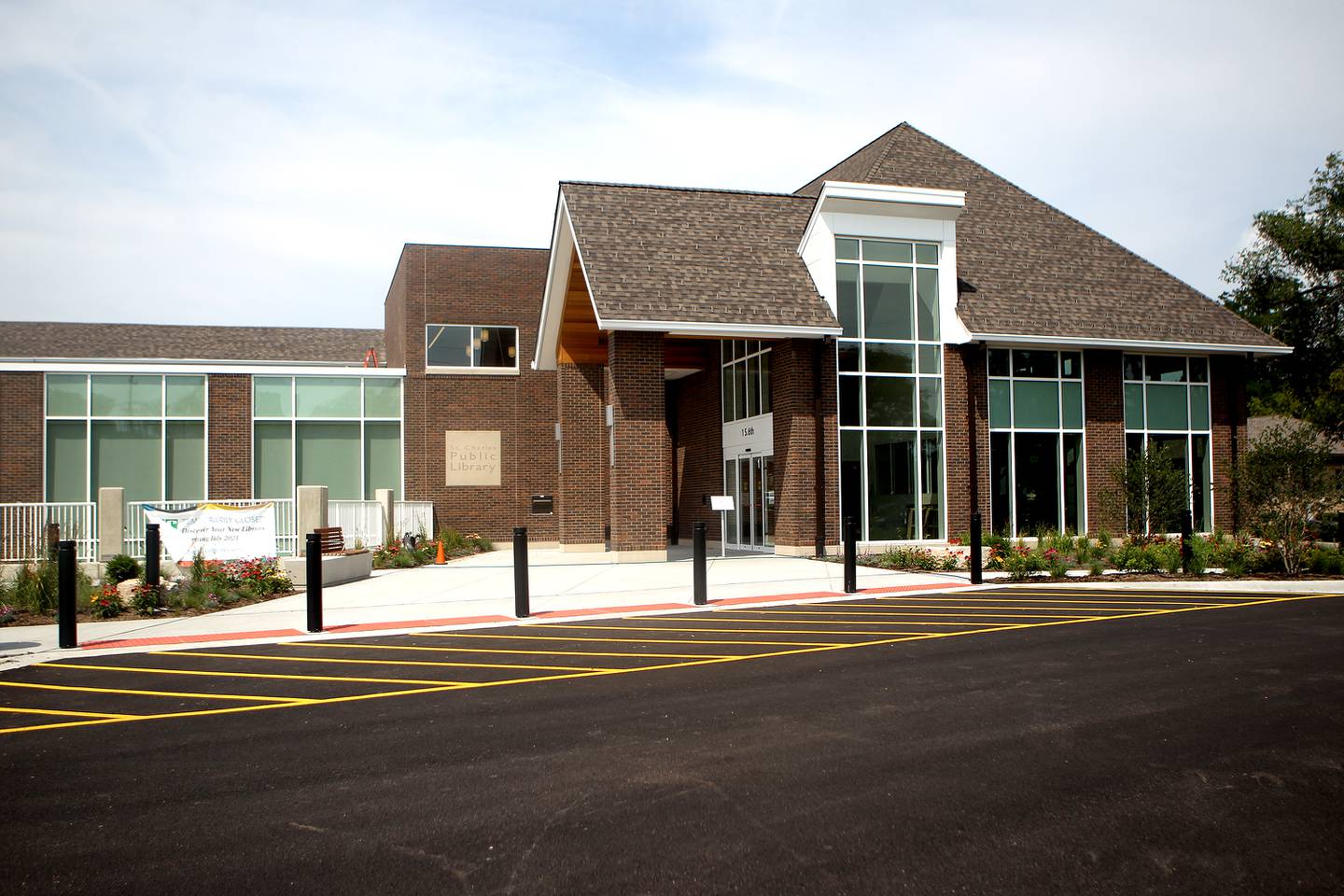 "The thing that public libraries have always been good at is giving people access to resources they don't have at home," McKay said. "It's giving people access to resources that they need based on what's going on in our culture and in society that they don't necessarily have at home."