West Suburban Silver
When: 7:30 p.m. Friday
Last matchup: York 24, Downers Grove North 17 (2022)
About the Dukes: York ran its regular-season win streak to 16 games dating back to the 2021 season with its 38-10 win over Hinsdale Central last week. The Dukes piled up 467 yards of offense with quarterback Sean Winton throwing for 196 yards and two TDs, one each to Chris Danko and Luke Mailander, and Jake Melion rushing for 213 yards and three TDs. Defensively, Cole Ostendorf and Jack Trautmann each had seven tackles, 3.5 of them for loss. While York has emerged as the top dog in the West Suburban Silver the last year and a half, the Dukes were pushed quite a bit by Downers Grove North in last season's game.
About the Trojans: Downers Grove North is 5-0 for the first time since 2003. Now it takes on its biggest challenge in a showdown of West Suburban Silver unbeatens that could decide the league title. The Trojans are coming off a 38-6 win over Oak Park-River Forest. Sophomore QB Owen Lansu threw for two TDs and ran for one. Noah Battle has been the workhorse out of the Trojans' backfield, but Jake Gregorio ran for over 100 yards with a 71-yard TD last week.
FND Pick: York
When: 7:30 p.m. Friday
Last matchup: Glenbard West 45, Hinsdale Central 15 (2022)
About the Hilltoppers: Glenbard West's offense, which has struggled to put up points all season, broke out in a big way last week in a 55-13 win over Leyden. Teyion Oriental ran for three TDs, including a 66-yarder, and Aidan Murphy ran for an 80-yard TD and caught a score. While the Hilltoppers' offense picked up the pace last week, the defense has been for the most part a constant – a total of 29 points allowed in Glenbard West's three wins.
About the Red Devils: Hinsdale Central has played an extremely difficult schedule up to this point, reflected in the team's struggles. The Red Devils were held to just 58 yards rushing against York while giving up a total of 467 yards. Hinsdale Central has had some fierce battles against Glenbard West in recent seasons and will need to summon that competitive spirit in another difficult matchup.
FND Pick: Glenbard West
Lyons (3-2, 2-1) at Oak Park-River Forest (1-4, 1-2)
When: 6 p.m. Friday
Last matchup: Lyons 38, Oak Park-River Forest 13 (2022)
About the Lions: Lyons bounced back from its tough Week 4 loss to Glenbard West in a big way with a 49-0 win over Proviso West last week. Ryan Jackson passed for 183 yards and five touchdowns. Jackson has thrown for 857 yards and 10 TDs on the season. Travis Stamm caught two TDs and Jack Grigus had a 75-yard interception return for a TD. This will be Lyons' third straight road game, and an important one with matchups against unbeatens Downers Grove North and York the next two weeks.
About the Huskies: OPRF is coming off a 38-6 loss to Downers Grove North, a game in which the Huskies lost senior linebacker/running back and co-captain Sam Gray to an apparent serious injury late in the half. Johnny Nelson threw for 147 yards and a TD in the loss. Jeremiah Jenkins had eight catches for 74 yards. The Huskies have given up a total of 94 points in losses to York and Downers North the last two weeks.
FND Pick: Lyons
West Suburban Gold
When: 7:30 p.m. Friday
Last matchup: Downers Grove South 26, Hinsdale South 6 (2022)
About the Mustangs: Downers Grove South is coming off a 34-0 win over Morton, the Mustangs' second straight win after an 0-3 start. Fraja Maggitt, Will Potter, Cameron Kasper, Max Cherep and Anthony Smith each scored TDs in Downers Grove South's win.
About the Hornets: Hinsdale South comes off a 37-34 loss to Willowbrook that snapped a two-game winning streak. Junior Langston Love had 188 yards passing and three TDs in the loss. This Friday's game provides a second opportunity for the Hornets against an upper crust opponent in the Gold.
FND Pick: Downers Grove South
Willowbrook (3-2, 2-1) at Proviso East (1-4, 0-3)
When: 1:30 p.m. Saturday
Last matchup: Willowbrook 42, Proviso East 6(2022)
About the Warriors: Willowbrook comes in off a wild one, a 37-34 win over Hinsdale South last week. Senior QB Arthur Palicki was 16-for-24 passing for 273 yards and three TDs, and ran for 115 yards and two TDs. The Warriors' next four opponents currently feature 1-4 records so an opportunity certainly exists to run the table.
About the Pirates: Proviso East comes in off a 42-12 loss to Addison Trail. The Pirates' defense has struggled to stop anybody this season. Proviso East has given up a total of 155 points in its four losses, the lone win over district rival Proviso West.
FND Pick: Willowbrook
Leyden (1-4, 1-1) at Morton (1-4, 1-1)
When: 7:30 p.m. Friday
Last matchup: Morton 30, Leyden 29 (2022)
About the Eagles: Leyden comes in off a 55-13 loss to Glenbard West. The opportunity is there for a much more competitive result back in the Gold with an opponent in Morton that is also having its share of struggles.
About the Mustangs: Morton comes in off a 34-0 loss to Downers Grove South. The Mustangs' defense has had difficulty containing other teams, in victory or defeat. Morton has allowed a total of 199 points in five gams. Morton has won its last two matchups with Leyden.
FND Pick: Morton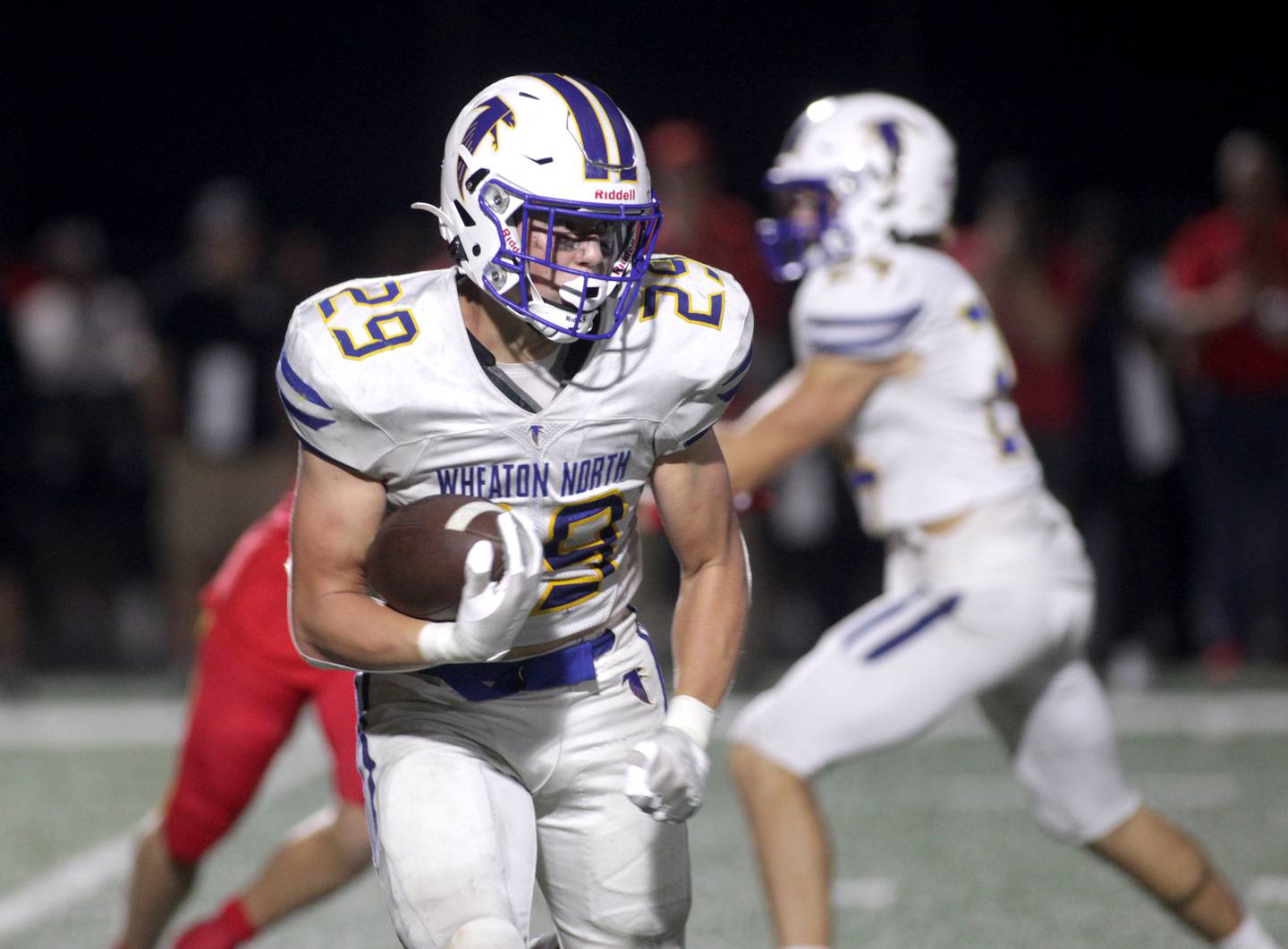 DuKane Conference
When: 7 p.m. Friday
Last matchup: Wheaton North 8, Wheaton Warrenville South 7 (2022)
About the Falcons: Wheaton North comes in off a 23-17 loss to Batavia. Despite the outcome, the Falcons cannot feel too bad about things. Max Howser threw for 241 yards and a TD and Rich Schilling had nine catches for 110 yards and a score. Walker Owens is a two-way threat to watch at running back and defensive end. The Falcons have won their last three meetings with the Tigers, but they've come by a total of six points.
About the Tigers: WW South comes in off a tough 42-35 loss in overtime to St. Charles North, a game in which the Tigers led 21-0 in the second quarter and 27-14 entering the fourth quarter. Senior running back/linebacker Matt Crider was spectacular in defeat, with 293 yards and four TDs on 37 carries in only his second game back from injury. The Tigers could very much use a crosstown win here to keep their playoff hopes alive.
FND Pick: Wheaton North
CCL/ESCC Orange
When: 7:30 p.m. Friday
Last matchup: IC Catholic 25, St. Francis 14 (2022)
About the Knights: Spartans coach Bob McMillen, who was a standout football player in his days at IC Catholic Prep for legendary Knights coach Jack Lewis, knows the task at hand. "IC has been one of the top teams for the past 10 years," McMillen said. "They always seem to be competing for a state championship. You can't make mistakes against them because it's so hard to recover. They have a lot of weapons – we are just hoping we can slow them down." The Knights have won back-to-back nailbiters – 36-34 in overtime over Nazareth, and 28-21 over Marist last week. Against Marist, Joey Gliatta scored a pair of touchdowns in a four-minute span – a 42-yard catch from quarterback Dennis Mandala that tied the game at 21-all, and a 15-yard run that gave the Knights a 28-21 lead with 4 minutes remaining. Mandala completed 18 of 30 passes for 259 yards and three touchdowns, while KJ Parker had nine catches for 114 yards. Due to their resilience, the Knights can never be counted out of a game. "To play close games against teams like Naz and Marist is incredible," Knights coach Bill Krefft said. "The atmosphere at IC has been electric, and it has energized our whole school." Now, they prepare for another tough foe in St. Francis. "I think St. Francis is another powerhouse football program," Krefft said. "It will take everything we have to compete with them. They are physical and resilient. This game is the same it has been the last five years or so – rivalry week. It is a conference opponent we look forward to having the opportunity to compete against."
About the Spartans: Trailing Joliet Catholic by 14 points in the second quarter last week, the Spartans rallied for a much-needed, 33-28 victory behind senior quarterback Alessio Milivojevic (20 of 29, 322 yards) and tailback TyVonn Ransom (157 yards, two TDs). Milivojevic can spread the wealth to his talented receiving corps, headed by Ian Willis, DeShaun Williams, and Alessio's younger brother, Dario. The IC-St. Francis rivalry, once a staple from their Suburban Catholic Conference days, has continued to blossom in recent years. "We have been fortunate to play IC the last five years when we were in the Metro Suburban Conference together," McMillen said. "It has turned into a nice rivalry during that time, and it always turns out to be a good football game. That's what it's all about." What are the Spartans' keys to the game? "Matching their physical play, not giving up the big scores, and not starting behind the sticks on offense," McMillen said.
FND pick: IC Catholic
-- Craig Brueske, Daily Herald Media Group
When: 7:30 p.m. Friday
Last matchup: Fenwick 28, Nazareth 17 (2021 playoffs)
About the Friars: Fenwick, coming off a 24-13 win over Notre Dame last week, can become playoff eligible with a win here. The Friars' last meeting with Nazareth came in the 2021 quarterfinals en route to Fenwick's Class 5A state title. Marek Hill threw for 323 yards and three TDs in last week's win. Nathaniel Marshall caught one of those TDs and the high Division I prospect was also a key part of Fenwick's defensive effort. Emmett Romeus had 130 receiving yards and a 40-yard TD.
About the Roadrunners: Its back to the wall, playoff hopes wise, Nazareth came through with a big 21-13 win over St. Ignatius last Friday. Can the Roadrunners keep momentum going at home? Logan Malachuk was 27-for-34 passing for 286 yards and three TDs last week. Garrett Reese had 10 catches for 104 yards and a TD and Trenton Walker had eight catches for 106 yards.
FND Pick: Fenwick
CCL/ESCC White
Montini (5-0, 1-0) at Providence (3-2, 0-1)
When: 7:30 p.m. Friday
Last matchup: Providence 33, Montini 0 (2022)
About the Broncos: Montini has quickly put the past few years of disappointments behind them and has already made itself playoff eligible. It's been an adventure at almost every step to this point. Last season the Broncos struggled to finish games with a largely young core. Now experienced, Montini has had several successful late rallies including a come-from-behind victory over upstart Marian Catholic in Week 5. Montini QB Gaetano Carbonara has thrown for 1,014 yards and 13 TDs. Alex Marre has rushed for 546 yards and three TDs and Santino Florio has 17 catches for 324 yards and seven TDs.
About the Celtics: Providence survived a substantial scare from DePaul Prep and managed to stay above the .500 mark on the season. The Celtics continue to look for some more consistency on offense and it is a riddle they will have to solve in a hurry as the next three opponents on the Celtics schedule have a combined record of 14-1.
FND Pick: Providence
St. Laurence (4-1, 1-0) at Benet (3-2, 0-1)
When: 7 p.m. Saturday
Last matchup: Benet 21, St. Laurence 17 (2019)
About the Vikings: St. Laurence comes in off a 50-8 win over Leo. The Vikings, who have one win by forfeit, have put up huge numbers offensively on the field, averaging 46.5 points in those four games. St. Laurence has already surpassed last year's win total, a 3-6 finish. A big reason is the return from injury of senior running back Aaron Ball. Ball, who has offers from South Dakota and Western Illinois, ran for 140 yards and four TDs last week. Senior Corey Taubr, a wide receiver and defensive back, is in his third season as a two-way starter.
About the Redwings: Benet bounced back from back-to-back losses with a 20-12 win over DeLaSalle. Rocky Rosanova caught a TD pass from Ryan Kubacki Jr. and added an interception return for a TD in the fourth quarter. Kubacki Jr. also ran for a score. With games remaining against Loyola and Providence Weeks 8 and 9, this is a pivotal one for Benet's playoff hopes.
FND Pick: St. Laurence
South Suburban Blue Conference
Hillcrest (4-1, 2-0) at Lemont (3-2, 2-0)
When: 7 p.m. Friday
Last matchup: Lemont 42, Hillcrest 8 (2022)
About the Hawks: Hillcrest has seemed to find its offensive stride over the last few weeks, posting back-to-back 40-plus point efforts during its current three-game winning streak. This typically tends to be the hypothetical South Suburban Conference championship game and might end up being it again, but Hillcrest is going to have to ratchet up its level of play several notches to have a legitimate chance of toppling Lemont here.
About Lemont: Things appear to be back to normal for Lemont once it returned to the familiar surroundings of the South Suburban Conference. Three easy conference victories have followed after those early back-to-back nonconference losses to Libertyville and Geneva. This contest will probably require a bit more finesse than other South Suburban foes this season but it still appears Lemont is a substantial favorite.
FND Pick: Lemont
-- Steve Soucie
Upstate Eight Conference
Glenbard South (5-0, 5-0) at South Elgin (5-0, 5-0)
When: 7 p.m. Friday
Last matchup: South Elgin 49, Glenbard South 27 (2022)
About the Raiders: Winless in five tries against four-time defending Upstate Eight Conference champion South Elgin since 2018, the Raiders get another crack at the Storm Friday night. Led by electrifying receiver/kick returner Cam Williams, running back Drake London and senior veteran quarterback Michael Champagne, the Raiders are loaded with explosiveness. "Glenbard South has won four of the last six conference Player of the Year awards, so we're very aware that they are, by far, the most talented team in the Upstate Eight annually," Storm coach Dragan Teonic said. "Their QB is seasoned and has had good moments against us in the past, and they have one of the best all-around athletes in Illinois (Notre Dame-bound Williams), so that is a great challenge for us. The challenge for every team that plays Glenbard South is keeping Cam's success to a minimum – obviously, that's much easier said than done." The Raiders scored 63 points in their 42-point win over Bartlett last week. That game was tied 7-all after 1 quarter, so the Raiders will be looking for a faster start Friday night.
About the Storm: A week ago, South Elgin earned a 49-21 victory over East Aurora behind the play of quarterback Jack Ginnan and tight end/wide receiver Ishmael George, who has been a matchup problem for opponents. "We established the line of scrimmage and executed at a high level," Teonic said of last weekend's victory. "We're close to being a really good team and need to work on consistency moving forward. We've yet to give up a point in the second half in all five games. Obviously, we need to start games with the same attitude and effort." In recent years, South Elgin has beaten the Raiders on the ground. "We've averaged over 400 yards rushing against them over the last 5 seasons and that has kept their great, explosive offensive talent on the sideline," said the coach. "That's a big key to beating teams that are consistently more talented." What will it take to win Friday night? "We need to be exceptional with ball security because extra possessions only help the Raiders," Teonic said. "We must run the ball effectively. Staying ahead of the chains and establishing control of the line of scrimmage is paramount. We must limit the explosive plays Cam Williams and Michael Champagne have because they are exceptional talents and pose major issues for us. We also must win the special teams battle, and that has been a huge component of our success against Glenbard South in the past."
FND pick: South Elgin
-- Craig Brueske, Daily Herald Media Group
Elgin (1-4, 1-4) at Glenbard East (4-1, 4-1)
When: 7 p.m. Friday
Last matchup: Glenbard East 28, Elgin 0 (2022)
About the Maroons: Held to 62 yards rushing last week in a 28-6 loss to West Chicago, the Maroons' highlight was provided by Lamyni Spates, who caught a 40-yard touchdown pass from Darin Ward in the final minutes of the game. "Lamyni is a positive point on our team right now," Elgin coach Anthony Mason said. "It's the first time in his high school career being put at running back, and he had more than 150 total yards and scored our only touchdown. We had two starting running backs out with injuries, and he (Spates) never missed a beat to step up and do what is needed for this team – the definition of a true commander." Mason remains positive despite his team's record. "Realizing that we are blessed to play this game, we get to spend time with each other on a day to day basis," said the coach. "We get the opportunity to improve by doing things correctly and keeping positive reactions to the negative events that surround us. We have dealt with a lot outside of football this year, and this has been our focus from the start. We know our priorities." This week, the Maroons face one of the conference's strongest defensive units. "They are always good," said Mason. "I never focus on the opponent outside of scouting purposes. I try to control what we can control and put the best showing out on the field – compete and execute at a high level. I feel if you have a team that can do that, you can play with anyone in high school ball to some extent."
About the Rams: Defensively, the Rams may have the strongest unit in the Upstate Eight. Through 5 games, the Rams have allowed just 36 points – an average of seven points per contest. "Our defense has been pretty solid over the last few years," Rams coach John Walters said. "Again, it's a culture here – defense and being a defensive player." Last week, defensive linemen Dan Zlatanov, Nick Dillon, Cooper Conliss, and Dakota Smith helped limit Streamwood to just 65 yards of total offense. Meanwhile, quarterback Blake Salvino completed 7 of 11 passes for 156 yards and 2 TDs, while tailback Matt Larson rushed for 122 yards on 9 carries with 3 TDs against Streamwood. Led by offensive linemen Josh Kelly, Jesus Vasquez, Chris Monk, Nate Schram, and Elias Morales, the Rams tallied 4 second-quarter touchdowns last weekend. Walters will have his team prepared for the Maroons. "Elgin is a very skilled team," said the coach. "They have some game breakers. We need to make sure we keep them in check. We've been good in three phases all year. That will be our emphasis Friday night."
FND pick: Glenbard East
-- Craig Brueske, Daily Herald Media Group
Chicagoland Christian Conference
Bishop McNamara (3-2, 1-2) at Wheaton Academy (4-1, 2-1)
When: 7 p.m. Friday
Last matchup: Wheaton Academy 47, Bishop McNamara 0 (2022)
About the Fightin Irish: Bishop McNamara has experienced some offensive issues, having scored 40 points in four games and having been blanked twice. Last week, the Irish suffered a 51-0 setback at the hands of Aurora Christian. "We're looking at McNamara as just another opponent and one who, if we defeat, gets us to playoff eligibility (five wins)," Warriors coach Jim Johanik said. "They have a significant weapon in RB (Jaydon) Wright that we have to address to be successful against them." Wright is a bruising 6-foot, 230-pound senior committed to Minnesota.
About the Warriors: Johanik has been impressed with the play of senior quarterback Brett Kasper, who completed 11 of 12 passes for 132 yards and a pair of touchdowns in the Warriors' 48-0 win over St. Edward last week. "Give me the name of another athlete in the state who transitioned from WR last year at QB this year and has been as effective as Brett has," Johanik said. "On top of that, he has four interceptions on defense. In a day when the quarterback position has become as technical and specialized as it is, Brett has embraced being a technician at quarterback the same way he has at receiver and at defensive back. That's hard to do, but he has done it. On top of it, he's a leader. He's the real deal, just like his brother, Eddie, who played for us a few years back and is now a starting WR at Illinois State."
FND pick: Wheaton Academy
-- Craig Brueske, Daily Herald Media Group
Chicagoland Prairie Conference
Westmont (1-4, 0-3) at Dwight/Gardner South Wilmington (4-1, 3-0)
When: 7 p.m. Friday
About the Sentinels: Westmont looks for its first Chicagoland Prairie Conference victory during this road clash in Palos Heights.
About the Trojans: After dropping their opener, 20-19, to Fieldcrest, the Trojans have compiled a 4-game winning streak that included a 70-0 triumph over Walther Christian. Dwight/Gardner South Wilmington has already doubled last season's entire win total (2-7 record last year).
FND pick: Dwight/Gardner South Wilmington
-- Craig Brueske, Daily Herald Media Group
Nonconference
When: 7 p.m. Friday
About the Wildcats: Thornton is coming off its first win, 33-20 over winless Thornridge. The Wildcats have scored a total of 20 points in their four losses. Thornton has a 5-23 record since Dontrell Jackson resigned as head coach after leading the Wildcats to an 8-3 record in 2019, his fifth and final season.
About the Bulldogs: R-B suffered its second straight blowout loss after a 3-0 start, losing 42-7 to Crete-Monee last week. Now the schedule lightens considerably, with the Bulldogs' next three opponents currently featuring a 1-14 combined record. Diego Gutierrez connected with tight end Luke Kumskis for a 25-yard TD for R-B's lone score against Crete-Monee.
FND Pick: Riverside-Brookfield