LA GRANGE PARK – Suleiman Abuaqel spoke of his first career interception like it was an out-of-body experience.
A moment, though, he clearly prepared for.
Abuaqel, a Fenwick senior defensive end, intercepted a screen pass and returned it 58 yards for a touchdown, snatching momentum away on the first play of the fourth quarter as Nazareth was driving for a go-ahead score.
The Friars never looked back, beating Nazareth 28-17 in a Class 5A quarterfinal Nov. 13 in La Grange Park.
"I don't know what happened," Abuaqel said. "He just threw me the ball and I took off running. I didn't even know what happened. I knew I just had to get into the end zone."
Fenwick (10-2), advancing to its first semifinal since 2016, moved on to host Sycamore this week at Triton College. Ball State recruit Kaden Cobb led Fenwick's rally from an early 10-0 deficit, completing 22-of-25 passes for 175 yards and two touchdowns. Cobb also ran for 53 yards and a third score in a masterful performance.
But the decisive play of the game belonged to Abuaqel, his first interception at any level. It was a backbreaker for Nazareth after the Roadrunners (7-5) had closed to within 21-17 on freshman quarterback Logan Malachuk's 56-yard touchdown pass to Justin Taylor after Quentrell Harris broke a 25-yard catch-and-run on the last play of the third quarter.
"Honestly, I didn't realize how big of a play it was until I got to the sideline and looked at the score and I was just, 'Wow,' " Abuaqel said. "I made that play in the moment, running, had all the adrenaline."
And, apparently, preparation for the middle screen.
"I saw the quarterback backing up to avoid pressure and I was initially thinking screen because we practice that exact same play," Abuaqel said. "I saw the running back out of my peripheral vision, so I just took a few steps and the ball came right to me."
"He did a great job staying at home there," Nazareth coach Tim Racki said. "[Malachuk] didn't see him. That happens sometimes on plays like that."
Abuaqel's good hands, ironically, came in a week that he hurt one of his hands.
"He was thinking about clubbing it," Fenwick coach Matt Battaglia said. "Good thing he didn't club it."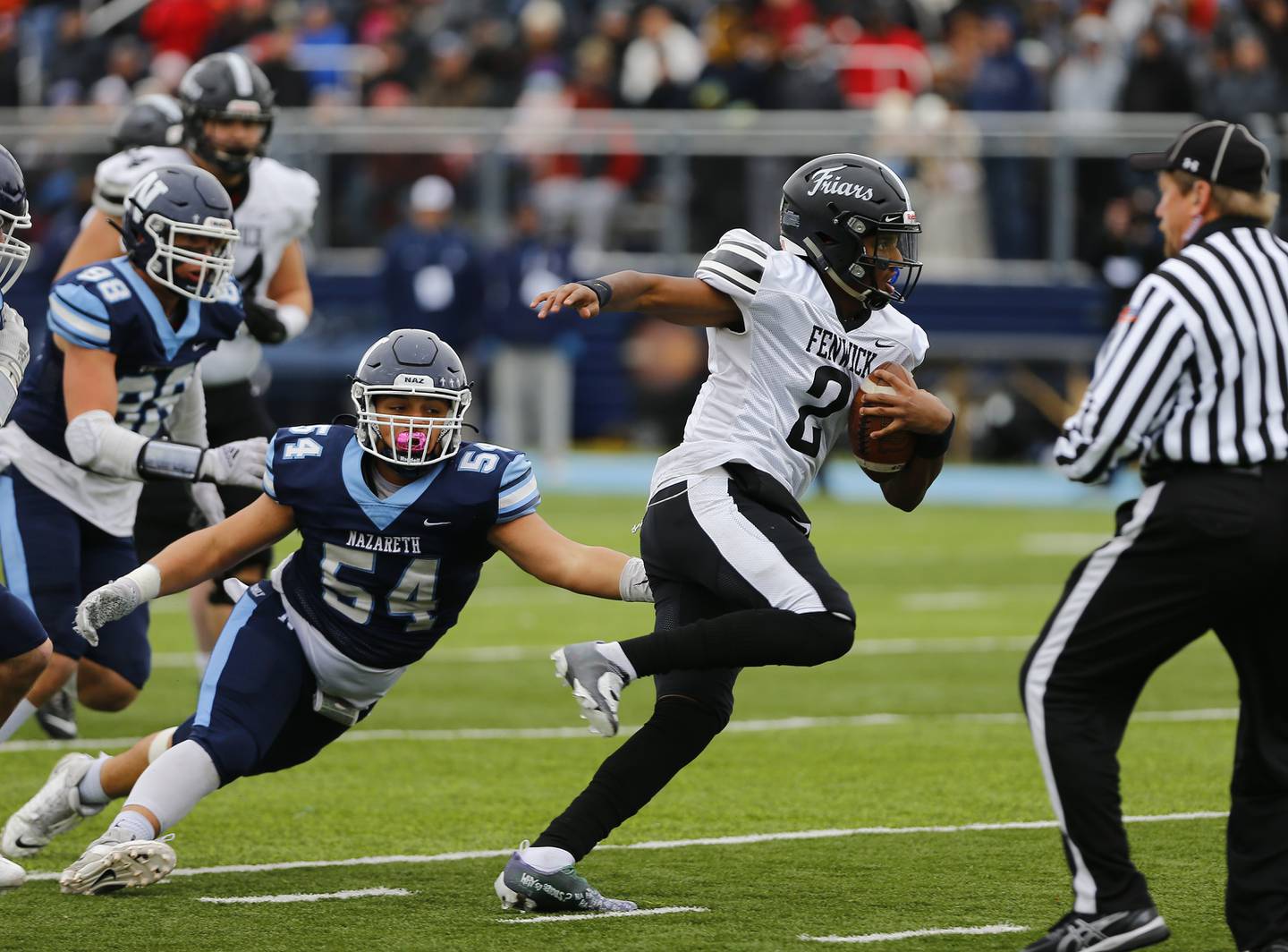 Several of Fenwick's stars, including Cobb and receivers Max Reese and Eian Pugh, were sophomores the last time the two teams met, a 31-6 Nazareth victory in 2019.
Cobb, though, didn't dwell on the revenge element, nor did he appear fazed when Nazareth jumped out to a 10-0 lead in the first quarter on a Fenwick team that is the favorite in Class 5A.
"This win is huge. We lost to them by a good margin my sophomore year," Cobb said, "but I don't like thinking of games as a revenge week. It was a handle business week. We handled business, we did our job. We started out slow, but we rallied around each other and got the job done."
Nazareth started fast with Malachuk's 44-yard TD pass to Taylor and Zach Hayes' 26-yard field goal with 1:52 left in the first quarter.
Fenwick closed to within 10-7 on Cobb's 6-yard scramble for a TD with 10:11 left in the second quarter. The Friars took their first lead when Cobb threaded the needle on a 19-yard TD pass to Reese on fourth-and-long to make it 14-10 with 45.7 seconds left in the half.
It was the first of two touchdowns on fourth down for Fenwick, which was characteristically aggressive throughout on fourth-down plays.
"We do it all the time, practice it all the time, sudden change situations, especially on fourth down," Cobb said. "We got some playmakers, they make plays. It was second nature. [Reese] makes catches like that all the time in practice."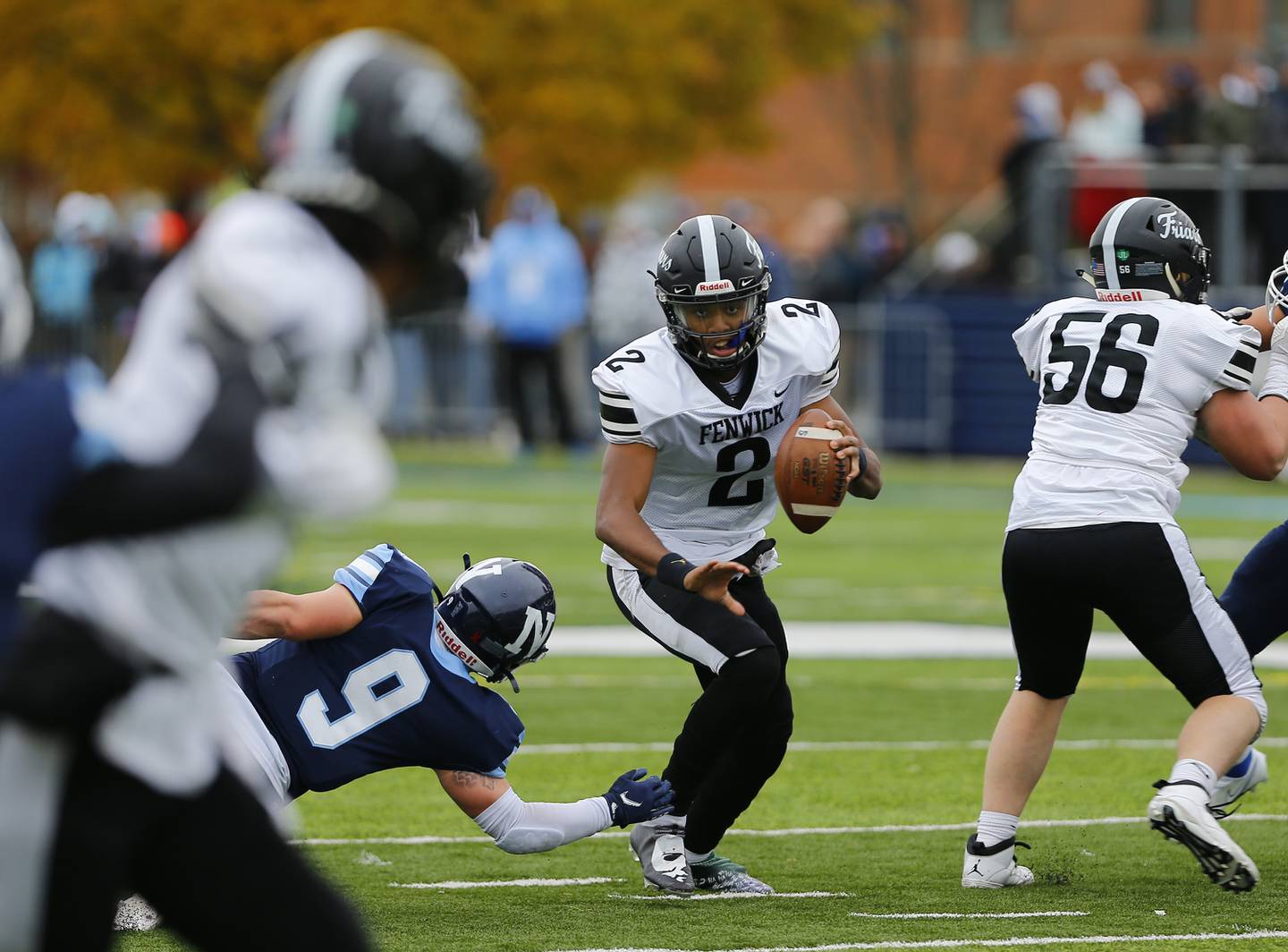 The second fourth-down TD, on Fenwick's first drive out of halftime, had a bit more razzle-dazzle. Cobb lined up at running back, faked a reverse and threw back to Patrick Durkin for a 3-yard TD to make it 21-10 with 7:32 left in the third quarter.
"They probably thought we were going to run a reverse. It's a run first option but the tight end popped wide open and they couldn't stop it," Cobb said. "There was a lot going on."
Reese had eight catches for 57 yards, and Danny Kent ran for 107 yards on 24 carries for Fenwick.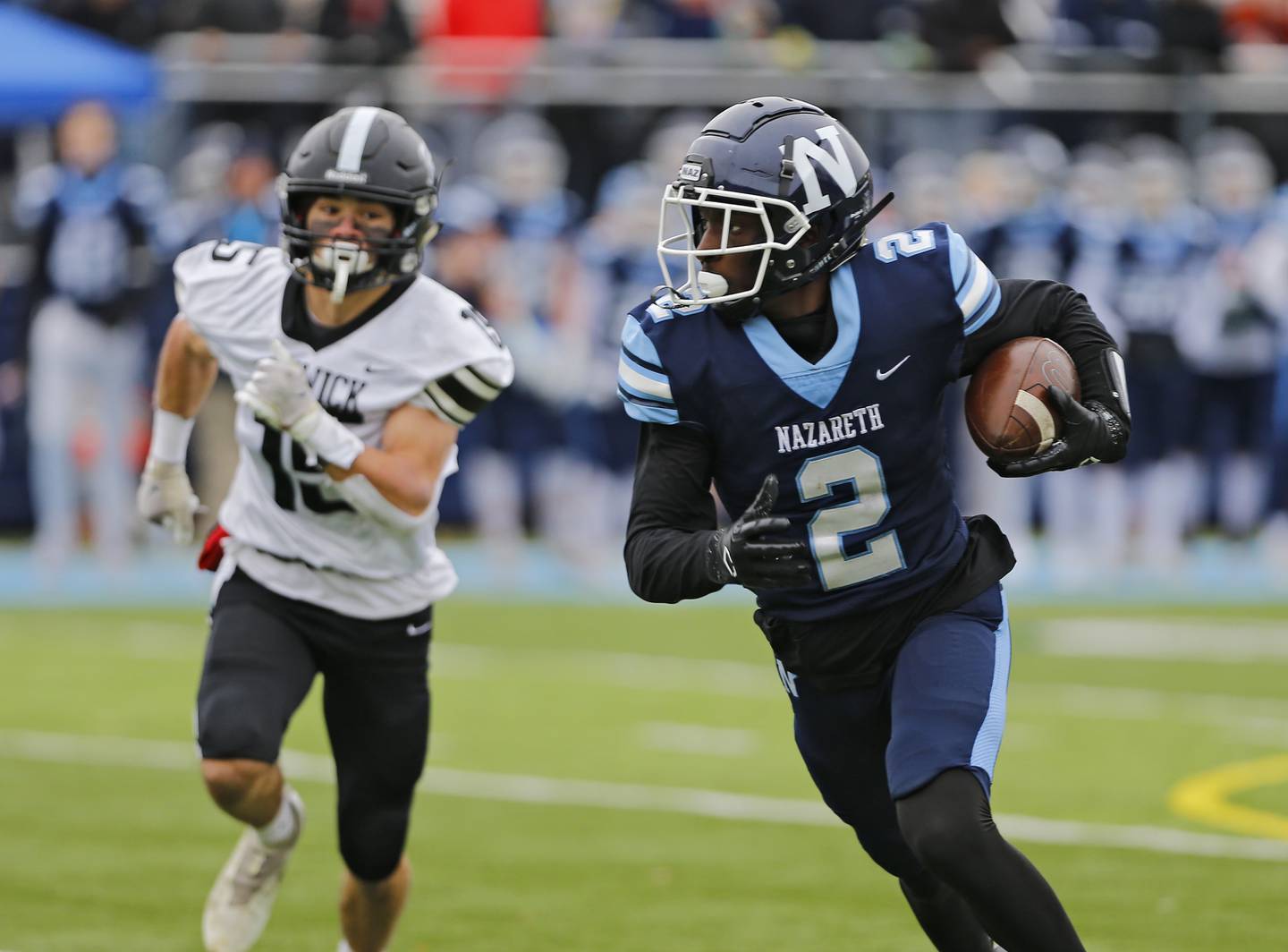 Malachuk was 11 for 20 for 217 yards and two TDs to Taylor, the second a busted play on a dropped snap. Malachuk also was intercepted three times. Taylor had five catches for 154 yards for Nazareth, which overcame an 0-3 start to the season to make its sixth quarterfinal appearance in the past seven postseasons.
"People counted them out way back in Week 4, but they didn't listen," Racki said. "It's a special group. After the first week of the season I'm wondering if it was going to be a rebuilding season. You get to the quarterfinals, it's not a rebuilding season."