STERLING – A pair of promising Sterling Golden Warrior offensive drives ended the same way during the first half of Saturday's Class 5A first-round playoff game against Chicago St. Patrick at Roscoe Eades Stadium.
The drive-ending plays started with a running back disappearing into a pile at the line of scrimmage, the ball bounding away to a Shamrock defender, and the running back left injured on the turf.
The plays were pivotal moments in what turned into a 44-14 loss for the Golden Warriors (7-3). St. Patrick (6-4) advances to host Rochelle (8-2) next weekend.
"They were a good team, and we played hard, but things kind of kept stacking up against us," Sterling coach Jon Schlemmer said. "It's tough for kids to constantly see their buddies go down. I don't know what it is, bad ju-ju or something. It was just something about this year.
"We had some opportunities early in the game, but weren't able to capitalize, and against good teams in late October and November, you can't turn the ball over."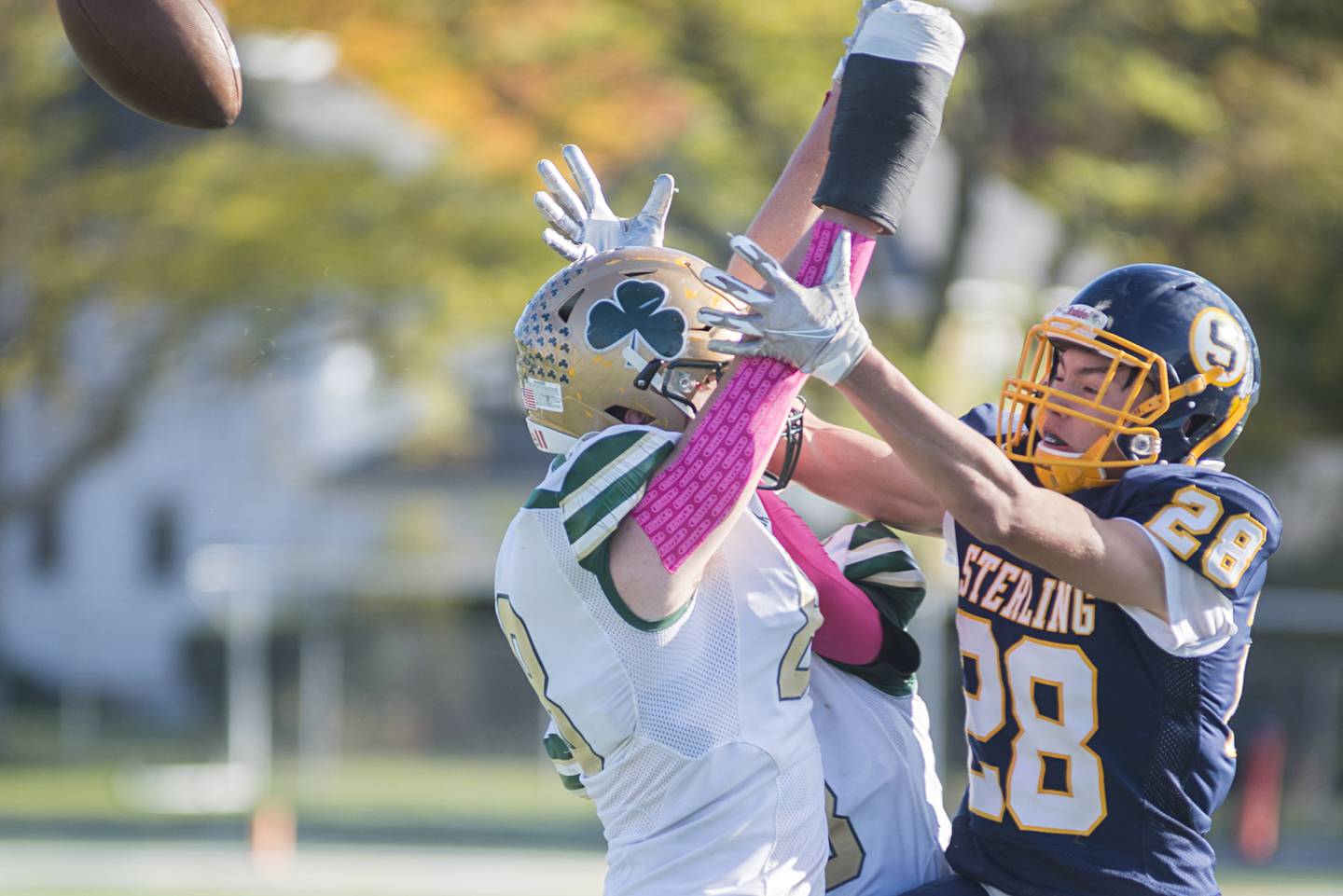 The first big opportunity came after St. Patrick's Jack Fuller had the ball bounce off his chest while trying to catch a punt. The ball careened forward and Sterling's Christian Beasley was able to fall on it at the St. Patrick 42-yard line.
After that, Sterling's season-leading rusher Antonio Tablante broke a second-down play for 21 yards to the St. Patrick 21, and followed that with a 6-yard run to the 15. After a short gain by sophomore Cale Ledergerber, Tablante took the ball again. This time he was met at the line of scrimmage, and the ball was knocked free and recovered by St. Patrick's Nick Armenta, who carried it 25 yards before being tackled. Tablante remained on the ground, and after being helped from the field with a leg injury, he did not return to the game.
The teams traded possessions until near the end of the first quarter when St. Patrick finally broke through the Sterling defense, as Jermaine Young scored on a 38-yard quarterback keeper with 52 seconds left.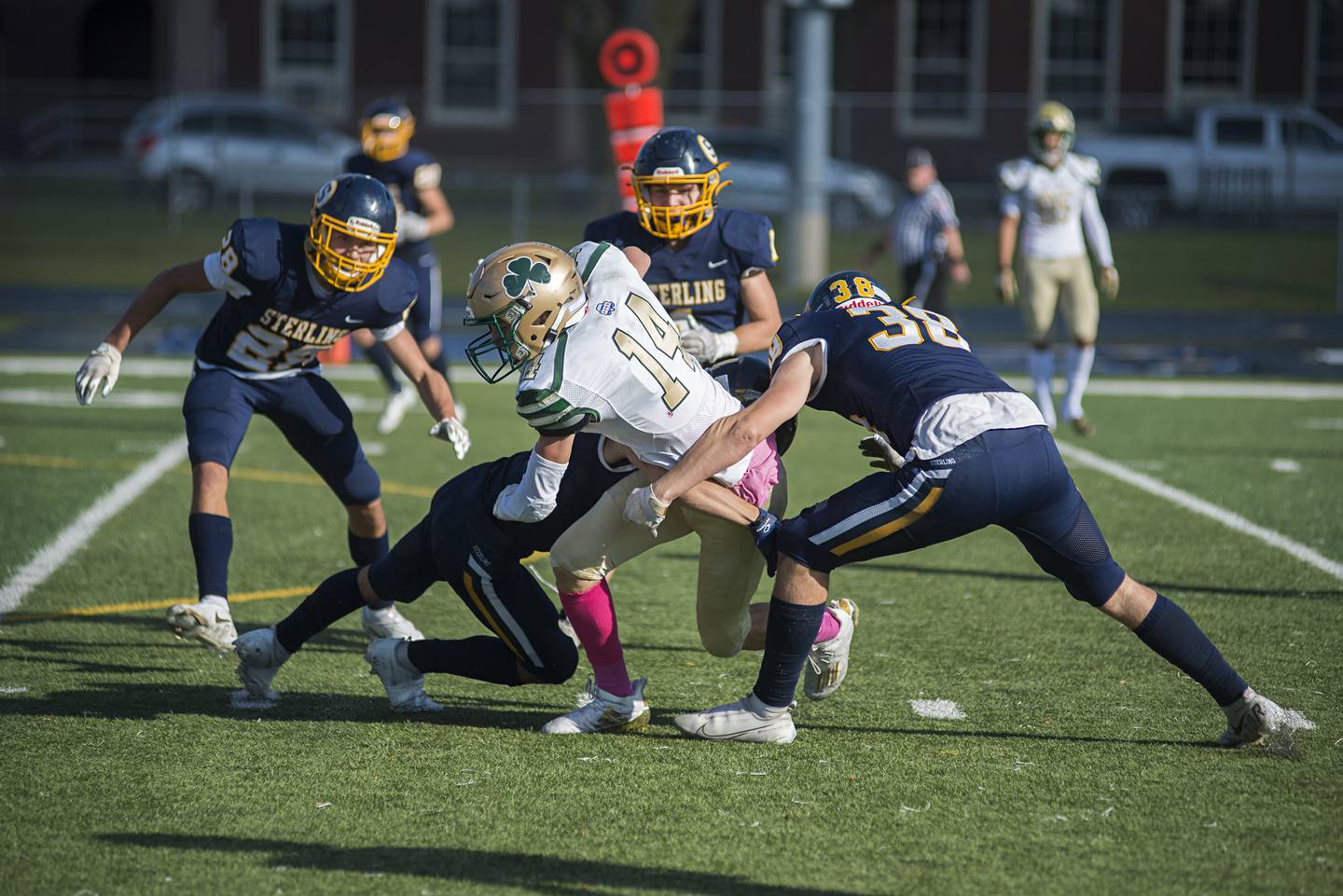 Young, a 6-foot-3, 235-pound senior, finished with 93 yards on nine carries (all in the first half) and he completed 9-of-12 passes for 110 yards and three passing touchdowns.
"He moved a lot," Sterling senior defensive lineman Junior Farnham said. "He was a quarterback that we really hadn't seen, a big, shifty quarterback. It's something we should have been prepared for, and I think we were."
Young connected on touchdown passes of 19 yards and 6 yards to Fuller on the next two possessions to give St. Patrick a 20-0 lead. Yet, Sterling had a chance to close the gap going into halftime when quarterback Drew Kested connected on a 33-yard pass to Tommy Tate, putting the Warriors in St. Patrick territory at the 34. The Warriors were also slated to the get the ball after halftime.
After the team's traded penalties, senior Colt Adams got the carry and was hit hard at the line. Adams dropped to the ground and the ball squirted away and was recovered by St. Patrick. Adams was motionless for a few minutes on the field before being helped off. He also did not return.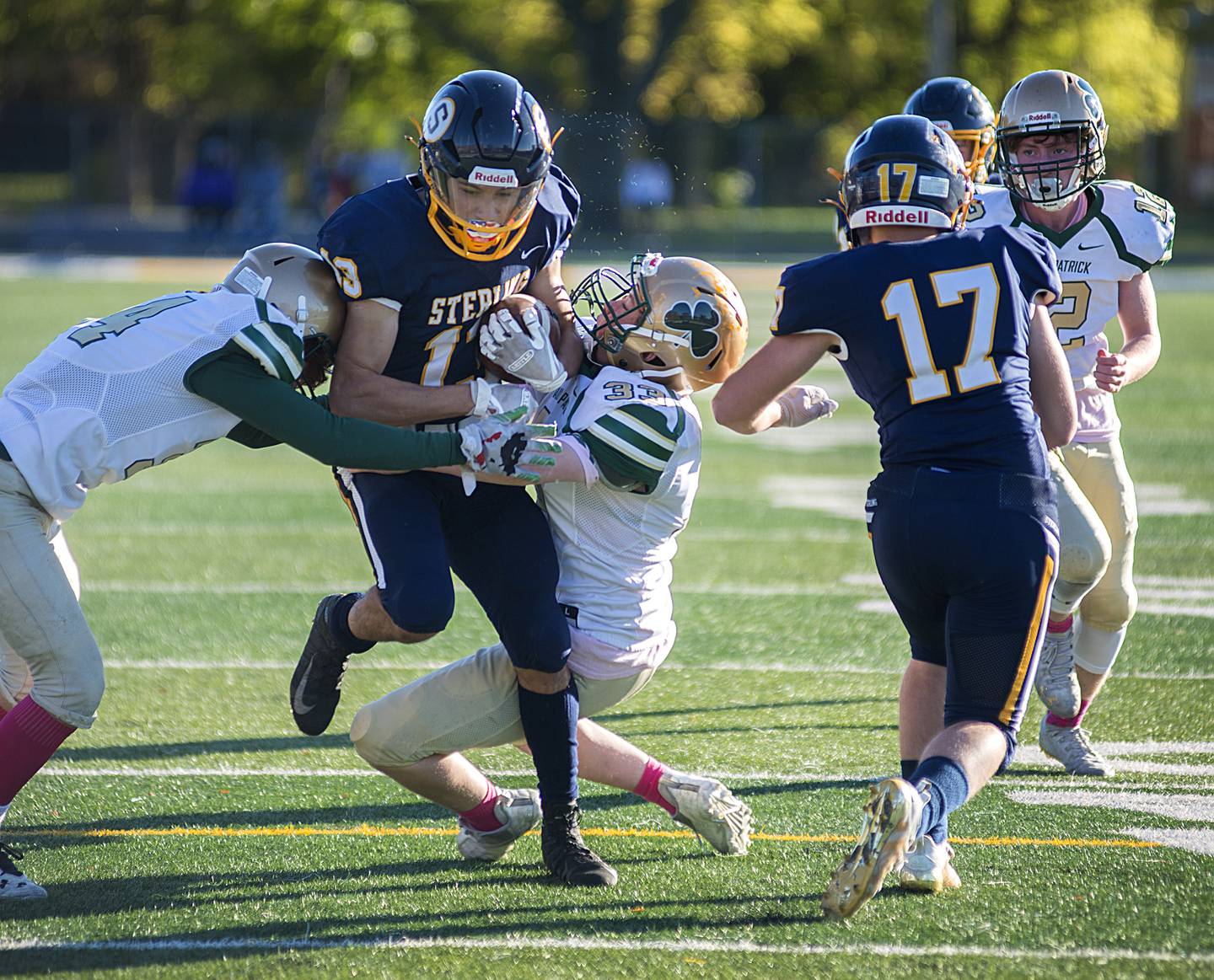 St. Patrick took advantage as Young led the Shamrocks with big-chunk plays down the field. He capped it off with an 11-yard touchdown pass to Esai Sinceno to put St. Patrick up 27-0 with 32 seconds left in the half.
"We were there, and they came out in a different look than we were prepared for," Farnham said. "We switched our defense up a bit, and they didn't score as much in the second half. We just couldn't pull it through, and that's OK, sometimes that just happens."
St. Patrick activated the running clock in the third quarter after a 37-yard touchdown run by Trever Wozny and a 34-yard touchdown run by Vince Medina.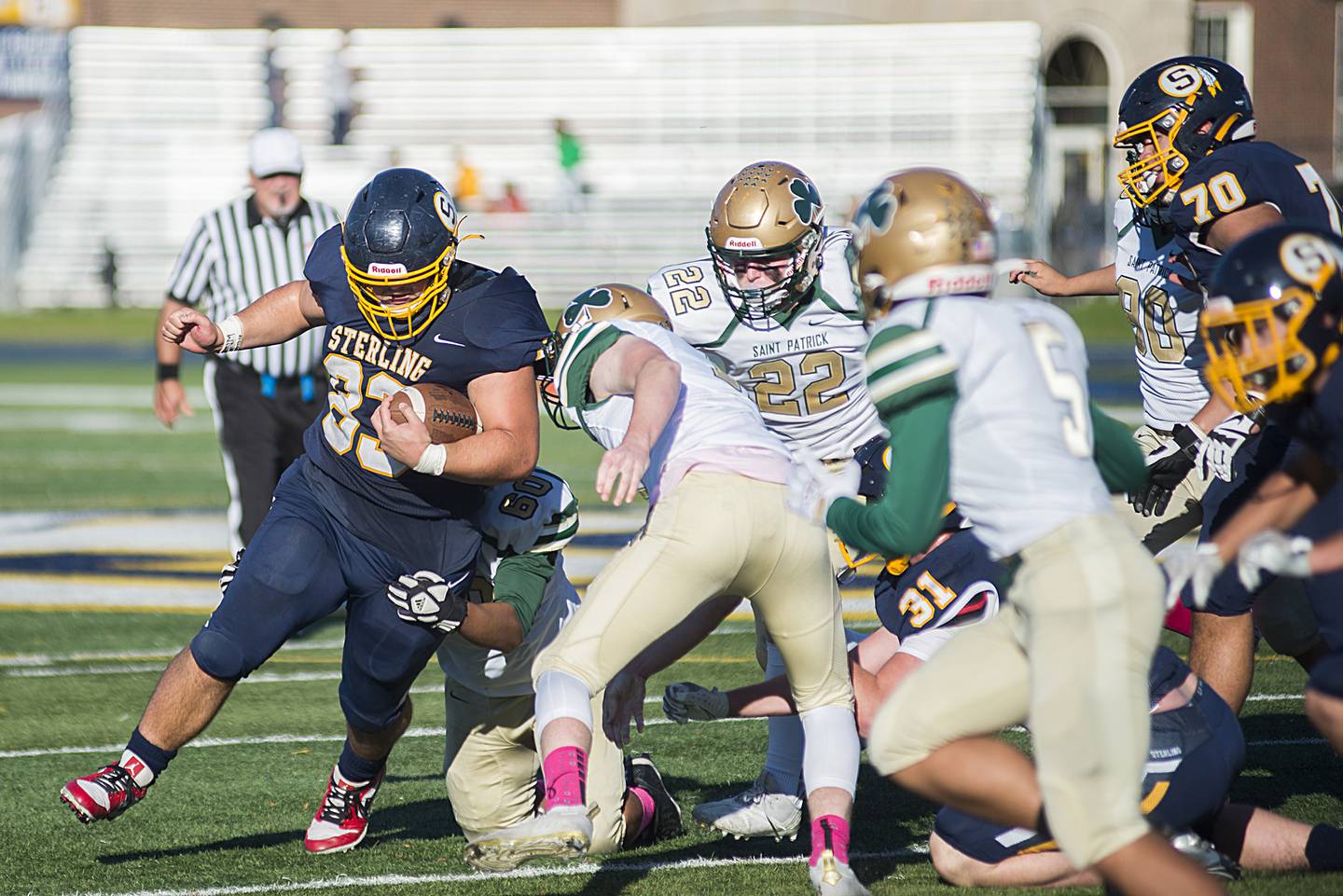 With two running backs injured, Sterling started putting Farnham, a 6-0, 240-pound lineman in the backfield. He rushed four times for 58 yards. His 16-yard run to the St. Patrick 10 at the end of the third quarter set up Ledergerber's 10-yard touchdown run to start the fourth quarter. Ledergerber led Sterling with 86 rushing yards on 14 carries.
"I got some reps during the regular season, but we obviously didn't want to show it off too much to the playoff teams," Farnham said. "I wished we could have went to it a little earlier, and I could have smacked them around a little bit."
"We had two running backs go down, and Junior is such a good player," Schlemmer said. "He can do anything on the field. I don't know how long I'll be doing this, but there aren't going to be many as good as him. He's a special talent. Physical kid and such a good high school player. That's one thing we won't be able to do is replace No. 83, he's as good as we've ever had."
Kested was hit early often as Sterling's quarterback and finished 8-for-12 with 76 yards and one interception.