DuKane Conference
St. Charles North (3-1) vs. Wheaton Warrenville South (4-1)
When: Noon Saturday, at NIU
Last matchup: Wheaton Warrenville South 28, St. Charles North 7 (2019)
About the North Stars: St. Charles North did not play in Week 5 with Lake Park shutting its program down because of COVID-19 protocols, so how sharp the North Stars are is an obvious concern. George Litgen and St. Charles North's defense, which has allowed just 46 points, is a strength. Minnesota commit Jordan Nubin is a player to watch, as is running back Josh Bridges.
About the Tigers: WW South comes in off a Week 5 win over St. Charles East. Jaylen Brown and the Tigers' defense has been solid all year. Parker Brown was 13-for-18 for 265 yards and two TDs last week in a half of action, including a record-setting 99-yard TD catch-and-run to Brandon Bell. Eddie Robinson is a hard runner out of the backfield.
FND Pick: WW South.
Batavia (4-1) vs. Wheaton North (4-1)
When: 4 p.m. Saturday, at NIU
Last matchup: Batavia 28, Wheaton North 3 (2019)
About the Bulldogs: Batavia bounced back from a Week 4 loss to WW South in resounding fashion, a 49-7 thumping of Glenbard North. The Bulldogs have a nasty pair of linebackers in Arizona recruit Matt Weerts and Tyler Jansey. NIU recruit Trey Urwiler, playing on his future home field this Saturday, was moved to quarterback in Week 2 when Kyle Oroni suffered a season-ending knee injury. The Bulldogs' defense gives up just 57.4 rushing yards per game, 2.2 yard per carry. Josh Dornink, with 351 yards, is among four Batavia runners over 200 yards on the season.
About the Falcons: A great opportunity here for Wheaton North to put an exclamation mark on an impressive spring season. Junior quarterback Mark Forcucci, who threw for three TDs against Geneva in a 34-0 win last week, can make plays with his feet or throwing to a deep group of receivers – he'll need to against a Batavia defense that's tough to run against. Drake recruit Riley Dravet is a playmaker in all three phases.
FND Pick: Batavia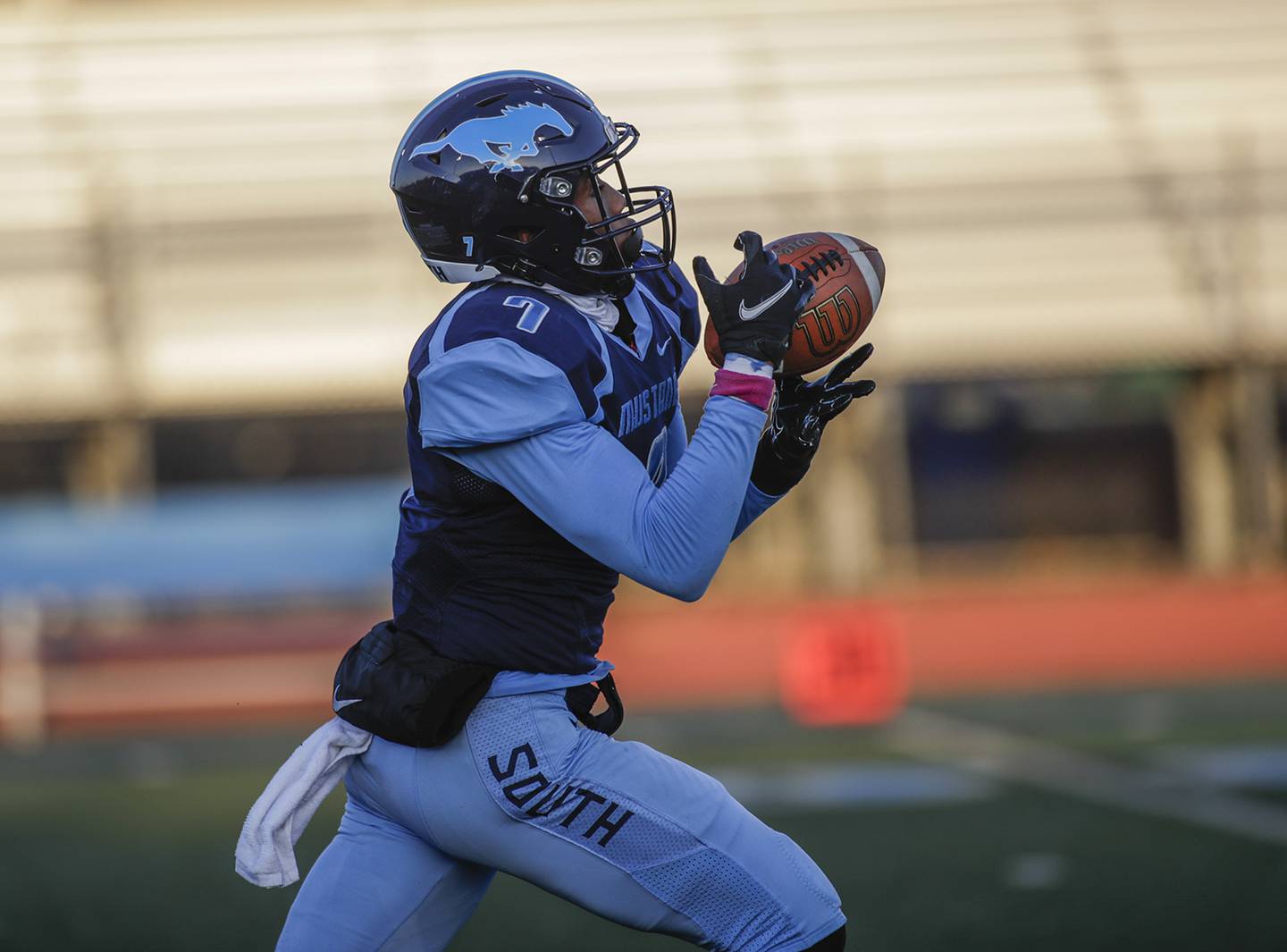 West Suburban Conference
Downers Grove South (3-1) at Downers Grove North (1-2)
When: 7 p.m. Friday
Last matchup: Downers Grove North 14, Downers Grove South 7 (2019)
About the Mustangs: Downers Grove South, winners of three straight games since a Week 2 loss to Hinsdale South, surely is determined to snap a five-game losing streak in the series with district rival Downers Grove North. Junior receiver Eli Reed, with 21 catches for 459 yards and four TDs, is one of the area's top playmakers. Quarterback Ryan Dawson has enjoyed a strong sophomore season, completing 64.2% of his passes for 763 yards and eight TDs with just two interceptions. Ethan Monaco and Christopher Gasmen leads the defense.
About the Trojans: Downers Grove North comes in off a 22-3 loss to Lyons, a game in which the Trojans had just four first downs and 96 total yards. Drew Bielawski and the Downers Grove North defense has been a strength in the Trojans' three games and will look to make this a low-scoring game which it's been in the last two crosstown meetings.
FND Pick: Downers Grove South
Hinsdale Central (5-0, 4-0) at Lyons (2-1, 1-1)
When: 7 p.m. Friday
Last matchup: Hinsdale Central 24, Lyons 6 (2019)
About the Red Devils: Hinsdale Central is up to No. 6 in the latest Class 8A coaches poll after its resounding 28-7 win over previously unbeaten Glenbard West. The Red Devils' defense has allowed just 21 points this season with two shutouts. Sean Allison and David Bynan, with nine tackles, and Nyme Hussain, with six, were among the heroes last week. Michael Brescia, who threw for 233 yards last week, is an outstanding dual threat.
About the Lions: Like its counterpart Hinsdale Central, it starts with defense for Lyons. The Lions have allowed just 18 total points this season, the latest effort a 22-3 win over Downers Grove North. Owen McAuliffe, Owen McManaman and Eddie Tuerk each had sacks for Lyons last week. Lyons' last win in this series came in 2013, Hinsdale Central winning the last six meetings.
FND Pick: Hinsdale Central
Oak Park-River Forest (3-2, 3-2) at Glenbard West (2-1, 1-1)
When: 1:30 p.m. Saturday
Last matchup: Glenbard West 42, Oak Park-River Forest 0 (2019)
About the Huskies: The Huskies come in off a tough 18-17 loss to York, a game in which the Dukes drove down the field for the game-winning score and two-point conversion in the last two minutes. Oak Park-River Forest's last visit to Duchon Field was a memorable one for the Huskies, a 10-7 win in 2018.
About the Hilltoppers: The Hilltoppers surely come into this season finale in an ornery mood after a 28-7 loss at Hinsdale Central in Week 5. A full week's worth of practice should help. This will be Glenbard West's first and only game this spring on the Duchon Field turf. The Hilltoppers would surely like to re-establish the run with Jalen Moore and Samson Zander. Starting quarterback Braden Spiech did not play in Week 5.
FND Pick: Glenbard West
Romeoville (2-2) at York (3-2)
When: 6 p.m. Friday
Last matchup: First known meeting.
About the Spartans: The Spartans, out of the Southwest Prairie Conference's Eastern Division, were scheduled to play Plainfield South this Friday until the game switch. Romeoville is coming off a 31-14 loss to Plainfield Central.
About the Dukes: York, with a win, can clinch its first winning season since 2011, further showing the progress the program is making under head coach Mike Fitzgerald. York quarterback Max Assaad brings plenty of momentum into Friday. He engineered a 69-yard winning touchdown drive in the final two minutes at Oak Park-River Forest in Week 5′s 18-17 win, with a 29-yard TD pass to Luke Malaga, and threw for 226 yards and a TD the week before against Willowbrook. York was scheduled to play Proviso West, but the Dukes adjusted their schedule with COVID-19 tracing at Proviso.
FND Pick: York
Willowbrook (4-1) at Rich Township (2-3)
When: 6 p.m. Friday, at Rich Central
Last matchup: First known meeting.
About the Warriors: Willowbrook went outside the West Suburban Conference for a Week 6 game, with Proviso East unable to play. No fans are allowed at the game. The Warriors come in off a 49-19 win over Morton. Willowbrook has averaged a tick under 45 points per game in its four wins.
About the Raptors: Rich Township is in its first football season as the Raptors and combined districtwide athletic programs in the wake of the closing of Rich East High School in 2020. The Raptors come in off a 30-18 win over Thornridge.
FND Pick: Willowbrook
Addison Trail (0-5, 0-4) at Morton (0-3, 0-2)
When: 7:30 p.m. Friday
Last matchup: Addison Trail 54, Morton 37 (2019)
About the Blazers: Addison Trail comes in off a 44-26 loss to Addison Trail. The Blazers' last win was in Week 9 last season against Morton.
About the Mustangs: Morton comes in off a 49-19 loss to Willowbrook last Friday. The Mustangs' last non-forfeit win came against Addison Trail in Week 8 of 2018.
FND Pick: Addison Trail.
Leyden (1-4, 1-2) at Hinsdale South (2-3, 2-1)
When: 6 p.m. Friday
Last matchup: Leyden 28, Hinsdale South 14 (2019)
About the Eagles: Leyden comes in off a 28-14 loss to Downers Grove South.
About the Hornets: Hinsdale South comes in off a 44-26 win over Addison Trail. Hinsdale's Jaylon Smith scored four touchdowns in the win.
FND Pick: Hinsdale South.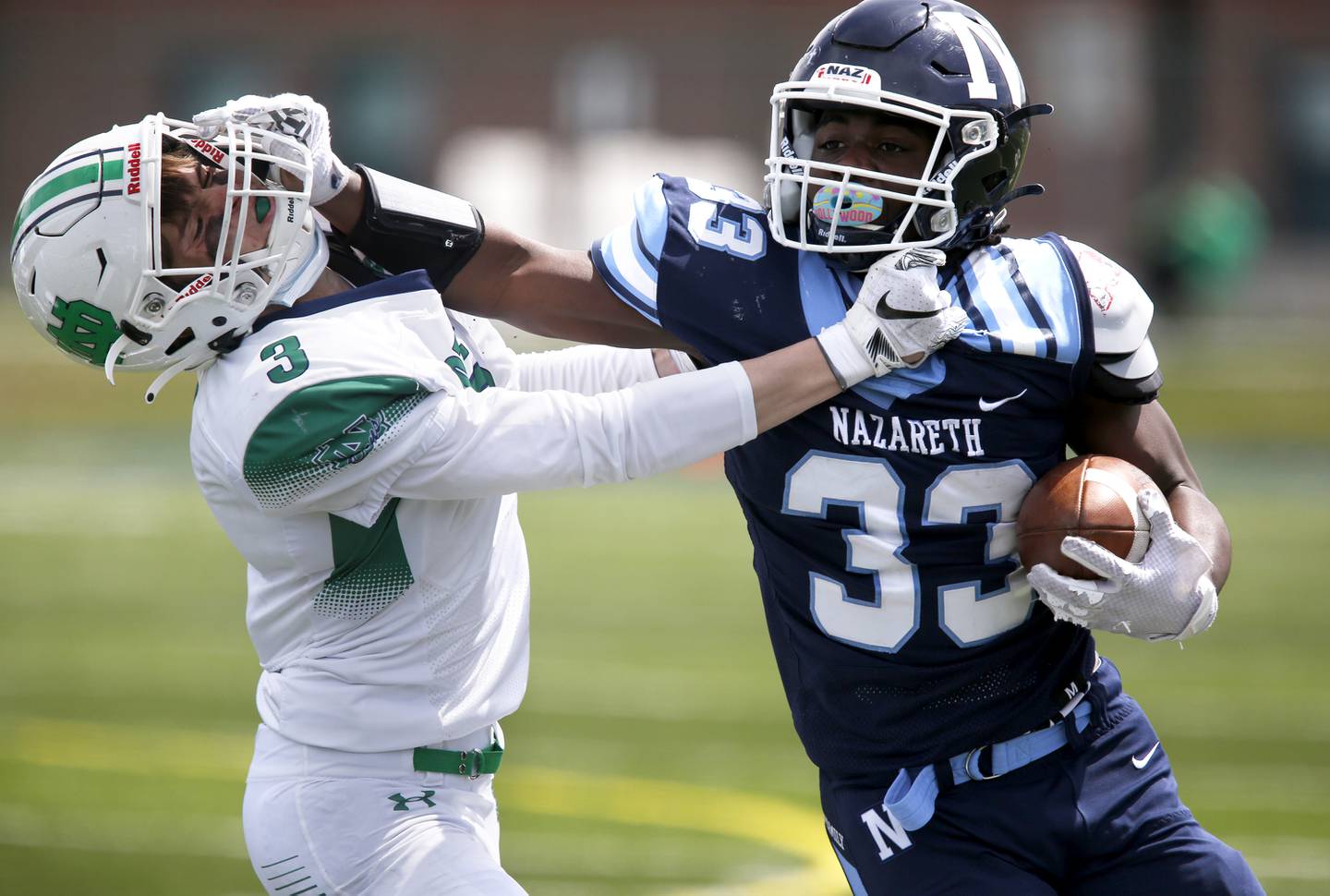 CCL/ESCC
Benet (1-1) at Nazareth (2-2)
When: Noon Saturday
Last matchup: Nazareth 27, Benet 8 (2019).
About the Redwings: Benet finally was back on the field last Friday after three cancellations, losing 34-20 to St. Rita. Quarterback Nick Bafia ran for a 36-yard TD and threw for a second to Augie Mazza.
About the Roadrunners: Nazareth's offense never got on track last Saturday in a 10-0 loss to Notre Dame, managing just 153 total yards. Worse, the Roadrunners lost standout junior Tyler Morris to a torn ACL. Nazareth still has plenty of talented skill-position players to get the ball to like Trell Harris and Kaleb Miller.
FND Pick: Nazareth.
Montini (3-2) at Providence (3-2)
When: 7:30 p.m. Friday
Last matchup: Montini 41, Providence 21 (2019)
About the Broncos: It has been an up-and-down season for Montini. The Broncos currently are on the up side, putting together three consecutive victories. This came after back-to-back games to start the season against elite opposition. The Broncos have had a bit of a flair for the dramatic, narrowly edging out De La Salle in Week 5.
About the Celtics: Providence has put some things together in the second half of the season. The Celtics have been potent on offense led by QB Kevin Conway, who's a threat with his arm and his legs. Minnesota-bound Jameson Geers has been a consistent force as a receiver, while running back Aaron Vaughn gives the Celtics another threat to complicate things for opposing defenses.
FND pick: Montini
– Steve Soucie
Metro Suburban Conference
Bishop McNamara (3-1) at St. Francis (5-0)
When: 7 p.m. Friday
Last matchup: St. Francis 46, Bishop McNamara 43 (2019)
About the Irish: Bishop McNamara had its Week 5 game with IC Catholic Prep canceled because of ICCP COVID-19 issues. But the Irish will have a shot to avenge another 2019 loss this week, with a game at St. Francis. The Spartans last season beat the Irish in a 46-43 classic, Tommy Rittenhouse's TD pass on the last play of the game. Outside of a fourth-quarter meltdown at Wheaton Academy, McNamara has rolled through its schedule, much like St. Francis, outscoring its last three opponents 125-18.
About the Spartans: St. Francis can wrap up an unbeaten season and an outright Metro Suburban Conference championship with a win here. This is probably the game the Spartans have looked forward to most since their impressive 28-0 win over IC Catholic in Week 1. Rittenhouse, an Illinois State recruit, is the man to watch in the final game of a spectacular high school career. If it's a high-scoring affair that's just fine with the Spartans with the likes of skill guys like Elijah Lee and Tyler Bishop.
FND Pick: St. Francis
IC Catholic Prep (2-1) at Riverside-Brookfield (1-4)
When: 7:15 p.m. Friday
Last matchup: IC Catholic Prep 28, Riverside-Brookfield 13 (2019)
About the Knights: The Knights are back in the action for the first time in three weeks after games with Wheaton Academy and Bishop McNamara were canceled because of COVID-19 protocols. The headliner for IC Catholic Prep is senior running back Kyle Franklin, playing the final game of a decorated four-year varsity career in which he's run for close to 5,000 yards.
About the Bulldogs: Riverside-Brookfield has dropped its last two games to St. Francis and Wheaton Academy. It's been a tough go for the Bulldogs in their four losses, outscored by a combined 164-46.
FND Pick: IC Catholic Prep.
Wheaton Academy (4-1) at Elmwood Park (0-3)
When: 7:15 p.m. Friday
Last matchup: First meeting.
About the Warriors: The Warriors come in off a 30-20 win over Riverside-Brookfield. Wheaton Academy's defense held R-B to minus-23 yards rushing and junior quarterback David Dorn threw for 143 yards and a TD.
About the Tigers: Elmwood Park comes in off a 68-12 loss to St. Francis. The Tigers are giving up over 50 points a game on the season.
FND Pick: Wheaton Academy.
Upstate Eight Conference
Glenbard East (2-3) at Glenbard South (3-2)
When: 7:30 p.m. Friday
Last matchup: Glenbard East 22, Glenbard South 19 (2019)
About the Rams: The Rams were shut out last week, 28-0 against South Elgin. It's been an up-and-down shortened spring season for Glenbard East after back-to-back playoff appearances in 2018 and 2019. The Rams will look to continue its mastery of this series, winners of the last three games.
About the Raiders: Glenbard South comes in off a 33-20 win over Larkin. Trevor Burnett ran for 96 yards and two TDs, Cade Hardtke ran for 83 yards and two scores. Glenbard South's last win against its District 87 rival came in 2016.
FND Pick: Glenbard South
South Suburban Conference
T.F. South (4-1) at Lemont (2-2)
When: 7 p.m. Friday
Last matchup: Lemont 26, T.F. South 0 (2019)
About the Rebels: Although T.F. South's record is superior in this matchup, it is hard to tell exactly how competitive the Rebels are because of a uneven schedule. T.F. South's only loss came at the hands of Reavis, the only team currently on T.F. South's schedule with an above .500 record. The Rebels also have narrowly pulled out victories over the teams that have struggled mightily otherwise.
About the Indians: Lemont also has played a pretty uneven schedule but has pushed itself in games against conference stalwart Hillcrest and a Week 5 game with Class 8A Bolingbrook. While neither of those games went the Indians way, they did prove Lemont's mettle and seem to indicate that they are well positioned to close the season with a win.
FDN pick: Lemont
– Steve Soucie