West Suburban Conference
Glenbard West (2-0, 1-0) at Hinsdale Central (4-0, 3-0)
When: 7 p.m. Friday
Last matchup: Glenbard West 20, Hinsdale Central 17, OT (2019)
About the Hilltoppers: The Hilltoppers resumed in-person practice on Wednesday, but on Friday it will be three full weeks since they last took the field for a game – their last two games were canceled because of COVID-19 issues – so how sharp Glenbard West will be is a question in its toughest game of the year. Particularly with the layoff, expect the Hilltoppers to do what they do best, win in the trenches with Jalen Moore and Samson Zander running behind a line led by Wes Hoeh. Glenbard West's defense hasn't allowed a point in its two games.
About the Red Devils: Hinsdale Central has yet to be seriously tested in four games, outscoring opponents 165-14. How Sean Allison and the stout Red Devils' defense stand up to Glenbard West's power running game is a big key. Quarterback Michael Brescia is a playmaker with his arm and legs, a wildcard in this one. Hinsdale Central last beat Glenbard West in 2016 en route to winning the Silver title.
FND Pick: Glenbard West.
Downers Grove North (1-2, 0-2) at Lyons Township (1-1, 0-1)
When: 7 p.m. Friday
Last matchup: Lyons 19, Downers Grove North 14 (2019)
About the Trojans: The Trojans returned from a COVID-19 pause with a 14-7 loss to Oak Park-River Forest, so hopefully any rust has worn off. Sophomore Ethan Thulin is a name to watch after catching five passes for 128 yards and a 48-yard touchdown from Sam Reichert last Friday. Two-way lineman Drew Bielawski and Brendan Truett are leaders up front for Downers Grove North.
About the Lions: Lyons lost its second game to COVID-19 issues last week after a game with Glenbard West was canceled at Glenbard's end, a choppy schedule that can't help a team establish any rhythm. Quarterback Joey Antonietti and the Lions should be fired up, though, to play on their home field for the first time this spring.
FND Pick: Lyons
Morton (0-2, 0-1) at Willowbrook (3-1, 3-0)
When: 7 p.m. Friday
Last matchup: Willowbrook 44, Morton 0 (2019)
About the Mustangs: Morton's offense perked up last week in a 42-21 loss to Downers Grove South, but its defense has allowed 41.5 points per game through two games. The Mustangs might not have caught the Warriors at the most ideal time, either, following a rare loss.
About the Warriors: Willowbrook was knocked from the ranks of the unbeaten last Friday, a 25-23 loss to York. But the Josh Brown express keeps rolling. The junior running back ran for 295 yards against York, and is now up to 1,136 yards and 15 TDs through four games. Don't be surprised to see more of the same.
FND Pick: Willowbrook
Leyden (1-3, 1-2) at Downers Grove South (2-1, 2-1)
When: 6 p.m. Friday
Last matchup: Downers Grove South 20, Leyden 3 (2019)
About the Eagles: Leyden got in the win column last week, topping Addison Trail 21-14. Keeping that momentum going will be no easy proposition, as Downers Grove South has won the last four games of the series and all by significant margins.
About the Mustangs: Eli Reed continues to be a playmaker for Downers Grove South in all three phases. He had a receiving, rushing and special teams TD last week in a 42-21 win over Morton, and has 13 catches for 357 yards on the season, a gaudy 27.5 yard per catch average. Outside linebacker Ethan Monaco, who had a huge game against Morton, is a player to watch on the Downers South defense.
FND Pick: Downers Grove South
York (2-2, 0-2) at Oak Park-River Forest (3-1, 3-1)
When: 7 p.m. Friday
Last matchup: Oak Park-River Forest 35, York 28 (2019)
About the Dukes: The Dukes should be feeling good about themselves after their big 25-23 win over Gold heavyweight Willowbrook last week. Luke Malaga broke a school record with 16 catches for 114 yards, quarterback Max Assaad was 24-for-35 for 245 yards and a TD and sophomore linebacker David Loch continued to impress with 14 tackles, a quarterback hurry and a fumble recovery. York has played a tougher schedule than Oak Park-River Forest, so the Dukes will be ready.
About the Huskies: The Huskies have won three straight games over Lyons, Proviso West and Downers Grove North. Defense has been a key, as it has not allowed a point in the first half of all three games. York could provide a greater challenge.
FND Pick: York
Hinsdale South (1-3, 1-1) at Addison Trail (0-4, 0-3)
When: 6 p.m. Friday
Last matchup: Addison Trail 26, Hinsdale South 13 (2019)
About the Hornets: The Hornets, decimated by injuries, lost senior quarterback Donny Lowdermilk to an injury late in the first half of last week's 30-0 loss at Wheaton Academy. No let up with two remaining games left on the schedule for a Hinsdale South team forced to play several inexperienced kids.
About the Blazers: Addison Trail comes in off a 21-14 loss to Leyden. The Blazers beat Hinsdale South in the second-to-last game in 2019, and they obviously would love for history to repeat itself.
FND Pick: Addison Trail
DuKane Conference
St. Charles East (0-4) at Wheaton Warrenville South (3-1)
When: 6:30 p.m. Friday
Last matchup: St. Charles East 28, Wheaton Warrenville South 20 (2019)
About the Saints: It's been a rough go for the Saints this season, although it perhaps it shouldn't be that surprising considering they graduated the vast majority of their starters from 2019. St. Charles East did triple their scoring from the first three weeks last Friday in a 37-21 loss to Glenbard North. Nathan Hayes is a talented quarterback.
About the Tigers: WW South comes off a spirited defensive effort last Friday, as the Tigers forced six turnovers in a stunning 30-7 win at previously unbeaten Batavia. Danny Healy had an interception and fumble recovery, one of many standouts in the win. Eddie Robinson continues to impress as a hard-running back, and Parker Brown is a playmaker behind center.
FND Pick: WW South.
Geneva (2-2) at Wheaton North (3-1).
When: 6:30 p.m. Friday
Last matchup: Wheaton North 21, Geneva 0 (2019)
About the Vikings: After a rough 0-9 2019 season, the Vikings have showed signs of progress this spring – no more so than in last Friday's 41-6 win over Lake Park in which they topped last season's point total in one game. Junior quarterback Alex Porter is growing into the position. He threw three TDs last week, two to Michael Ignoffo, back from an ankle injury.
About the Falcons: Wheaton North needs to get its offense back on track, after a 14-12 loss to St. Charles North knocked the Falcons from the ranks of the unbeaten. Running back Brayton Maske left the game with an injury. With a date with Batavia looming in Week 6, Mark Forcucci and the Falcons will want a good bounce-back effort this week.
FND Pick: Wheaton North.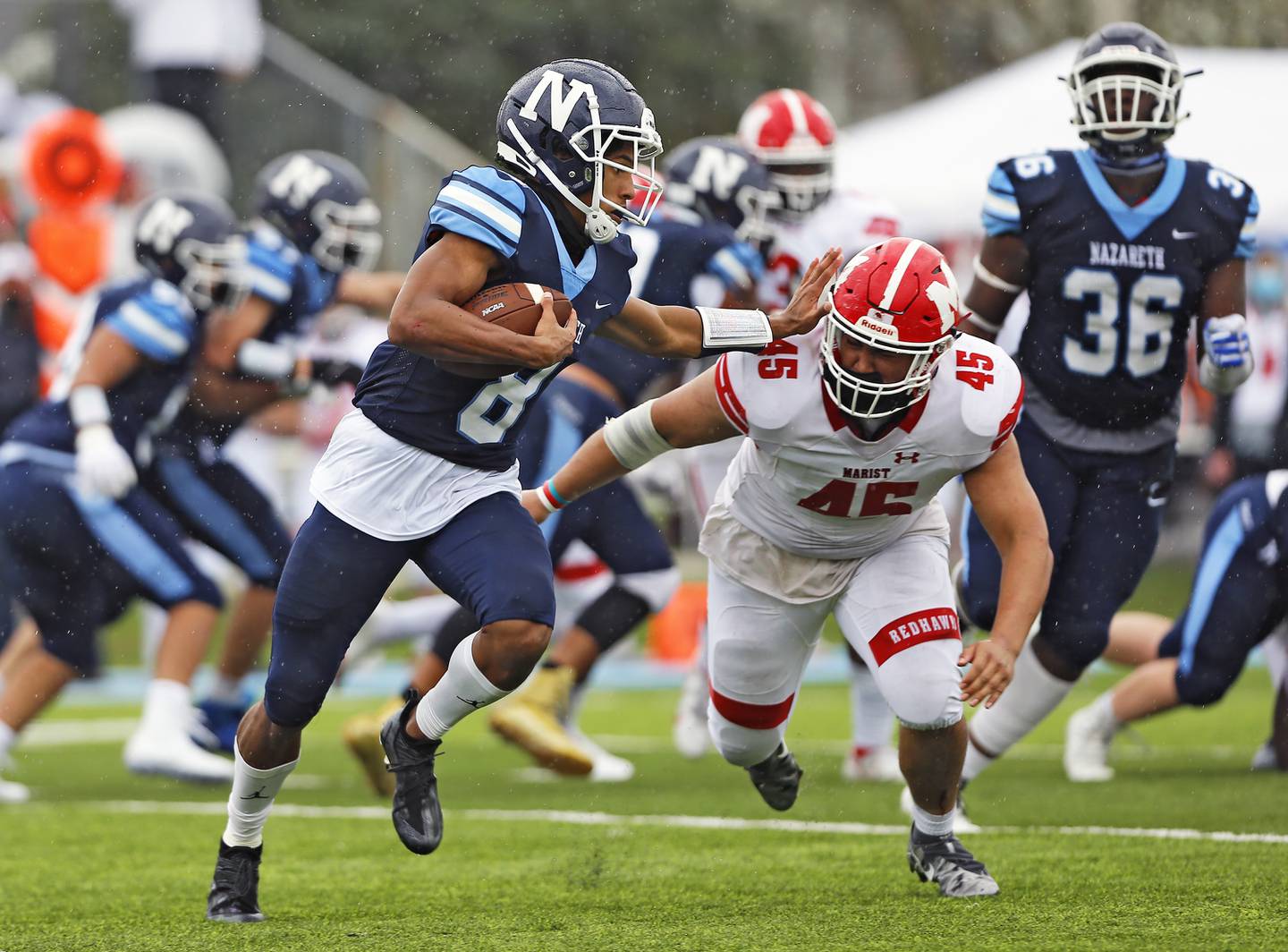 CCL/ESCC
Notre Dame (1-3) at Nazareth (2-1)
When: Noon Saturday
Last matchup: Nazareth 21, Notre Dame 0 (2019)
About the Dons: Notre Dame got in the win column last week, a 42-6 win over Leo. The Dons had scored just 13 points in their three previous games, but the defense has been solid outside a season-opening 34-13 loss to Marist. With basketball star Anthony Sayles not playing football this spring, the Dons have played multiple quarterbacks.
About the Roadrunners: Nazareth will look to get its offense back on track, after a 13-0 loss to Marist last Saturday. Junior Quentrell Harris, who had seven catches for 262 yards and three TDs over Nazareth's first two games, received a scholarship offer from Northern Illinois this week. The Roadrunners showed a little Wildcat late in last week's game with Kaleb Miller behind center, something potentially to watch going forward.
FND Pick: Nazareth.
Montini (1-2) at DeLaSalle (1-2)
When: 6 p.m. Friday
Last matchup: Montini 42, DeLaSalle 0 (2019)
About the Broncos: The Broncos are back in action after their Week 4 game was canceled by St. Joseph. Perhaps the time off helped Montini's quarterbacks get healthy, as sophomores Tre Jones, Cole Teschner and Brett Pickering were all banged up. Valparaiso recruit Jalen McBride is a playmaker on Montini's defense, as is DiAndre Harris.
About the Meteors: Quite a challenging three-week stretch for the Meteors, with successive games against Nazareth, Mount Carmel and now Montini. The first two legs didn't go so well, outscored 80-12.
FND Pick: Montini
St. Rita (3-1) at Benet (2-0)
When: 7 p.m. Friday
Last matchup: St. Rita 37, Benet 16 (2019)
About the Mustangs: St. Rita's offense has been in high gear since its season-opening loss to Loyola, scoring a total of 133 points the last three weeks. Wide receiver Kaleb Brown, the No. 1-ranked junior in the state, is the headliner.
About the Redwings: The Redwings finally return to action this Friday after their last two games were canceled with COVID-19 protocols. Not exactly an easy matchup to work out the rust. Quarterback Nick Bafia and sophomore receiver/defensive end Pierce Walsh are among players to watch.
FND Pick: St. Rita.
Leo at Fenwick (1-2)
When: 7:30 p.m. Friday, at Triton
Last matchup: Fenwick 49, Leo 12 (20190
About the Lions: Leo comes in off a 42-6 loss to Notre Dame, and has only scored a total of 30 points in four games this season. Leo lost to St. Patrick 35-8, so the comparison of games with common opponents would seem to tilt toward Fenwick.
About the Friars: Fenwick bounced back from a tough one-point loss to Marmion to beat St. Patrick 31-13 for its first win of the season. With games left against Leo and St. Ignatius, the opportunity is still there for a winning season.
FND Pick: Fenwick.
Metro Suburban Conference
Elmwood Park (1-2) at St. Francis (4-0)
When: 7:30 p.m. Friday
Last matchup: First known meeting
About the Tigers: A difficult two-week stretch for the Tigers, coming off a 51-6 loss to Bishop McNamara. Elmwood Park actually had three straight winning seasons coming into this spring, but St. Francis is clearly a step up in class.
About the Spartans: It will be hard for Tommy Rittenhouse to top last Friday. The Illinois State recruit threw a career-high six touchdown passes, three to Tyler Bishop, in a 58-7 win over Riverside-Brookfield. The Spartans have been as dominant as any team around this spring, and figure to keep things rolling.
FND Pick: St. Francis
Wheaton Academy (3-1, 1-1) at Riverside-Brookfield (1-3, 1-2)
When: 6:30 p.m. Friday
Last matchup: Riverside-Brookfield 20, Wheaton Academy 17 (2019)
About the Warriors: Wheaton Academy comes in off an impressive defensive performance, a 30-0 win over Hinsdale South last Friday in a late-scheduled game. The Warriors held the Hornets to just 16 yards rushing, and David Dorn threw an 83-yard TD pass to Andrew LaPlant. This is an opportunity to clinch Wheaton Academy's first winning season since 2016.
About the Bulldogs: The Bulldogs are no doubt licking their wounds after a 58-7 loss to St. Francis last Friday. Owen Murphy threw a TD pass to Luke Swiatek for R-B's only score. Senior Night, the Bulldogs will be fired up.
FND Pick: Wheaton Academy
Westmont (1-2) at St. Edward (1-2)
When: 7 p.m. Monday.
Last matchup: St. Edward 42, Westmont 0 (2019)
About the Sentinels: Westmont comes in off a 38-22 win over Ridgewood, also the Sentinels' lone conference win in 2019. Now the Sentinels hope to carry over that momentum against a St. Edward team that could be rusty after a week off.
About the Green Wave: St. Edward missed Week 4, its game with Chicago Christian canceled because of a 14-day COVID-19 quarantine and this week's game moved to Monday. St. Edward put up pretty good numbers offensively other than a Week 3 buzzsaw against IC Catholic Prep. Slippery running back Joe Sacco is one to watch.
FND Pick: St. Edward.
Upstate Eight Conference
Glenbard East (2-2, 2-2) at South Elgin (4-0, 4-0)
When: 2:30 p.m. Saturday, at Millenium Field
Last matchup: South Elgin 35, Glenbard East 7 (2019)
About the Rams: Glenbard East got back in the win column last week in a big way, a 48-14 win over East Aurora. Keeping it going against an unbeaten South Elgin team that has dominated most of its league games dating back to 2019 will be a yeoman task.
About the Storm: South Elgin's defense has not been quite as dominant as it was in 2019, when it allowed just 70 points in 11 games, but the Storm has still outscored opponents to the tune of 188-55, its closest game 31-20. South Elgin's two toughest games remains to be played it would seem, Glenbard East and Bartlett.
FND Pick: South Elgin
Glenbard South (2-2) at Larkin (0-4, 0-4)
When: 7:30 p.m. Friday
Last matchup: Glenbard South 12, Larkin 6 (2019)
About the Raiders: Glenbard South is coming off a 42-14 win over Fenton last Saturday. Jeremy Gelino caught a touchdown pass, and also had an interception return for a score defensively.
About the Royals: Larkin is coming off a 56-13 loss to South Elgin, and has been outscored this season to the tune of 110-48. This is the Royals' Senior Night, so they could be motivated with their best effort.
FND Pick: Glenbard South
South Suburban Conference
Lemont (2-1) at Bolingbrook (2-2)
When: 6 p.m. Friday
Last matchup: First known meeting
About the Indians: Lemont missed Week 4 because of COVID-19 protocols, but will try to maintain the momentum it had established. The Indians were expected to be a solid unit defensively and have been for the most part. But offensively, Lemont's attack has been considerably more potent than expected. The Indians have an opportunity to keep that going here.
About the Raiders: Even in their two losses Bolingbrook has had success through the air, as Vincenzo Meschi has put up big yardage totals in most of the Raiders contests. He also has a talented group of young receivers. That passing game will be put to the test against a good Lemont defense.
FND Pick: Bolingbrook
– Steve Soucie