JOLIET – The Joliet Catholic Academy offense in general, and the running game specifically, tends to get most of the attention when talking about the Hilltoppers.
On Saturday afternoon on Busey Bank Field at Joliet Memorial Stadium, though, it was the defense and the passing game that took center stage in a 31-21 win over Providence Catholic that put the Hilltoppers (10-3) into the Class 5A championship game. JCA will play Nazareth Academy at Illinois State University's Hancock Stadium next Saturday at 10 a.m. for the championship.
JCA's defense came away with six turnovers – three fumble recoveries and three interceptions – and quarterback Andres Munoz was 7 of 9 for 140 yards and two touchdowns through the air and also ran in a four-yard TD. Munoz was 6 of 7 for 112 yards and both TDs in the first half as the Hilltoppers built a 28-6 lead at the break.
"We were able to hit some passes today," Munoz said. "I have to give a lot of credit to the defense for putting our offense in position to score.
"We have all of our cylinders hitting right now. At different times of the year, we were struggling with certain things, but everything is rolling right now."
Things didn't start out like a walk in the park for JCA.
Providence Catholic (8-5) stuffed the Hilltoppers near midfield on fourth down and took over. On the first play, Celtic quarterback Leo Slepski hit Xavier Coleman for a 52-yard touchdown. JCA blocked the extra point kick and Providence led 6-0.
JCA answered quickly. They embarked on a seven-play, 78-yard touchdown drive that ended on a 12-yard pass from Munoz to Larry Stringham. Patrick Durkin's extra point kick gave JCA a 7-6 lead.
On Providence's third play on the ensuing drive, Nico Ronchetti recovered a Celtic fumble at the Providence 32. Munoz hit HJ Grigsby for an 11-yard gain on fourth-and-4, then connected with Drew Wills on second-and-11 for a 14-yard gain to the 2. Stringham scored on the next play and the Hilltoppers led 14-6 with 51 seconds to play in the quarter.
"It didn't affect us much when they scored first," Munoz said. "We knew over the course of the whole game that our defense would hold them. They did a great job of getting us the ball in a good position to score."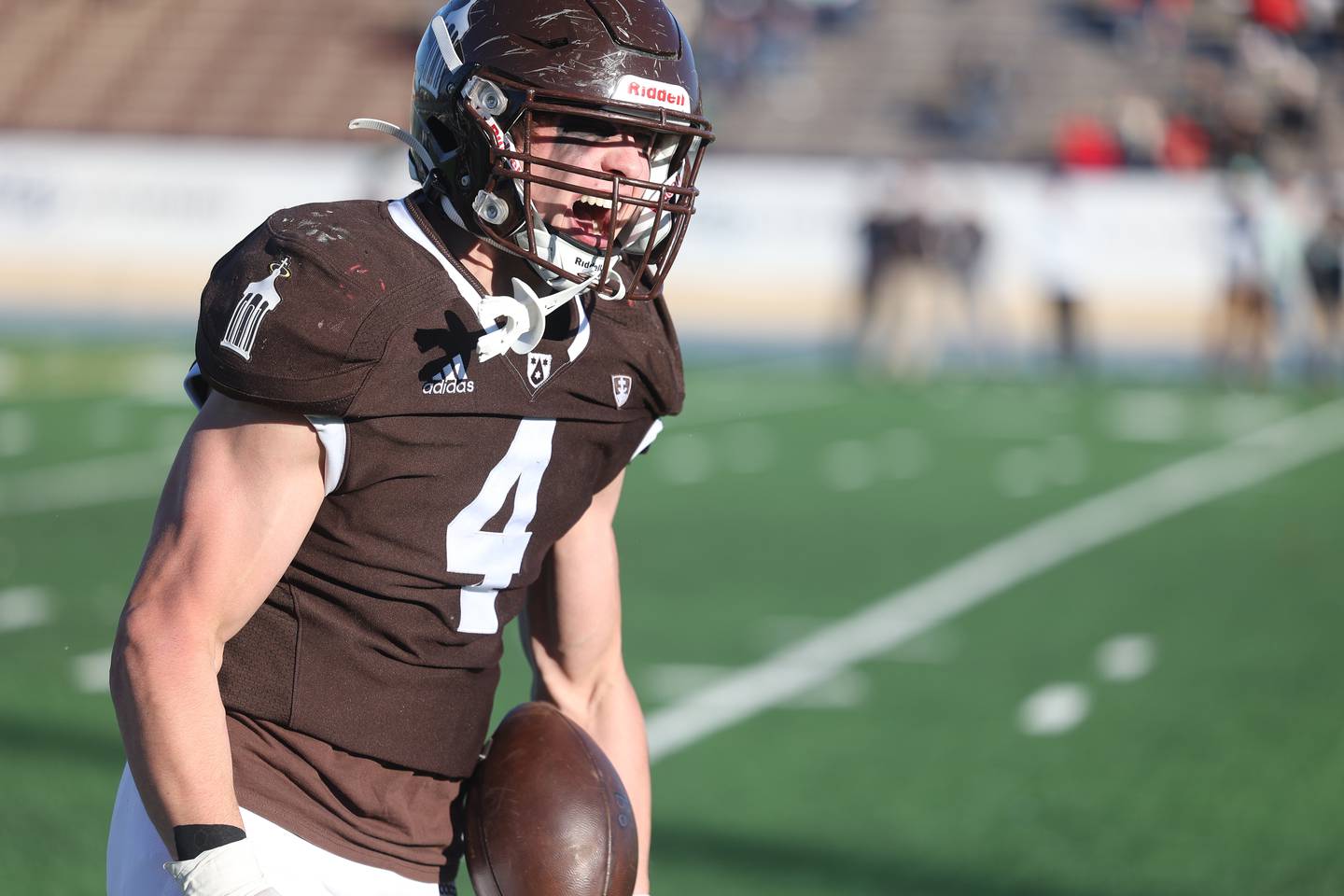 The defense forced a Providence punt and JCA took over at its own 23. Grigsby (28 carries, 142 yards) broke free for a 44-yard gain. Munoz hit Adrian Washington for five yards on third-and-5. A pass interference penalty gave JCA first-and-goal from the 8. On third-and-4, Munoz rolled to his right, faked a pass and ran into the end zone.
JCA got interceptions from Connor O'Donnell and Tai Sesta on back-to-back possessions, but the Hilltoppers had to punt on both possessions. In the final minute of the first half, Zach Pomatto recovered a Providence fumble at the Celtics' 36. After a five-yard run by Grigsby, Munoz hit Adrian Washington with a 31-yard touchdown pass to give JCA a 28-6 halftime lead.
"The defense all year has kind of put the offense on its shoulders," JCA coach Jake Jaworski said. "They came up with big stops and turnovers, and the offense was able to milk the clock.
"Our defensive coordinator, Zach Dolph, deserves a lot of the credit. He does a great job with those guys and I am glad we get to ride one more time."
Providence's Jamari Tribett scored from a yard out and ran in the two-point conversion to make it 28-14. JCA then milked nearly six minutes off the clock, finishing with a 37-yard field goal by Durkin with 17 seconds to play in the third quarter for a 31-14 lead.
Providence made things interesting, scoring on a four-yard run by Coleman with 8:09 remaining, then recovering an onside kick. The Celtics turned the ball over on downs, but forced a JCA punt. A 30-yard pass to Coleman got the Celtics to the JCA 34, but JCA's Anthony Brown intercepted a pass and the Hilltoppers ran out the clock.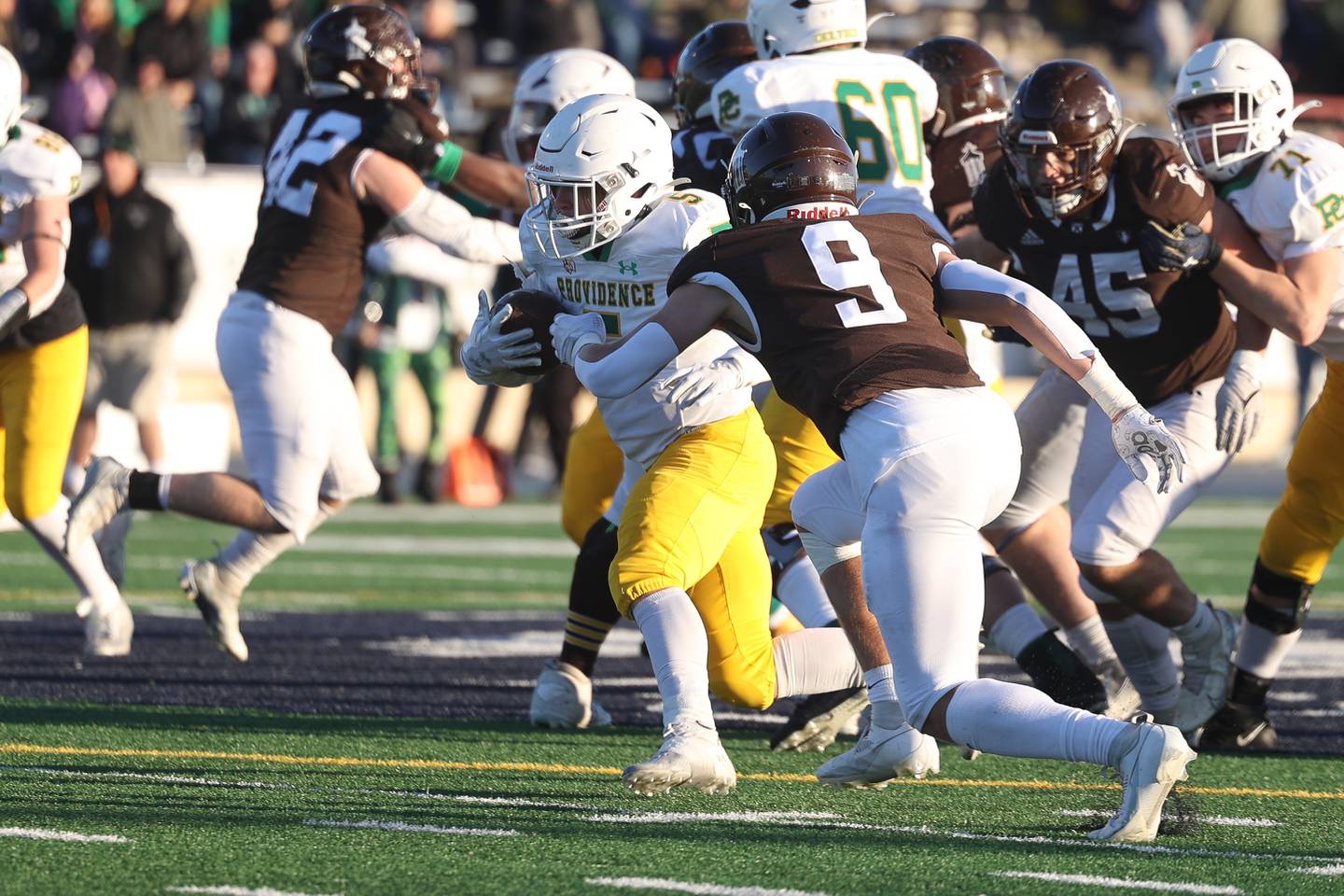 "Our coaches did a great job of preparing us," said JCA linebacker Daniel Rouse, who had one of the Hilltoppers' fumble recoveries. "We were ready for everything that Providence might throw at us. There's a lot of pride in the tradition of our defense."
Providence coach Tyler Plantz praised his team's effort.
"We got into too big a hole too early," he said. "But, despite spotting them some points, our kids never quit. We got into a little bit of a rhythm in the second half. These kids never flinched and they never quit fighting. I am very proud of them for that.
"We have a lot of young guys on this team, and this is a great experience for them. Losing is not fun, but as long as you learn from it, it's ok. We say, 'You win or you learn.' We will learn from this, and I am excited for what we have coming back for next year."