DuKane Conference
Time: 7 p.m. Friday
Last matchup: Batavia 33, Geneva 7 (2022)
About the Bulldogs: This is a matchup Batavia hasn't lost since 2010. Geneva's seven points scored last year were the first against the Bulldogs in several games. Batavia's offense had a pair of touchdowns called back due to penalties last week versus Wheaton North, so it could have been a wider margin of victory. The defense is largely healthy, and QB Ryan Boe has his offense running very smoothly with a fantastic spread of players to spread the ball to.
About the Vikings: Like mentioned above, this is a matchup that Geneva hasn't won in quite some time, but this could very well be the team that breaks the streak. How Geneva's offensive line holds up against a fantastic Batavia front seven is a huge area to watch, but QB Nate Stempowski, WR Talyn Taylor and RB Michael Rumoro will have their chances to put points on the board.
Friday Night Drive pick: Batavia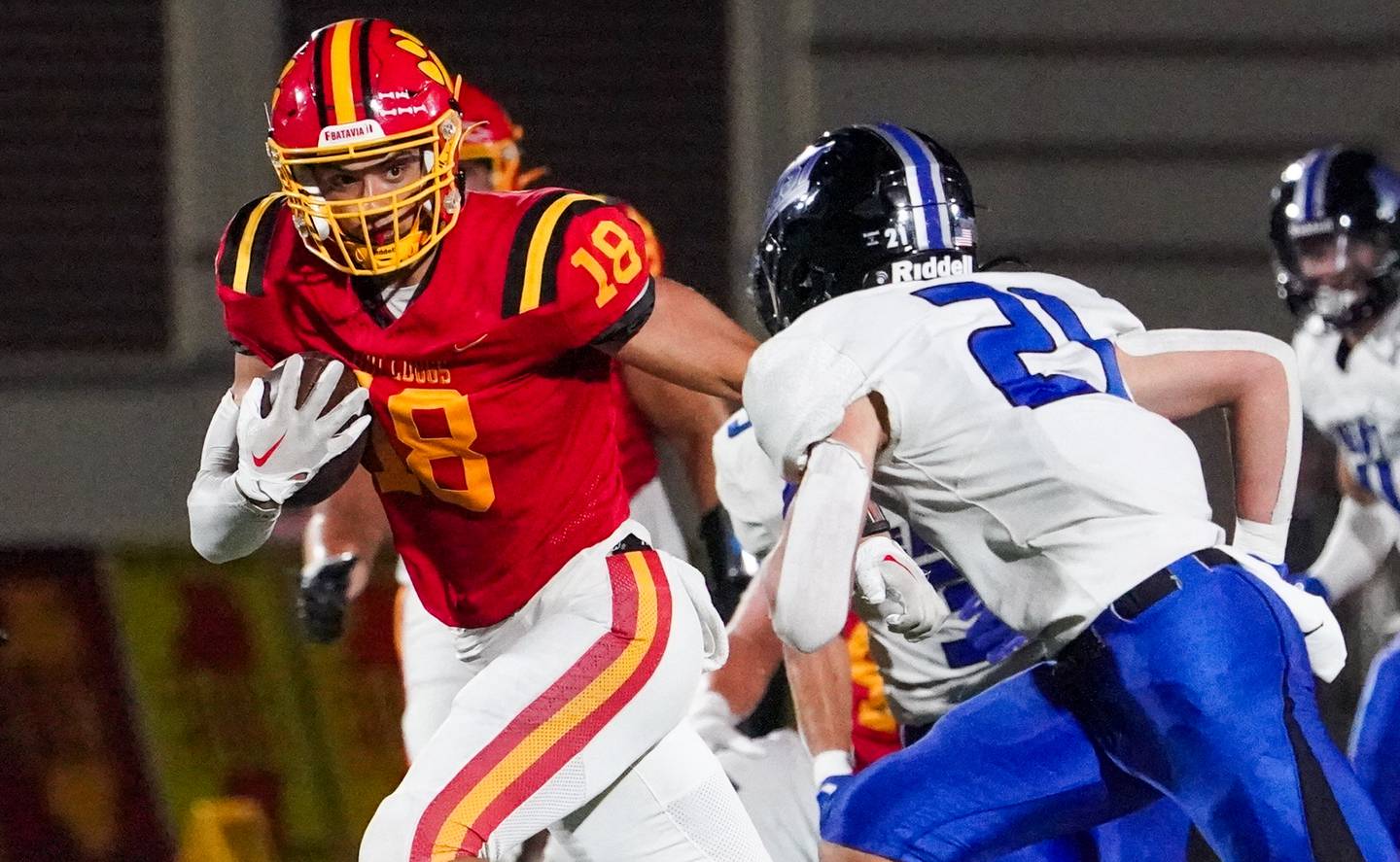 St. Charles North (3-2, 1-2) at St. Charles East (1-4, 1-2)
Time: 7 p.m. Friday
Last matchup: St. Charles North 38, St. Charles East 7 (2022)
About the North Stars: St. Charles North picked up a huge conference win last week in an overtime victory over Wheaton Warrenville South. Standout TE Jake Furtney caught four TDs from QB Ethan Plumb, and Plumb's monster junior year is continuing to roll right ahead. WR Jake Mettetal also has 41 catches for 589 receiving yards and six touchdowns, so he should get the football plenty.
About the Saints: While a team that plays with pride, the Saints have simply struggled to both put points on the board and limit opposing offenses from doing the same. The Saints have gotten outscored 59-35 over the past three weeks. With St. Charles North needing to add to its win total for playoff eligibility, St. Charles East has a chance to put a dent in those hopes.
FND pick: St. Charles North
Kishwaukee River/Interstate 8 White
Kaneland (3-2, 2-1) at Sycamore (5-0, 2-0)
When: 7 p.m. Friday
Last matchup: The Spartans won 28-7 last year in Maple Park.
About the Knights: The Knights have lost twice this year. They had the lead in the fourth quarter of both games and the teams they've lost to, Morris and Washington, are a combined 9-1. First-year coach Michael Thorgesen said he expects the Knights to start strong, as they have all year, but they have to finish against good teams. It's also a battle between Kaneland's offense, second in the conference at 38.2 points per game, and Sycamore's defense tops in the conference, having allowed only 19 points all year. Troyer Carlson tossed four touchdowns last week in a win over Ottawa. Josh Mauthe added two touchdown runs.
About the Spartans: It's a bit of tonal whiplash for Sycamore, going from playing a Rochelle team last week (a 21-6 win) that runs the ball a ton to the full-on spread passing attack of the Knights. Coach Joe Ryan said run or pass, the approach is the same – both teams can make you pay if you are undisciplined and not in the right fits. Ryan said he's liked the way his passing attack has come on, with junior quarterback Burke Gautcher settling in under center. Gautcher found York on a highlight reel catch last week, showcasing what Ryan called the explosive-at-times nature of the efficient Spartan passing attack. Gautcher has completed 60% of his passes for 412 yards and seven touchdowns. He hasn't thrown an interception. York has eight catches for 182 yards and three touchdowns, while Teague Hallahan has six catches for 107 yards and three scores. Gautcher also leads the team with 31 tackles.
FND pick: Sycamore
-- Eddie Carifio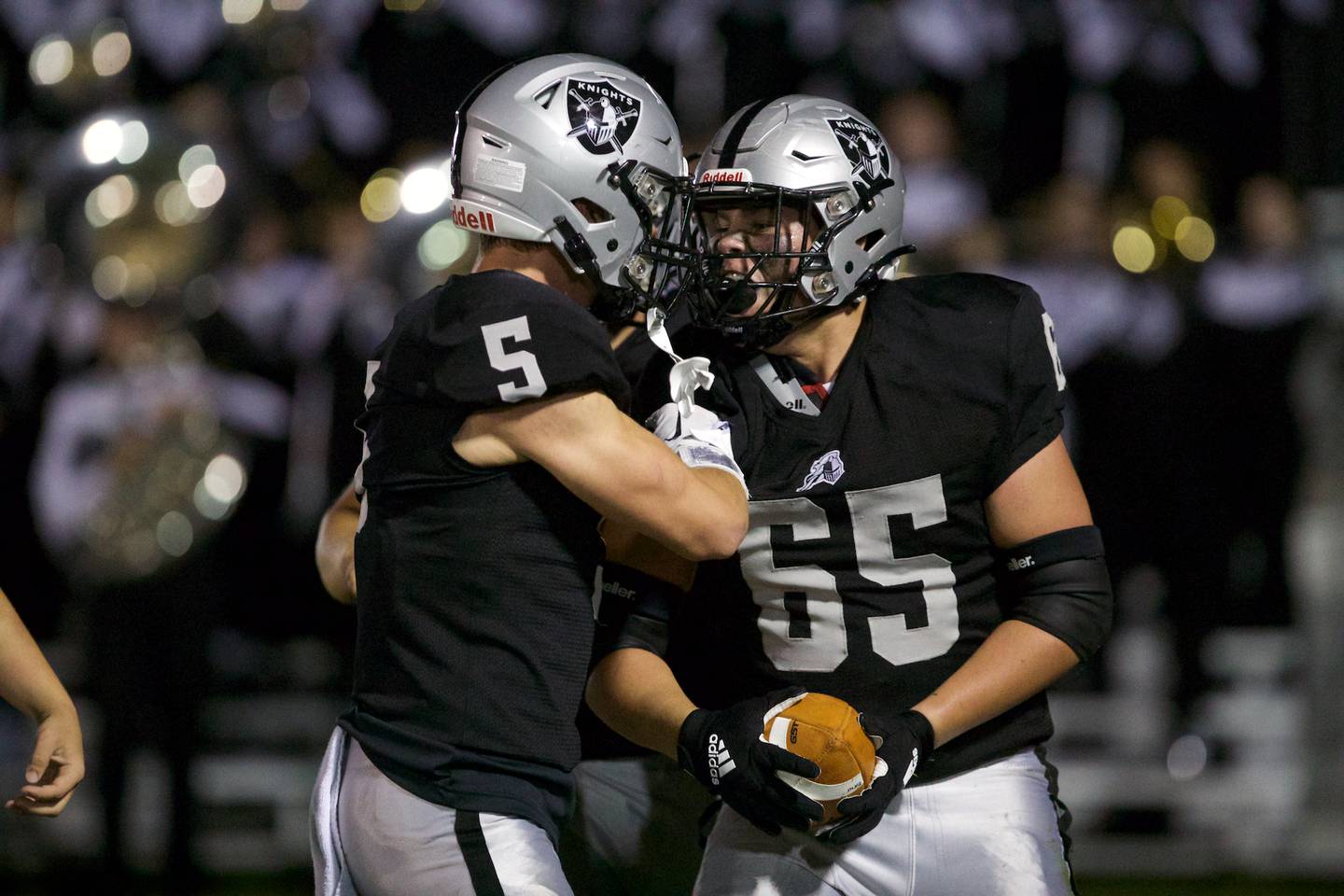 Chicago Catholic League
Marmion (2-2, 0-1) at St. Patrick (1-4)
Time: 7 p.m. Friday
About the Cadets: Marmion has a chance to get back on track after a couple of difficult weeks being outscored 70-14. The Cadets had to rely a lot on QB Jake Sullivan last week, who was 14 for 20 passing and had 63 yards rushing.
About the Shamrocks: Loyola Academy coasted to a 38-0 win last week.
FND pick: Marmion
Fox Valley Conference
When: 7 p.m. Friday
Last matchup: Jacobs won 35-30 in Week 6 last season.
About the Rockets: Central defeated McHenry last week 17-7. … The Rockets started sophomore Landon Arnold at quarterback last week with starter Jackson Alcorn and backup Ryder Bergemann both out with injuries. Arnold completed 13 of 21 passes for 136 yards and a clinching touchdown with 25 seconds remaining. … RB Joey Kowall also missed last week with an injury and was among the area's top rushers before he was hurt. … Brady Gilroy (21 receptions), Michael Person (20), LJ Kerr (16) and Caden West (11) are the Rockets' leading receivers. … DL Bryan McGladdery (27 tackles, two sacks) and LBs Zach Adamo (26.5 tackles, three sacks) and Zach Samaan (31.5 tackles) lead the defense.
About the Golden Eagles: Jacobs won its District 300 rivalry game over Dundee-Crown 55-26 last week. … The Eagles got a huge game from sophomore RB Caden DuMelle with 13 carries for 252 yards and four touchdowns. … RB Tyvon Boddie returned a kickoff 86 yards for a score and ran eight times for 111 yards. … Jacobs has played the FVC's top three teams (Prairie Ridge, Cary-Grove and Huntley), but it needs to win three of its last four to become playoff eligible.
Friday Night Drive pick: Jacobs
-- Joe Stevenson
CCL/ESCC Orange
When: 7:30 p.m. Friday
Last matchup: IC Catholic 25, St. Francis 14 (2022)
About the Knights: Spartans coach Bob McMillen, who was a standout football player in his days at IC Catholic Prep for legendary Knights coach Jack Lewis, knows the task at hand. "IC has been one of the top teams for the past 10 years," McMillen said. "They always seem to be competing for a state championship. You can't make mistakes against them because it's so hard to recover. They have a lot of weapons – we are just hoping we can slow them down." The Knights have won back-to-back nailbiters – 36-34 in overtime over Nazareth, and 28-21 over Marist last week. Against Marist, Joey Gliatta scored a pair of touchdowns in a four-minute span – a 42-yard catch from quarterback Dennis Mandala that tied the game at 21-all, and a 15-yard run that gave the Knights a 28-21 lead with 4 minutes remaining. Mandala completed 18 of 30 passes for 259 yards and three touchdowns, while KJ Parker had nine catches for 114 yards. Due to their resilience, the Knights can never be counted out of a game. "To play close games against teams like Naz and Marist is incredible," Knights coach Bill Krefft said. "The atmosphere at IC has been electric, and it has energized our whole school." Now, they prepare for another tough foe in St. Francis. "I think St. Francis is another powerhouse football program," Krefft said. "It will take everything we have to compete with them. They are physical and resilient. This game is the same it has been the last five years or so – rivalry week. It is a conference opponent we look forward to having the opportunity to compete against."
About the Spartans: Trailing Joliet Catholic by 14 points in the second quarter last week, the Spartans rallied for a much-needed, 33-28 victory behind senior quarterback Alessio Milivojevic (20 of 29, 322 yards) and tailback TyVonn Ransom (157 yards, two TDs). Milivojevic can spread the wealth to his talented receiving corps, headed by Ian Willis, DeShaun Williams, and Alessio's younger brother, Dario. The IC-St. Francis rivalry, once a staple from their Suburban Catholic Conference days, has continued to blossom in recent years. "We have been fortunate to play IC the last five years when we were in the Metro Suburban Conference together," McMillen said. "It has turned into a nice rivalry during that time, and it always turns out to be a good football game. That's what it's all about." What are the Spartans' keys to the game? "Matching their physical play, not giving up the big scores, and not starting behind the sticks on offense," McMillen said.
FND pick: IC Catholic
-- Craig Brueske, Daily Herald Media Group