GENEVA – It's a rivalry that began when Woodrow Wilson was the 28th President of the United States.
One game – with 110 years of history – has, likely, at least 110 stories and to be told.
Geneva leads Batavia 51-48 (with five ties) in the all-time series, per the historical guide prepared by now-retired Batavia Public Library Director George H. Scheetz
Geneva hasn't won since 2010, the year before Batavia coach Dennis Piron assumed the helm. The Bulldogs haven't lost this game since.
Prior to last year's 33-7 Batavia victory, Geneva hadn't scored a point in five games.
Geneva is 5-0 for the first time since 2015. Batavia enters 4-1, its lone loss to defending Class 8A runner-up Lincoln-Way East, by one point. Both teams are 3-0 in DuKane Conference play.
The stage is set for the 7 p.m. kickoff inside Burgess Field at Geneva High School on Friday.
"This game means everything to us and to the city of Batavia," Bulldogs senior wideout Luke Alwin said on Monday. " [It's a] very historic matchup, and a huge game for our community and team. But, at the end of the day, Geneva is just another road block in our way."
The Vikings, meanwhile, are preparing for the test ahead.
"We've just got to play our game," Vikings senior linebacker Tommy Diamond said following practice on Monday. "They're always a good team, Batavia. But, I think this year, we've got a lot of talent and we play really well together. So, it's more [about] us playing our game that we've been playing this year."
"Keeping it up; be physical and fundamentally sound and doing everything [we need to do]," Diamond continued. "I think we've got to focus on ourselves this week and do what we're supposed to do."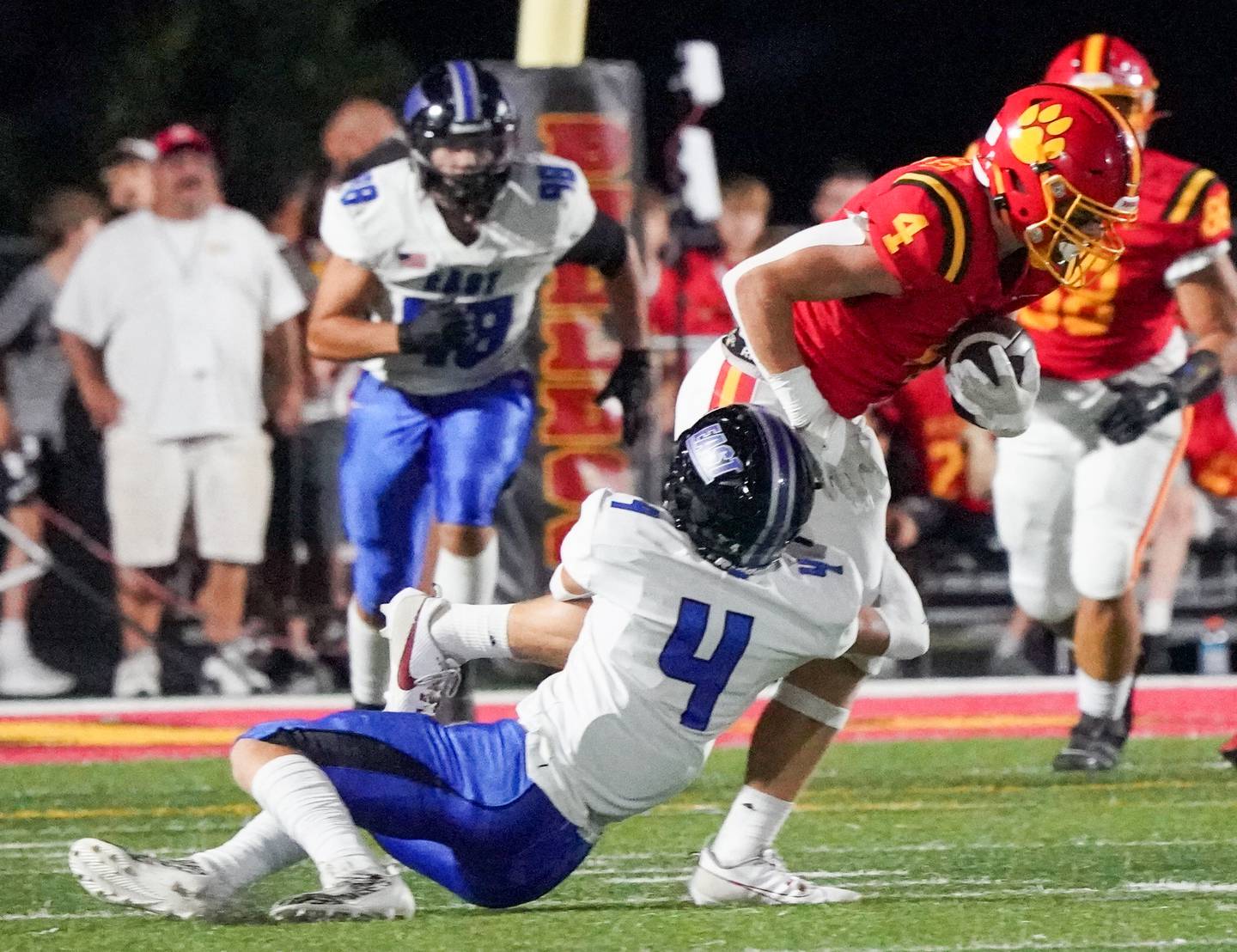 Last year's contest was largely decided on Batavia executing on big chunk plays. With two seconds before the half, quarterback Ryan Boe found wideout Drew Gerke for a 50-yard touchdown on a post route for the 14-0 halftime lead.
Geneva opened the third quarter with a 16-play drive – aided by two Batavia defensive pass interference penalties – that was capped by quarterback Nate Stempowski's 5-yard touchdown run to make it 14-7 with 5:54 left. Then, on the ensuing kickoff, Gerke broke free for a huge 92-yard kick return for a score to swing the pendulum back in Batavia's favor.
"I mean, definitely didn't want that to happen last year, but that's definitely prepared us for this year," Diamond said. "We were watching that same play today on film [Gerke's kickoff return for touchdown]. But, I think it also helps we're returning a lot of guys. We were kind of new last year [with] guys' first year on varsity. We've got a lot of those guys again, so they definitely know what they're doing. What they're going to be up to.
"[It] helps having that maturity and [it's a senior-led team," Diamond continued.
Among several key factors of the game, one is the Batavia front-seven limiting Stempowski in the pocket and on the perimeter. Stempowski is second in rushing on the Vikings with 253 rushing yards and two touchdowns. Passing-wise, he's completed 56% of his passes, averaged nearly 14 yards per completion and only thrown one interception.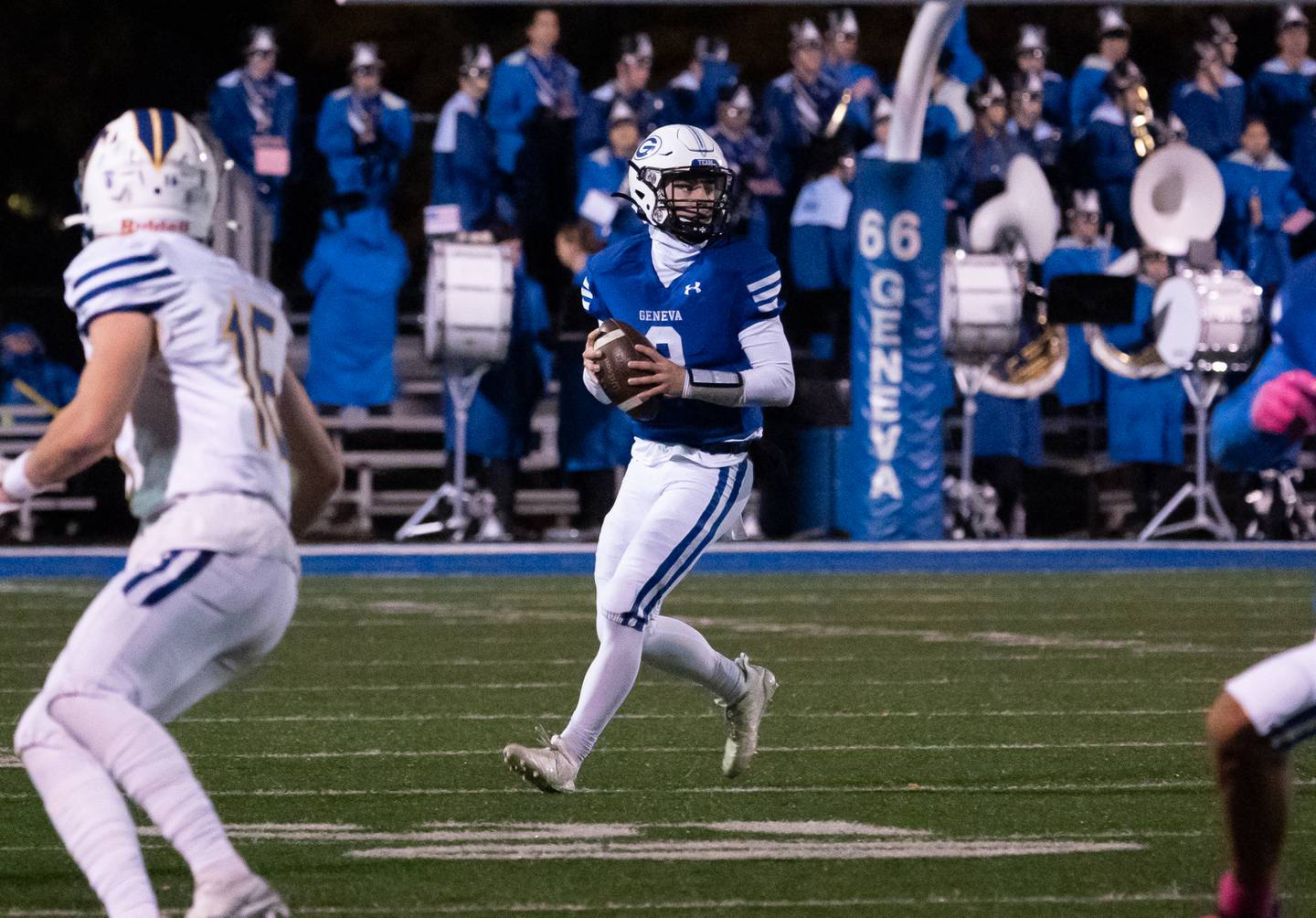 The mental stamina and preparation for the game plan is just the beginning for Stempowski.
"[I approach it] with just [getting] into the film and honestly just staying calm," Stempowski said. "I'm a pretty calm guy. I don't overhype on social media. I'm just going to stay calm, play my game and do what I do. Just be myself."
"Just be me. Do what I do best," Stempowski continued. "Just play my game. Know I can stay there, stay and embrace the contact and do my thing. Get the ball out to my guys and trust my guys that I have on my team."
"We'll see what happens on Friday night," Diamond said.
Luke Alwin, LB Jacob Feller shining for Batavia
Alwin shined for seven catches and 108 yards in Batavia's 23-17 win over Wheaton North, a welcome sign for the offense moving forward.
"I think I started off a bit slow and after the loss to LWE," Alwin said. "I had to get a reality check and make sure I was putting in maximum effort. I felt like there was multiple times in that game we could've won and things I should have done better in order to help out my team, but at the end of the day, we failed. So, coming back from that, I had to flip the script and go all out for my team and my community."
Feller, a junior linebacker, was responsible for a momentum-changing sack on Falcons quarterback Max Howser to open the third quarter. The Falcons were driving to the Batavia 10-yard-line. Bulldogs defensive tackle Xavier Blanquel recovered the ball, which eventually led to a field goal and 10-7 Batavia lead.
On the season, Feller has 15 tackles and two sacks. The two sacks are a team-high.
"The tackle down-blocked so I just filled [the gap]. We had good coverage in the secondary, so [Howser] had to hold the ball and I was able to get to the quarterback and get my hands on the ball," Feller said.