MAPLE PARK – Morris took some body shots, but Jacob Swartz provided plenty of punch himself as Morris held off upset-minded Kaneland.
Swartz ran for 203 yards and two touchdowns in Morris' 43-33 victory Sept. 8 over the Knights, who led 33-28 early in the fourth quarter over the No. 3-ranked team in Class 4A.
[ Photos: Kaneland vs. Morris ]
Quarterback Carter Button threw for 120 yards and a touchdown and iced the game with a 20-yard scramble into the end zone on fourth down in the final minute for Morris (3-0). A.J. Zweeres ran for two scores and added a TD catch and a key interception on defense.
"This wasn't a game won by talent. This was won by heart," Swartz said. "A lot of effort put out on the field from everybody – from starters, backups, special teams guys. We all left it all out on that field."
Morris trailed 33-28 early in the fourth quarter, but rallied for the final 15 points. Swartz was the workhorse on the drive that gave Morris a 36-33 lead, scoring from the 11 and converting on a two-point conversion.
After an interception by Zweeres on Kaneland's next drive, Swartz and Morris were back at it. The senior carried the ball nine times on a 12-play drive that was capped by Button's electrifying touchdown run.
"This win isn't about a couple individuals. It's about the whole team," Swartz said, deflecting credit away from himself. "I'm proud of our whole entire team. This meant a lot to us. There's a lot of people doubting us, thinking we can't win many games because we lost some great players. It was a big statement win for us, but we're far from done this year."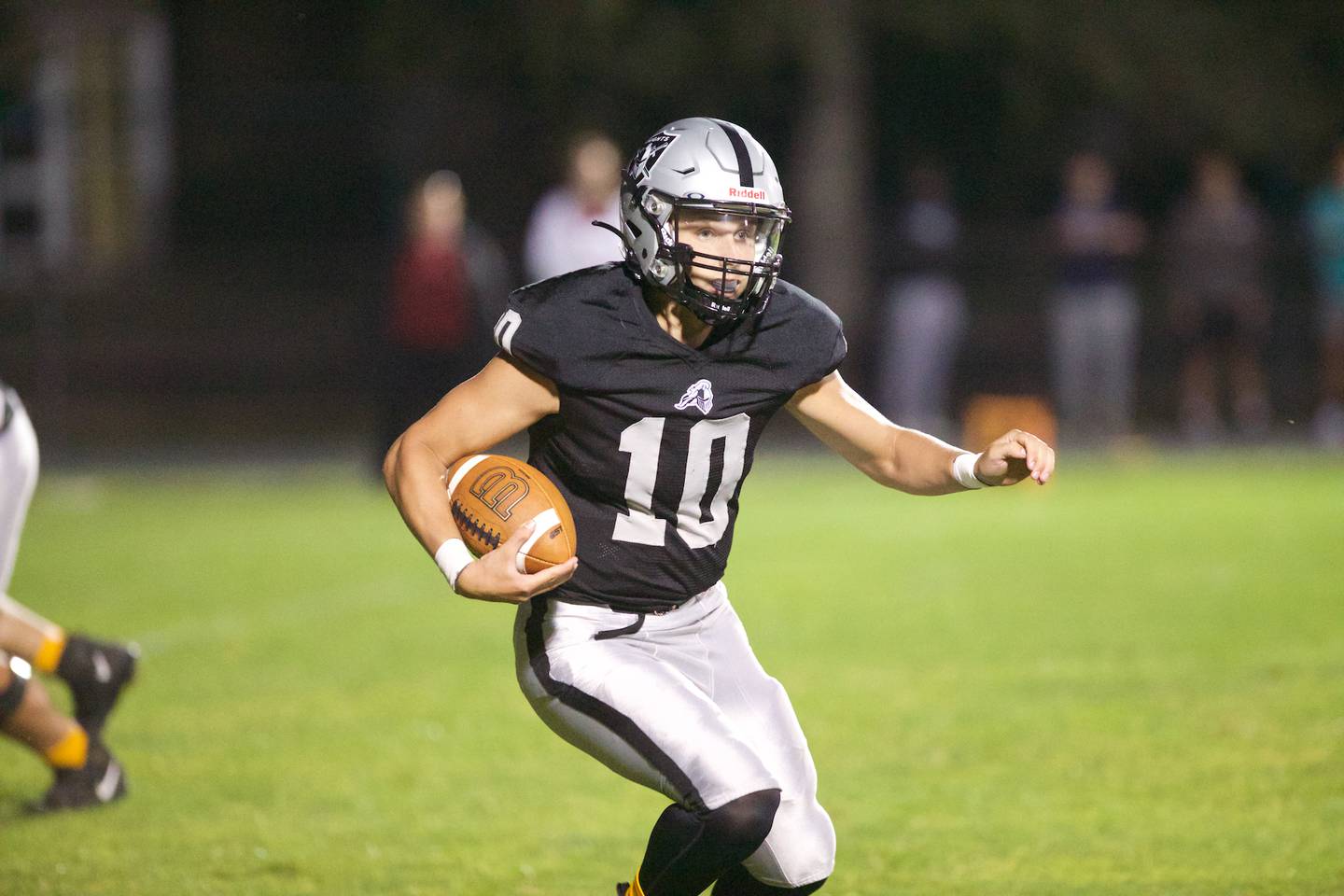 The loss overshadowed a strong performance by Knights quarterback Troyer Carlson. The senior threw for more than 170 yards and ran for 175 yards. He had two touchdown passes and ran for two touchdowns and a two-point conversion.
Penalties were costly for the Knights. They were flagged 12 times – nine in the first half – and were called for four personal fouls. The fourth one allowed a Morris drive to continue and Swartz made them pay with a 4-yard scoring run.
"We've got to clean that up," Kaneland coach Mike Thorgesen said. "You've gotta be more disciplined than that. Those really put us in a bad spot early."
Kaneland trailed 21-19 at halftime, but took its first lead of the game midway through the third quarter. Carlson capped the scoring drive with a 5-yard keeper and found Dominic DeBlasio for the two-point conversion and a 27-21 lead.
"Troy's a warrior. He wants to win more than anybody I've ever met," Thorgesen said. "He wants to win every game, every single snap. And it showed tonight."
DeBlasio finished with five catches for 120 yards.
Kaneland running back Jonah Mauthe had 129 yards.