DeKALB – A teenager was stabbed during a series of group fights recently that DeKalb officials said Thursday spurred numerous community fighting, bullying and threatening behavior by high school-aged youth.
As a result, city staff are recommending updates to DeKalb city code to target parents or guardians with fines for reported youth misconduct, according to proposed city legislation. City staff said Thursday they hope the proposal encourages parents to keep their children in line inside and outside of school.
DeKalb Mayor Cohen Barnes said he plans to support the proposed amendments to the city's code related to "Offense Against Public Peace – Safety and Morals" and hopes the DeKalb City Council does, too. The council is expected to vote on the matter during its regular meeting set for 6 p.m. Monday at the DeKalb Public Library, 309 Oak St.
"What has transpired over the last couple of weeks that happened in our city boundaries and within our schools is intolerable. We have to start having more accountability to the actions of our residents in this community," Barnes said. "When you have kids jumping on the backs of officers, throwing things at officers and attempting to attack officers ... We've shown an incredible amount of restraint and discretion in those situations, but going forward we cannot tolerate that kind of behavior."
Under the proposed changes, parents or guardians of minors found to have caused damage to a person or property in violation of city code could be fined by the city between $100 and $1,000 per offense, documents show.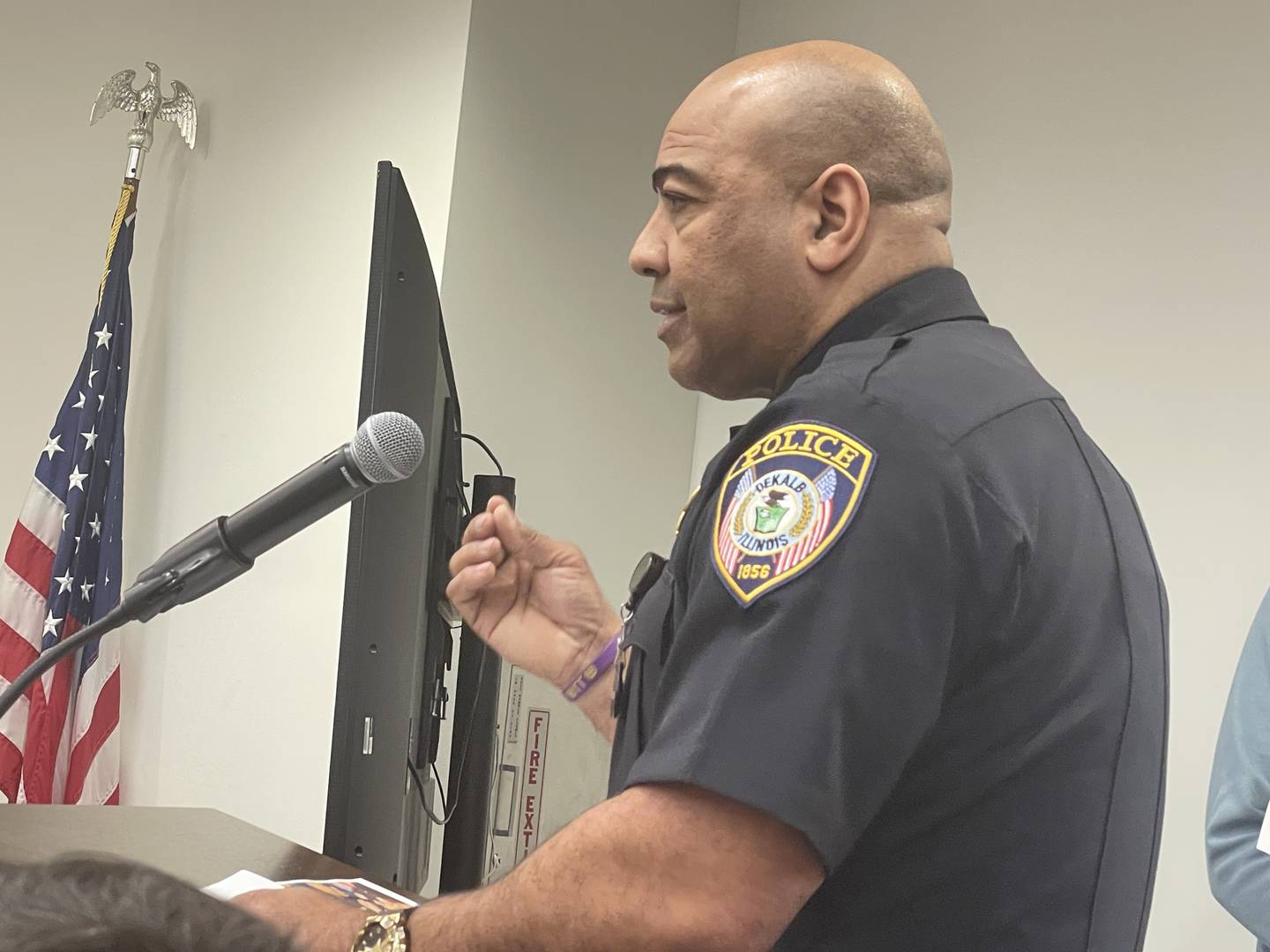 City staff said the code changes are meant to address "aggressive and threatening behavior" reported within the past week, and the responsibility of youth and their parents or guardians to "uphold the peace" in classrooms, neighborhoods and other areas, documents show.
DeKalb city staff argue the proposed plan gives police more tools to address behavior issues by minors aged 11 to 17 outside of schools.
Adolescent incidents
One minor teenager was stabbed in the buttocks about 7 p.m. May 10 during one of several reported youth-involved incidents, DeKalb Police Chief David Byrd said.
Byrd said the boy suffered injuries that were not life-threatening after he was stabbed at the basketball courts at University Village rental community. Another teenager was arrested and faces juvenile criminal charges in the incident, Byrd said. The teenager is in custody at River Valley Juvenile Detention Center in Joliet. No other charges or arrests to minors or adults were made.
Byrd said authorities believe some DeKalb High School students were involved in a conflict in school May 10 that prompted further conflict in the streets. Byrd said a "mob" of about 50 high school-aged youth and some parents gathered at one point, fighting among each other, jumping on police officers attempting to break up the fights and tried to punch police.
"The biggest problem is conflict resolution and the lack of it," Byrd said Thursday. "[...] Parents need to be held accountable for their children and their actions and any damage that their children may cause. We have to inconvenience the parents if they're not going to discipline their children. Parental control is paramount and there's a lack of parental control."
According to city documents, fighting at DeKalb High School carried into the Annie Glidden North neighborhood and yards of homes on Russell Road before circulating around Kimberly, West Hillcrest and Pappas drives and North Annie Glidden Road. The crowd of more than 50 grew concentrated in the 700 block of North Annie Glidden, city staff wrote. Another fight incident was reported at the DeKalb Park District's Haish Gym, 303 S. Ninth St.
Law enforcement from the Sycamore Police Department, the DeKalb County Sheriff's Office and Illinois State Police also responded to the incidents, according to the city.
Barnes said it was an especially trying week for first responders in the community amid multiple homicide investigations. Additional youth misconduct was reported May 11 and 12, including youth allegedly running in and out of downtown DeKalb businesses. DeKalb District 428 schools were not in session Friday.
"The restraint of the law enforcement officers was noteworthy; the irresponsible and belligerent behavior of those juveniles who continued to roam and fight was very worrisome. In one stunning instance, the parent of a participating juvenile drove groups of juveniles from one location to another to ease their travel," city staff wrote.
The youth unrest came just days after the brutal killing of DeKalb High School freshman Gracie Sasso-Cleveland, 15, found dead by police in a dumpster May 7, and one day before a fatal stabbing May 11 where a Class of 2022 DeKalb High School graduate, Marlon King Jr., 19, was killed.
Timothy M. Doll, 29, a registered sex offender of the 500 block of College Avenue in DeKalb, faces first-degree murder charges in Sasso-Cleveland's May 4 death. Jayden C. Hernandez, 19, of the 500 block of Russell Road and Carreon S. Scott, 20, of the 800 block of West Taylor Street in DeKalb, both face first-degree murder charges in King's death.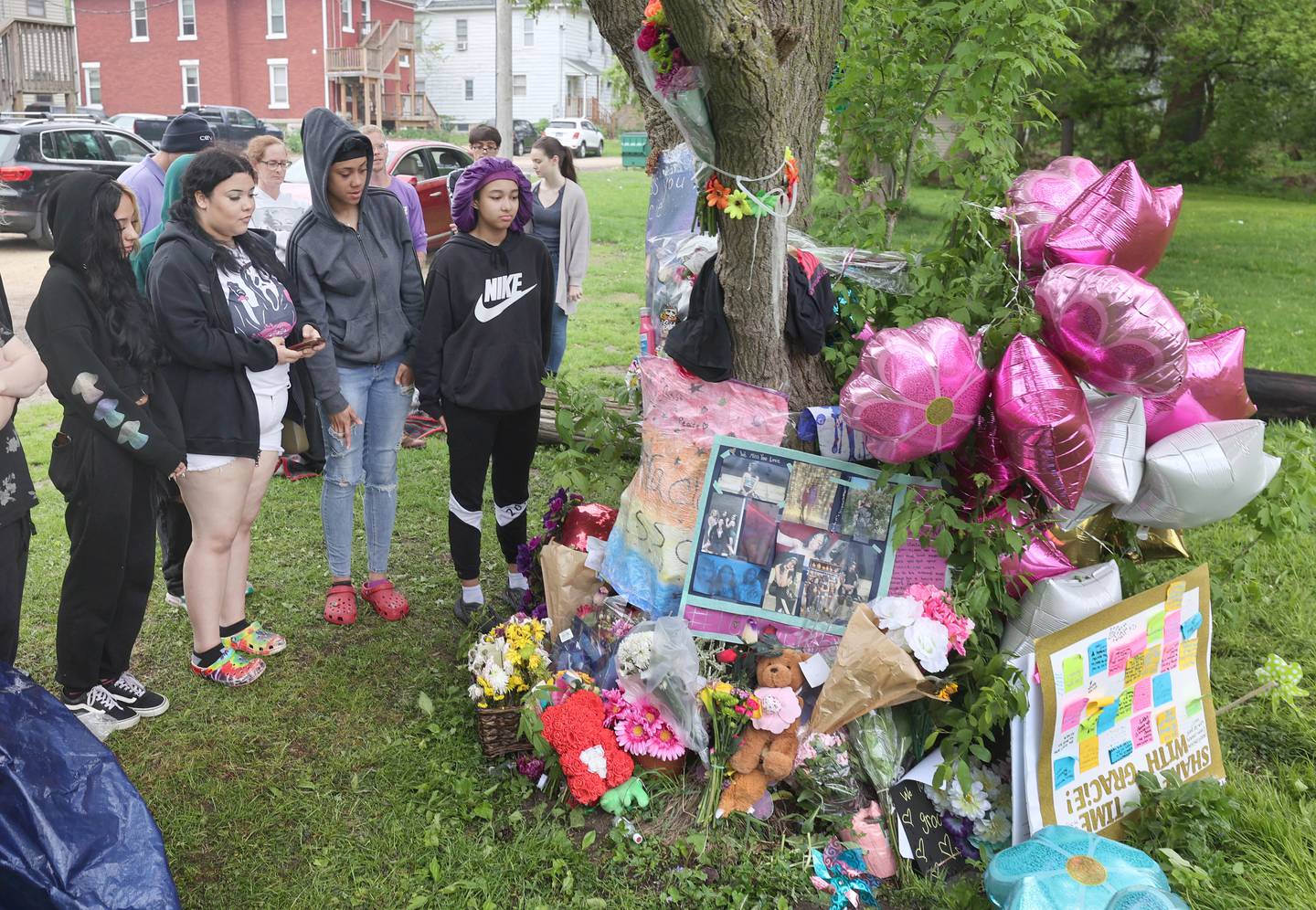 In DeKalb's 1st Ward, where much of the youth incidents were reported, Alderwoman Carolyn Morris said the past week's chaos was "very scary," especially as a mother of high schoolers. It prompted her to keep her three DHS students at home a week ago. She said that compounded with the homicide investigations left her unsettled for area youth.
Morris said Thursday she spoke with three DHS parents in the days since who've expressed concerns and thoughts of moving out of the community.
"The key thing is the safety of our kids is everything," Morris said. "When we've got parents ready to leave the community because they feel unsafe, like it is all about the safety of our children. If our children aren't safe, we have no life, period."
Morris said she also plans to vote in support of the proposed amendments Monday to include additional fines for parents who's children are found as having violated city code. She said she's spent time thinking of proposed solutions, such as advocating for mandatory after-school activities to be a high school graduation requirement or helping ensure adolescents find summer jobs or community activities for elementary school-aged youth to ensure they keep busy from an early age.
She said plans to help develop the Annie Glidden North Neighborhood would address high-density housing, which she said she believes could aid behavior trends.
"I think having mixed-income housing really helps diversify your community by socioeconomic status, and that's really important," Morris said. "And we've got a high-density local socioeconomic area and I think that's harmful to all the things. That's part of what we're trying to do with redeveloping ... that the [Annie Glidden North] plan emphasizes, we don't want more high-density housing there."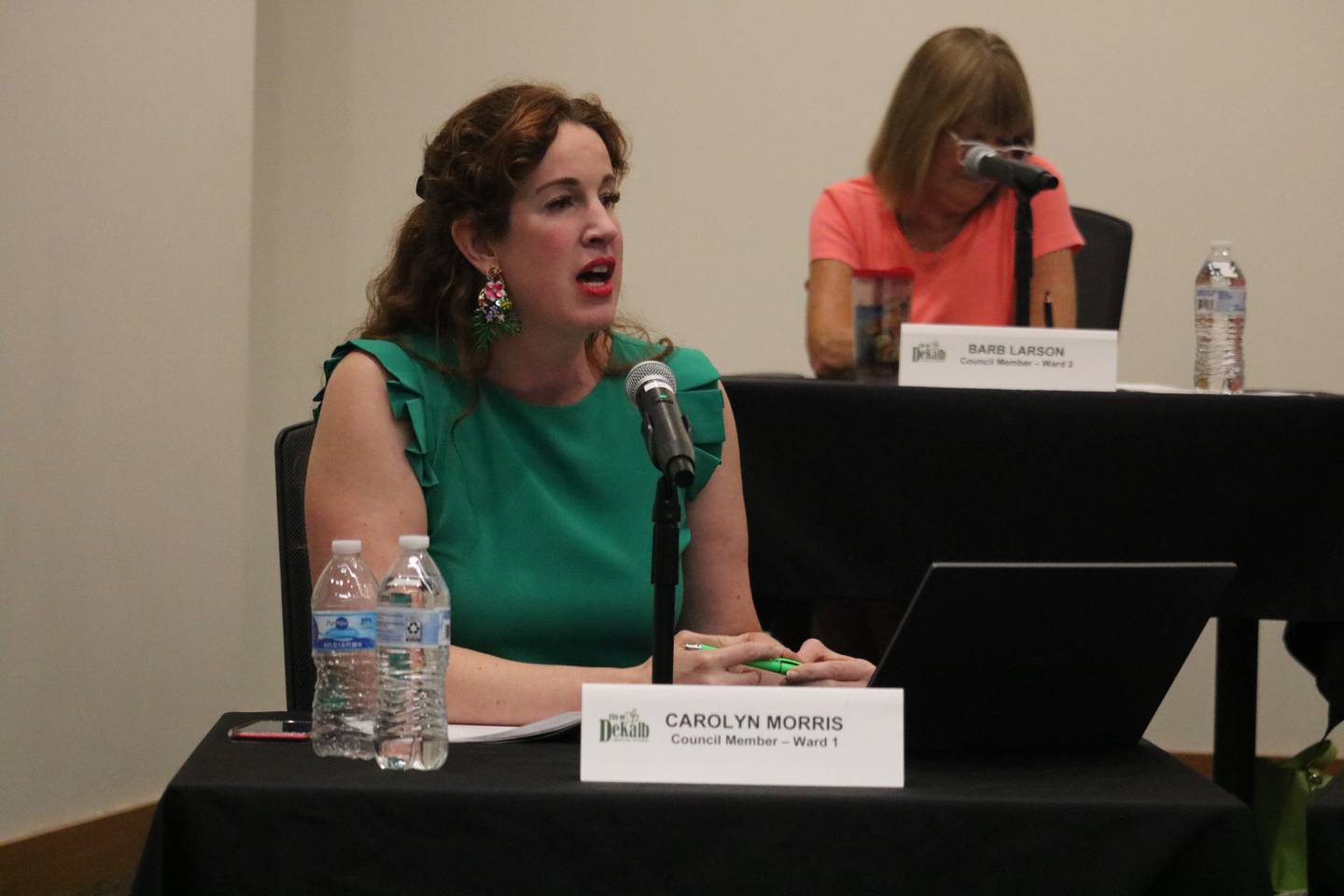 'We need you all to help us raise our kids'
DeKalb High School Principal Donna Larson told the Daily Chronicle last week that two fights prompted increased police presence through the week's end. She dispelled what she called rumors that reported weapons in school, which she said district officials found to be unsubstantiated.
District 428 officials said the week was a struggle for their students and staff, as well, as the Barbs' high school community mourned the death of two of their own.
"For anybody that knows them, that is family to them, it's hard for them but it's also hard for us to know that we've lost young people to violence," Superintendent Minerva Garcia-Sanchez said during Tuesday's school board meeting. "[...] I get that we're grieving and people grieve in different kinds of way. But I want to remind everyone that your action or lack of action says a lot about who you are. Please keep in mind that your words can be either really helpful or they can be hurtful. We want you to be the strongest that you can be."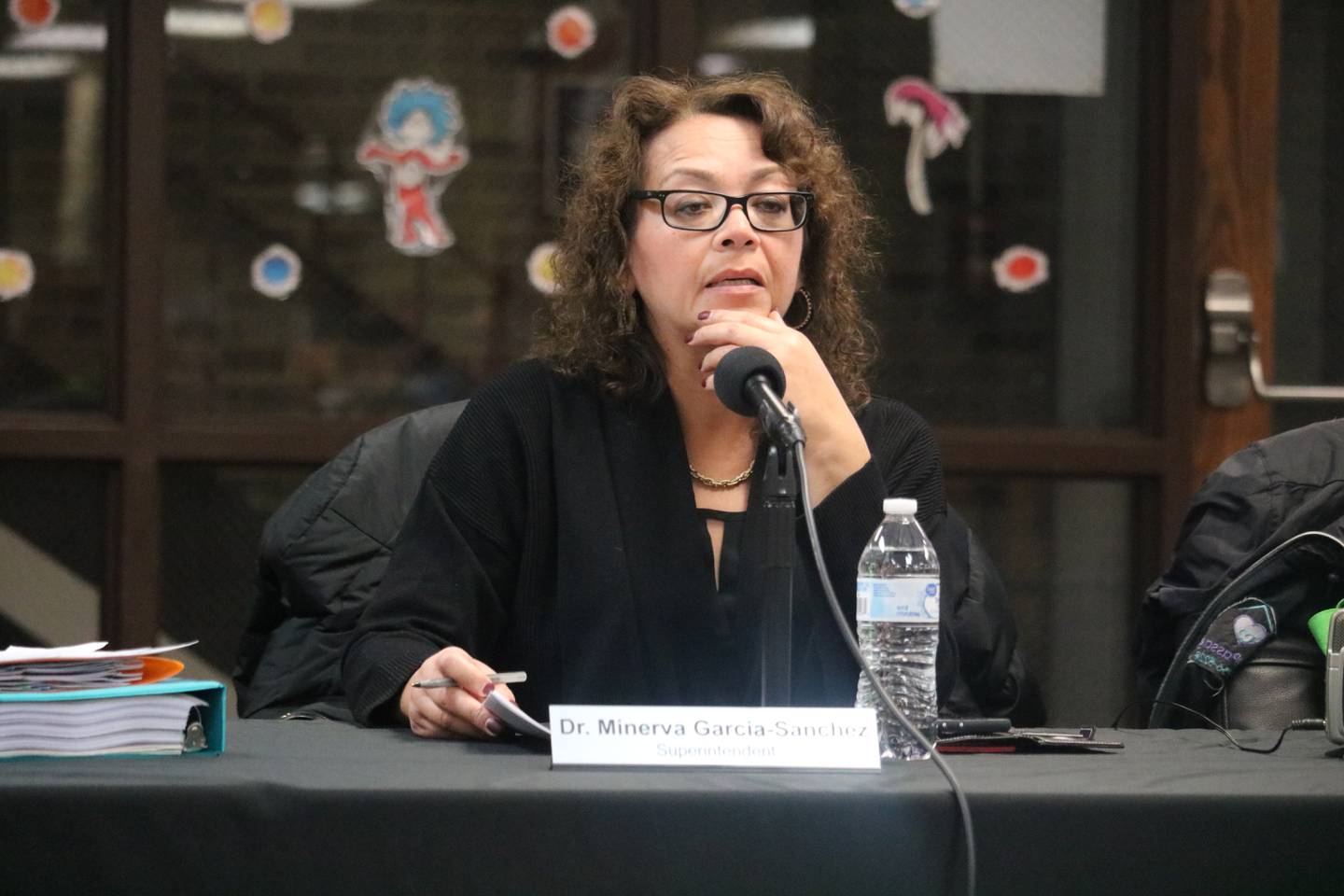 Garcia-Sanchez said she understands conversations with schoolchildren about misconduct or processing feelings can be difficult, but she believes they're vital to addressing outstanding issues.
"Our … kids feel like they belong to us when we do push them, when we ask them questions, when we ask them what they're thinking," Garcia-Sanchez said. "If we leave them alone, they think that we don't care. And that's not true. We care so much."
DeKalb city leaders echoed similar statements Thursday about the need for a cooperative approach to youth misconduct, and also success, calling on parents, mentors, community leaders and others to do their part.
"We need everyone, every single body to help us to do that," Garcia-Sanchez said. "This is not just schools alone. This is not just the parents alone. This is not just the city alone. Every single body, we need you all to help us raise our kids."