The magic number is down to zero.
The St. Bede softball team has made it back to state.
St. Bede coach Shawn Sons got his team's attention after Monday's 6-1 supersectional win over No. 3-ranked Orangeville and flashed the girls a big zero sign.
"[The number] was five. We're down to zero. We got to where we want to be," he said.
But the Bruins coach knows it's time for a reset. Their mission is not complete.
"It's a new season," Sons said. "The first postseason, it was five games. This is the second postseason. Two games to get that No. 1 trophy, and that's where we want to be."
The road won't get any easier for the No. 13-ranked Bruins (26-7) with No. 12 Goreville (25-13) lying ahead in the Class 1A semifinals. The Blackcats upset No. 1 Casey-Westfield 5-1 to win Monday's Johnston City Supersectional.
Game time is 10 a.m. Friday at the Louisville Slugger Complex, located at 8400 N. Orange Prairie Road in Peoria.
"I like our chances. I think we can play with anybody," Sons said. "We're looking forward to it. We're going to enjoy [the supersectional win] right now. Going to have a little pizza tonight. Ask the girls if they want to get back after it [Tuesday] or take a rest day. Then bang, bang, we'll have a couple practices in a row. We'll try to get some stats on them and come up with a game plan and head to Peoria."
"I like our chances. I think we can play with anybody."

—  St. Bede coach Shawn Sons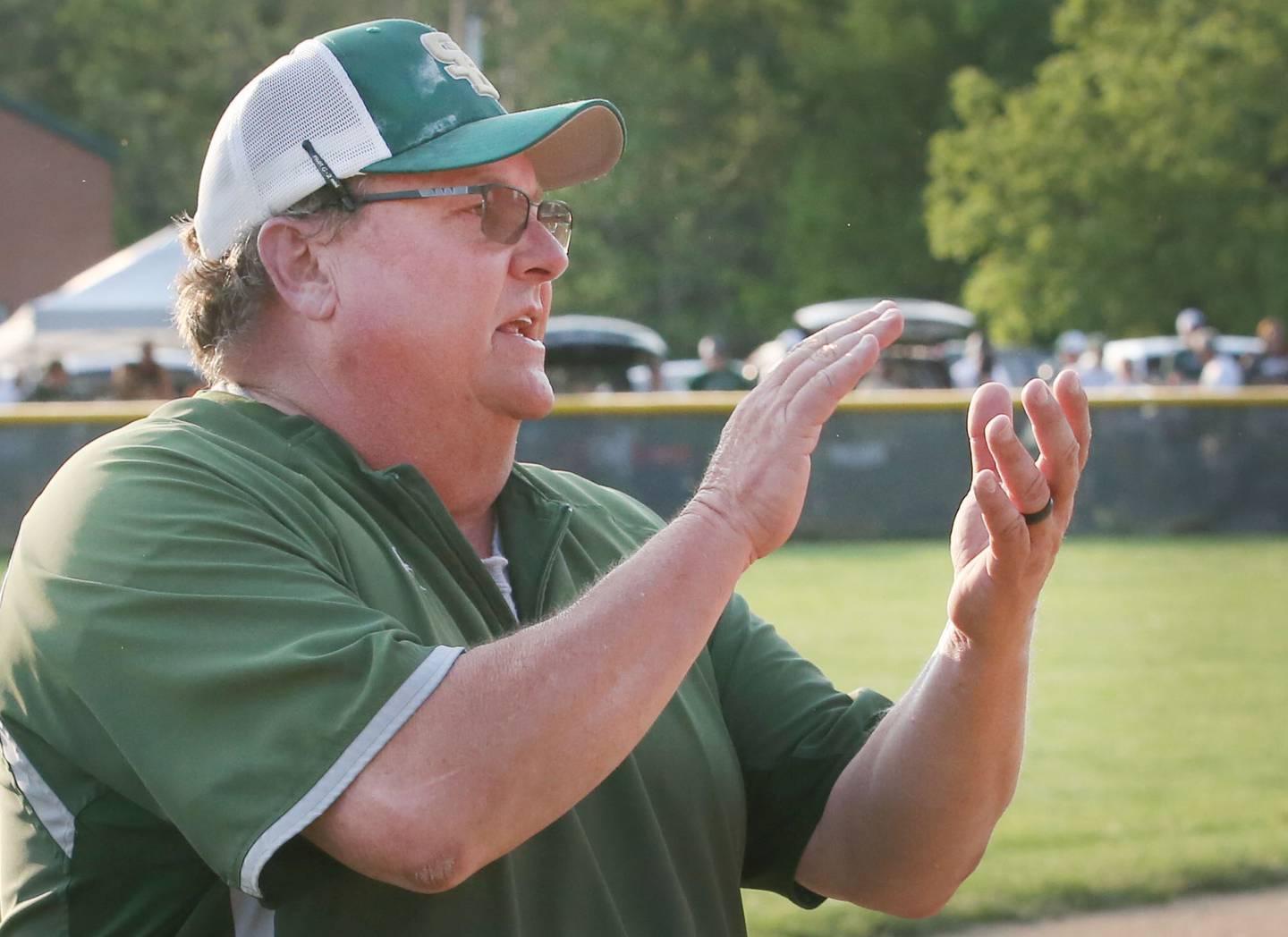 The Bruins have a well-rounded lineup with speed and power. Junior Reagan Stoudt leads the Bruins at the plate, carrying a .516 average with six homers and 36 RBIs. Addie Bontz (.333, 12 SBs) gets things going at the top of the lineup with contributions from Ella Hermes (.412, 1 HR, 24 RBIs), Madelyn Torrance (.383, 1 HR, 14 RBIs), Bella Pinter (.308, 2 HR, 20 RBIs), Tessa Dugosh (.321, 2 HRs, 13 RBIs) and freshmen Emma Slingsby (.423, 1 HR, 12 SBs) and Lily Bosnich (.395, 2 HRs, 10 SBs).
St. Bede lost the big bat of clean-up hitter Maddy Dalton (.349, 2 HRs, 26 RBIs) to a shoulder injury at the sectional. She played the field at first base Monday. Senior reserve Abby Michaels filled in nicely with two hits in the supersectional victory.
Stoudt and Hermes not only pitched the Bruins to postseason victories, but each homered in games they toed the rubber.
Goreville was at state with St. Bede in 2019, defeating Illini Bluffs 4-2 for the state title. Illini Bluffs beat St. Bede 5-1 in the semifinals.
Goreville doesn't quite have the power (13 homers) of St. Bede, but is near equal in speed with 69 stolen bases, including five players in double figures. Leading hitters are junior Kyndall Webb (.491, 4 HR, 40 RBIs) and Abby Compton (.383, 7 HRs, 32 RBIs). Ace pitcher Reese Ray (21-9, 1.60 ERA, 237 K) chips in with a .360 average.
Goreville outscored its regional foes 26-1 over two games and won a pair of one-run games at the Elkville Sectional, defeating Waltonville 3-2 and Camphill Trico 4-3.
No. 4-ranked Illini Bluffs (24-5), the two-time defending state champion, is back and facing No. 8 LeRoy (31-6) in the second semifinal at 12:30 p.m. Both were winners in eight innings Monday with Illini Bluffs edging Carrollton 3-2 at the Athens Supersectional and LeRoy knocking off Marquette 2-1 at Bloomington.
St. Bede's path to Peoria had familiar turns with repeat sectional games with Ridgewood (6-1) and West Central (3-1), avenging last year's sectional title loss to West Central.
Leaving an impression: This year's St. Bede players were in middle school when the Bruins last made state in 2019, placing third. That team left a lasting impression on the current crop of Bruins.
"I just remember going to the game and watching Abbie May throw and saying, "I want to be her," Stoudt said.
Stoudt did a pretty good impression Monday, pitching the Bruins to the supersectional victory, striking out eight and allowing five hits.
Her battery mate, catcher Bella Pinter, is awed to have the former Bruins watch them play this season.
"When they went to state last time, Ryann Stoudt, Claire Morrow, all those girls. I used to look up to them so much. To play with all them watching, I'm just so excited. It's super fun," she said.
Sisters act: Reagan Stoudt teamed up with her sister, Ryann, on last year's St. Bede softball team that came up short on its mission to state, falling in the sectional final to West Central.
When told her sister said she would like to be playing this year, Reagan joked that "She had her chance."
A look at St. Bede State Tournament appearances:
2013 (2A)
Lost to Tremont, 6-3
Lost to Nashville, 1-0, placed fourth
2019 (1A)
Lost to Illini Bluffs, 5-1
Beat Hardin Calhoun, 2-0, placed third
Bruins beat Orangeville for supersectional crown
Ella Hermes, St. Bede gets revenge on Biggsville for sectional title