PERU – St. Bede coach Shawn Sons broke the Bruins' postgame huddle holding up two fingers Tuesday at Abbot Davey Softball Field.
"That's two ladies, two to go," he said.
That's how many wins the Bruins need to get back to state after Tuesday's 6-1 win over Ridgewood in the Class 2A St. Bede Sectional semifinal.
"I told them when we started postseason it's five to get where we want to be. We're down to two to get there," Sons said of the Bruins' quest to return to state for the first time since placing third in 2019.
"I told them when we started postseason, it's five to get where we want to be. We're down to two to get there,"

—  Shawn Sons, St. Bede coach
Junior pitcher Ella Hermes had a two-run triple in the fifth inning, and the Bruins utilized some small ball for four runs in the sixth to cruise into Friday's championship game.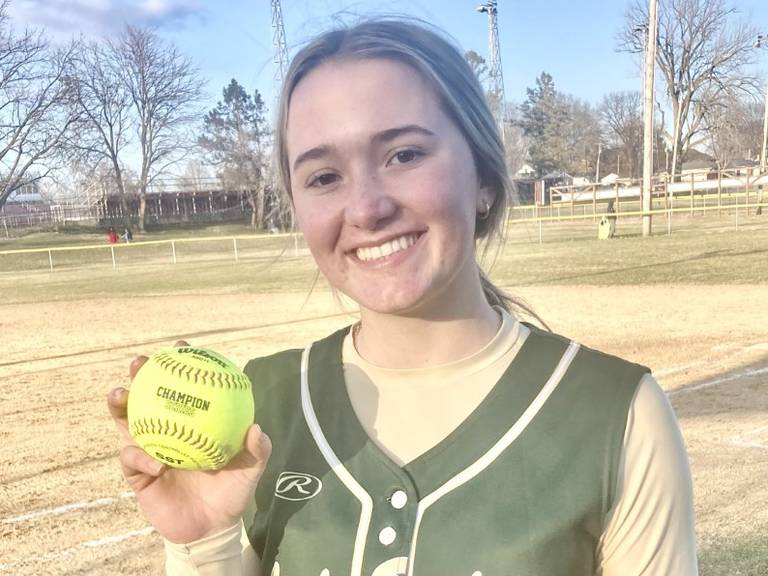 They will face the winner of Wednesday's semifinal between Morrison (18-9) and Biggsville West Central (28-7), the defending sectional champ.
"I'm excited. We're all on very high energy and ready to win," Hermes said.
"We'll see (who it is). We're going to scout them tomorrow and see what they bring to the table," Sons said. "We had a good scouting report on these guys (Ridgewood) and the girls and coaches executed to perfection."
Hermes is the lone player in the Bruins' starting lineup who has yet to homer this seasons. It looked like she dialed one up with two-on and two-out in the top of the fifth inning.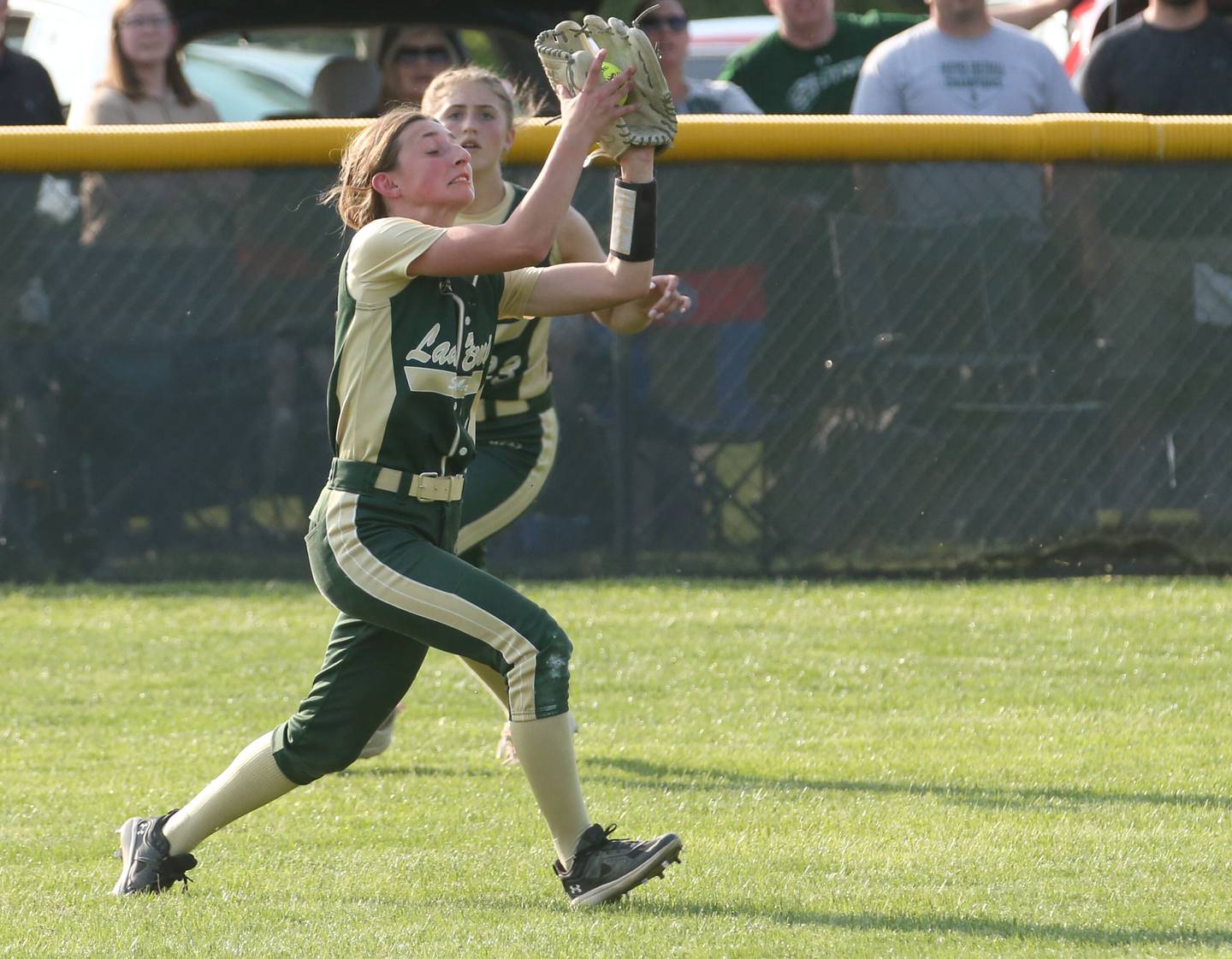 She followed a lead-off walk to freshman Lily Bosnich and a hit by pitch on Emma Slingsby with a deep drive up against the center field fence for a two-run triple to stake herself to a 2-0 lead.
"I kind of hit it wrong and didn't think it was going out, so I was running, because there were two outs. We needed that," Hermes said.
Sons was yelling "get out, get out" from his perch in the third base coach's box.
"Big hit. Timely hit. Two outs. Almost all our runs happened with two outs," Sons said. "Ella is the only one who hadn't hit a home run and I thought she had it. I was willing it. She's going to get one. That was huge. It opened things up."
Then it was time for a little small ball in the sixth.
Catcher Bella Pinter reached on a fielder's choice for the second out of the inning. She gave way to sophomore courtesy runner Bailey Engels, a midseason call-up to uitilize her speed. She stole second and third and scored on a two-strike squeeze bunt by Bosnich to make it 3-1.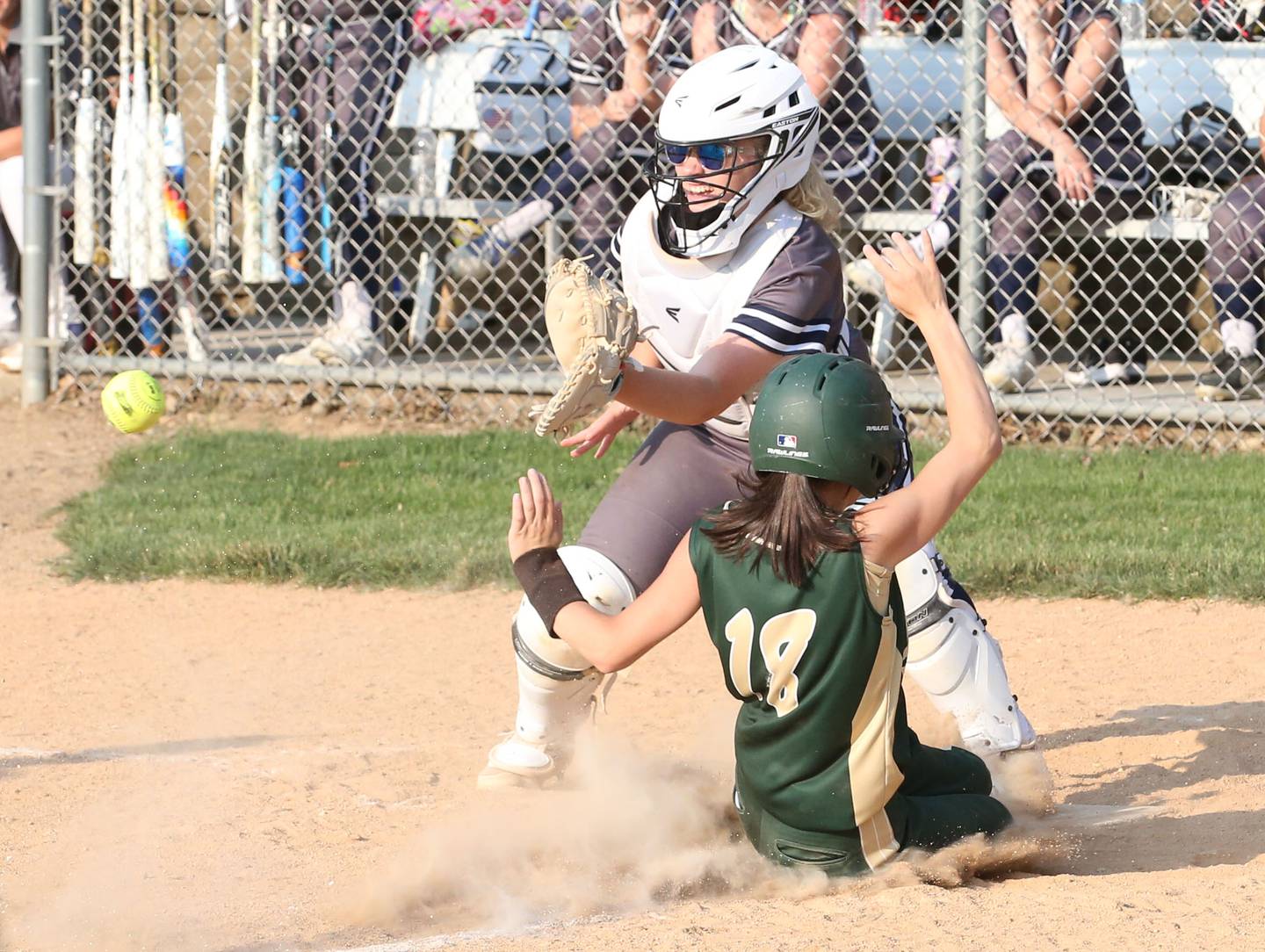 Emma Slingsby beat out a bunt single and when the catcher's throw sailed past first base, Bosnich, who had stole second and third, scored to make it 4-1.
"We've been working on that. We need the small ball game," Hermes said. "Oh my gosh, Bailey's so fast. Having her and Lily, it's like they're unstoppable."
"We know we're going to need (small ball) the further we go," St. Bede junior third baseman/pitcher Reagan Stoudt said.
Sons said it's just a matter of doing what ever you can to get some runs home.
"You look at your lineup. 'Are we hitting the ball hard? Are we putting the ball in play?' And if we're not, then we've got to make some kind of adjustments," he said. "We had speed at the bottom of the lineup. We've got speed at the top of the lineup, so we wanted to go to the small ball. Obviously, it paid off and put a lot of pressure on them.
"The suicide squeeze, I knew nobody would be expecting it with two strikes. They made a mistake (throwing error) to get us another run. It was executed perfectly by both players. Lily at the plate with two strikes and Bailey Engels took off like shot, slid in perfect."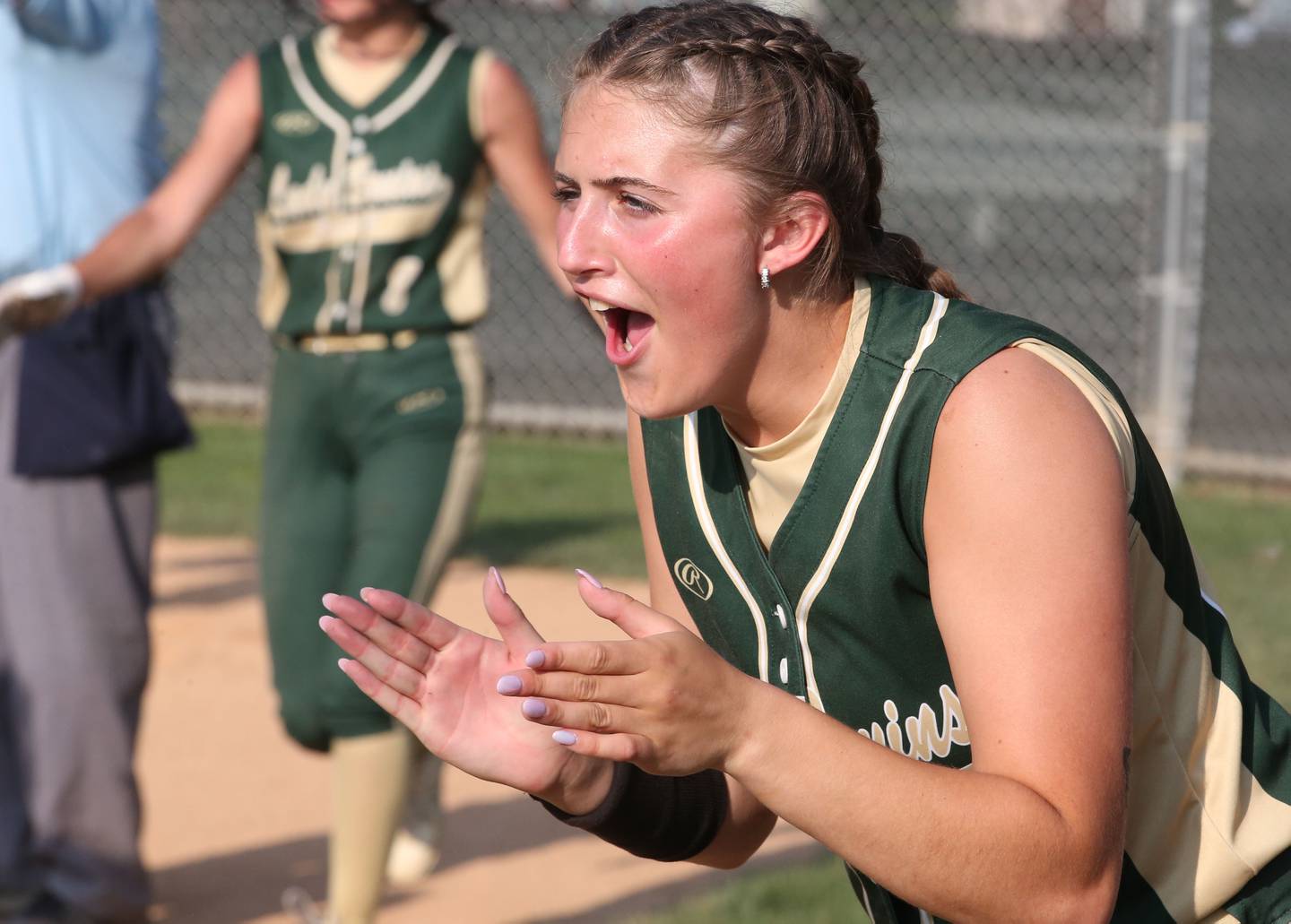 Ava Balestri reached on a dropped third strike and Slingsby scored to make it 5-1.
Maddy Dalton singled in another run after Hermes was intentionally walked and Addie Bontz was thrown out at the plate to end the inning, but the Bruins now led 6-1.
Hermes pitched out of a two-out, two-on jam in the sixth and left a runner stranded in the seventh, striking out Ridgewood's Claire Franks looking to send the Bruins dancing off the field on to the championship game.
Hermes, who let St. Bede (24-7) at the plate with two hits and two RBIs, struck out 11 and allowed just three hits and two walks to gain the win in the circle.
"She was on. There was no doubt about that. She was just throwing it past them. The defense was working. She was great," Stoudt said of Hermes, her pitching partner in crime.
The first ever sectional game at the Academy brought out a large crowd circling the field Tuesday, started off by the field's namesake and former longtime Bruins softball coach, Abbot Phillip Davey, throwing out the first pitch.
"We never had a crowd at St. Bede like this until we got to state. Shows how special this team is," Sons said.
"The vibes tonight were electric tonight," Stoudt said.