Kathryn Meyer of Orland Park came to the Abraham Lincoln National Cemetery on Memorial Day for three reasons.
Meyer said she wanted to see the cemetery, honor veterans and support Nick Thomas, director of the concert chorale at Moraine Valley Community College, of which Meyer was a member.
Thomas served as Master of Ceremonies at the 24th Annual Memorial Day Ceremony on Monday.
Eileen Sullivan, Meyer's sister, also was visiting Abraham Lincoln cemetery for the first time.
"It's nice to honor the veterans," Sullivan said.
"Today we handed out over 500 flags to promote patriotism and encourage patriotism and – more than anything – give them an opportunity to feel patriotism."

—  Cyndi Valencia, volunteer, Abraham Lincoln National Cemetery
Hundreds, if not thousands, of people came out to the national cemetery in Elwood on a hot and sunny Monday to pay tribute to the men and women who died in the service of their country.
Thomas opened the ceremony by saying, "Americans have been putting their lives on the line even before our nation was started."
Antonio Henderson, assistant director of Abraham Lincoln National Cemetery, said cemetery team members strive every day to give the men and women who served the respect and dignity they deserve.
"Every day is like Memorial Day here," Henderson said.
During the invocation, Dennis Mitzner asked God to remember the loved ones fallen veterans left behind.
"We pray that Your peace and strength will fill their lives." Mitzner said.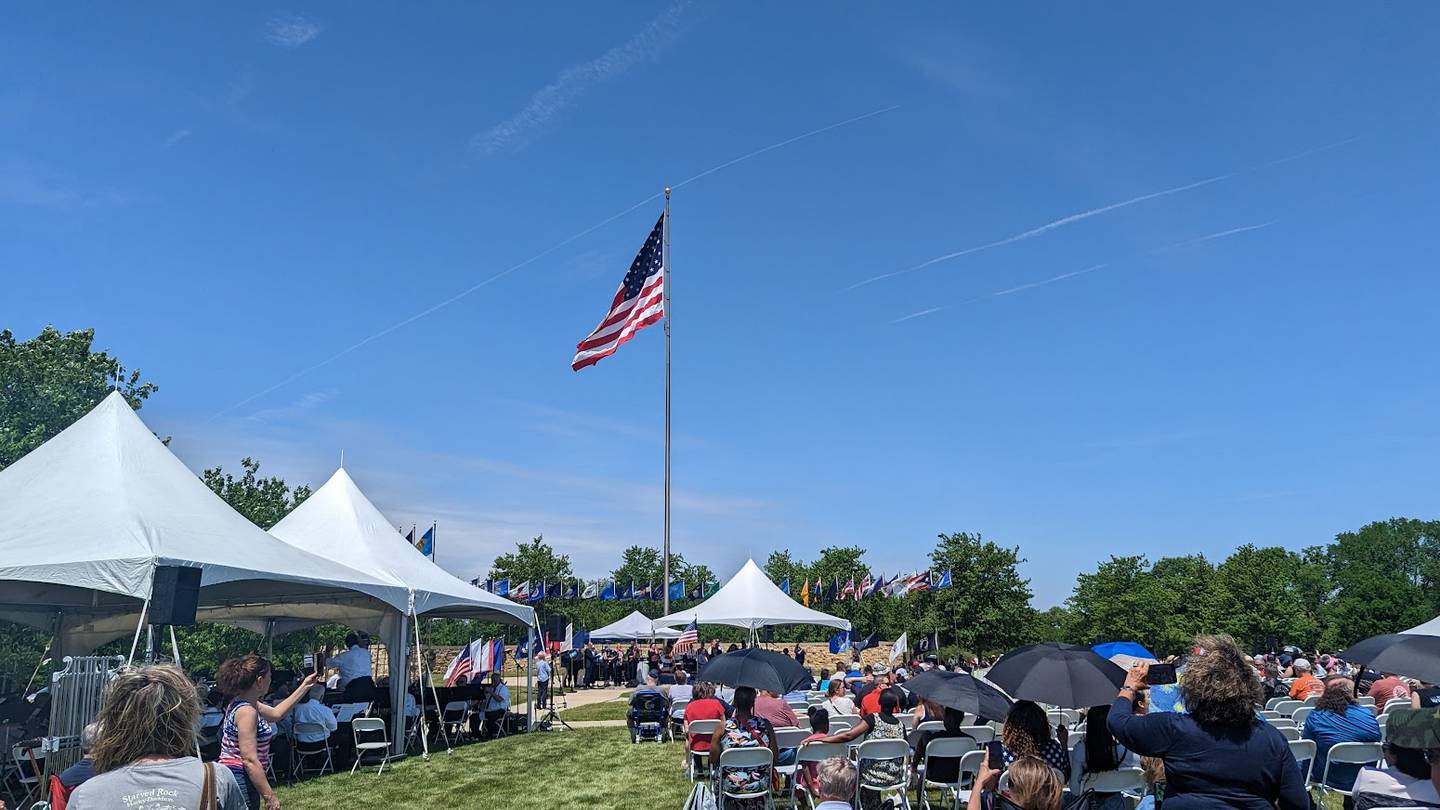 Carrie LeGarde, a representative from the Defense POW/MIA Accounting Agency, spoke about the agencies work to account for missing servicemen and women, "a task that is both daunting and critical," LeGarde said.
LeGarde said more 81,000 U.S. citizens are missing going back as far as World War II and that "loved ones are waiting for an answer." Providing that accounting doesn't necessarily give families closure, but it does "provide closure in their family history or story," she said.
"I could not be more proud of that noble mission," LeGarde said.
Tom Banning, Illinois Assistant Attorney General and the Attorney General's Military and Veterans Rights Bureau Chief, said participating in events such as Monday's Memorial Day ceremony helps with the healing because "when you come back, you never completely heal; you never completely recover."
But seeing veterans and civilians in the audience pushes him toward that healing, and he's thankful for that, Banning said.
CPO Robert J. Welch USN retired, the VFW state historian for the Department of Illinois, gave the Memorial Day address.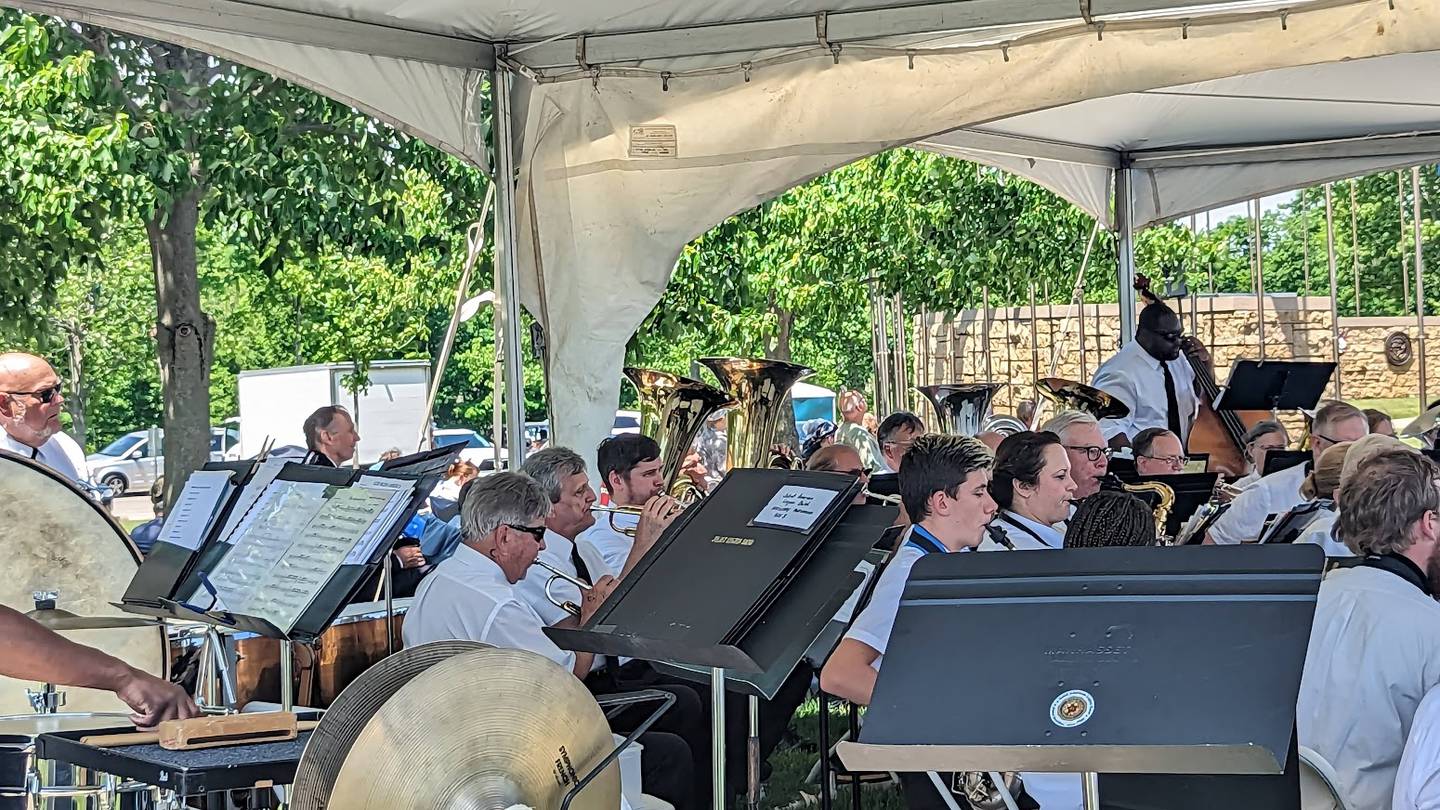 The memorial included music by the award-winning Joliet American Legion Band, speeches from re-enactors Max Daniels and Mary Daniels portraying Abraham Lincoln and Mary Todd Lincoln, and the raising of the American flag.
Pilot Tom Buck flew a World War II-era airplane above the audience with a 102-year-old World War II veteran serving as co-pilot.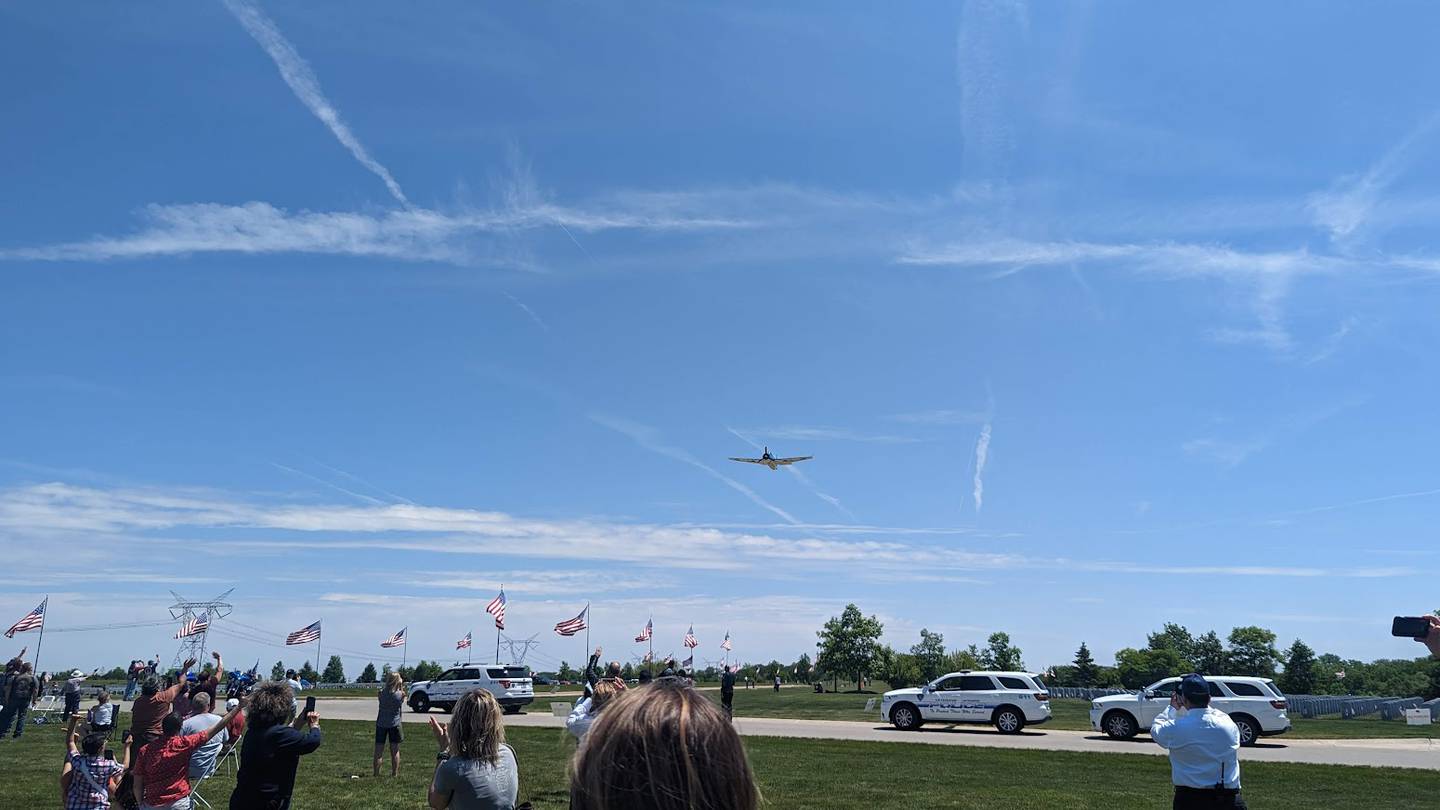 The John Whiteside Ceremonial Color Guard advanced and retired the colors.
Cyndi Valencia, along with cemetery staff and volunteers, distributed programs and informational brochures on burial and memorial at national cemeteries to attendees.
Valencia said she's volunteered at Abraham Lincoln National Cemetery for 15 years as "part of her patriotic duty." Her father, father-in-law and two brothers all are veterans, she said.
In addition, Valencia volunteers with Wreaths Across America, which places memorial wreaths on graves, and she is part of the Louis Joliet Chapter of the Daughters of the American Revolution.
But it wasn't just information cemetery staff and volunteers provided.
"Today we handed out over 500 flags to promote patriotism and encourage patriotism and – more than anything – give them an opportunity to feel patriotism, Valencia said.