Coach: Alex Beckmann (seventh season)
Last season's record: 17-12-1
Top returning players: Jackson Bland, sr., INF/P; Joe Kleist, sr., P; Henry Saul, sr., C; Jack Watson, sr., P
Top new players: Ryan Boe, jr., OF/INF; Nate Nazos, jr., OF/INF; Ryne Woods, jr., UTIL
Worth noting: Saul and Bland, both North Central College commits, will highlight Batavia's offense. Saul, a .337 hitter last year, figures to bring plenty of pop. Pitching could be another strength for the Bulldogs. Kleist, who had 41 innings pitched and a 3.55 ERA, will lead the rotation. Watson, who was injured for most of last season, also is back. "We're hoping for a bounce back year from senior Jack Watson (Northwest Florida State commit) and another strong year from senior pitcher Joe Kleist," Beckmann said. "Newcomers Ryne Woods and Matthew Reksnis will play a part in our success as well as increased roles for juniors Jacob Aseltine, Nate Nazos and Ryan Boe."
Coach: Kyle Nelson (18th season)
Last season's record: 14-17
Top returning players: Brady Gilroy, jr., OF/P; Michael Person, jr., SS/P; Chase Powrozek, so., P/OF
Top new player: Elliot Alecia, jr., OF/RHP
Worth noting: Person and Powrozek are the only two returning starting pitchers with considerable varsity experience, so how the rotation settles in will be key for the team moving forward. AJ Payton, Allecia, Gilroy, Cam Sarallo and Matt Kowalik all will be leaned on at times to lead the team. Gilroy (.400 batting average, 10 doubles) and Person (5-2, 41 innings, 48 strikeouts) are the Rockets' top players. "We return six part-time or full-time starters on the field from last year, including three juniors who have two previous seasons of varsity experience and two sophomores who have one year of varsity experience," Nelson said.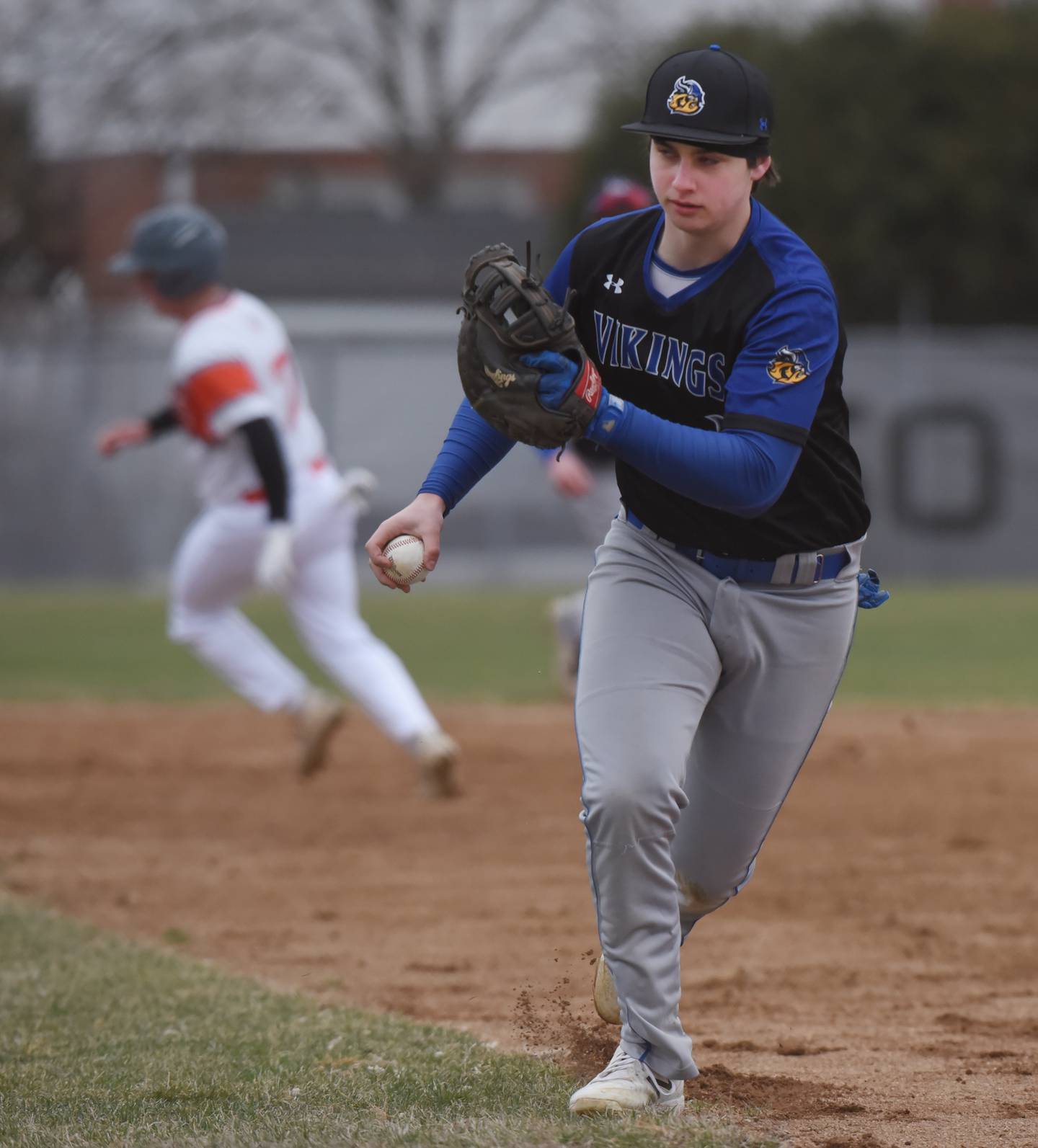 Coach: Brad Wendell (seventh season)
Last season's record: 19-10
Top returning players: Bryce Breon, jr., P/1B; Jackson Dibble, sr., OF; Tommy Maynard, sr., 1B/C; Nate Stempowski, jr., SS
Top new players: Joey Cosentino, jr., P/OF; Chase Sorrentino, jr., INF/P; Kollin Mickelsen, jr., OF
Worth noting: Geneva has work to do to replace the graduated production from last year's rotation. Daniel Alworth and Daniel Strohm pitched almost 80 innings last year, and Breon is the only returner with varsity innings last season, throwing 28.2. The Vikings also lost a bit of pop with Blake Stempowski and Owen Anderson graduating, but Nate Stempowski, Dibble and Maynard are back. Jack Brault projects into a starting outfield spot alongside Dibble. "[In the pitching rotation], seniors Robert Phillippe, AJ Dietrich, and Tyler Binzen will have to become big contributors for us to be successful," Wendell said. "We feel good about our defense. Bats should be solid with a lineup led by [our Nos. 1, 2 and 4] hitters from the 2022 lineup [back]."
Coach: Brian Aversa
Last season's record: 24-9
Top returning players: Anthony Campise, jr., OF; Patrick Collins, sr., C/1B; Gabe Gooch, sr., 1B/P; Collin Miller, sr., 3B/P; Alex Panico, sr., OF; Johnny Spallasso, sr., SS/P; Parker Violett, jr., OF/1B/P; Luke Wituk, sr., P
Top new players: Matthew Brunscheen, jr., INF/P; Zach Konrad, jr., C/INF/DH; Jackson Kottmeyer, jr., P
Worth noting: The Knights lost some key contributors from last season but still return a majority of their starters, including at least five players who will toe the rubber. "We have a lot of experience coming back and players that are battle tested and have taken the next step toward their preparation in achieving their goals," Aversa said. A difficult nonconference schedule looms for the Knights, which will help prepare them for the conference season and postseason.
– Chris Walker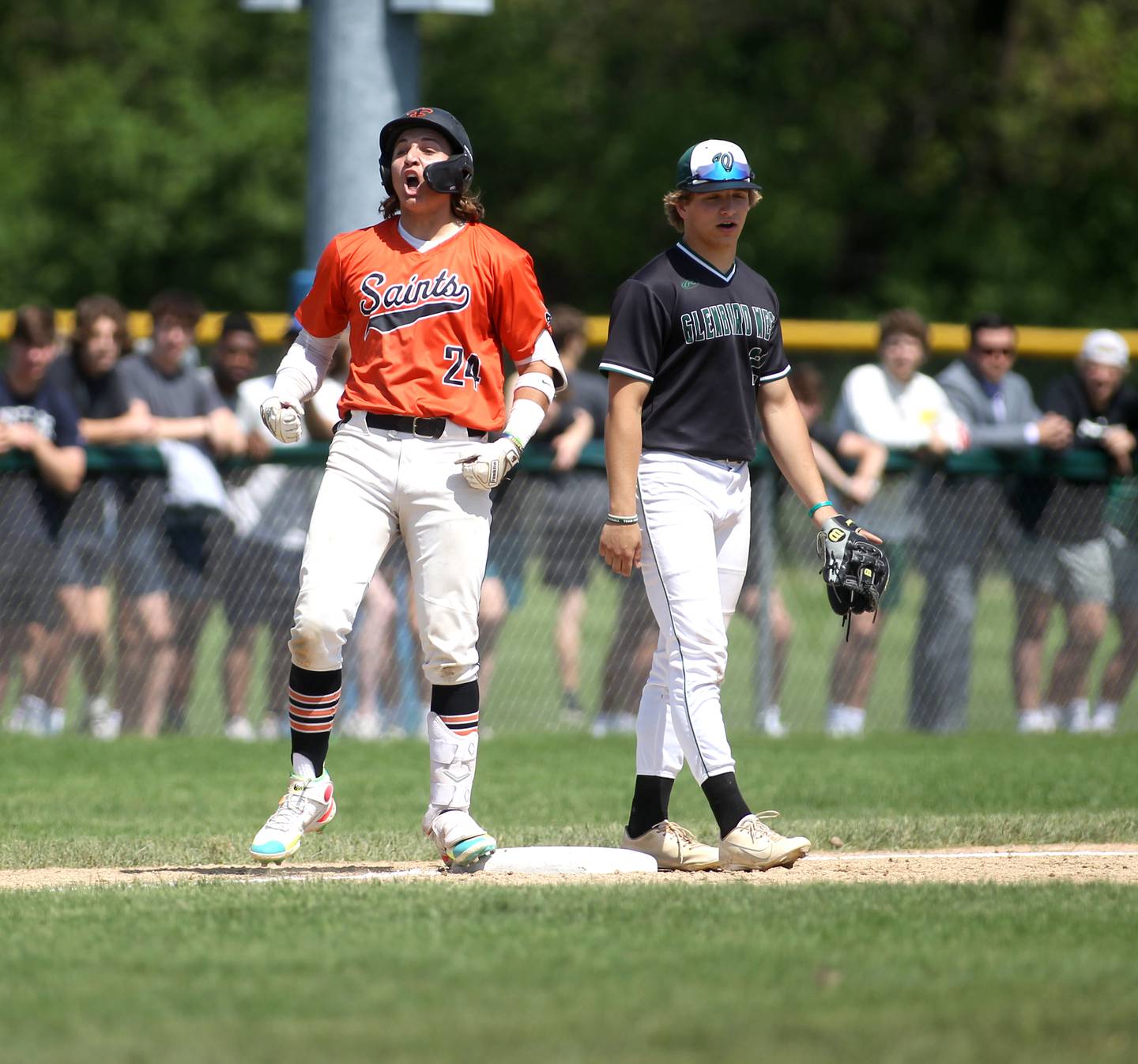 Coach: Len Asquini (14th season)
Last season's record: 21-7-1
Top returning players: James Brennan, sr., 1B/DH; Clay Jensen, sr., OF; Seth Winkler, sr., SS/P; Jake Zitella, sr., 3B
Top new players: Joe Arend, so., P/OF; Nick Miller, sr., INF
Worth noting: St. Charles East won the DuKane Conference last season and could be poised to do so again. Zitella and Winkler both return, which is huge. Winkler, the 2022 Kane County Chronicle Baseball Player of the Year, hit .422 with a .495 OBP, five home runs and 32 RBIs. On the mound, Winkler allowed eight earned runs in 46 innings with 59 strikeouts. Zitella, a three-year starter and Illinois commit, is arguably the top offensive player in the conference. Add in Brennan and another year of Jensen in center and the Saints should be cooking. "We should be solid defensively making teams earn their runs. Offensively, we should be able to produce runs with some very explosive producers in the lineup," Asquini said. "Pitching, we are strong with returning Player of the Year Seth Winkler on the hill."
Coach: Todd Genke (18th season)
Last season's record: 20-14
Top returning players: Anthony Estrada, sr., P/3B; Parker Reinke, jr., O/P; Colin Ryder, jr., P/1B; Will Vaske, sr., OF
Top new players: Mike Buono, jr., C; Andrew Good, jr., P; Jaden Harmon, jr., P/OF
Worth noting: Graduating All-State catcher Jayden Lobliner is a massive loss behind the plate and defensively. The North Stars feature an intriguing starting pitching rotation, led by Estrada, who also will hit in one of the run-producing spots in the lineup. Cole Schertz and Andrew Good also will be in the mix in the rotation. The North Stars have a highly athletic outfield with Vaske, Reinke and perhaps either Harmon or Josh Caccia. "As always, our team goals are to win the rugged DuKane Conference championship, reach the 20-win threshold and be crowned regional, sectional and supersectional champs on our way to winning our first state championship," Genke said.
Coach: Tom Ciombor
Last season's record: 23-11, regional champions
Top returning players: Rocco Tenuta, sr., P/SS; Thomas Smith, sr., OF; Trey Kiesler, jr., C; Andrew Mueller, jr., IF/P
Other returning players: Joey Gainer, so., C/IF; Jacob Castaldo, OF; Zac Maslona, sr., P; Brady Piper, sr., P
Top new players: Peter Lemke, sr., P/IF; Colt Armbrust, so., P; Zac Maduzia, so., IF; Nick Sparacio, jr., IF; Dylan Ston, jr., OF; Luc Swiatek, jr., OF; Dom Beres, jr., OF
Worth noting: The Spartans, who won their second consecutive regional championship in 2022, have a deeper team than the groups the past two years that won two regional titles and a sectional championship. The core starts with Tenuta, first team All-State the past two seasons and a Hillsdale College commit who hit .425 and posted a 0.57 ERA as a junior. Smith, a two-year starter, hit .406 last year and was 26 of 28 in stolen base attempts. Other starters back are Kiesler, who hit .348 last year, and Mueller, who hit .286 and posted a 2.23 ERA. Lemke is a Marmion transfer who Ciombor said has a lot of high-level college interest. The nonconference schedule includes Nazareth, St. Viator, Naperville North, Wheaton North, Batavia and Glenbard West. "We're relying on a core group that has been the centerpieces of those seasons as well as a very talented group of sophomores and juniors that are expected to contribute immediately," Ciombor said.