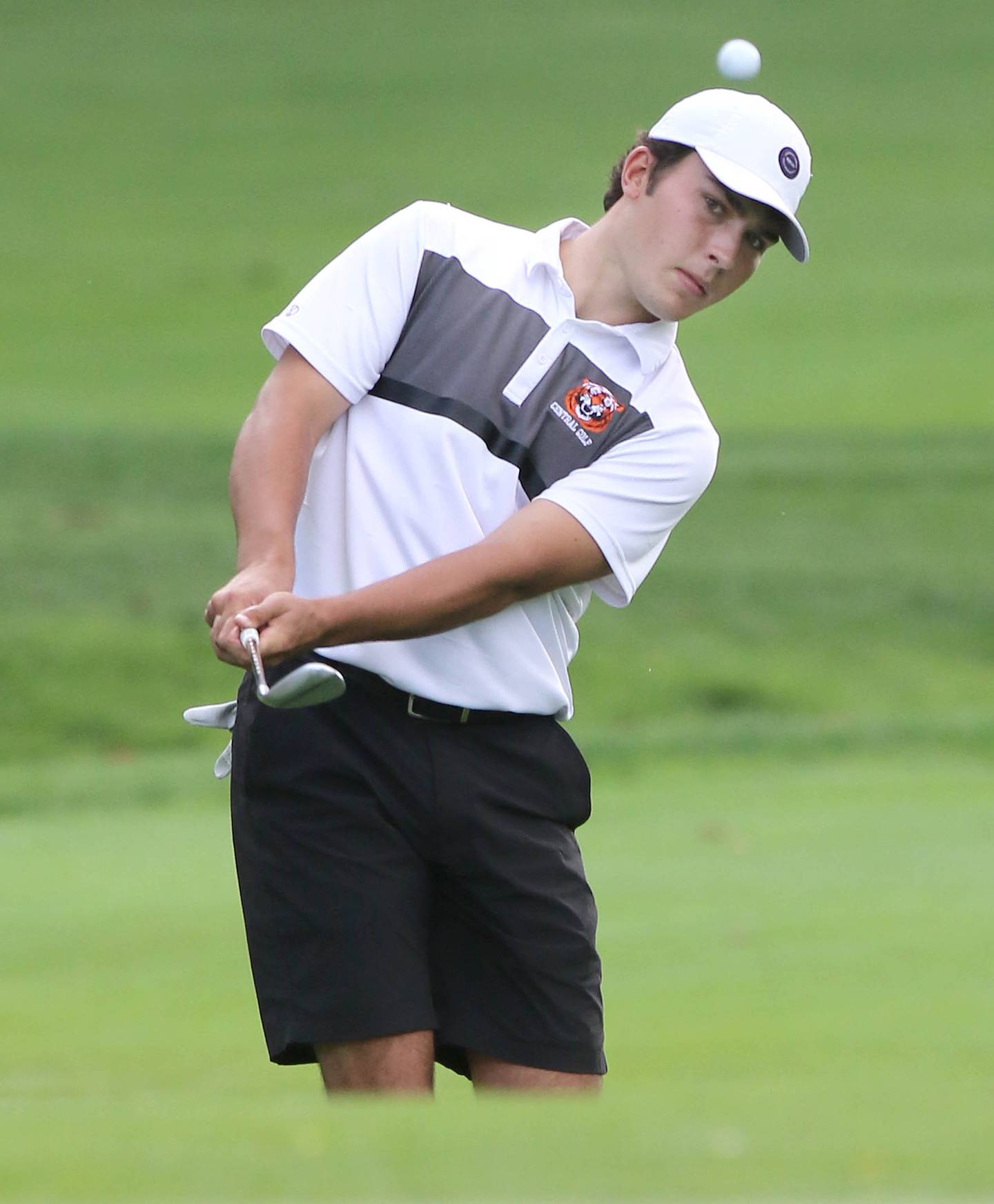 DeKALB – After shooting an 80 at the Class 2A Marengo Regional, Crystal Lake Central senior Christian Wakeford said he knew he could do better.
On Monday, at the Class 2A Sycamore Sectional at Kishwaukee Country Club, Hubacher shot a 73, finished in a tie for third with teammate Bayden Hubacher and helped the Tigers finish with a score of 307 to win the sectional.
"Honestly, I felt really confident in myself," Wakeford said. "I knew after my regional I could have shot way better, and I shot 80 at regional. Today I felt super-confident with every single stroke I took. I really wanted to get to state. I didn't want to leave out that opportunity. That was an opportunity I had to get."
[ Photos: Class 2A Sycamore Boys Golf Sectional ]
The Tigers finished their round early in the day and got to watch as Ottawa (314) and Boylan (319) finished their state-qualifying days. Kaneland and Marmion each finished fourth, two strokes back of earning a trip as a team to state, with Burlington Central in sixth, three back of the final qualifying spot. All three schools qualified individuals for state.
Boylan junior Cooper Watt shot a 71 to win the tourney, with Drake Kaufman of Ottawa second at 72. Tyson Malak of Burlington Central was fifth with a 74, and Eric Klutke of Crystal Lake Central, who won the regional last week, shot a 75 to take sixth.
Contributing to Ottawa's team score in addition to Kaufman were Jonathan Cooper (78), Seth Cooper (81) and Drake Stoudt (83). Chandler Creedon added a 90.
Wakeford said he was feeling confident from the start.
"Even off the first tee I felt really great," Wakeford said. "I birdied it, and I was like alright I'm off to a great start. I know I had a couple bogeys happened here or there, but I got myself back on track and kept myself positive throughout."
Hubacher said getting through to state as a team was a high priority for the Tigers.
"It's pretty great, man. For senior year, it's all we really wanted to do," Hubacher said.
Kaneland was poised to break through as a team, spending a good chunk of the day in second place. But the Knights ended up with a 321, just missing out.
"We were definitely in it coming into the closing holes," Kaneland coach Mark Meyer said. "That's golf. Sometimes it slips away from you."
Josh Pehl shot a 78 to finish in a tie for 10th and earn a trip as an individual. He'll be joined by Cody Ganzon, whose 79 gave him 16th place and the final qualifying spot.
Pehl qualified for state for the fourth time in his career, but said he really was hoping the Knights made it as a team.
"It's so hard. I love these guys," Pehl said. "It just saddens me. I knew we would have had a great experience downstate as a team. We had a blast this year. I wish we could have succeeded today. Sometimes it doesn't go your way, and today was one of those days."
Pehl said it was a slow start to the day, shooting 4 over through the first four holes, but he corrected it for his teammates, trying to put them in the best spot to qualify as a team.
"I think most of our guys are a little disappointed," Meyer said. "I just told them we win as a team, we lose as a team. It slipped out of our grasp this season, but we played well this season."
Marmion also finished with a 321 team score. Regan Konen was the lone qualifier with a 78. Senior Charlie Burke shot an 86 for the team, a score coach Lou Solarte said was well below his average this season.
"I thought we'd get at least two individuals in," Solarte said. "Our one-man shot a 78. Our two-man shot an 86. I mean, he hasn't done that in years. I thought those two would go out as individuals."
Solarte said the team just couldn't find a rhythm on the wet course.
Burlington Central shot a 322, with Malak's 74 and Cody Leon's 78 earning a trip to state. Coach Thomas Davies said the Rockets were aiming for a 320, figuring that would be the qualifying score.
"Once we didn't have a fourth score today you start to take what is the next best scenario," Davies said. "For us, that's just get as many kids out as you can. We have a really talented group, and I'm happy for the three that played well. But it's been five years since we made it out of regionals, I know this team is talented, and I know if they show up they're one of the top 10 teams in the state."