Gretchen Catherwood stood on the helicopter pad at Camp Pendelton, California, when Marines from her son's unit began to talk about the day in October 2010 when her son was killed in action.
Her son, 19-year-old Lance Cpl. Alec Catherwood, was killed Oct. 14, 2010, conducting combat operations in Helmand Province, Afghanistan, and hit by small-arms fire. He was part of the 3rd Battalion, 5th Marine Regiment, also known as the "Darkhorse" battalion.
"After Alec was killed, we were at the remembrance ceremony, and we saw the looks in those mens' eyes. We could see the pain that they felt," Gretchen said. "We definitely noticed there was communication going on between the Marines that was not including the family members. One of them actually said, 'This is the first time I've been able to talk about that day.'
"And I thought, 'OK, what if Alec had come home? What would he have faced?" "Who would have been there for him? So right then was the affirmation I needed. I realized since I can't do that for Alec anymore, what can I do for those who did come home?"
One of the men in attendance was a Navy corpsman who treated Alec after he was hit.
"He tried to save Alec, and he ended up losing both legs," Gretchen said.
That's when she got the idea to build a retreat to help combat veterans, she said.
"I told Kirk what I wanted to do, and he said ... 'No, we came here to Tennessee to retire,' " Gretchen said.
But that changed after Gretchen and her daughter attended another memorial dedication in 2013, and again she heard combat veterans talking to each other about their experiences.
"My daughter and I were in the parking lot after the dedication for a memorial. The veterans could talk to each other because they had been there. And I said to my daughter, 'With or without Dad, I am doing it.' "
The retreat in Springville, Tennessee, is designed as a place for veterans to come together at no cost to them to talk with one another while sitting around a bonfire, walking in the woods or fishing on nearby Kentucky Lake.
It was designed as a place for combat veterans of any age from any branch of service from any war or military conflict to come together and share experiences.
"This is a safe place for them to communicate," Gretchen said.
On the Darkhorse Lodge's website, Kirk said he hopes the retreat will help veterans who are struggling with addiction issues or post-traumatic stress disorder after their active service days are over.
"The current situation is a dire one," he said in a video introduction. "My countrymen, men and women, are taking their own lives. Far more than died in combat. And for us it is unacceptable.
"Most combat veterans do not want to speak with someone who hasn't traveled in their boots. So Gretchen's idea for Darkhorse Lodge is right on the mark for me."
"We're there when they are active duty, but when they get out is when I believe they need the most care and the most benefits," Gretchen said. "And that's where we are falling so short of the mark in our country."
Gretchen, 59, and Kirk, 61, grew up in Arlington Heights and moved to Elgin, Genoa and then Byron after Kirk, a Desert Storm veteran, completed his service. Alec and his sister, Mikaela, both were born in Germany, where Kirk was stationed.
The Catherwood family comes from a long line of military service, with Gretchen's grandfather and uncle having served in the Navy in WWI and WWII, her dad serving with the Army in South Korea and her brother serving in the Air Force.
"Alec was our first Marine," she said. "He wanted so badly to be a Marine."
After Alec's death, the couple moved to Tennessee in 2012, initially to retire.
"We moved to Tennessee and saw this very pretty place," Gretchen said.
And that's where the couple began their new mission to construct Darkhorse Lodge on 23 acres in Henry County, 500 miles from Byron.
Funded by small donations and fueled with the help of hundreds of volunteers, construction was completed on the $1.5 million facility and a grand opening ceremony was held in September.
The retreat is named after the 3/5 Marine Darkhorse Battalion, which lost 25 members, including Alec, in a six-month period while in Afghanistan.
Five handicapped-accessible cabins – each with five rooms – are offered, with each of the 25 rooms named for one of the 25 fallen soldiers.
The chow hall is named for Army National Guard Spc. Tim Noble Bowman of Forreston, who was 23 when he died by suicide on Thanksgiving Day 2005 after returning home from Iraq.
"Tim was a dear, dear friend of our son's. After coming home from Iraq and suffering the effects of some pretty severe PTSD, he took his life," Gretchen said in the video. "Tim was far too young. He had far too much promise. Bowman Hall is after Tim, and we could not think of a better way to honor him and his family."
The facility is designed to offer combat veterans a retreat where they can talk to each other about their service or just enjoy each other's company. Counselors are not on staff, which allows veterans to converse with each other. Counseling services are available if needed.
"We do have some resources nearby who are willing to step in if needed," Gretchen said. "And that is by design. The veterans can call BS on each other because each of them can relate to being in combat.
"We raised the money mostly from individuals who donated smaller amounts, with very few corporate donors. We've gotten a lot of support from Illinois because they knew us. Now we are getting support across Tennessee. It is gaining traction now that we are open."
With the colder months beginning, Gretchen said she expects to see more veterans in the spring and summer.
"We already have groups scheduling. We are having some Darkhorse Marines coming in April, and in May we will have 25 women veterans coming to stay," she said.
Veterans can stay at the retreat for five days for free. "I had to to say $1 a night on my website," Gretchen said, noting that veterans will be reimbursed the $5 if they choose.
Veterans can arrive Tuesday and leave Saturday. Activities include fishing on Kentucky Lake; visiting at bonfires; walking in the woods; or working in the Warrior Woodshop, where veterans can build furniture. A workout pavilion also is offered, along with a horseshoe pit and a fire pit.
"Kirk works seven days a week as an SRO deputy, and then he's here working, too. He's a hardworking guy," Gretchen said smiling.
For more information about Darkhorse Lodge or to donate, visit www.darkhorselodge.org.
The wood shop can be therapeutic for veterans, Gretchen said, noting that Marine Vets Motorcycle Club donated the woodworking equipment.
"They are a great group of Marines," she said. "We are eternally grateful for the support we have received. For the most part, every penny that has been raised has been through small donations. There is no way we could have done this without everyone's support. Our supporters are small but mighty, and I would not trade that for anything."
The Catherwoods live next door to the lodge.
"I am dedicating the rest of my life to building and running Darkhorse Lodge," Gretchen said. "I don't honor Alec by giving up, and it would have been really easy to give up. I think he would really like this."
About Alec
Marine Lance Cpl. Alec Catherwood was killed while conducting combat operations in Helmand Province, Afghanistan, on Oct. 14, 2010.
He was assigned to the 3rd Battalion, 5th Marine Regiment, 1st Marine Division, I Marine Expeditionary Force, Camp Pendleton, California.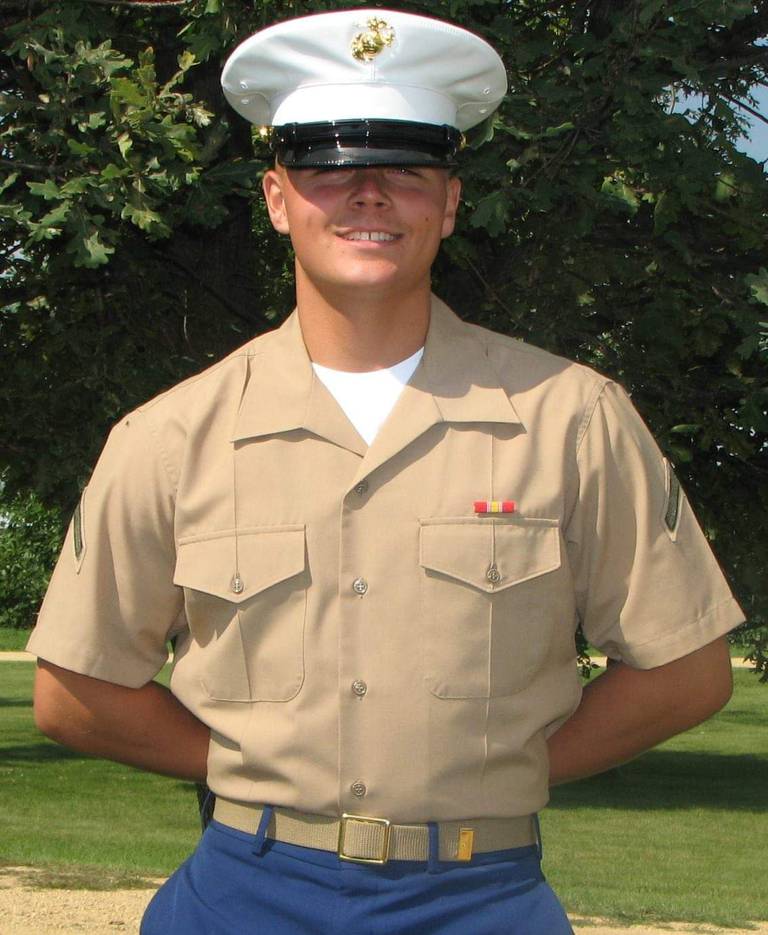 He was a 2009 graduate of Byron High School and was a member of the FFA as a Sentry, Boy Scouts and had a black belt in taekwondo. He enjoyed athletics, four-wheeling, mudding in his truck and shooting his shot gun.
Catherwood earned many personal service awards, including the Purple Heart, Combat Action Ribbon, National Defense Service Medal, Global War on Terrorism Service Medal and Korean Defense Service Medal.
Catherwood, who was engaged at the time he was killed, also enjoyed spending time with his family and fiancée and was a great friend to many.