DIXON – Trailing by nine points in the third set Tuesday night, Dixon had to find a way to fight back against Oregon in their Big Northern Conference match at Lancaster Gym.
But instead of tightening up, the Duchesses seemed to play looser and more relaxed, and slowly they chipped away.
[ Photos of Dixon vs. Oregon volleyball ]
Leah Carlson's kill tied the set 23-23, then after the Hawks fought off four match points, Dixon finally closed it out with a kill and block by Madyson Tichler on the final two points for a 20-25, 25-20, 29-27 victory.
"I feel like everybody just let down a little and felt like we couldn't do it, then we picked it up and just played our game and ended up being able to do it. We were all super excited about it," said Tichler, who had 12 kills and five blocks. "We had the perfect timing, with people stepping up right when we needed them to. I feel like we're all coming together as the season goes on."
A late kill and ace by Lexi Ebert helped Oregon pull away for a 25-20 win in a close first set, then kills by Carlson, Morgan Hargrave and Tichler helped Presley Lappin (20 assists) and Hargrave go on service runs in the second set for a 25-20 Dixon win.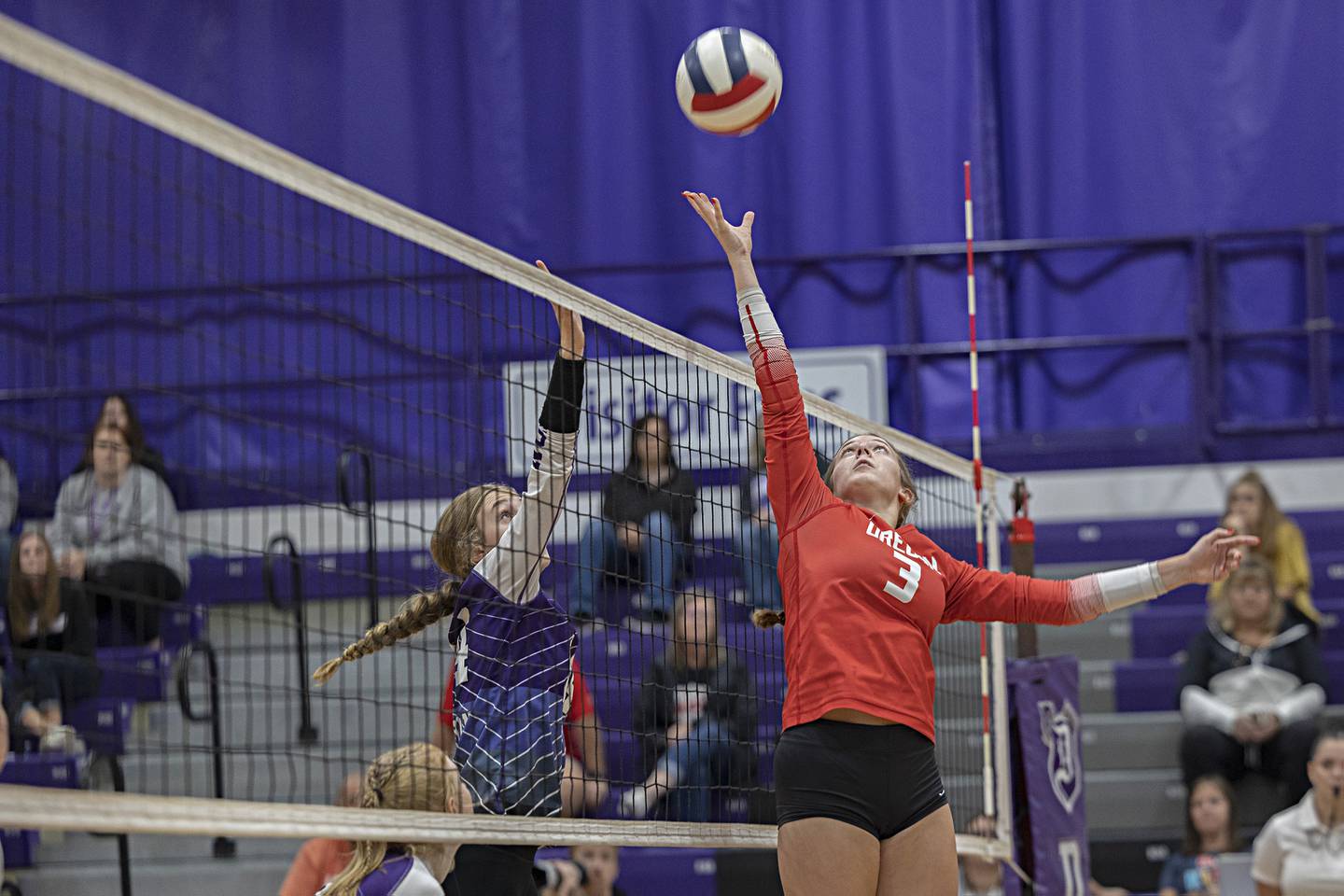 The third set saw the Hawks jump out to leads of 13-4 and 14-5, thanks to kills from Kenna Wubbena and Anna Stender (10 assists, 9 digs, 3 kills), and aces from Ebert and Madi Shaffer (15 digs, 3 aces).
"I think in those big pressure situations, every team just really locks in and things just work. In those high-pressure situations when the game gets close, people don't make as many mistakes because there's a lot to lose," said Wubbena, who had 13 kills and 20 digs. "Our outside [Grace Tremble] is hurt right now, so we're really working in some new people. That game we had a lot of lineup switches and new people out there – some people haven't even played in a varsity game before – so we were really trying to work through those things. Getting that lead, that was a lot of good momentum for us, but I think we're still just trying to work out those kinks."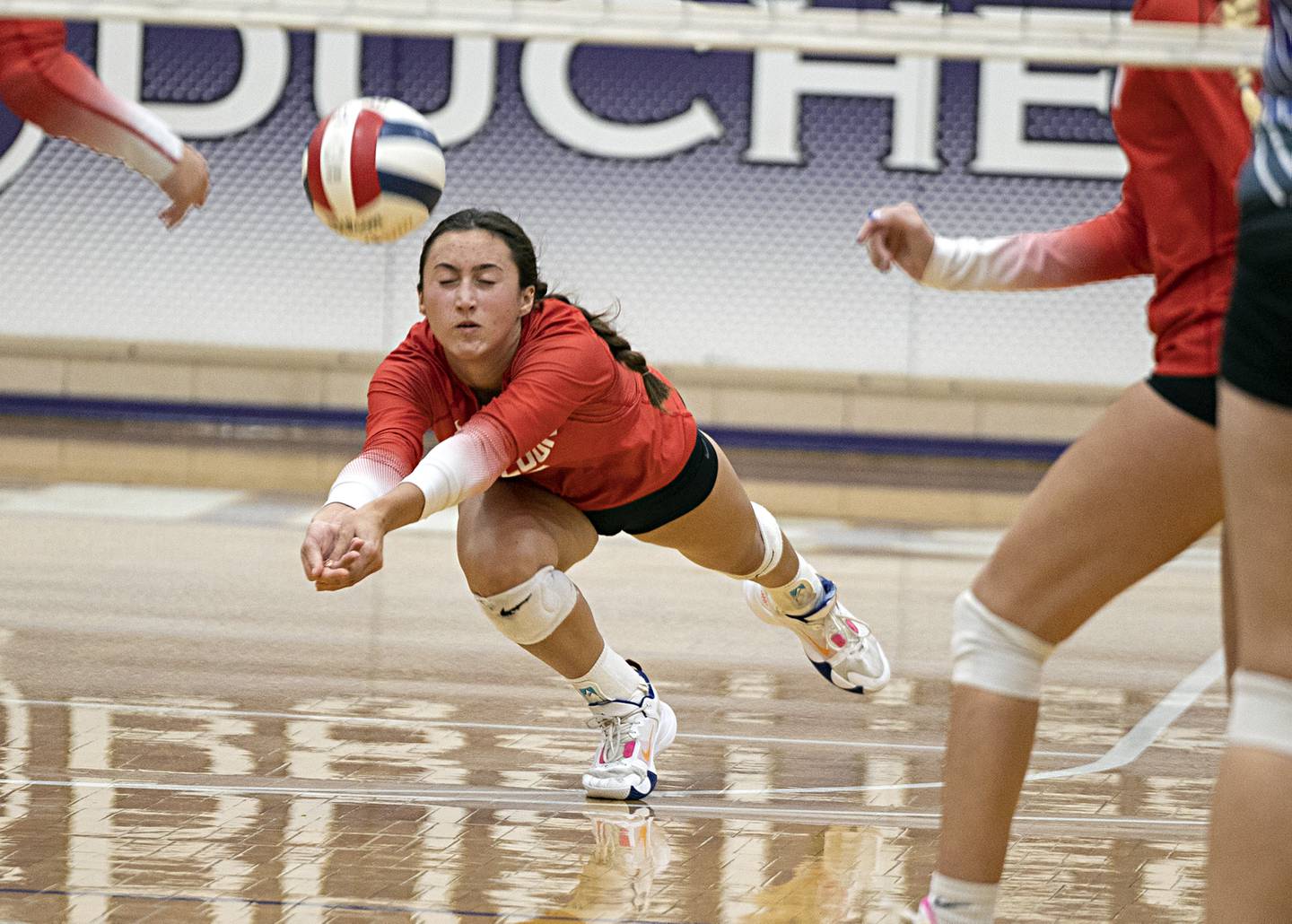 Dixon (4-8, 2-2 BNC) started the comeback trail with kills from Olivia Cox (5 kills), Makenzie Toms (4 kills, 1 block) and Hargrave, then an ace by Solis Thompson. Another kill by Toms, then two kills by Tichler cut the deficit to 16-14.
"We just played better in that last set, relaxed and just focused on coming back," said Carlson, who had eight kills, 13 assists and 11 digs. "We usually talk about keeping the energy up, but this game I feel like we focused more on the skills we needed to work on to win the game, and I think that really helped us to push through, and not be so tense in the back row."
Oregon wasn't about to give in, and a back-row kill from Wubbena and a block by Skylar Bishop (5 kills) stretched the lead back out to 22-14.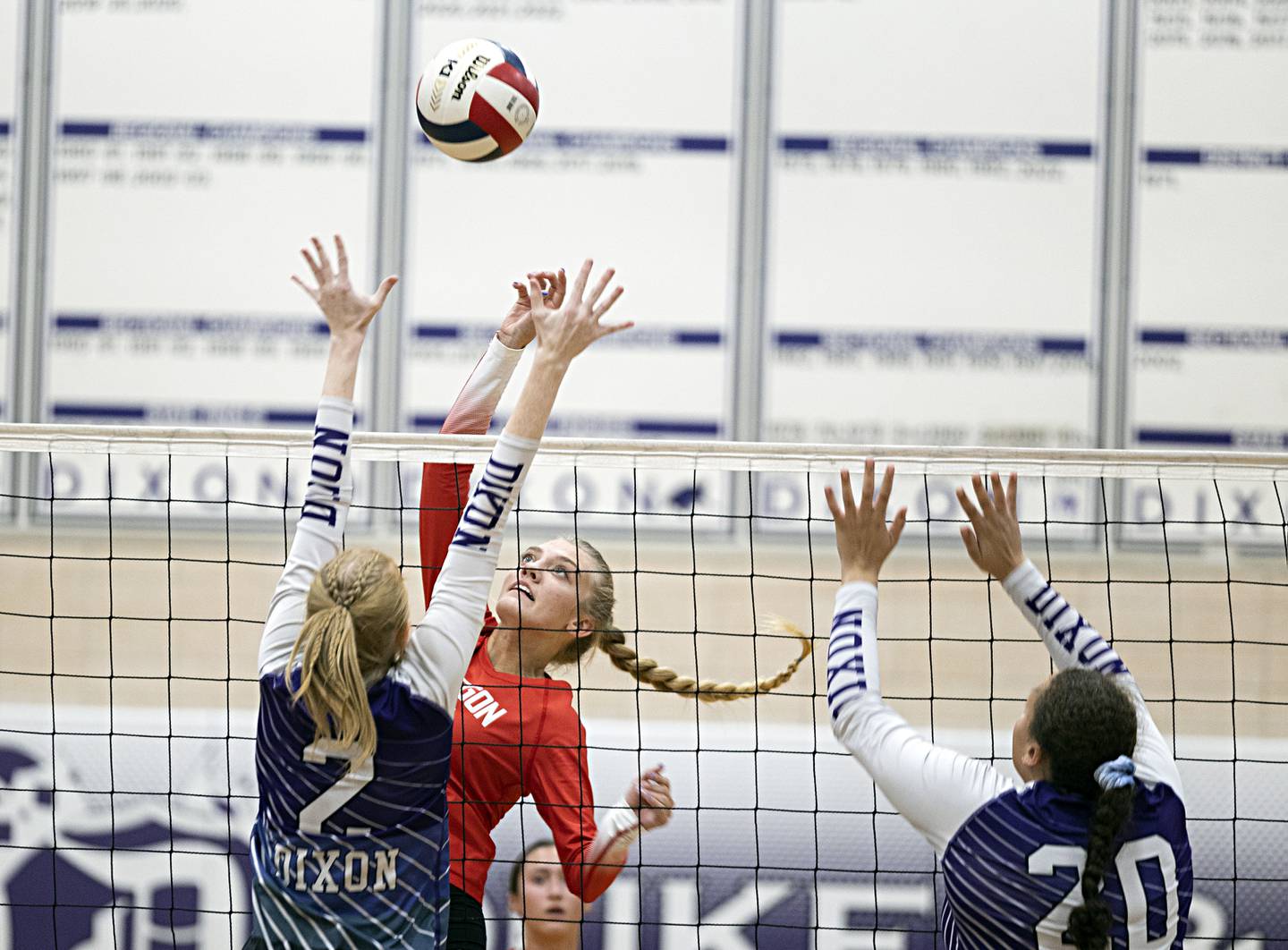 "You just have to know who your 'on' hitters are and feed them the ball, and just keep mixing it around. The opponent tends to read who you go to, so it's easy to keep mixing the ball up," said Ebert, who had 16 assists, 10 digs, six kills and three aces. "And obviously Kenna, who I've played with my whole life, it's very easy to now when to give her the ball. I know in my head that she can put it down. It's just nice to see everybody begin to know their role and help play a part on the team as a whole."
But Hargrave reeled off another service run – this time five straight, with an ace and a Carlson kill – to get within 22-20. After a Stender kill put Oregon up 23-20, Tichler had a kill and an ace, then a Carlson kill and an Oregon hitting error gave the Duchesses 24-23 lead.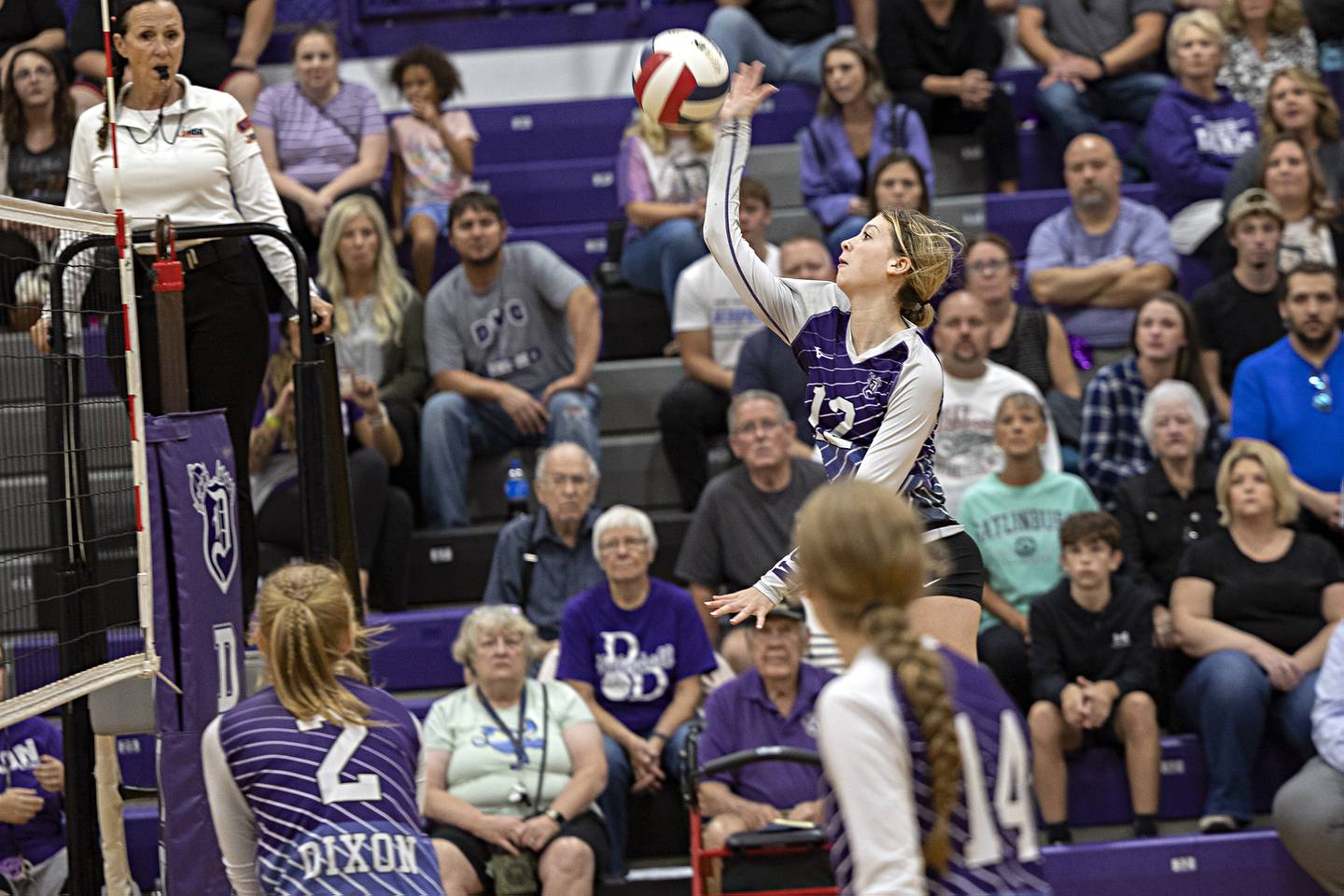 A Wubbena tip-kill tied the set at 24, then the teams traded points. Dixon took leads of 25-24, 26-25 and 27-26, but Oregon fought it off every time and stayed alive. Finally, after an Ebert kill made it 27-27, Tichler slammed a kill then stuffed a block to finish it.
"We've always been fighters. We just never give up, we keep pushing hard no matter what. Every point counts, and one big kill, an ace for us, a tip for us, we don't let anything get in our heads. We've been really good with that," said Hargrave, who had 16 digs, four kills and four aces. "We just fight hard, we don't let a ball drop, and we're really good working together. We're really trying to be more scrappy this year, and we just give it everything we have."
Despite the loss, Wubbena was proud of how the Hawks fought back in the final few points after Dixon seized the momentum.
"It was so fun, such a good match, both teams fought really hard," she said. "I told my team at the end that we put up a really good fight, so I'm not mad about it."