STERLING – Nothing to do at the mall, you say? You might want to reevaluate.
In the last two weeks or so, since shortly after new Northland Mall owner Nashville, Tennessee-based Brookwood Capital Advisors offered free rent to local businesses, more than half a dozen have signed on the dotted line.
Coming soon to the now half-empty building at 2900 E. Lincolnway: The Toy Store, Emmie B's Boutique, Janet & June Boutique, Sotelo Media, State of Mind, Flip Side Coffee & Espresso Bar and Murder Ink (formerly known as C/STattoos), and a business so new it hasn't even been named.
That's in addition to Midwest Furniture, which Brookwood owner Ben Hamd said he's bringing to the former JCPenney space.
Other businesses have lease agreements pending, including a combination family -friendly arcade.
In fact, of the 13 or so spots originally available, only three or four remain unclaimed, Lydia Chernitscky-Hamd, Brookwood's director of leasing, said Friday.
Here's a rundown:
The Toy Store
https://www.facebook.com/sterlingILtoystore
https://sterlingtoystore.com
815-622-5996
Jackie Payne, owner of Bushel Basket Candle Co., a longtime staple at the mall, and her daughter Jessica, 21, are the forces behind The Toy Store, which they plan to open in late spring in the 2,500 square feet formerly occupied by the Accents gifts and decor store.
Inventory will feature games, toys and puzzles of all kinds, with an emphasis on the educational, and on unique items not easily found locally, such as toys to help children cope with anxiety, Payne said.
She's had the keys to the new spot only about a week, and is in the process of remodeling the store, putting in display pieces and firming up the inventory. New flooring arrived Thursday.
Payne said she's looking forward to the new business, which she describes as a family affair, and a brand-new adventure.
"I think I'm fascinated with retail," she said.
"When retail works, it's really fun."
There seems to be a new spirit of optimism at Northland, which, like malls nationwide, has seen a decline in recent years, losing not only major anchor stores such as JCPenney and Bergner's, but also smaller chain stores and local mom-and-pops that struggled to attract customers more likely of late to gravitate online, or to the big-box outlets.
"It's nice to see some young blood come in," Payne said of the new owners. "It's a new generation. They're very aggressive, and they've figured out how to revive the mall."
Payne is well-known for her unflagging support of the mall, and her willingness to promote it and the businesses that do land there.
"We're all in this together, it's like a community, and the more we can get people to come to the mall, shoppers and stores, the better for us all."
Emmie B's Boutique
https://www.facebook.com/EmmieBsBoutique
https://emmie-bs-boutique.myshopify.com
Owned by Tasha Farnham of Sterling, Emmie B's Boutique, now an online store, will offer children and women's clothing, accessories, custom T-shirts and more from its spot in the former Glik clothing store, which she and her husband Jason are remodeling and hope to open in early March.
Farnham is thinking both of the past, and the future.
"Seeing [the mall] become a little of what it was when we were kids and being a part of that, is something special," she said.
"Bringing our community affordable fashion and doing what I love at the same time, is a dream come true.
"Our daughter, Emmie, was the inspiration behind me opening our small shop to begin with, and I hope to keep it going until she is old enough to decide if she wants to continue with it herself."
Janet & June Boutique
https://www.facebook.com/janetandjuneboutique
www.janetandjune.com
janetandjuneboutique@gmail.com
Now at 301 First Ave. in Rock Falls, Janet & June Boutique is a women's clothing store that features clothes for all ages in sizes S-4X, as well as jewelry, hair accessories, gifts, purses and more.
Right now, it's open the abbreviated hours of 11 a.m. to 2 p.m. Thursday, 1 to 5 p.m. Friday and 11 a.m. to 2 p.m. Saturday. When it moves to its more spacious digs across from Maurices, possibly in early June, those hours will be expanded, owner Sarah Bohm said.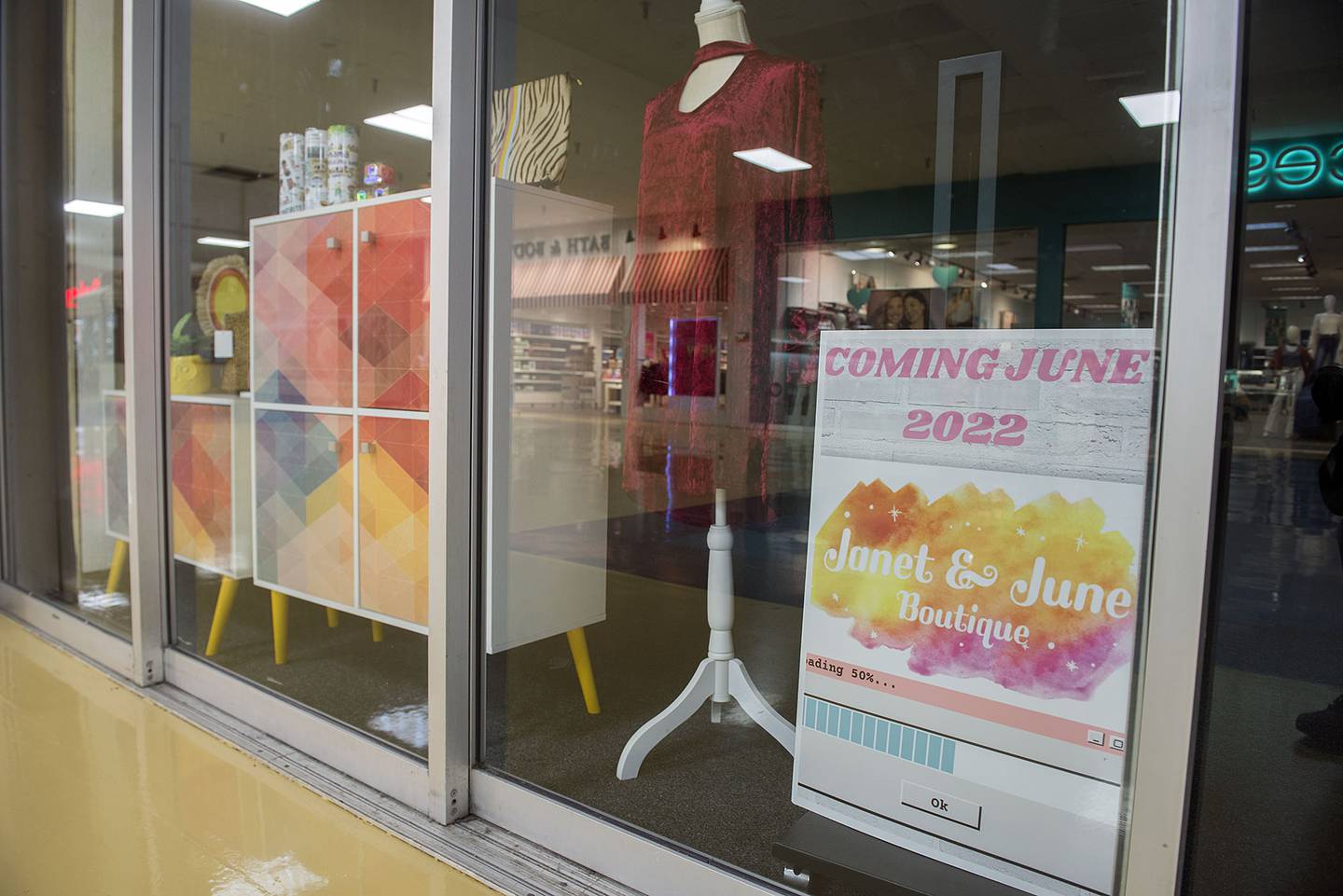 Bohm said she has big plans for her bigger store, including more inventory.
"We are obsessed with retro/90′s vibes and love unique pieces, but also black and basics. We have a li'l bit of everything," she said.
A seating area, a snack and coffee bar for customers, a Big 'ole TV on the wall playing movies from the '90s and early aughts, and a play space in the back for kids to enjoy while their parents shop also are planned, Bohm said.
Janet & June Boutique opened in Walnut a year ago, and recently closed shop there. The Rock Falls shop, also open about a year, will close when they move to Northland, Bohm said.
She wasn't planning a move, but she, too, was lured by the offer of a rent-free start, Bohm said.
"We're excited about all the changes that are going to be there, so we just decided to go for it.
"Going to the mall is going to be more like an experience," Bohm said.
"It's awesome to be a part of, for sure."
Flip Side Coffee & Espresso Bar
https://www.facebook.co/flipsidecoffeeandespressobar
815-718-0022
One of the businesses sure to excite shoppers is Flip Side Coffee & Espresso Bar, already open in Rock Falls and now adding a second location in the long-vacant Diamond Dave's spot.
Owner Valerie Howes of Sterling will be bringing her signature homemade baked goods, breakfast sammies and fragrant coffee varieties to the mall, and also will be adding a small lunch menu, she said.
She doesn't have an opening date yet — the spot has gone unused for so long that it's going to take some time to build the kitchen back up and put in a coffee bar, Howes said.
"I grew up in Sterling and Rock Falls, and I have great memories of that place," she said. "It'll be fun."
Howes said she has been thinking about an expansion for a while now, and when the chance to start off rent-free presented itself, she decided to make the leap.
In the meantime, folks can sample her goodies at her coffee shop at 116 W. Second St.
Sotelo Media
815-908-7823
Roman Sotelo of Sterling will open Sotelo Media on April 1, right next door to his cousin Valerie's coffee bar.
What began as a web design, mobile app and social media management company has morphed into a marketing apparel and custom T-shirt business.
As a way to help his web design customers, Sotelo, who works from home, started offering T-shirts, hats, pants and the like with their logos and websites.
The service became so popular it soon became half his business, he said.
In the mall, that aspect of Sotelo Media will be the most prominent. He'll work with customers on their own designs — which in most cases he will have done and printed the same day — and also will sell designs of his own off the rack, he said.
State of Mind
https://www.facebook.com/getstateofmind
815-564-2200
State of Mind owner Jessica Hansen of Rock Falls makes and sells candles, wax melts, lotions, and other scented products, now sold at vendor shows, Twin City Farmers Markets and Flip Side.
"It always was part of the plan to expand into a storefront, but when this opportunity came about, it was, 'OK, get on your feet and get going,'" Hansen said.
By the time she moves into the old Finish Line location on April 1, Hansen plans to have added even more products designed to help people suffering through COVID-19 and other anxieties "choose how they feel," she said.
"I don't think I've ever felt as lost as I do now with COVID," she said. That's a feeling she said she wants to alleviate in others.
She's in the process of mapping out her inventory, but has in mind items such as mindfulness journals, tongue drums, Tibetan singing bowls and other calming instruments, and inspirational signs, clothing and other items designed to help people find inner peace.
Hansen also is looking for other local vendors whose products will mesh with her philosophy; they can reach her at the phone number above.
Murder Ink
815-535-6821
Tattoo artist Carlos Silva, 25, of Rock Falls, plans to open his parlor, called Murder Ink, in two to three weeks.
It's also in a spot across from Maurices.
Silva has lived in the Sauk Valley, Mexico and Missouri, and recently moved back in town to be close to his 4-year-old daughter, he said.
When the first-time business owner heard about the free rent at the mall, he decided "to take a shot."
He'll have examples of his work on Snapchat and Instagram soon; he's working on those pages now, he said.
In the meantime, he can be reached at the number above.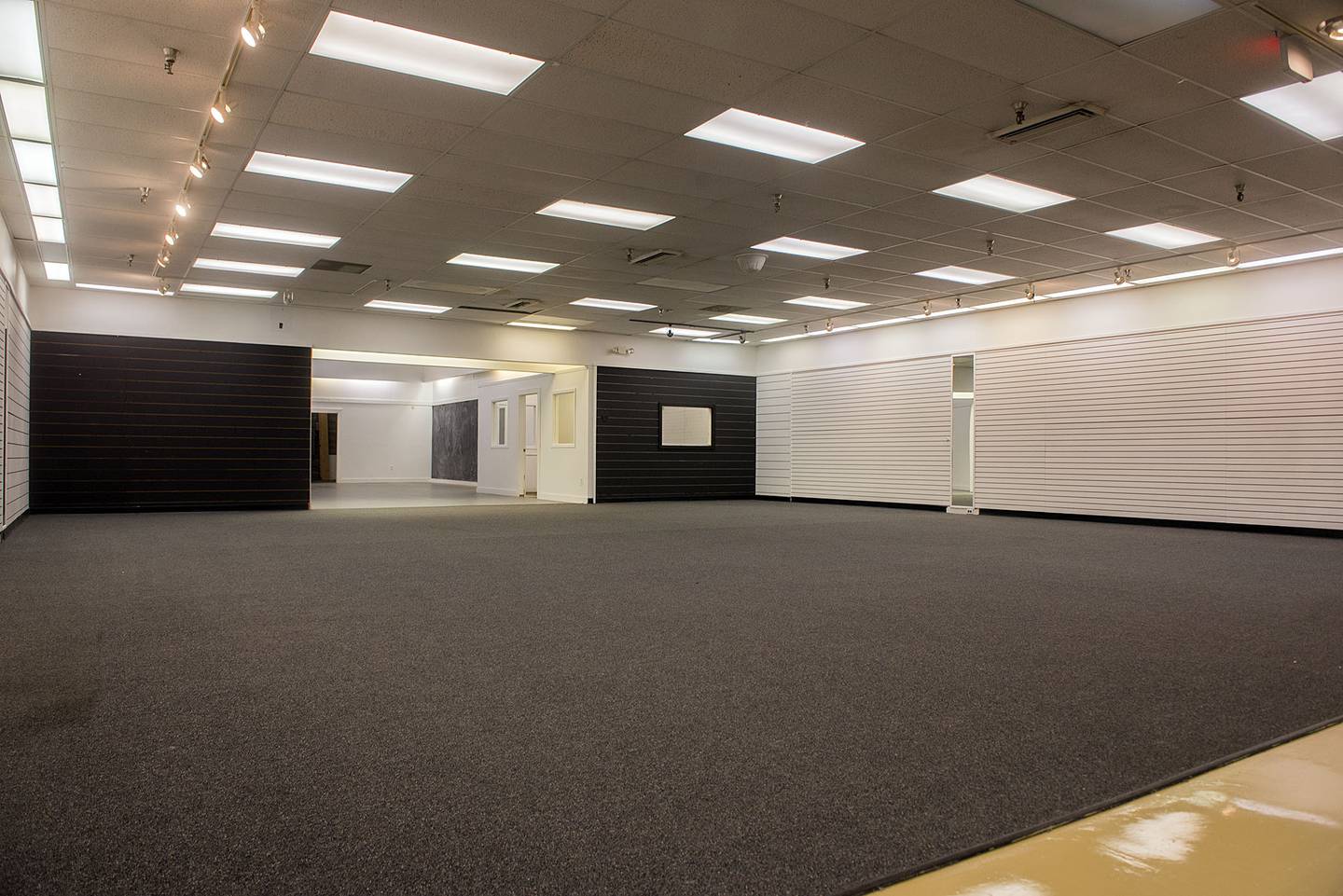 "Like a Big Lots"
(Schnappin Deals)
https://www.facebook.com/schnappindeals
815-246-2323
Gary and Angie Minor, who just opened Schnappin Deals bin store in November, inked a deal late Friday for mall store number two, which has yet to be named. It will open April 1 in the old Shoe Sensation site.
Like Schnappin Deals, it will sell electronics, home decor and other non-clothing items at a deep discount. Unlike the bin store, the prices will be set, and won't go down gradually, Gary Minor said.
The inventory will be "open box"– returned store items that have been opened or seals broken, but not used. They will be 50% to 75% off retail, he said – "like a Big Lots."
The Minors formerly owned Minor Treasures in Rock Falls, also a liquidation store.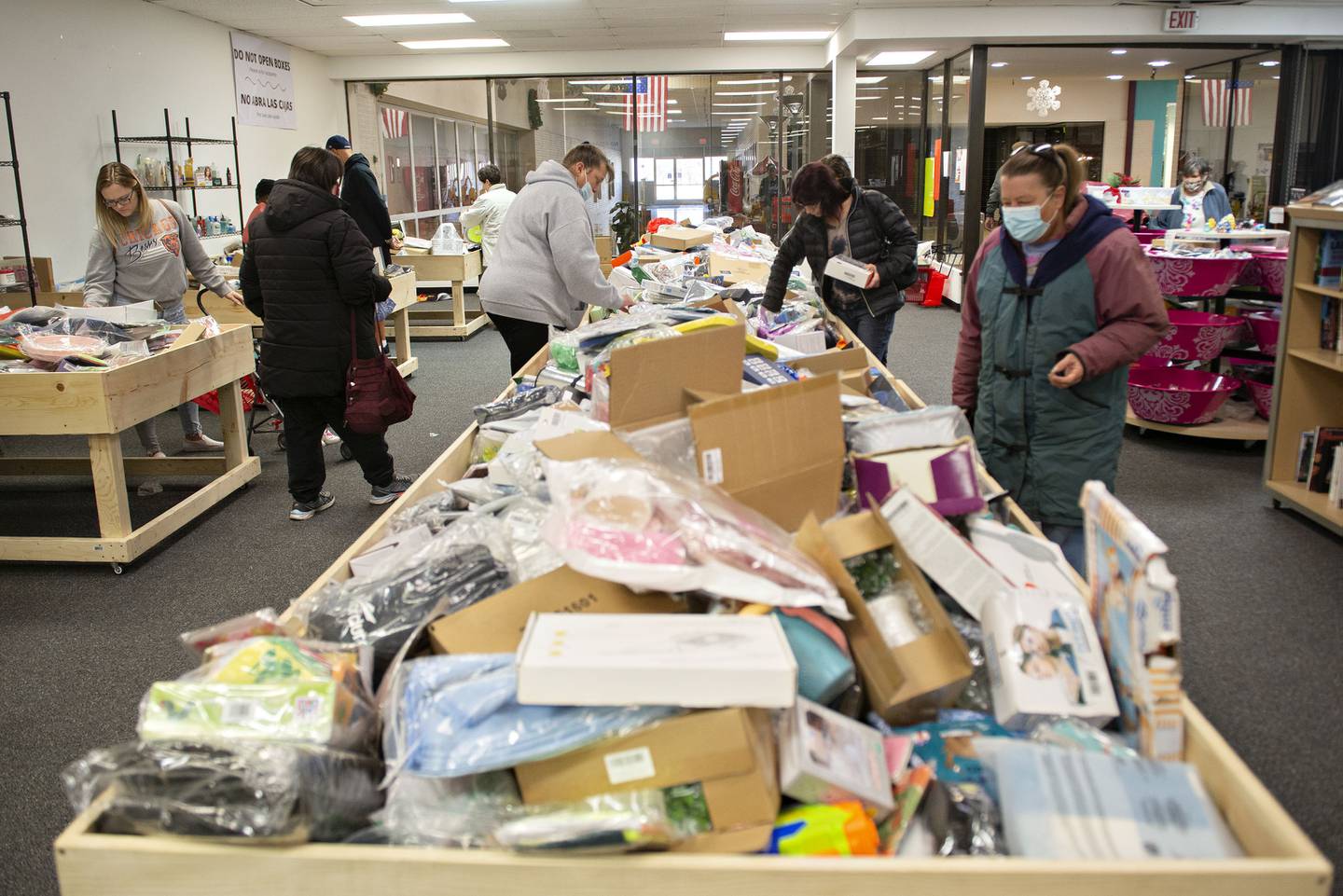 Schnappin Deals works like this: Full bins of items once sold by Amazon, Target, Fingerhut, and Bed, Bath and Beyond and the like greet customers on Friday.
Everything costs $7, unless otherwise marked. The cost remains $7 on Saturday and goes down to $5 on Sunday, $3 on Monday, $2 on Tuesday and $1 on Wednesday. The store is closed on Thursday for restocking, and it all starts again.
It's open from 10 a.m. to 6 p.m.
Midwest Furniture
In addition, furniture wholesaler Midwest Furniture of Evansville, Indiana, will be taking up 100,000 square feet of former JCPenney space, with a traditional furniture store up front and a distribution outlet in the back.
What's to become of the 60,000 square feet of former Bergner's space has yet to be determined.
About the mall's new owners
Brookwood Capital Advisors buys struggling properties, gets them back on their feet then sells them to other developers or property managers. It usually does not invest in remodeling or other major building alterations, because that makes properties too costly to flip.
The company bought the mall in late January for $1.7 million, county record show. The vintage 1973 structure came with about 13 spots to fill, not counting the east and west anchor spots.
Providing space rent-free while a business gets established has been its business model for about 12 years, Hamd said.
It works because current tenants – in Northland's case, Dunham's Sports, Planet Fitness, Bath & Body Works, Maurices and others – pay enough in rent to support the plan, he said.
If a new business makes it, then in 6 months or so, it will start paying rent.
Anyone who's interested in the remaining spaces, or who might want to take over a kiosk or install a vending machine, can message the manager on Northland Mall's Facebook page, or contact the Hamds at ben@broookwoodcapitaladv.com or lydia@broookwoodcapitaladv.com.