NORMAL – Experience usually plays a huge factor the deeper you get into the postseason, and that was evident Friday morning in the first semifinal match at the IHSA Class 1A State Tournament at Redbird Arena.
The Newman Comets (29-8-1), at the state tournament for the first time in program history, looked a bit awestruck and played tentative and tight. Freeport Aquin (40-1), which finished third at the state tournament last season, was visibly more comfortable and confident on the big stage en route to a 25-13, 25-16 victory.
"Last year, I feel like that was us, what Newman went through," Aquin senior hitter Lucy Arndt said. "We were scared, we weren't mentally ready, and this year, we were ready to go and we knew what we had to do."
Now Newman will look to bounce back in Saturday's third-place game. But like Arndt and the Bulldogs, the Comets feel that now that they have a match under their belts and they know what to expect, they'll be ready to come out and get back to the stellar form they've showed throughout the postseason when they take on Norris City-Omaha-Enfield.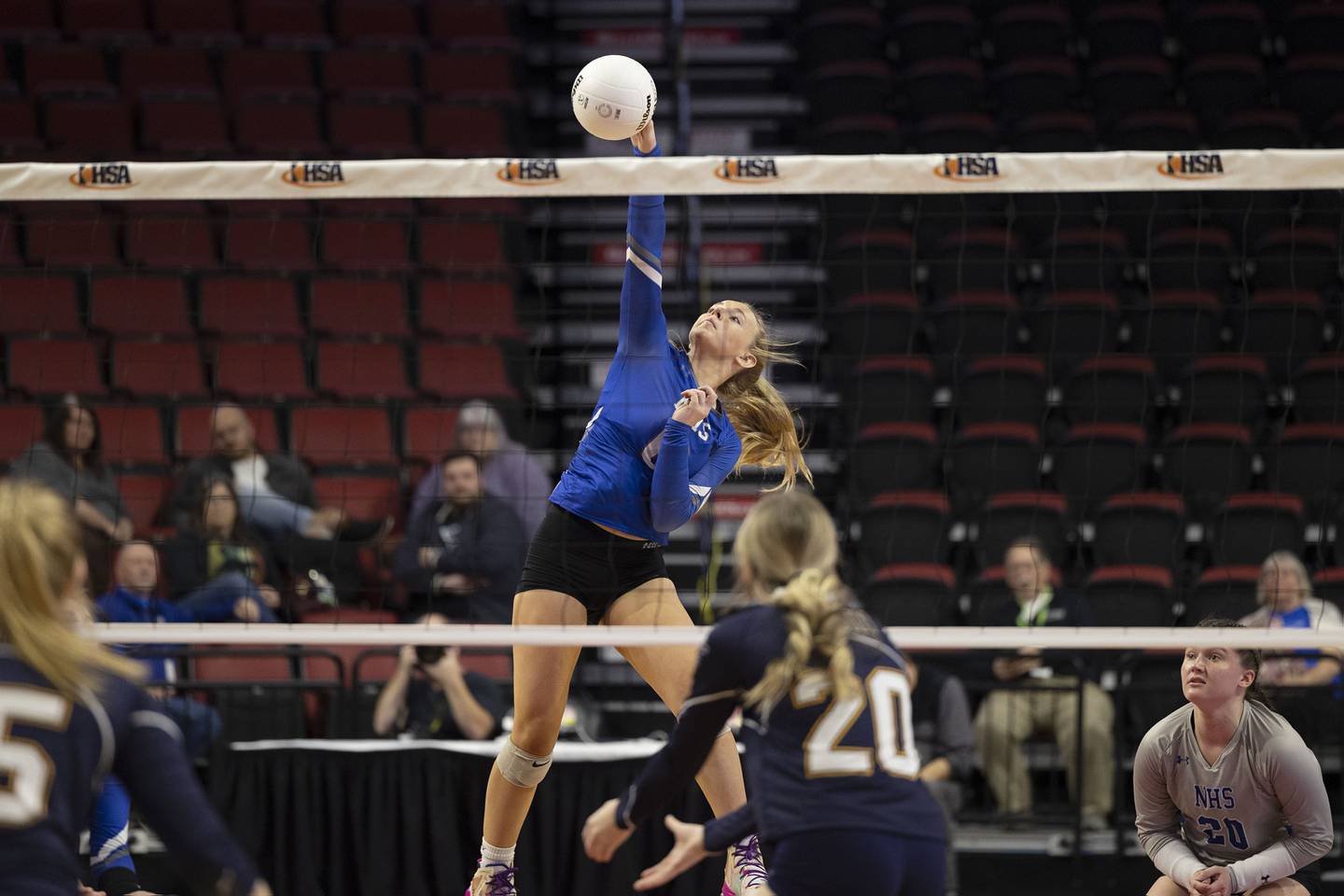 "We already came here and did exactly what we didn't want to do, so I think at this point we're ready to come back and play better," said junior hitter Jess Johns, who had 10 kills and six digs. "I think we've got that all out of our system now, and we'll come out and play loose, play our game. We're going to come out stronger, because it kind of can't get any worse."
The key will be to bring back that energy that Newman has played with for the last few weeks. A slow start spelled doom in the semifinals, but getting back on track and being better prepared mentally for what they're going to see has the players ready to shake off the loss and get back out on the Redbird Arena court.
"I think we just have to come in with a positive mindset. Like Jess said, it can't get worse," said junior middle Kennedy Rowzee, who spiked four kills. "Just going off of how we ended today and going up from there, just really having a team positive mindset. We want to end the season with a high, so we'll be really just going after it tomorrow."
Another driving force for the Comets will be sending out lone senior Katie Grennan with a win in her Newman finale. She thought the pressure the players put on themselves leading up to the semifinal played a role in them not playing to their full potential.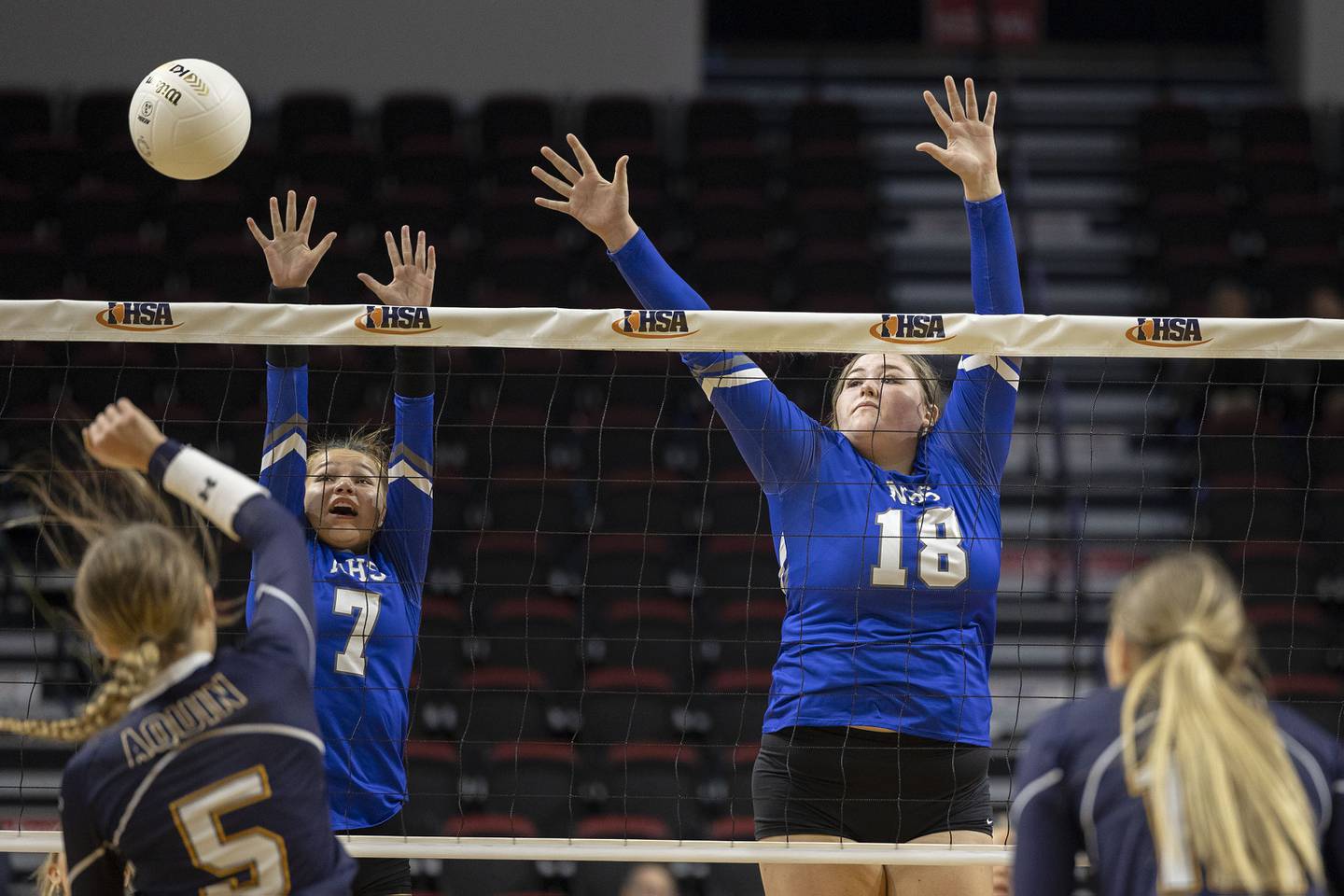 Aquin coach Robyn Stovall felt her team reacted the same way last season in its first state semifinal, and pointed to that past experience when she noted how the Bulldogs felt none of that pressure or nervousness this time around.
"I think it's a huge advantage that we were here last year," Stovall said. "We knew it was going to be hot on the floor, the lights were going to be bright, we knew what to expect this time; last year, we didn't. So it was definitely to our advantage to have been here before."
Newman coach Debbi Kelly said the big stage and a talented Aquin team were both reasons for her players being "a little tense," but also felt like once the Comets started looking ahead to Saturday's match, they'd be refocused and re-energized to come out and play well.
"This is a great team, and after this sting gets over and we start focusing on tomorrow, I think they'll all realize – they all probably already do – what a great job they've done so far," she said. "It'd be really nice just to end with a nice positive tomorrow."
Not only would closing with a win be the perfect cap to an historic season, but Kelly also hopes that finding some success at the state tournament will serve as a springboard for next season. With 14 of the 15 players on the state roster returning in 2023, she hopes this experience will serve her team as well as last year's state appearance helped Aquin this time around.
"I think anytime that you get the opportunity to play in a big venue, make it to state, you're only going to build on that," she said. "We lose Katie as our only senior – it's a big loss with her leading us in setting and the leadership she provides – but everyone else on the team returns. So it is something that hopefully all those girls take with them to build off next year, as well."