STERLING – The Western Big 6 volleyball match Thursday night at Musgrove Fieldhouse was the perfect example of the old adage that it's not how you start, but how you finish that's important.
After slow starts in both sets, Sterling managed to rally for a 25-17, 26-24 win over United Township.
"We definitely came out slower than we wanted. We didn't play ready, we weren't communicating," Grace Egan said. "In the huddle, we had to make sure to point out that we have to come out with energy, we have to be stronger with that. We definitely fixed that."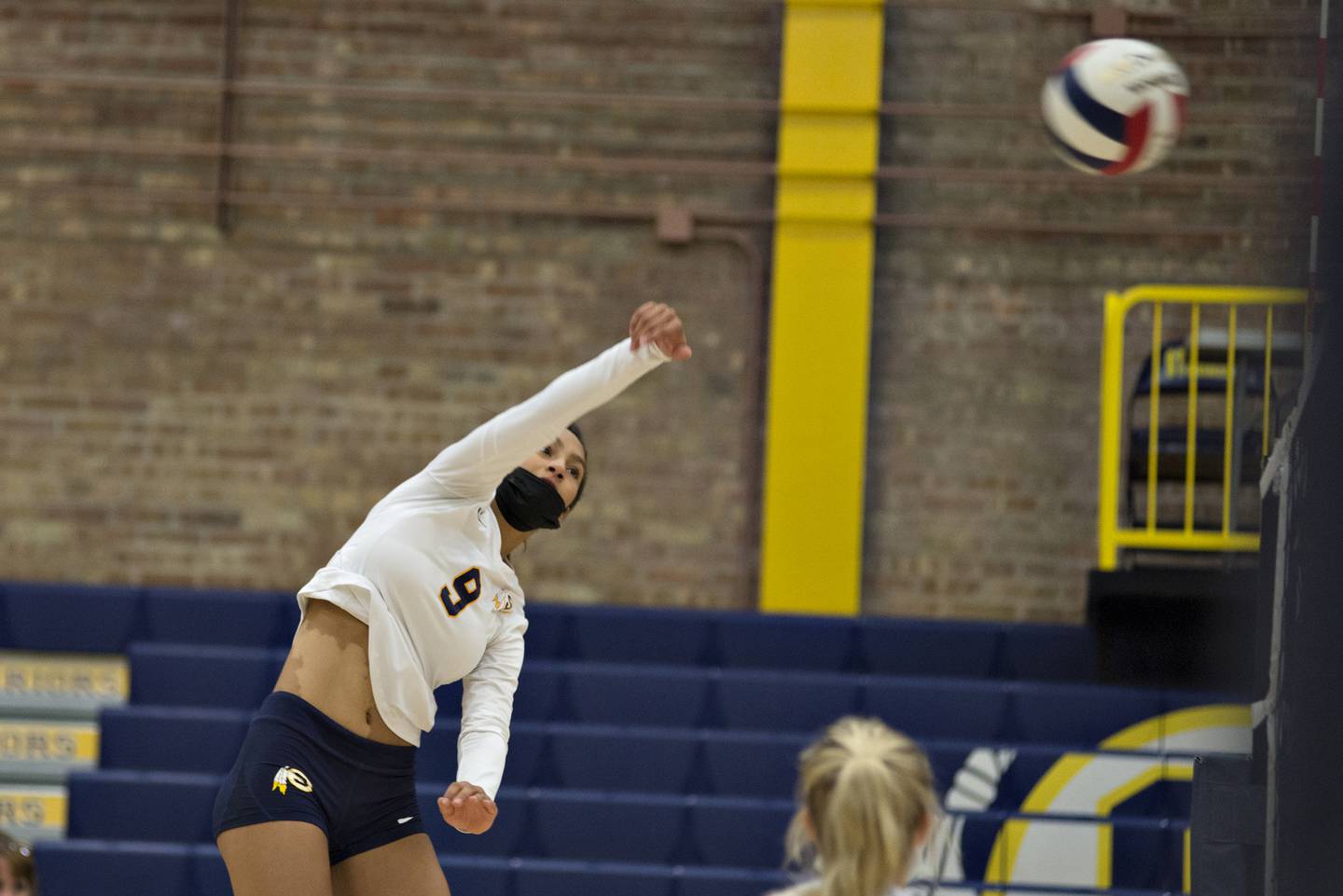 The Golden Warriors (13-16-1, 10-4 WB6) fell behind 8-3 at the outset, and trailed 12-7 before mounting their comeback. A kill by Katie Dittmar and an ace by Delali Amankwa made it 12-10 before Egan's dig fell to the court on the other side for a point.
After a block by UT's Brooklyn VanOpdorp, Kathryn Rowzee spiked a kill and Egan slammed back-to-back kills before Dittmar's kill from the middle made it 15-14 Sterling.
"We talked about keeping the level of play that we've started with and played with the last two matches, and we just didn't start from the front," Sterling coach Dale Dykeman said. "They served us really aggressively, and because of that, our first contact kept us playing volleyball from 12 to 18 feet, and it's hard to really run any type of consistent offense when you're setting the ball from there. We've just got to take better care of that first touch, that first contact on defense, to allow us to get into offense – and when we did that, we ran some good offense."
A pair of UT errors and an ace by Julia Thormeyer gave Sterling an 18-15 lead, then Egan, Mallory Osborn and Rowzee all smacked kills for a 21-16 lead. Egan added another back-row kill for a sideout, then Rowzee later finished the first set with another kill.
"Our energy was better," Amaknwa said. "At the start, we were playing down to a level that wasn't our true level. We just got our energy back up and started working more as a team."
The second set was almost a carbon copy of the first. Sterling fell behind 8-3 again, and trailed 10-5 before finding its rhythm. A back-row kill by Egan sparked the rally this time, and Amankwa again served an ace before Rowzee and Dittmar combined for a block to get within 10-9.
Egan spiked an overpass to stop a short UT run, then she added three kills in a four-point span to give Sterling a 15-14 lead.
"She's really so dependable, so it's easy to just to use her hitting to get us back up a little bit and get in the flow," Amaknkwa said of Egan. "Katie and Kathryn got going then, and who I set just depended on the pass."
Rowzee got a kill and a block on back-to-back overpasses for an 18-15 Sterling lead, but UT fought back. Three straight Sterling errors tied the set 18-18, then Rowzee had back-to-back kills to put the Warriors up 20-18 – but two more Sterling errors tied it again at 20-20.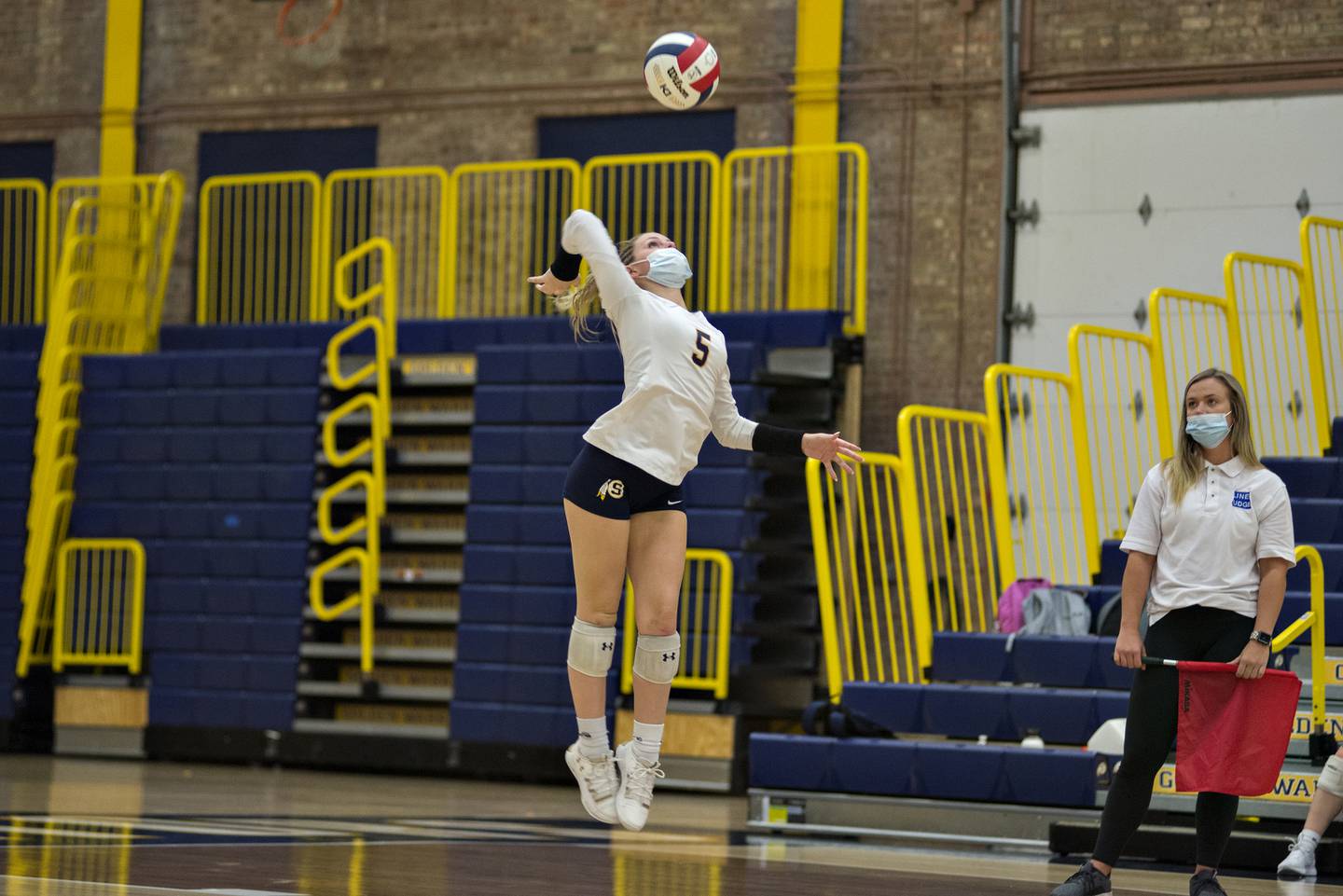 Rowzee and UT's Nicole VanTieghem traded kills, then VanTieghem served an ace and Ella Harris smacked a kill to give the Panthers a 23-21 lead. After the teams traded errors, UT was on the verge of forcing a third set.
But after a Sterling timeout, UT hit a serve out of bounds, then had a hitting error to tie the set 24-24. Dittmar then served an ace, and a final UT hit into the net gave the Warriors the win.
"She definitely helped us with that one. We just knew that her bringing that ace would help with our energy to get that last point," Egan said about Dittmar. "Once we got a little looser and got into the match, we got more comfortable and played our game, and we were able to get some big points at the end when we needed them."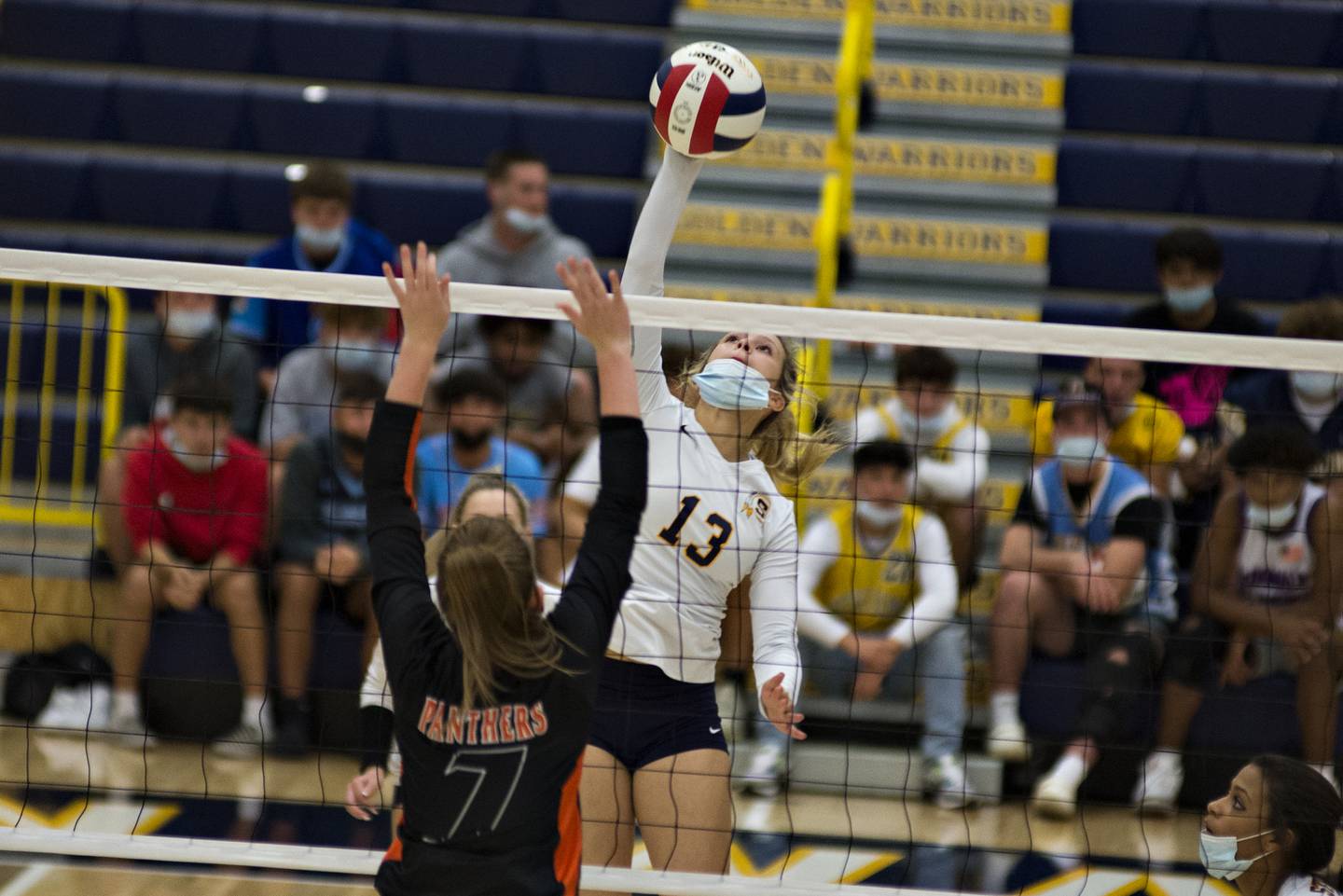 Egan led the way with 18 kills and seven digs, and Rowzee added nine kills and two blocks for Sterling. Amankwa finished with 24 assists, six points, two aces and four digs, Dittmar had two kills, a block and an ace, and Osborn had a pair of kills. Thormeyer served eight points, Emma Smith had five digs and served three points, and Karmen Weinrich chipped in four points, three digs and two assists.
"It was a lot of character, a lot of grit, and that's the growth that we've shown," Dykeman said. "I don't know that we recover from that in the middle of the season, or even three weeks ago. This team, they've kind of figured out how everybody reacts and how to gel and how they move, and their response to adversity is much better as a team. They don't get into each other, they continue to fight together, and you saw that tonight: not playing our best volleyball, but still staying together for the common goal and coming up and being ready when you're number's called."
VanOpdorp led UT with seven kills and a block, while VanTieghem added four kills. Tess Earl finished with 10 assists, eight points and two aces.