GENESEO – Sterling junior Alice Sotelo took the pressure off early Wednesday.
She achieved a state-qualifying jump on her first attempt in the triple jump at the Class 2A Geneseo Sectional.
Then she focused on winning the event and breaking her own school record.
[ Sotelo's earlier record-setting efforts. ]
Sotelo did both.
She jumped 36 feet, 10½ inches to best La Salle-Peru's Emily Strehl (33-4 ¾) and set a new school standard, breaking her old mark of 36-4. It's the third time she's set a new Sterling record in the last three weeks.
[ Photos from the gils track & field Class 2A Geneseo Sectional ]
Sotelo will compete in the IHSA state preliminaries Friday, May 20, with finals May 21.
"It's very exciting," Sotelo said. "One of my goals was to make state again, and now it's to place.
"I'm hoping to place pretty high. I'm ranked second in state right now, so anything fifth or higher will be very exciting."
Sotelo said she didn't let the high temperatures in the 90s affect her.
"I'm very mentally strong, so I don't let the heat or cold get to me, and I always keep my head in the game," Sotelo said. "It's just what you have to do for every jump."
The heat didn't bother Dixon's 4x800-meter relay team of Hannah Steinmeyer, Emma Smith, Keeley Mick and Kait Knipple either, as the Duchesses cruised to victory in 10:06.43, beating second-place Sandwich (10:16.51) by a little more than 10 seconds.
"It was awesome," said Steinmeyer, who ran the first leg. "We worked really hard for it, so it feels really rewarding.
"We have a relay where everybody works well together. Everybody is really hard-working and we all cheer each other on. We're really headstrong, so we don't let our emotions get the best of us."
Steinmeyer said the Duchesses hope to be on the podium at state.
"We ran three seconds slower than our PR, but we were just kind of trying to get first," Steinmeyer said. "We're going to give it our all at state.
"A state medal is our goal."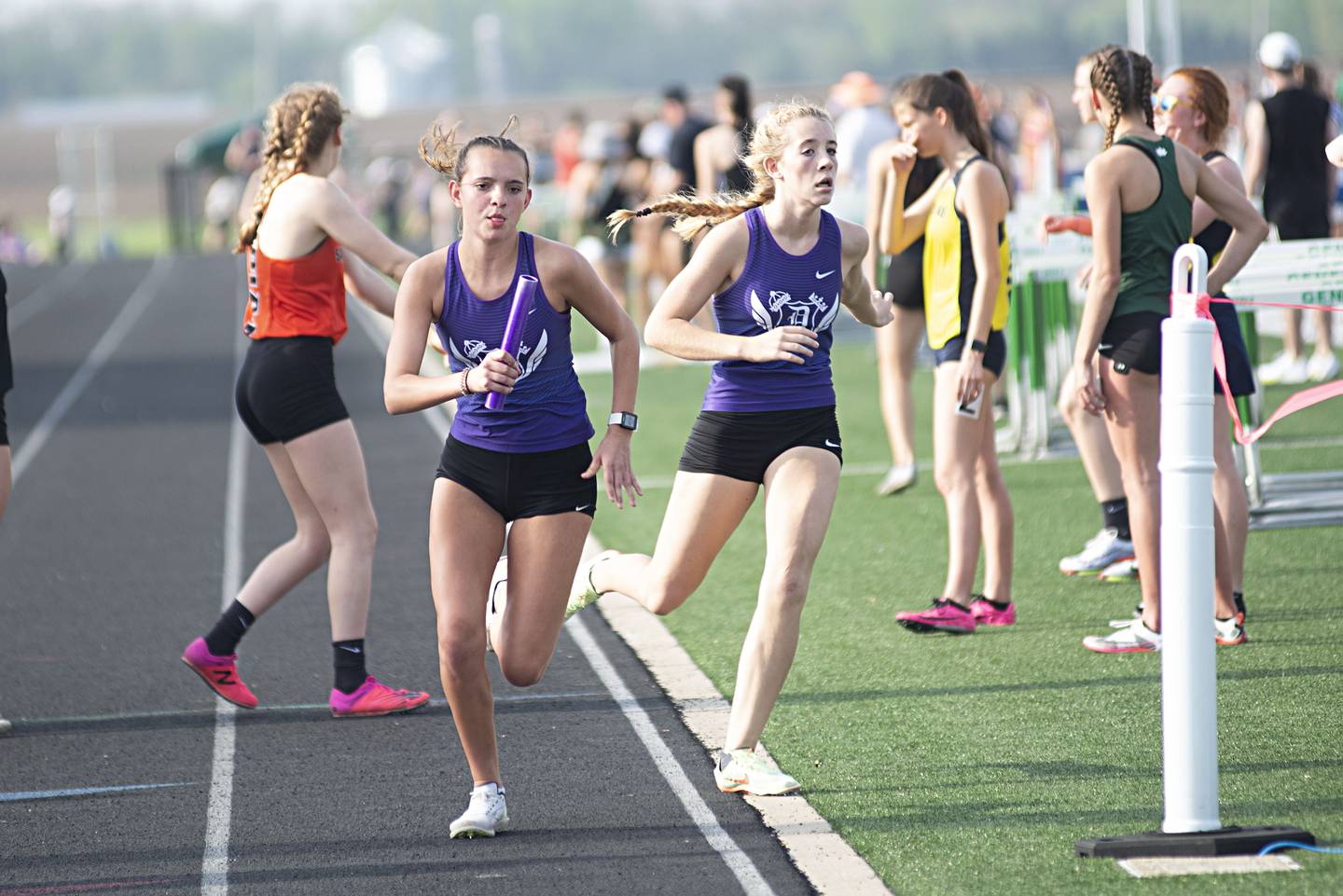 Steinmeyer came back later in the meet to punch an individual ticket to state in the 800.
She ran a personal best 2:23.64 to beat Geneseo's Jaide Flowers (2:27.03) for the sectional title.
After helping the 4x800 team to the title, Smith returned later in the meet to earn an individual title in the 1600, running a 5:24.61 to beat Rock Falls sophomore Hana Ford, who clocked a personal best 5:42.06.
"I'm not the best in the heat, so I just decided to see what happened, and then I just went for it," Smith said. "It was awesome. I'm very excited."
Ford said running in the heat benefited her.
"I'm really good with heat, so I think this weather for me is really nice because it helps me out a lot," Ford said. "I didn't overthink (the race), which was nice because I usually overthink it. My coached helped. He told me to keep calm, stay with the group and trust the process. That was very helpful."
Rock Falls senior Emily Spooner ran a personal best 1:02.15 to place second in the 400 and earn her first trip to state.
"It's really amazing," Spooner said. "It's my final year. I'm a senior. I've worked hard since my freshman year to make it and I finally made it, so I'm really proud of myself.
"I went out as hard as I could and just pushed myself. Having the support of my coach and all my teammates helped, and just believing in myself."
Dixon's Emily Conderman just missed out on a trip to state in two events, as she placed third in both the 1600 and 3200. Rock Falls took third in the 4x800, and Sterling was third in the 4x100 and 4x200.