STERLING – As the final team scores were being read over the P.A. system, the Sterling girls track & field team huddled up and squatted down on the turf beyond the north end zone at Roscoe Eades Stadium.
Waiting silently, they heard one team name called after another, until Jim Spencer read off Geneseo's name in second place. A few of the Golden Warriors leapt to their feet and shouted, but then quickly squatted back down again to wait for confirmation of what they already knew to be true.
"And your 2022 girls Sterling Night Relays champions, with 101 points … the Sterling Golden Warriors!" was the next thing out of the loudspeaker, but the "Golden Warriors" part was drowned out by an ear-splitting scream as the team erupted in a loud celebration and took off across the football field to claim the trophy.
"That's so awesome. We had a lot of great competition, so I'm just very proud of everybody," junior Kylie Nicklaus said. "It's total excitement, [having] the Friday Night Relays for the the first time in three years and winning it, so it's an awesome night."
Sterling spread out the workload, as the Warriors won four events, took second in three more, and added two third and a pair of fourths to top runner-up Geneseo (96) and third-place Dixon (92). Rock Falls finished fifth (60), right behind United Township (68).
"I think it's a nice sentimental value, because it's Senior Night as well, so everybody gets to run together, work together, and we won it together," Nicklaus said. "It's not an individual thing, everything was added together, so it's a special night for everybody, even the people who didn't compete. It' a family thing, so that's very nice."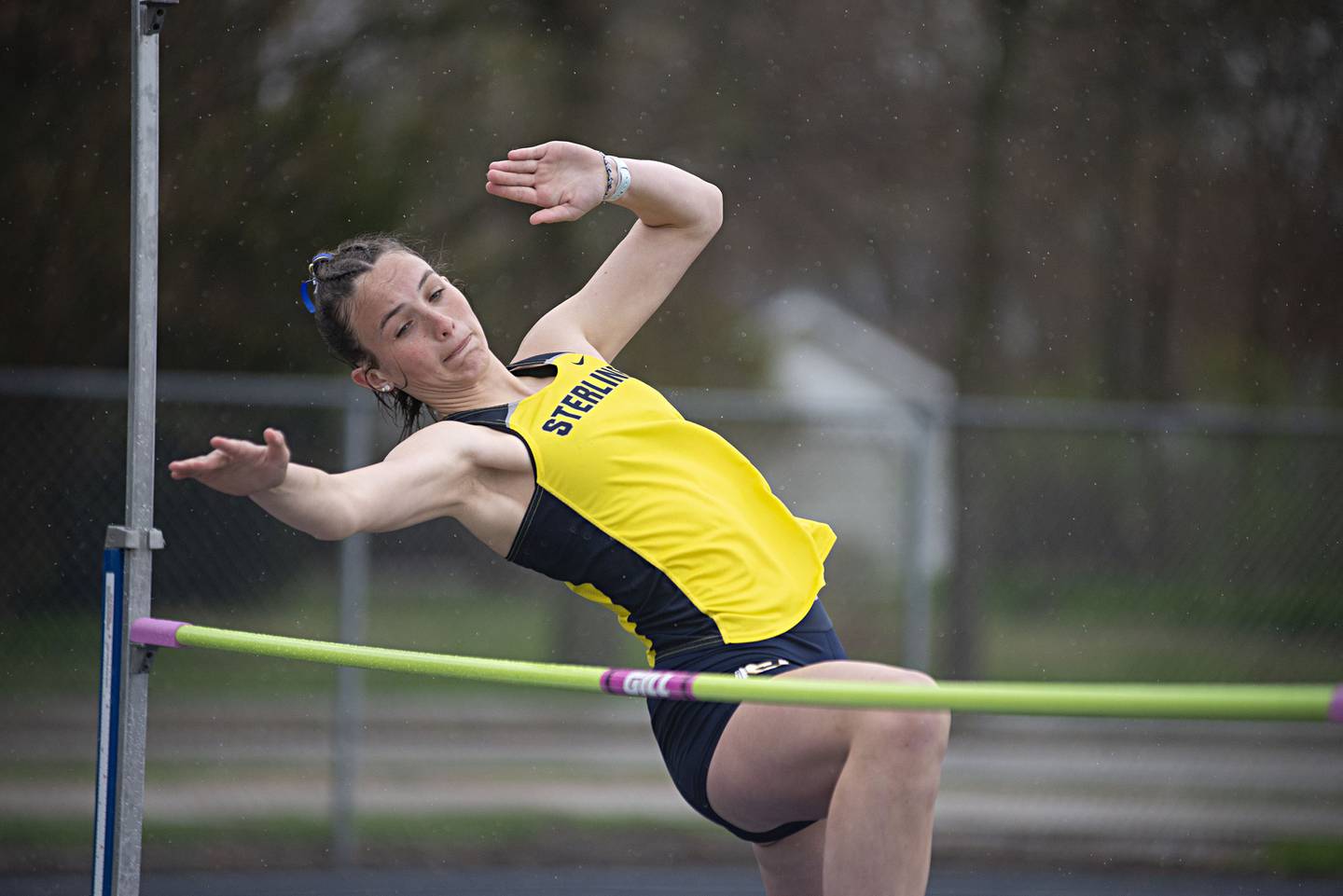 Junior Alice Sotelo had the individual highlight of the meet for the Warriors, breaking the school record in the triple jump for the second time in as many weeks. After surpassing the old mark at Geneseo last Thursday, she broke her own record in front of the home crowd at the Night Relays.
She leaped 11.03 meters at Geneseo, the equivalent of 36 feet, 2 1/4 inches; she went 11.09 meters, or about 36-4, on her home track Friday.
"Last week, I broke it at Geneseo, but it was only by .25, so it wasn't mind-blowing, but it was definitely an accomplishment," Sotelo said. "Then today, I beat it more. I think it's 36-4 now; before it was 36-2.
"It was great. I had my whole family here, a bunch of friends, it was amazing. I was super nervous, but just got my head in the game and I jumped."
The old record of 36-2 belonged to Tori Gaumer – the younger sister of Sterling girls coach Tyler Gaumer.
"He made it such a big deal [last week], 'Oh, you beat my sister,' and he's texting her and looking at his little notebook to make sure," Sotelo said with a laugh.
She said the triple jump record was one of the items on her checklist this season, and she's thrilled with the accomplishment. But she knows she's still got work ahead of her.
"That record has been a goal of mine," Sotelo said. "I set goals at the beginning of the season, and this year I had four of them: first was to break the indoor record; I did that. Next was to break the outdoor record, and now I've done that, so I've got two left. Right after I broke it, I got on my phone and checked it off the list.
"I'm very proud of myself, but there's always people out there who are better than you, so it's never enough. You've just got to keep going."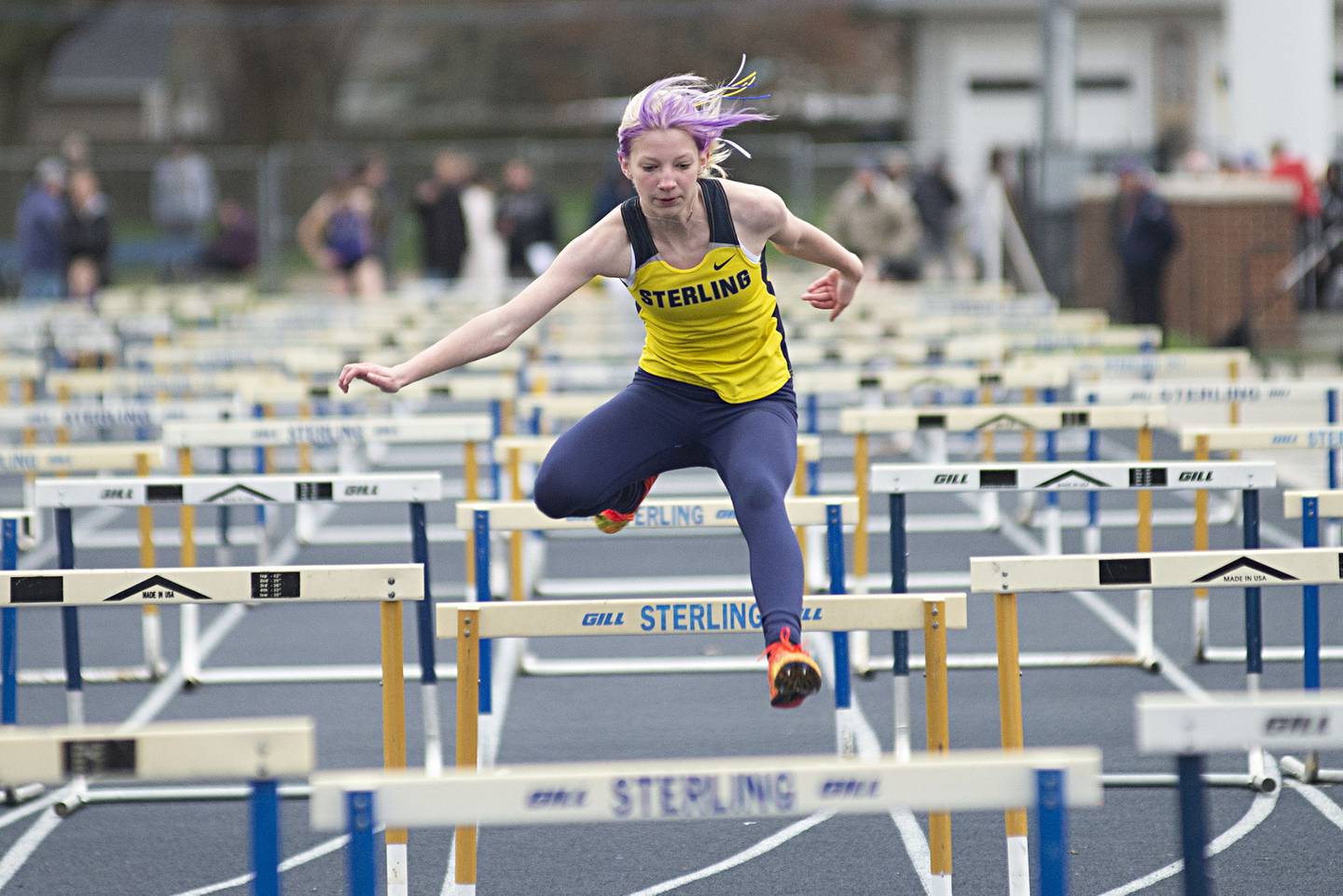 Sotelo's leap led Sterling to victory in the triple jump relay, as Sotelo, Madison Austin and Maggie Rowzee combined for a distance of 29.71 meters. The Warriors also won the 4x100 hurdle shuttle in 1:18.01 with the foursome of Brooke Artman, Jesseka Boyer, Kirra Gibson and Addison Robbins, and also took the two fresh-soph events on the night: the 4x100 (1:56.74 with Gibson, Rowzee, Darlene Tavares and Alyssa Gaffey) and the 200-200-400-800 sprint medley (4:47.87 with Kayleigh Bentz, Presley Winters, Austin and Rhylee Wade).
Sterling added runner-up finishes in the 300 hurdles team race, as Lillian Peavy, Boyer and Robbins clocked a combined time of 2:44.56; the 4x200 (1:50.61 with Sotelo, Kaydence Weeks, Anna Aulwes and Finley Ryan); and the pole vault relay (6.79 meters by Emma Wilson, Aulwes and Ryan).
Sotelo, Weeks, Aulwes and Gibson ran to third in the varsity 4x100 (52.30 seconds), while Peavy, Nicklaus and Wade teamed with Sotelo to take third in the 4x400 (4:27.81), then were joined by Emma Anderson to finish fourth in the 4x800 (11:00.03). Robbins, Gibson and Sophia Bianchi combined for a distance of 12.38 meters to place fourth in the long jump relay for the Warriors.
Sterling also won the non-scoring 4x100 weightwomen relay, as Kadielynn Nelson, Calista Lopez, Kate Rowzee and Peyton McCafferty clocked a 1:05.17.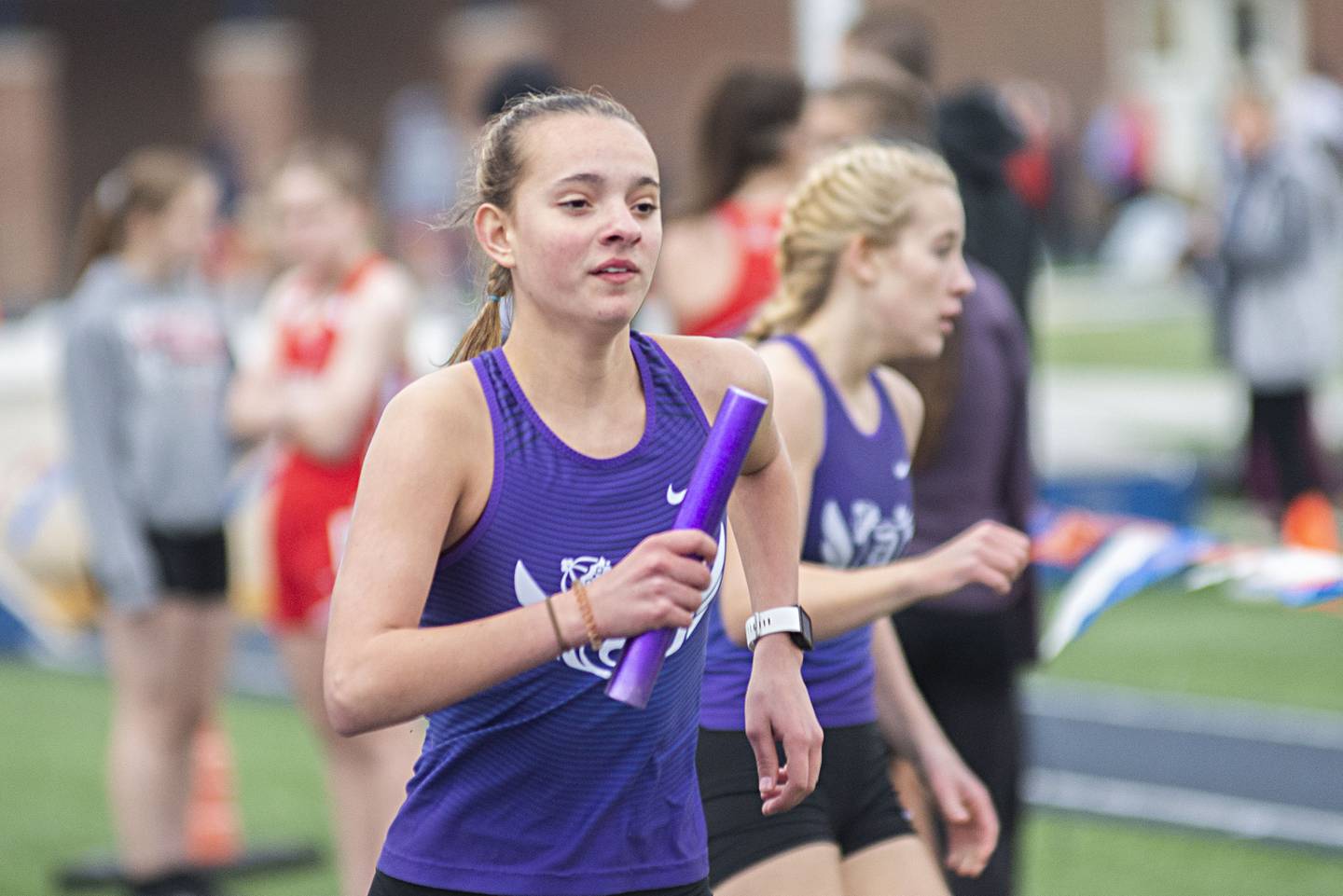 Dixon won four events on its way to the third-place finish as a team, with the victories coming in the distance races and the throws.
Emma Smith won the 1600 in 5:15.54, and teamed with Emily Conderman and Kait Knipple to take the 1600 team race victory with 16 points, as the event was scored like cross country. Smith then teamed with Hannah Steinmeyer, Keeley Mick and Knipple to win the 4x800 (10:03.15) by nearly 34 seconds.
"It was awesome. It's my first real race back from my injury, so it was nice to really push and get some good times, see where I'm actually at for this season," Smith said. "Winning at a big meet like this is good to get confidence up and see what competition you have for the rest of the year, and what you can accomplish for state."
Makenzie Welch and Olivia Cox took part in the Duchesses' other two wins, in the shot put relay (26.43 meters total distance) and the discus relay (91.57 meters total distance). Maddie Munson was the third shot putter, while Welch, Ellenor Zimmerman and Cox finished first, fourth and fifth individually in the discus.
Welch, who won both the shot put and discus at last Friday's Rock Falls Invite, claimed the top spot individually in the discus with a toss of 34.13 meters; she took third in the shot put (9.76 meters).
For a competitive meet like the Night Relays, Welch said she focuses more on what she's doing than worrying too much about everyone else.
"For the most part, I'm trying to win," she said. "But I mainly go for trying to keep myself mentally ready for it, because I get really anxious and nervous, always. At the Top Times [state meet], I got really nervous and cracked under pressure. So that's mainly what I'm trying to figure out with myself, but as long as I throw over my PR or close to it, I feel accomplished."
Welch said she's still getting back into the groove from the COVID-affected spring seasons the last two years, but is happy to see the gains she's making to get back to her past form.
"This is my last year of throwing, because I'm not doing it in college, but it's nice that I'm getting it back after COVID, and without a mask, it feels amazing," she said. "It's been rough kind of getting back to where I was because of COVID, but I'm back and it feels great to be throwing how far I was before and getting my PRs and everything."
The team title in the event at the prestigious Night Relays left Welch feeling proud of the strides her fellow Dixon throwers are making as the postseason looms in the next few weeks.
"I was kind of nervous today, because with my past team it was very different. But with these girls, they've improved a million times more than they have in the past year or two, so it was really nice to throw with them," she said. "They're throwing way farther than they used to be, so I'm very proud of them, and I'm proud of our team."
The Duchesses placed second in the 4x400 (4:23.52) with the team of Shea Leahey, Knipple, Steinmeyer and Nora Fordham, and also in the 1200-400-800-1600 distance medley (14:19.69) with the quartet of Mick, Ava Williams, Leah Kuehl and Conderman. They took third in the 4x200 (1:52.96 with Victoria Grossman, Lahey, Steinmeyer and Katie Shafer) and the fresh-soph sprint medley (5:06.68 with Madelyn Smith, Williams, Mick and Veronica Wade).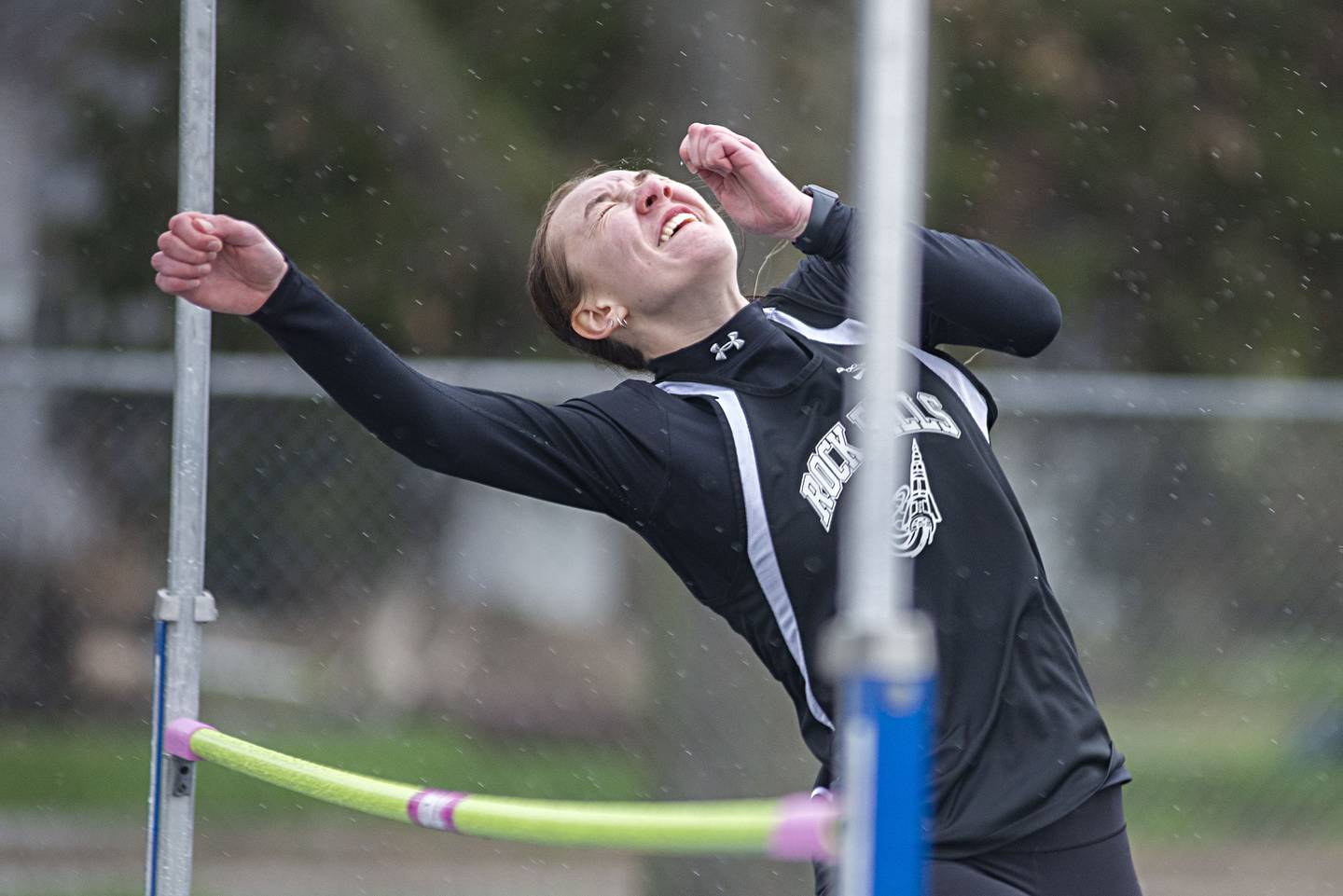 Rock Falls' lone event win came in the high jump relay, as Amara Thomas, Cadence Williamson and Mallory Pinske combined for a distance of 4.26 meters. Thomas took second individually with a leap of 1.52 meters, just .02 off the Class 2A state qualifying mark.
The jump left her excited not only for herself, but also with how she was able to help the team with the relay-style scoring in the field events.
"It was super surprising. I didn't think I was going to jump as high as I did because of the poor weather," she said. "I was super shocked when I did, but it was super nice. It was a good feeling.
"It's definitely a big thing at this meet. It's a big teamwork meet, and it's fun to do it with this group."
Like the other athletes, Thomas was happy to finally get to compete in a couple of large meets the past two Friday nights, and feels like it will prepare herself and her teammates for the conference, sectional and state meets coming up in the next few weeks.
"It's nice to have a bunch of big meets, to get to see different teams that you've never competed with before," she said. "Having good competition, you want to compete harder than you've ever competed before."
The Rockets were runners-up in the 1600 team race (23 points) with Hana Ford, Tayli Hultin and Gracie Rippy, then those three teamed with Emily Garcia to place second in the 4x800 (10:36.92) before being joined by Emily Spooner to take third in the distance medley (14:25.72). Aniyah Thomas, Pinske, Faith Sheley and Ellisa Russell were third in the 4x100 hurdle shuttle.
Makenna Arickx, Savannah Bufford, Carli Kobbeman and Spooner finished fourth in the 4x100 (52.94 seconds) and the 4x200 (1:53.88), and Russell, Sheley, Ava Shank and Addisyn Castaneda were fourth in the fresh-soph sprint medley (5:06.73) for Rock Falls.