ASHTON – In a clash between two aggressive, physical zone defenses, Amboy finally found the hot hand and kept feeding her.
Maeve Larson scored a career-high 24 points Tuesday night in the Clippers' 48-25 NUIC South win over Ashton-Franklin Center, and finished off a double-double with 13 rebounds, two steals and an assist.
"I didn't shoot great during warm-ups, so it was a lot of pressure to get on in the game," said Larson, who hit four 3-pointers and was 4 for 6 from inside the arc. "But in the end, we just worked hard and made sure our teammates got open."
[ Photos from Amboy vs. AFC girls basketball ]
Larson hit a 3-pointer to end the first quarter, then scored the final eight points for Amboy (23-3, 7-2) in a second quarter where it outscored AFC 12-1.
The Clippers, who clinched at least a share of second place in the conference with the win, built a 10-3 lead in the first quarter on back-to-back 3-pointers from Elly Jones and Addison Pertell, then Larson's 3 to end the first sparked a 15-0 run. Larson also lobbed a pass from the high post to Courtney Ortgiesen for a layup, then Pertell nailed a 3 to force an AFC timeout.
"I think we moved pretty well offensively, and once Maeve started hitting some shots, it opened things up,'" said Pertell, who had 11 points, six rebounds and four assists. "She had a really good game, so once she started hitting shots, they worried about her a lot, and then as we moved, everybody got open."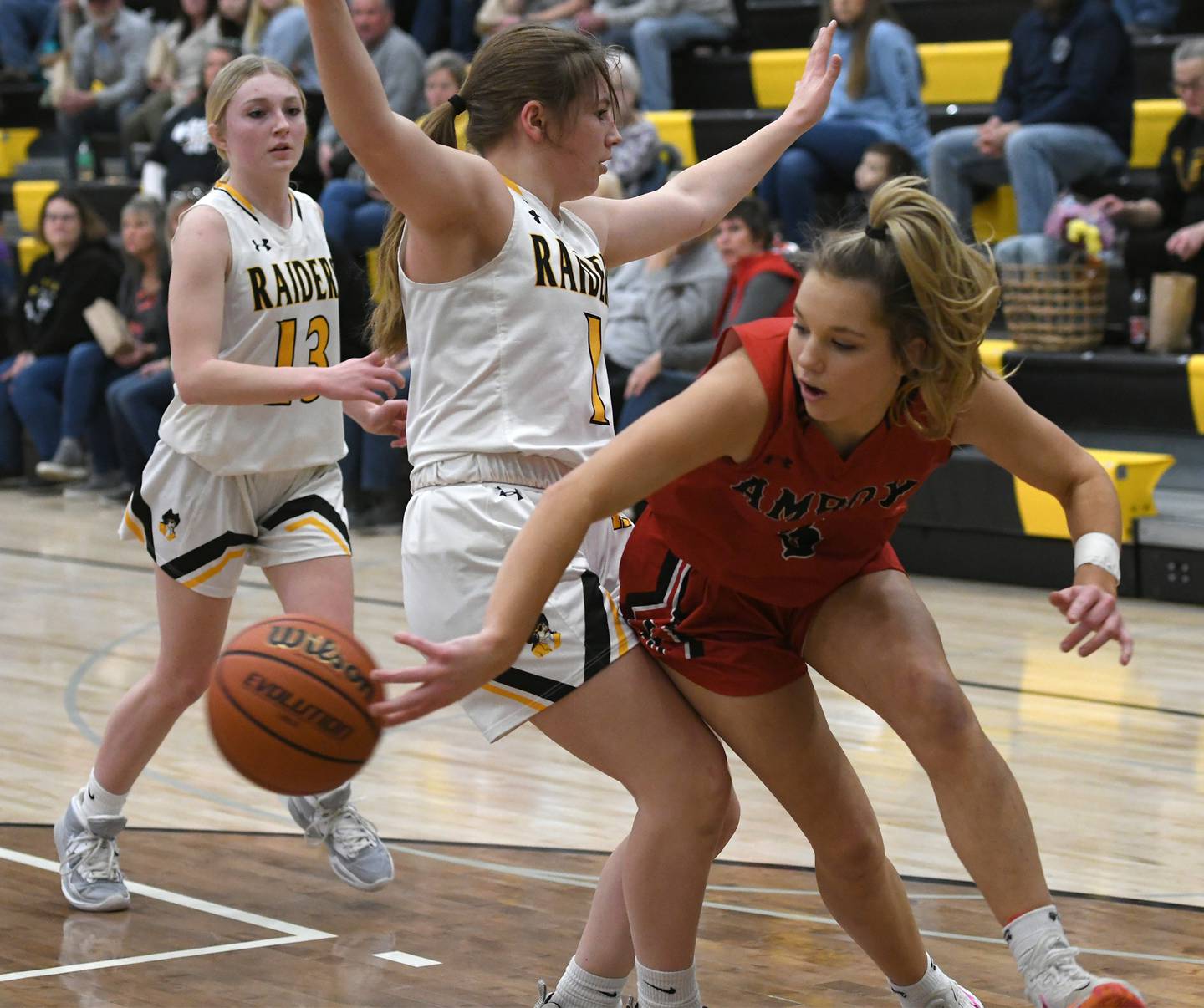 The Raiders (11-18, 2-8) were also moving the ball on offense and getting open looks, but they couldn't buy a basket. They shot 0 for 15 in the second quarter and were shooting 2 for 25 at halftime for a frigid 8%. Both makes were 3s, from Taylor Jahn and Cameryn Winterland, but AFC was 2 for 12 form deep for the half and made just 2 of 5 free throws.
For the game, AFC shot 10 for 51 (19.6%) from the field, 3 for 19 (15.8%) from 3-point range, and 2 for 9 (22.2%) from the free-throw line, while committing 18 turnovers.
"That's as simple as it was: we didn't score enough buckets. We played tough, we played good defense, and we just couldn't score tonight," AFC coach Chris Jahn said. "Taylor was cold as ice from deep, and we just couldn't get buckets, and that was the difference. We felt we needed to get to 40 [points]; I thought if we could get to 40, we'd have a close game. We just couldn't get there."
The defenses were the main reason why both offenses struggled. Because of that, Larson said it was huge that Amboy was able to build a lead and play from ahead.
"It was really important to get that early lead. We knew it was going to be a physical game, but it was a lot more physical than we thought," she said. "So we had our coaches telling us to keep our cool, and we have to listen to them."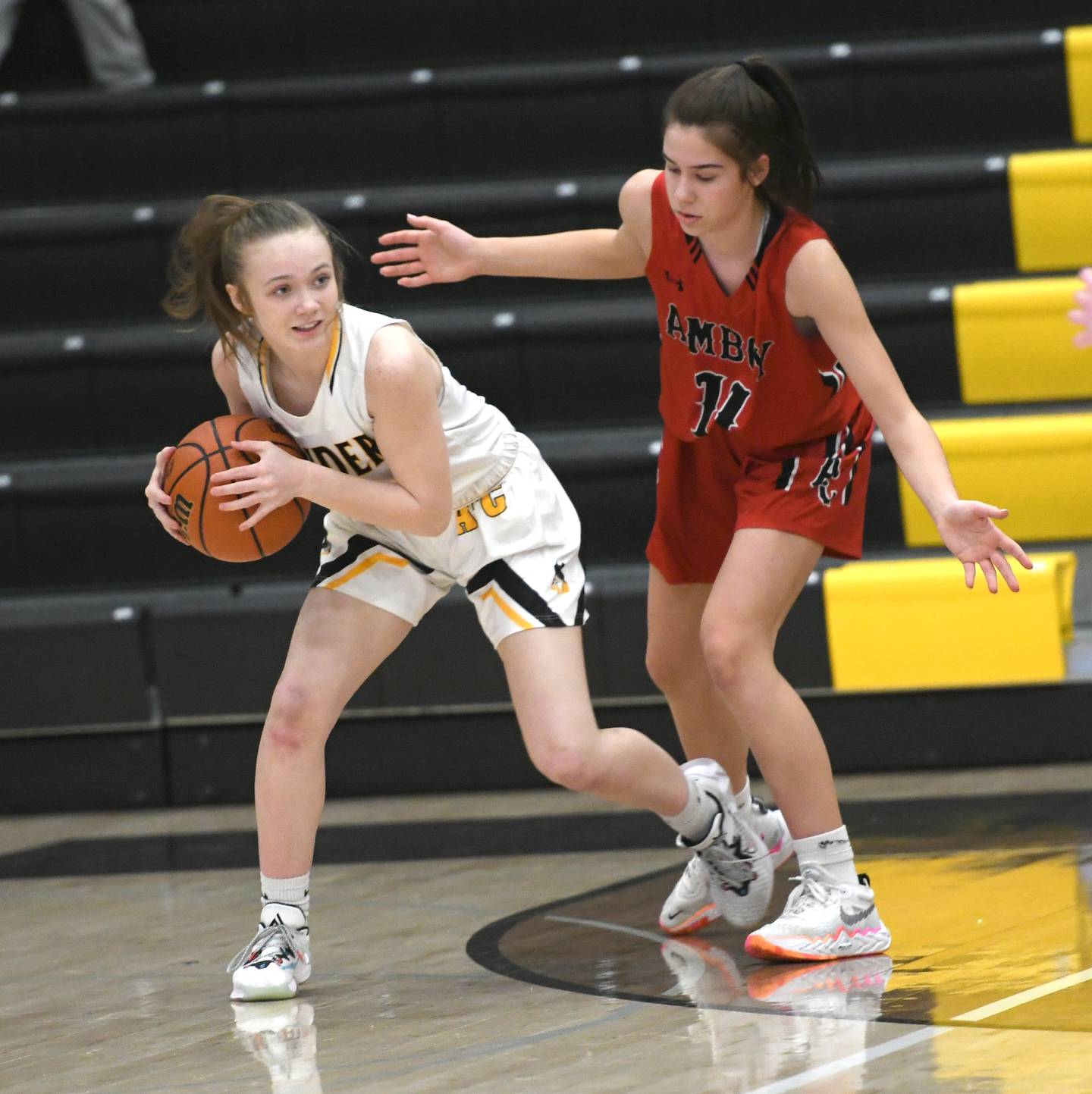 Larson scored all eight points for Amboy in the third quarter, including a bank shot from deep to answer a 6-2 mini run by AFC. Alexis Schwarz scored a pair of baskets for the Raiders, and Brianna Gonnerman scored inside; Reese Polk assisted on two of those baskets.
But Larson's 3 with 1:34 left in the third stretched Amboy's lead to 33-16 heading into the fourth.
"I think we definitely started trying to get Maeve the ball. It's not really talked about, it's just a thing," Pertell said. "If a player is doing good, get them open and get them the ball. We just wanted to execute the offense, and Maeve made the shots."
AFC scored the first six points of the fourth quarter, as Gonnerman, Winterland and Taylor Jahn all hit shots to get within 33-22 with 6:02 to play.
But Ortgiesen stopped that surge with a putback on an offensive rebound, then Larson hit a jumper before Ortgiesen and Pertell went 3 for 4 from the free-throw line to stretch the lead back to 40-22 with 2:19 remaining.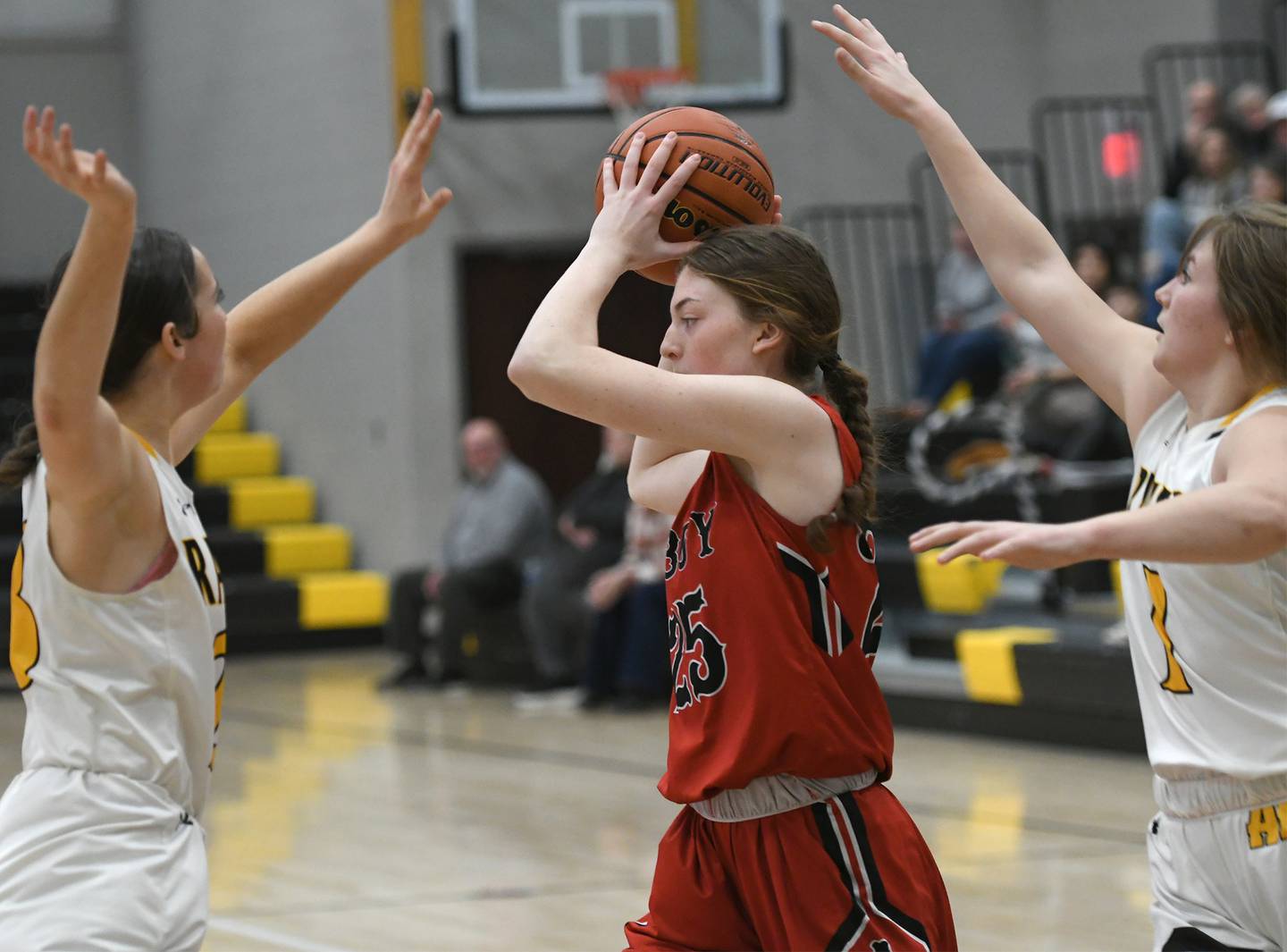 Winterland nailed a 3 off an assist from Taylor Jahn, but Jones hit two free throws, and Larson and Pertell knocked down baseline jumpers to make it 46-25 with 1:10 to go. Jones closed things out with two free throws with 13.6 seconds left.
Despite the loss, AFC held Amboy to 30.6% shooting (15 for 49), including 26.9% (7 for 26) from 3-point range, and forced 16 turnovers. Schwarz said it was a good example of how much the young Raiders – there isn't a senior on the roster – have grown on the defensive end of the court, especially on a night when they weren't shooting the ball well.
"Our shots weren't falling. Otherwise, we did pretty darn well," Schwarz said. "I just think our defense, we had to work on getting out to their 3-point shooters; I just think we couldn't get out there fast enough a few times because they were screening in a little bit.
"But our defense has gotten way better since the beginning of the season, and it's because we work together as a team, from all the times we've bonded. We've gotten real close as a team, and we don't get down on each other. We're just always hyping each other up, especially in practice; if we miss something, we're still telling each other, 'It's all right, it's all right, let's go.' And we bring that energy to the court in our games."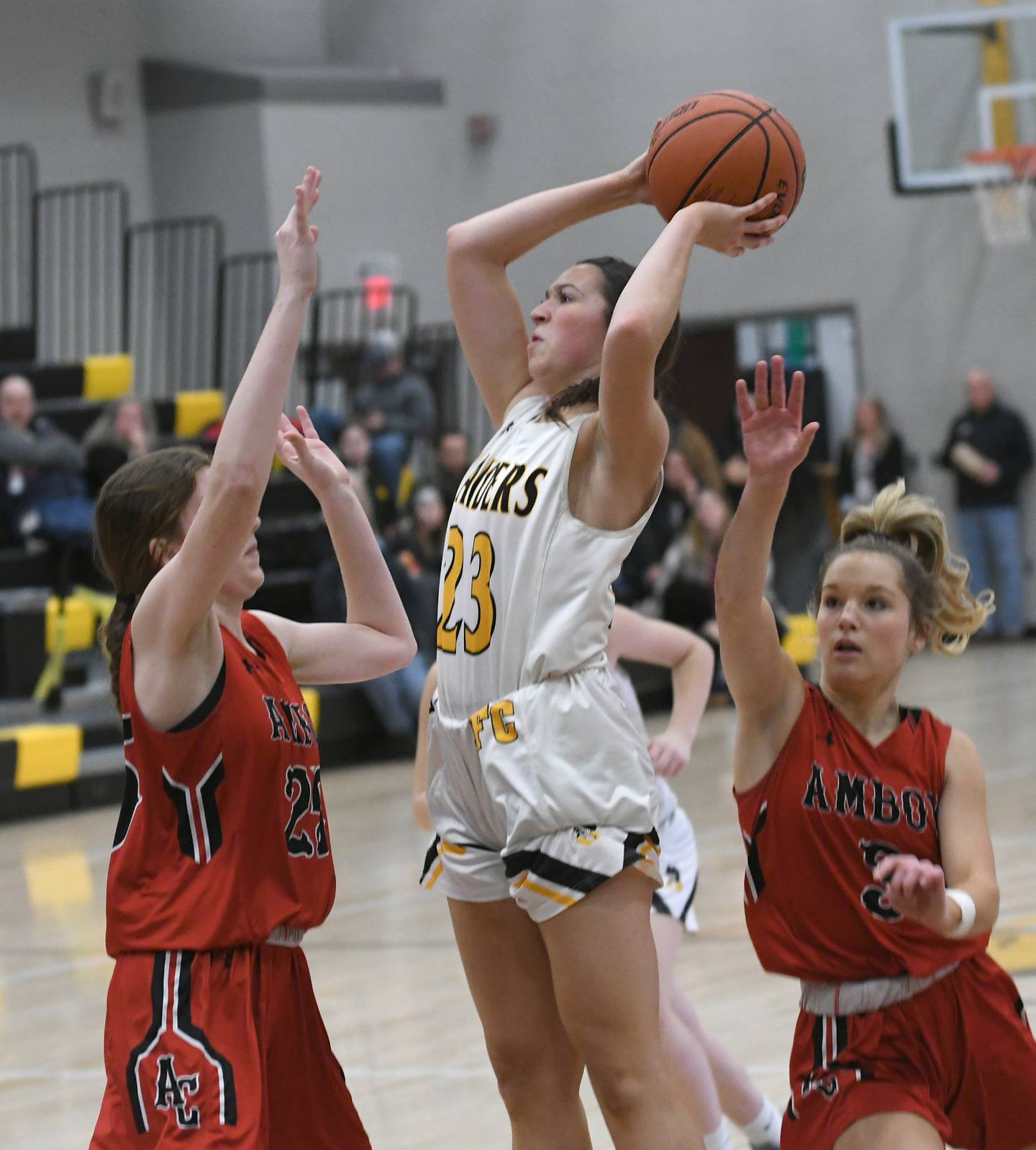 Jones added seven points, four rebounds, four assists and four steals for Amboy, Ortgiesen had six points and nine rebounds, and Tyrah Vaessen chipped in three rebounds and three assists.
Winterland led AFC with eight points, and she also grabbed four rebounds. Schwarz finished with seven points, seven rebounds and two steals, Taylor Jahn chipped in six points and two steals, and Gonnerman finished with four points, seven rebounds, five steals and two assists.
"I thought the girls played tough. Amboy's a good, tough team, but I thought we matched their toughness today," Coach Jahn said. "I wish we could've tightened the game up a little bit, see what would happen. I was proud of the girls' toughness and their effort, we just couldn't make buckets."